When we think of summer vacations and family getaways, many of us look for the best beaches and dream of lying on golden sands. Drifting into an afternoon nap to the sound of the waves hitting the shore. With so many incredible places to visit in Florida, the Sunshine State is an ideal spot. Florida is more than beaches. There are stunning areas of natural beauty, summer can be spent visiting the best springs in Florida. With clear blue waters, wildlife, and beautiful nature all around. Making it a great alternative to a beach vacation, with plenty of water sports to enjoy. We've put together a list of some of our favorite natural springs in Florida. Plan a trip to some incredible springs in Florida!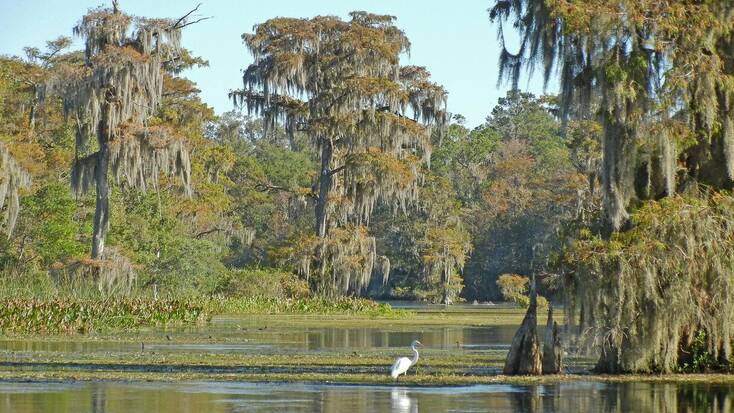 Swim with manatees at Three Sisters Springs, one of the best springs in Florida
When it comes to the top springs in Florida, swimming is definitely at the top of our list. If you head to Three Sisters Springs in Crystal River, you can look forward to swimming with some unique visitors. Manatees frequent the Three Sisters Springs! Although they tend to head here during the colder months of the year, you may still catch sight of them. You might even get the chance to swim with manatees. In order to protect and preserve the springs for their marine visitors, no motorized boats are allowed. Kayaking, however, is allowed. So you can head out on the water and explore on a peaceful kayak tour.
Head to one of our favorite natural springs in Florida and meet the Weeki Wachee mermaids
Weeki Wachee Springs State Park, near Tampa, Florida, is famous for the Weeki Wachee mermaids. Sadly for those of you who were hoping to meet a real-life mermaid, the Weeki Wachee mermaids are part of a show. This extravaganza has been popular with visitors for many years. At nearby Buccaneer Bay, there are waterslides, as well as kayaking. When exploring Weeki Wachee Springs, you may catch sight of an alligator! But there are also bald eagles, turtles, or otters basking in the stunning blue waters. With a number of great places to stay near Tampa, you can explore the Weeki Wachee State Park to your heart's content while staying in some of the best Florida state parks camping, and glamping accommodations.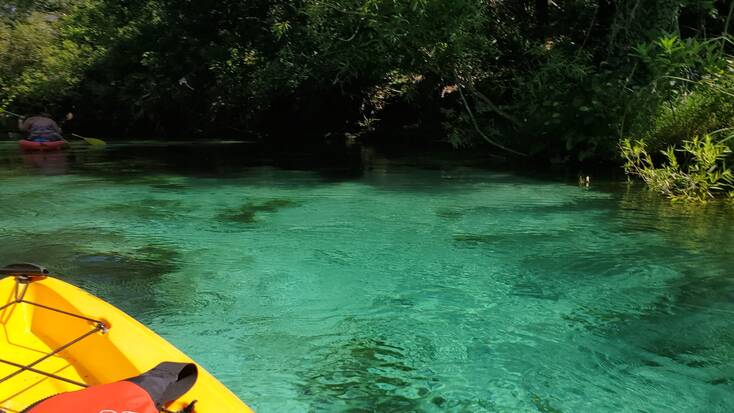 Go scuba diving in Ginnie Springs in the summer
Yes, you read that right. Scuba diving; what better way to explore something as beautiful as one of our favorite springs in Florida? Ginnie Springs, Florida, is one of the best places to visit in Florida. Linked to a series of springs attached to the Santa Fe River, the springs have unbelievable turquoise blue waters. With a sandy limestone base, the sun's rays light up the Ginnie Springs. So many of you scuba diving enthusiasts out there can look forward to being able to see everything below the surface. Tall trees surrounding the springs give them a tropical lagoon aesthetic, making it almost impossible to believe that they are less than an hour from the city of Gainesville, Florida.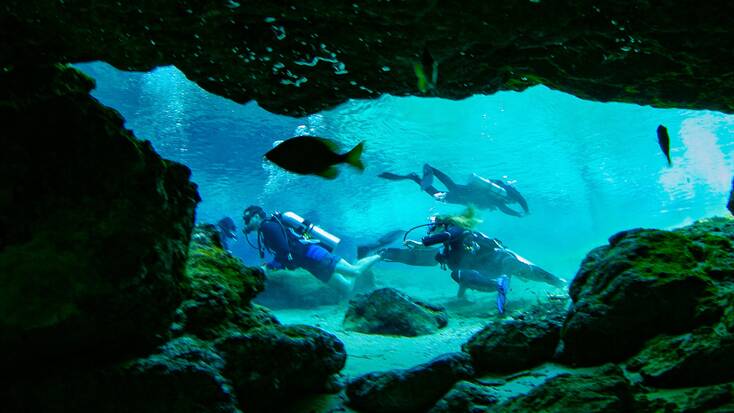 Enjoy family getaways in Rainbow Springs
For the best family getaways near the city of Ocala, Florida, Rainbow Springs State Park is perfect. Dating back 10,000 years, Rainbow Springs, Florida, is one of the oldest and largest springs in Florida. Leading into the Rainbow River, with a temperature of 72°F almost all year round, this is a perfect spot for family getaways. In Rainbow Springs, kayaking from the spring onwards affords visitors the opportunity to see some of the most stunning flora and fauna. The banks of the springs feature colorful azaleas, among other beautiful plants. As well as kayaking, you can enjoy tubing and even scuba diving as well.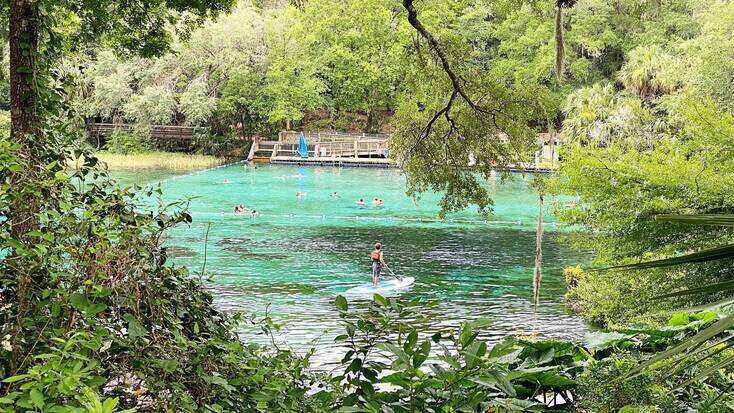 Ichetucknee Springs
Ichetucknee Springs State Park is just an hour north of Gainesville, Florida, making it accessible and perfectly located for family getaways in Florida. Surrounded by floodplain forests filled with cypress, pine, and oak trees, you can spend your time kayaking or tubing Ichetucknee Springs, Florida, taking in the views and the stunning reflections bouncing off the turquoise waters. Home to a number of Florida's native wildlife, it doesn't take much to see why the Ichetucknee Springs has made it onto our list of the best springs in Florida. Another location with a ban on motorized boast and vehicles, this a truly peaceful spot for you and your family to spend your summer vacations.