Everyone knows that home is where the heart is! Need a break, but can't travel across the country for the perfect getaway? New York State has some fantastic glamping options, close to home, surrounded by nature, and a secluded paradise on your doorstep! Exploring your own backyard has never been so exciting.
Planning a staycation saves you spending time and money on traveling across the country or around the world. Giving you more time to kick back, relax, and indulge in nature. We've handpicked the best staycations in New York, that will surround you with nature and leave you feeling refreshed.
1. Beautiful nature lodge rental near the majestic Adirondacks, New York
Stay close to home in a charming nature lodge, the ultimate luxury staycation treatment. Perfect for sightseeing and canoeing, and adventure activities. These lodges in North Hudson have impressive panoramas of both the Adirondack Mountains and Elk Lake. If it's country charm you're after, this outdoor oasis is just what the doctor ordered.
You'll find the perfect glamping rental; for families, friends, and couples there is something for everyone. This tiny house in the Adirondacks can sleep 5 and is cozy enough to be a romantic getaway for nature lovers, too, You'll find plenty of adventure sports and activities as well as amazing hiking!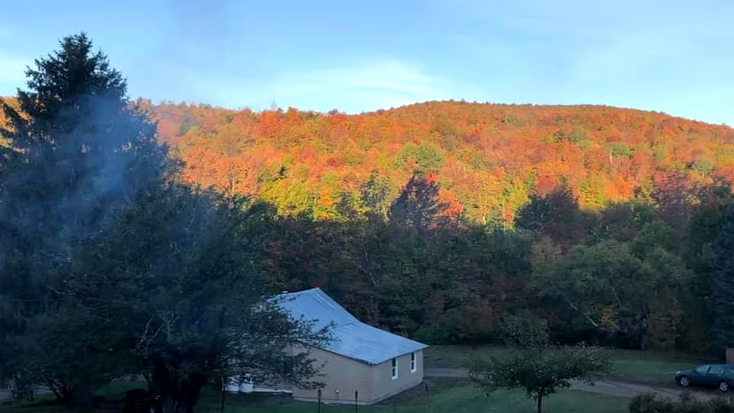 2. Mix modern and vintage with this spacious luxury rental in Andover, Vermont
Take the family on a staycation to a stunning vacation rental in Andover. The warming fusion of classic and contemporary décor makes this cottage the perfect place for rest and relaxation. This luxury staycation has a fully equipped kitchen, four large bedrooms, and an 18-foot-high cathedral ceiling in the living area!
The cottage is surrounded by forest and is fantastic for a fall vacation! Enjoy any of the adventure activities available, from horseback riding to kayaking. There is hiking through the nearby Saint-Gaudens National Historical Park, biking, and fishing to enjoy. Take the whole family, including pets, on a staycation this year!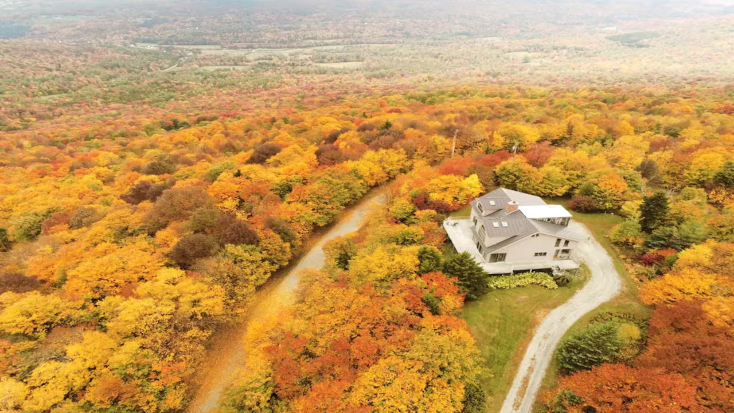 3. Luxury cabin in the Catskill Mountains, New York
Spend quality time with family and friends in the Catskill Mountains this year. This New York staycation cabin is ideal for a group of 12, with a private deck and outdoor hot tub. Surrounded by forests, mountains, and lakes, nature lovers will be spoilt for choice!
In addition to the outdoor hot tub, there is also a fire pit, hammocks, and a large garden space to enjoy.  Prepare to be completely wowed by the Catskills and majestic New York wilderness. Activities available at this New York staycation range from relaxing to adventure driven. Enjoy anything from yoga and fishing to hiking, biking, and whitewater rafting!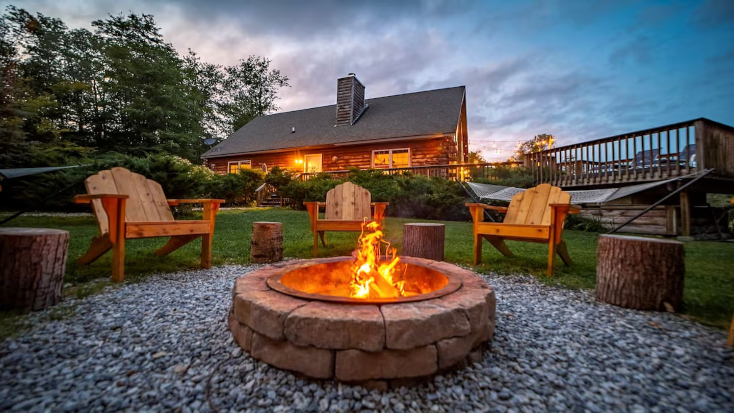 4. Discover this cozy log cabin near Smugglers Notch State Park, NY
This charming log cabin, surrounded by state parks, is ideal for young families or a romantic New York staycation in nature. Enjoy the quiet peaceful surroundings of Vermont's Green Mountains and the nearby Green River Reservoir State Park, just 10 minutes away.
If you love hiking, biking, or horseback riding you'll find plenty of opportunities to get outdoors. For the more adventurous there is also stand-up paddleboarding, zip-ling, and fun winter sports to enjoy. As well as some fantastic wine-tasting and apple-picking for a fun-filled day. This truly is one of the best places to visit in New York!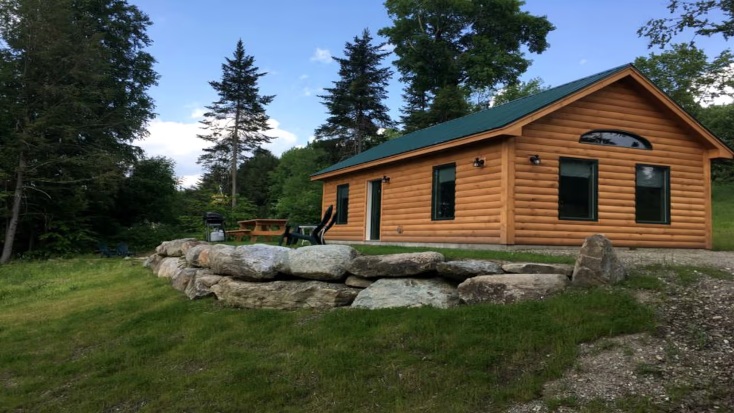 5. Pet-friendly cabin near Saratoga National Historical Park
Staycations don't get much better than this. This cozy cabin has fantastic views all year round and is great for a staycation in any season. Surrounded by fruit trees, woods, and pastures, you'll be able to rest and recharge.
Additionally, there are so many parks and reserves to explore, it can be difficult to choose. For example; Haystack Mountain, the Mettawee River, Merck Forest and Lake Saint Catherine State Park, the Mettawee Valley Community Center, and Pawlet Mountain. Every day is a fun outdoor adventure when you stay at this fun gaming rental!