Texas; the second-biggest state in the U.S.A after Alaska, and the second most populated after California. A state with a diverse geological landscape, ten percent of the Lone Star State's land area is desert, and the rest is made up of prairies and grasslands, perfect for ranching, as well as forests, and coastline, perfect for a family getaway in Texas. If you travel from one side of Texas to the other, you'll stumble across coastal swamps and piney woods, rolling plains and rugged hills, not to mention the mountains and Rio Grande river in Big Bend National Park, and of course, the deserts. So if you're looking for the top places to visit in Texas, look no further!
Keep reading for ideas of things to do in Texas, 2022: discover the best places to visit in Texas
As well as it's varied and stunning landscapes, Texas has a reputation as the land of barbecue, live music—especially in cities such as Austin—, and with upwards of 40,000 fans attending high school playoff games, football is a big deal in the Lone Star State from school right the way up to professional level. However, Texas has so much more to offer for travelers both from in and out of state, so if you're planning a getaway and want some ideas of things to do in Texas, we have nine suggestions for the ultimate Texas vacation, and the best places to visit in Texas.
Kickstart your Texas Getaways with a trip to explore the Lone Star State's epic landscapes
When you spend time in Texas, there's no way you can miss out on exploring some of its incredible contributions to the great outdoors. With such varied landscapes to explore, you'll have your pick of stunning vistas, canyons, and rivers to explore. From a family trip to the best Texas weekend getaways for couples, there is something for everyone in the Lone Star State's incredible landscapes. There's plenty of things to see in Texas when you make the visit!
Palo Duro Canyon State Park: hiking, riding, and shows! in one of the best places to visit in Texas
A canyon system set in the Texas Panhandle near the cities of Amarillo and Lubbock, the Palo Duro Canyon State Park is, at about 120 miles in length, the second-largest canyon in the United States and one of the great places to visit in Texas. While it's average width is six miles, it does in certain areas widen out to an astonishing 20 miles, so there is ample space for exploring. Aside from the fact that Palo Duro Canyon is full of incredible trails for hiking, as well as stunning rock formations, this is a great spot to get out into the great outdoors and enjoy a wide range of activities. From releasing your inner cowboy with a horse riding tour through the park, or some adrenaline-pumping zip line action, this park has something for the whole family to enjoy. With an amphitheater in the park, there are even shows to enjoy in these incredible surroundings. When exploring the Palo Duro Canyon, cabins nearby are perfect for you, the family, and even the family dog to relax after long days of exploring the park.
Journey down the Rio Grande when you head to Big Bend National Park
Big Bend National Park: explore the Rio Grande River
From the north of Texas, we head to the southwest to the Big Bend National Park. In Big Bend, you'll find some of the best hiking in Texas, some of which take you along the Rio Grande River. Exploring a stunning national park where a river runs through it also gives you the opportunity to enjoy a range of water-based activities as well. You can enjoy a day-long canoe tour along the river, the price of which generally includes lunch. With those of you with your own canoes, you can enjoy a "boomerang" trip; canoe up the river, and then let the current guide you home again. This area is also rich in natural history, so any paleontologists in the group will love a trip to the Fossil Discovery Exhibit which boasts the bronze skull of a giant alligator, a Bravoceratops dinosaur, and a giant pterosaur, the largest flying creature ever discovered.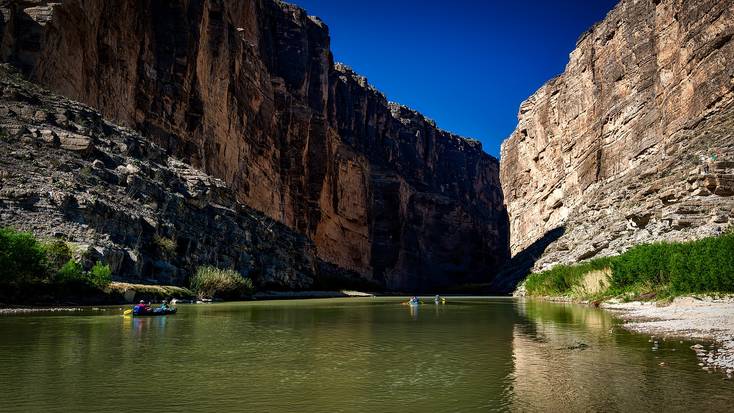 Venture into the wild when you visit the Guadalupe Mountains National Park
Guadalupe National Park
The Guadalupe Mountains, east of El Paso, include the Guadalupe Peak, the highest point in Texas, standing at 2,667 meters. The well-known face of El Capitan (not to be confused with its namesake in Yosemite National Park), has been used as a landmark for travelers in the area since stagecoach lines ran through the region, and is a suitably impressive sight for this beautiful, rugged national park.
The best time to visit the Guadalupe Mountains National Park really depends on what you're looking for in your excursion there. The summers tend to be hot with highs of anywhere between 80-90 degrees, and lows in the 60s, but evenings and nights are normally cool. The winters still have a decent amount of sun and heat, but a lot of people like to visit this wilderness park in Autumn. McKittrick Canyon's beautiful display of fall colors usually takes place between late October and early November, and since this is a wilderness park, crowds are at a minimum. Expect some tougher hikes off the beaten track though! They really are cool places to visit in Texas right here!
Visit Texas beaches for summer vacations, 2022
Padre Island
Heading eastward, you hit the remarkable Texas coastline and the beautiful South Padre Island. Padre Island is perfect for summer vacations, 2022, with the whole family, a quiet couple's getaway, and for any college students out there, it's a great spot to celebrate spring break. During the summer, you can spend days on the beach, play a round of golf at one of the bayside golf courses, and enjoy a wide range of bars and restaurants. On South Padre Island, beach house rentals and villas are aplenty and give you easy access to the beach and all the amenities in the town.
Galveston and Galveston Island
Less than an hour from downtown Houston, Galveston, and Galveston Island, have a wonderful stretch of coastline. There are numerous things to do in Galveston, offering something for all travelers. For a complete getaway, it's a great area for treating yourself to meals out, trying a cocktail in one of the oceanside bars, and there is a lively nightlife with live music on offer at the weekends in certain bars. Making the most of your time in Texas, and especially along the coast, you can take surfing lessons, head out on a dolphin-watching tour, and charter a full day fishing trip. When you get back to your vacation rental you'll feel a wholesome sense of a busy day well spent!
Visit the Alamo and discover the story of Davy Crockett
The Alamo
Your time in Texas wouldn't be complete without a visit to one of the most famous historical sites in the state. Formerly a Spanish mission, The Alamo is most famous as the fortress that Davy Crockett died defending, along with 260 American troops, against 1,800 Mexican soldiers in 1836. When visiting the Alamo, sightseeing tours and audio tours are available so you can explore the compound, church, and site, learning about the history of this unique monument to American history. The official website has a range of tips for visiting the Alamo, and with it being in the city of San Antonio, you can stay nearby and enjoy the city's other tourist attractions.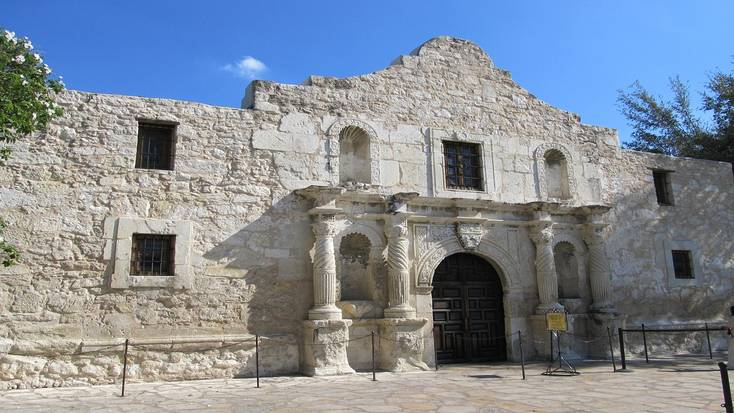 San Antonio Riverwalk
The Alamo, the San Antonio Spurs, and some great Tex-Mex food; the city of San Antonio is already a great place to visit when you head to Texas. The real highlight though is the San Antonio Riverwalk. This city park is a network of walkways and bridges along the banks of the San Antonio River, one story beneath the main streets of the city. With attractions like the Witte Museum, the San Antonio Zoo, as well as bars, restaurants, and a variety of shops, this is a unique and vibrant addition to the city. If you want to see the whole riverwalk, it would take you up to about six hours to complete it, so you can spend the whole day enjoying strolls, good food, and maybe even a boat ride.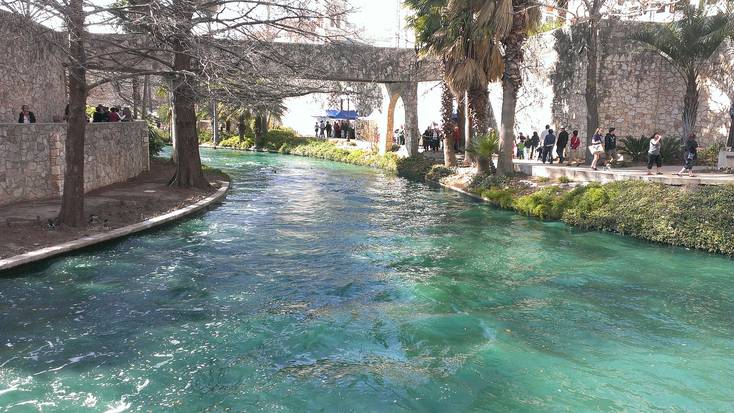 Explore the botanical gardens of the Dallas Arboretum
Dallas Arboretum
The Dallas Arboretum is a 66-acre botanical garden in east Dallas. With a series of gardens, fountains, waterfalls, and views down to the White Rock Lake, this is an idyllic spot to spend a quiet afternoon. As well as these beautiful tranquil gardens, the Dallas Arboretum has a children's garden which was designed to connect kids to nature. With educational activities and exhibits, it promises to be fun for all the family and will be one of the best Texas places to visit during your visit!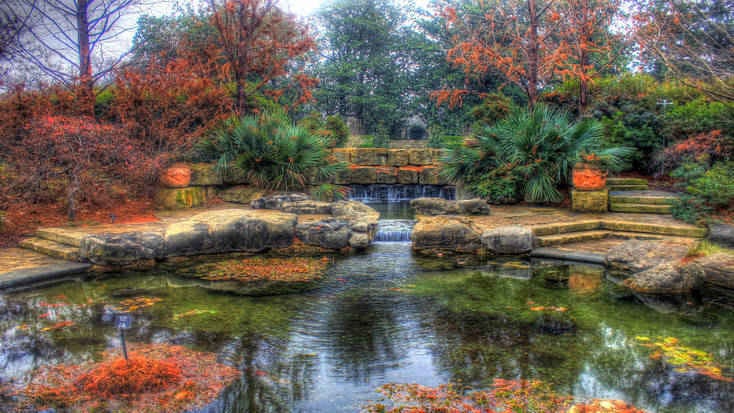 For an experience that is truly out of this world, head to NASA's spaceflight training and research facility at the Johnson Space Center
The Johnson Space Center, Houston
Space; the final frontier. Sadly, we can't all be James Tiberius Kirk, however, when you visit the Johnson Space Center, Houston, you can see how NASA prepares astronauts for spaceflight, as well as the research and flight control facilities. With exhibits and tours detailing various aspects of the main goals and achievements of the space program, this is a Sirius-ly good day out for the whole family, and definitely, a top place to visit in Texas. You and the kids will get to see displays about planned missions to Mars, get a behind-the-scenes look at Mission Control and training facilities, and have the chance to watch a documentary about the life of an astronaut. One of the top things to do in Texas, a trip to the space center is sure to eclipse most activities, so don't waste time thinking about your next vacation; planet now with a stay in one of our five-star accommodations!