In Massachusetts, vacation rentals already offer travelers incredible access to the great outdoors. For quaint and lovely seaside escapes with your better half, head to the sandy shores and cute cottages for two of Cape Cod National Seashore. Here, you'll encounter the perfect combination of lazy beach days and exciting activities to take on with your significant other. You'll be happy as a clam when you first smell the alluring salty breeze rolling off of the Cape's expansive coast and realize you've arrived in the perfect relaxed paradise that the New England region embodies. With countless seafood restaurants, scenic overlooks, and long beaches just calling for a romantic walk, you and your honey are going to want to become seasoned regulars on the Cape.
Historic Massachusetts Villa with Ocean View in Provincetown, perfect for exploring Cape Cod National Seashore in 2021
Couples will have a blast when they stay at this Massachusetts villa, home of mouthwatering seafood and Cape Cod's most lively and colorful nightlife. Settled on its own private dune, you'll have an acre of wildlife and unbeatable ocean views all to yourselves. It's quite an impossible feat to get bored in P-Town with its abundance of unique tours, art galleries, and quaint shops.
Go hiking when you visit the Cape Cod National Seashore
Get your walking shoes on and climb the Pilgrim Monument for a little big of a leg workout and the best view of Cape Cod National Seashore you can find. Check out Art's Dune Tours for a wild and bumpy ride that will give you a fun time in the dunes of the Cape…and if you like piña coladas, grab a drink on the waterfront deck of Aqua Bar. (Let's just hope you don't get caught in the rain!)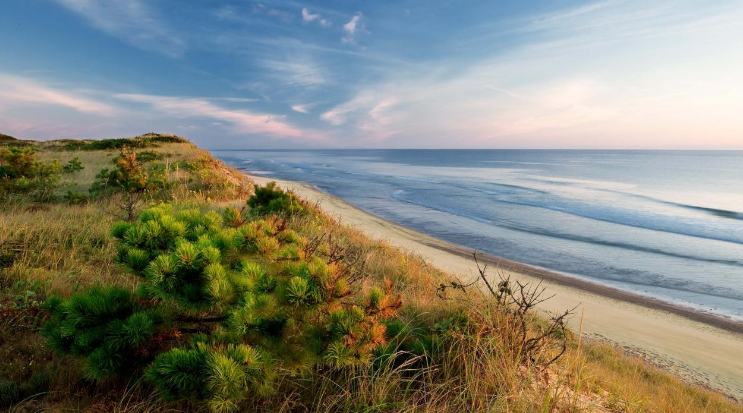 Delightful Cape Cod Cottages near Beach by Truro: glamping Massachusetts made easy in 2021
These Cape Cod cottages will provide you and your boo a quaint escape in one of Cape Cod's beachiest areas. The famous Cape Cod National Seashore will blow your mind and give you a sense of peace with its expansive, towering sand dunes and slow, rhythmic surf.
For a date night that will be the bee's knees, check out the Wellfleet Drive-In Theatre for a blast from the past with your Real McCoy. If you're craving some good ole' New England seafood that will make your tastebuds tingle, check out Moby Dick's, where you'll be charmed by the old-timey atmosphere and waitstaff's foreign accents. These quirky cottages with their own private beach will offer you the perfect place to relax and unwind after a long day filled with sun, sand, and seafood. For the best Cape Cod getaways and Massachusetts vacations, don't let this one slip under the radar in 2021!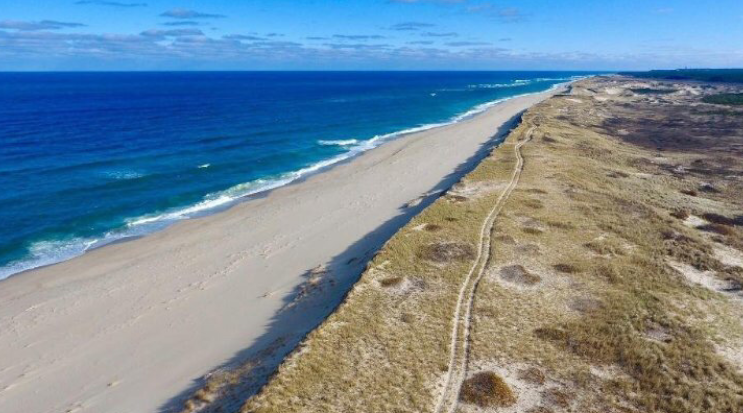 Unique Cape Cod windmill rental on gorgeous Cape Cod creek; romantic getaways on the Cape Cod National Seashore in 2021
For the most authentic Cape Cod experience, you could ask for, stay at this Cape Cod windmill rental on a marsh with your loved one, perfect for romantic getaways. Equipped with an outdoor shower, full kitchen, and patio with a barbecue grill, you'll have everything you need to have the perfect clam bake after a long day on the beach.
To learn a little more about one of the Cape's hidden treasures, head to a nearby cranberry bog for a tour and some cranberry tasting. If you want to keep the delicious flavors flowing, head down to Sundae School Ice Cream for the hands-down best hot fudge sundae you'll ever come across—complete with homemade whipped cream, a real cherry on top, and a cute paper hat handed to you with your order.
At the end of the day, you and your loved one can take a long and tranquil stroll along the ocean at Cold Storage Beach, where you'll catch a sunset that will rival any others you've seen before.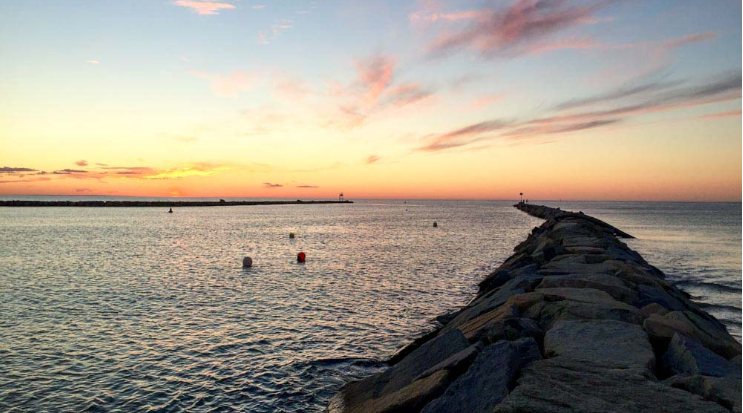 There's much more of New England to explore just Cape Cod, so for more ideas for a northeastern weekend escape, click here!