Have you ever dreamed of a tropical, warm vacation, but wanted to spice it up a bit with some adventure? Not to worry because glamping Costa Rica has it all—relaxing spas and jungle adventures, and all without compromising comfort. Costa Rica wildlife has always been known for its abundance of natural beauty, such as white-sands, clear-waters, wide beaches, hidden waterfalls, dense jungles, and rugged mountain terrain, but what about its uniquely diverse and vibrant culture?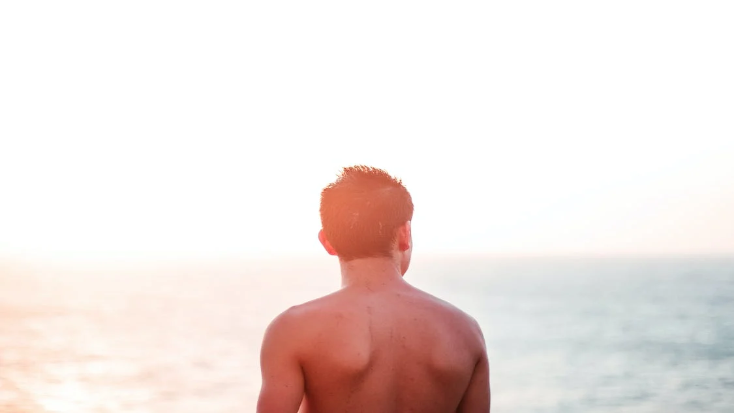 Imagine yourself relaxing on the beach during the day with friendly locals who, at night, can to show you the authentic, wild side of Costa Rica, both in the jungle and out on the town.
Amazing Costa Rica treehouse in the Gandoca-Manzanillo Rainforest for rent summer vacations in 2021
How about staying in a lavish two-story Costa Rica treehouse suspended 25 meters from the ground? Surrounded by nothing but the rainforest of Gandoca-Manzanillo wildlife refuge, this solar powered tree house is the ultimate glamping adventure. Hike up and down the tree with indigenous Nasso tribe guides to get to the tree house, or use the elevator. The local guides will also accompany you during other cultural activities in the area.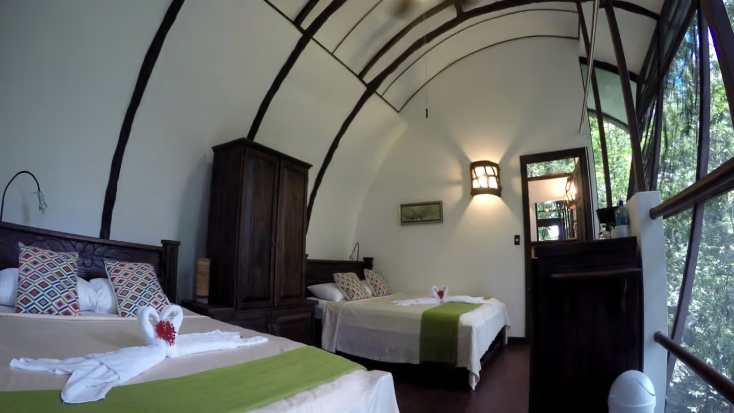 Playa Santa Teresa accommodation: book upscale oceanfront yoga retreat in 2021
Or, if adventure in the rainforest is not what you seek in Costa Rica, a yoga retreat in upscale villas and bungalows planted on a pristine beach might do the trick. A wide variety of outdoor activities, along with spas, massages, yoga, and organic meals will be a cleanse for mind, body, and soul. Check out this Playa Santa Teresa accommodation for you next summer getaways.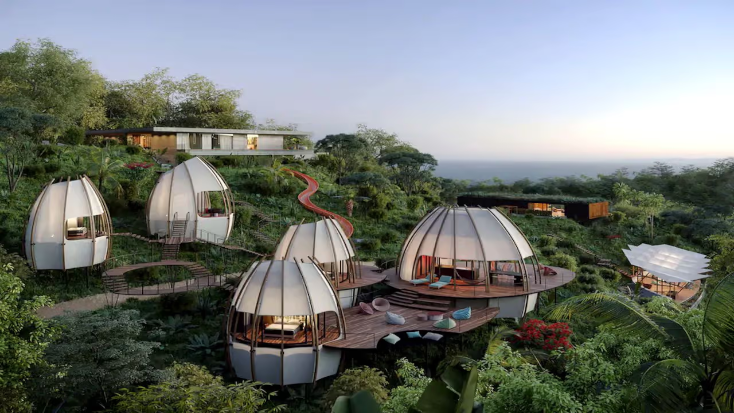 Discover luxury Puntarenas safari tents in Costa Rica
Get as close as you can to the sights, smells, and sounds of the unspoiled rainforest in these luxury Puntarenas safari tents. Enjoy a white water rafting trip, a waterfall hike, horseback riding, and so much more while staying here and enjoying the quality glamping Cost Rica has to offer glampers around the world.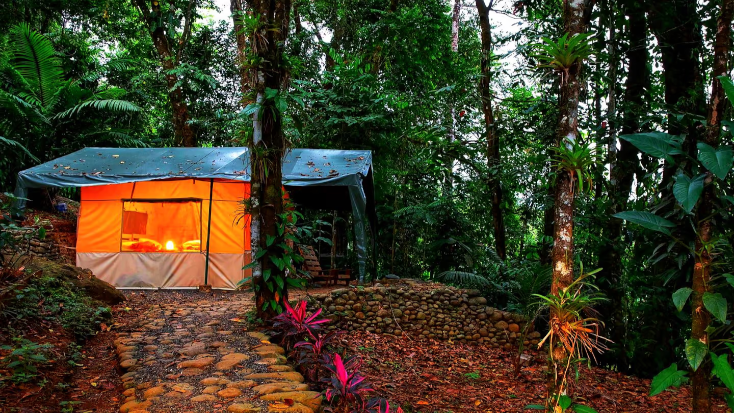 Breathtaking Jungle Cabañas perfect for Caribbean Sea accommodation in Costa Rica
A true glamping Costa Rica travel experience includes the unrefined rainforest, alluring beaches, and a picturesque Costan Rican pueblo, right? Get it all here, in an eco-friendly cabana in the heart of the Gandoca wildlife refuge. A night out in a small beach town with some locals will surely create unforgettable memories. It truly is the perfect Caribbean Sea accommodation for summer 2021!