Editor's note: Each month, we'd like to introduce you to one of our wonderful Glamping Hub hosts and ask what inspired them to create a glamping site. This month, to celebrate International Women's Day 2021 on the 8th of March, we're showcasing Sheree, who built this fantastic Red Tower in the countryside near Toronto.
Before we learn more about Sheree, at Glamping Hub we wanted to share with you how we are celebrating International Women's Day 2021. We are making an ongoing commitment to support and celebrate women around the world and their achievements, including those of our community of employees, hosts, and guests.
Communication and connection are at the core of what we do. We recognize the importance of equality in the tech and travel industries to achieve success, create something unique, and lead innovation. We promise to feature incredible women in tech and travel, not only to celebrate International Women's Day 2021, but as an ongoing movement to showcase the extraordinary.
Meet Host of the Month – Sheree from Ontario
Tell us a bit about yourself…
I'm a textile artist and landscape designer, as well as a dance teacher on the side. I live on a 30-acre rural property, two hours from Toronto, Canada.
What attracted you to owning a glamping property?
I love the idea of sharing my property with others, so they can escape the city, watch the stars, walk in the woods, explore the countryside, enjoy the art and architecture, all within a two-hour drive from Canada's largest urban centre. Many people just come up for a quick getaway, even for just one night, a special occasion, birthday, engagement, or anniversary. Because it's glamping, they can experience nature, but still have a degree of comfort that traditional camping doesn't afford.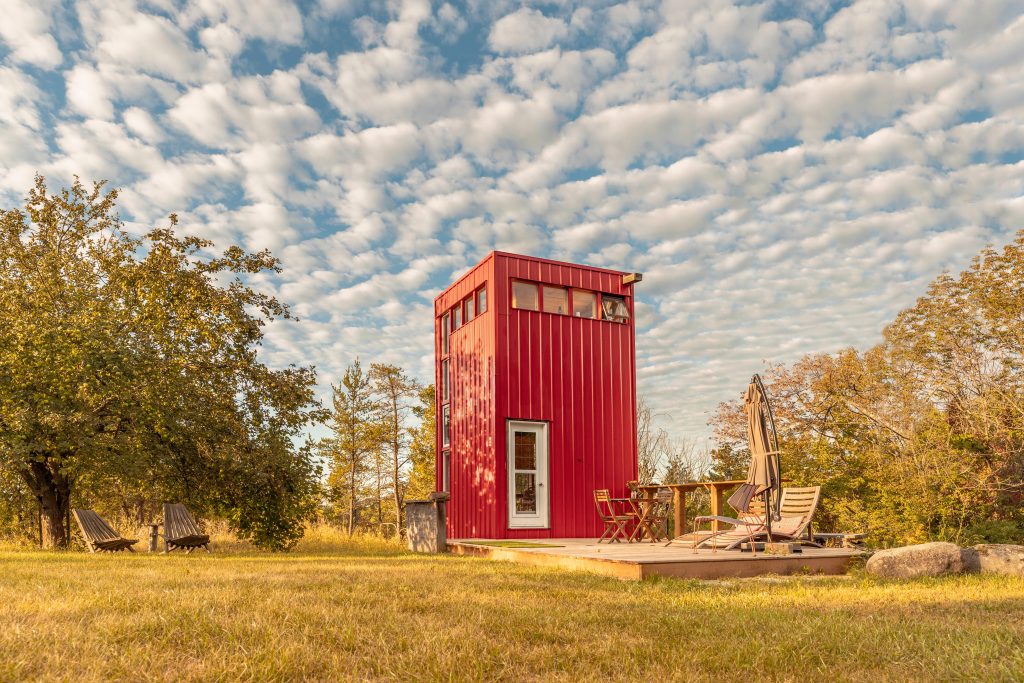 Every glamping site has a special story, could you tell us about yours?
My late partner and I bought our country property 14 years ago and renovated two school portables to create a gorgeous home. Both being artists and landscape designers (he was also a brilliant architect), we took on an ecological restoration project to revive our 30 acres of depleted land. We also wanted to start a centre for young people to explore their creativity and learn about nature.
We built the tiny house, originally as a sculptural element on the property, and planned to use it as a small artist studio. My partner designed what is now being called 'an architectural gem' and has come to be known as "The Red Tower." When he passed away four years ago, I got the idea of adding some amenities to the studio and turning it into a glamping experience, a way to continue moving forward with our joint vision.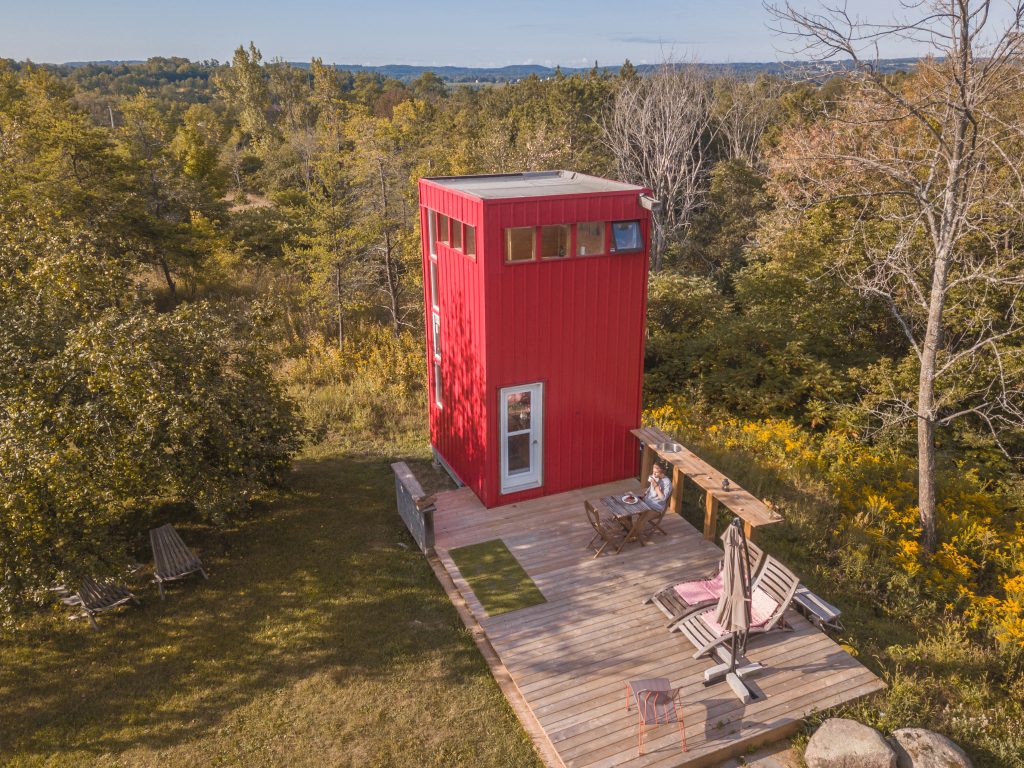 Can you tell us about your most memorable guest experience to date?
I would say every guest I've had has been wonderful, but the most memorable was a young woman who suffered from anxiety. She wanted to face her fears and spend a night alone, but in a safe environment. I usually don't interact much with guests unless they need something, but I spent some time with her talking around the fire. She had a very successful night, and felt empowered by her experience! I was happy to be a part of that.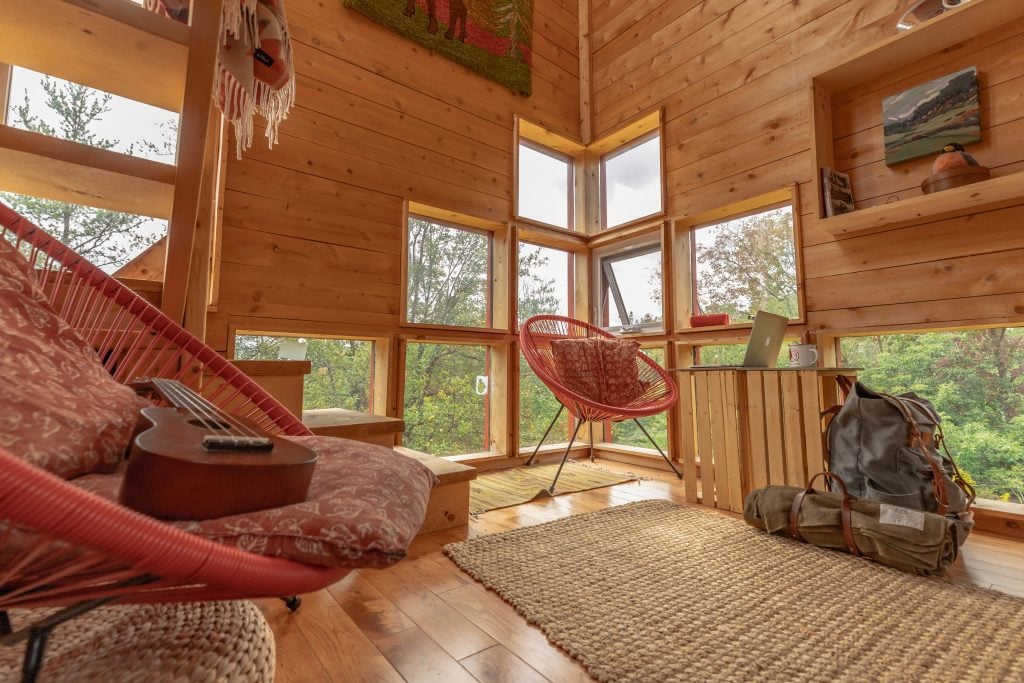 If you could have anybody stay at your accommodation, who would it be and why?
Anyone is welcome, but this spot is particularly suited to young couples looking for a romantic getaway, to reconnect with nature and each other. It also especially attracts architects, artists and designers, because of the focus on art.
What are some of the challenges you face and what have you learned since opening?
Of course glamping comes with some inconvenience, and I think most people that are attracted to it understand that. With some of the strange weather fluctuations due to climate change, I've had to factor in some extreme weather. The biggest challenge has been the summer heat and bugs! I've made some changes, including adding air conditioning, blinds, a screen room for outdoor dining, and a small plunge pool to beat the heat.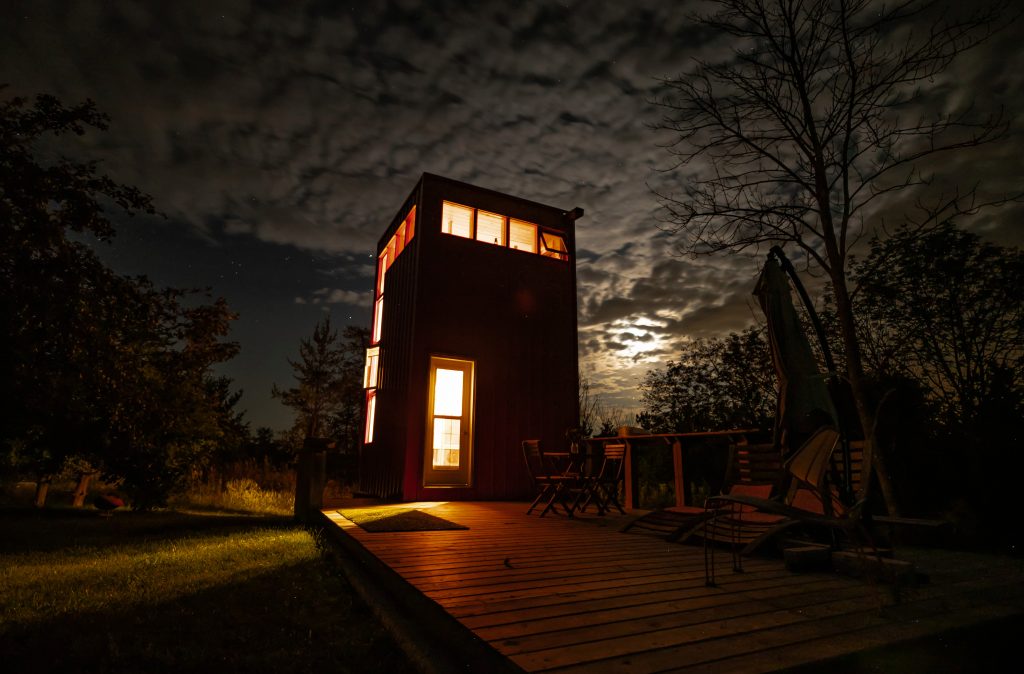 How was your first time hosting?
As with starting anything new, it was a bit nerve wracking, but the very first guests got engaged at my site, so I figured I was off to a good start!
What do you love the most about running a glamping site?
I love reading the guest book after each visitor, and having the satisfaction of knowing that I'm offering a unique experience, that definitely has a positive effect on their wellbeing and imagination. I'm currently in the process of opening a gallery on the property, which will be called "The Red Tower Gallery", so that guests can also enjoy work of local artists.
Where is your ideal holiday destination? Other than your glamping property of course!
That's a tough one! Because I live in a rural area, I love travelling to Europe and experiencing the art and architecture of the great cities. At the same time, I equally love a nature holiday, as long as it includes beautiful accommodation (it could be very simple, but for me aesthetics are everything), and some hiking!
What advice would you give to anyone looking to start or improve their own glamping business?
My advice is to start small, start simple, let it evolve as you come to understand guests needs and wants.
Pay attention to the aesthetic and functional details, that's what makes a place special. If you're not a designer, try to get some advice/help, it can make all the difference.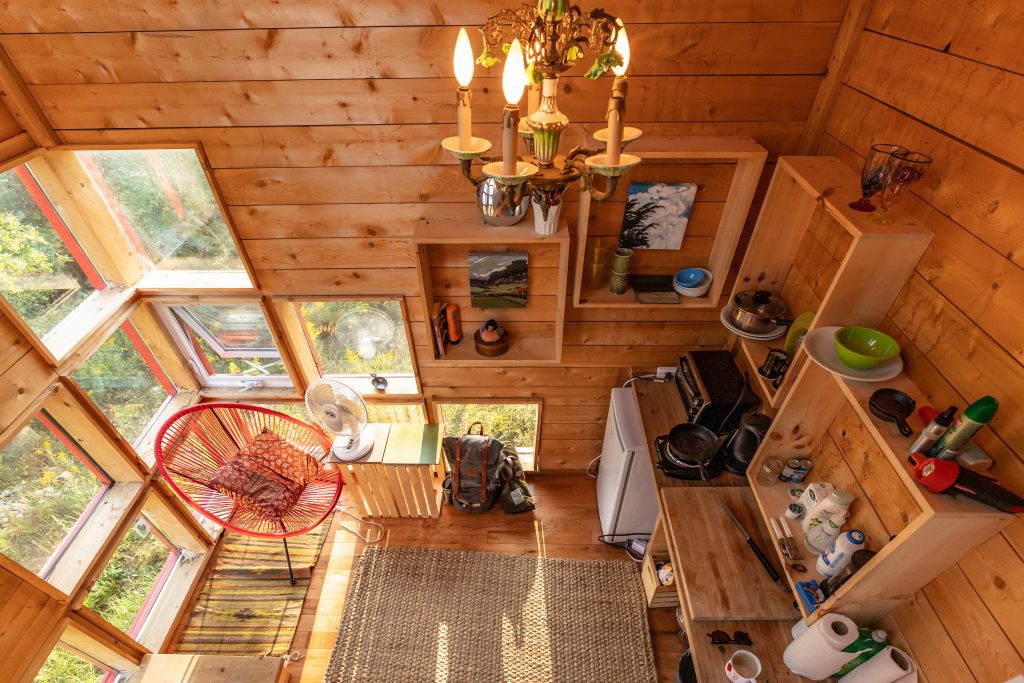 Are there any podcasts, books, apps or social media accounts that you follow for inspiration?
I follow many tiny house and glamping Instagram accounts, as well as continuing to read books on anything to do with art, architecture, mushrooms, gardening, ecology, trees, etc. I think it's important to keep yourself inspired, if you want to inspire others!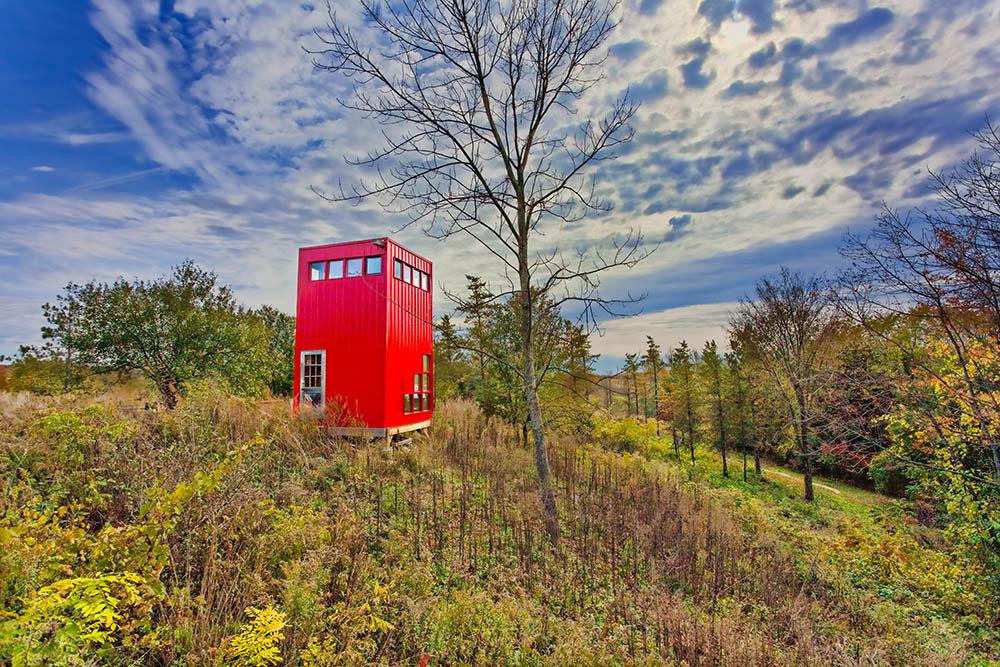 What are your goals for the year?
I want to focus on the art gallery that I'm opening on my property, as well as continuing to make improvements to the glamping site, including adding more outdoor sculptures, expanding the garden, and manicuring the trails.
What tips do you have for other women who would like to start their own businesses in travel and tourism?
Go for it, and be confident! Women make great entrepreneurs because of our abilities to multitask, work hard, listen to people, and be compassionate!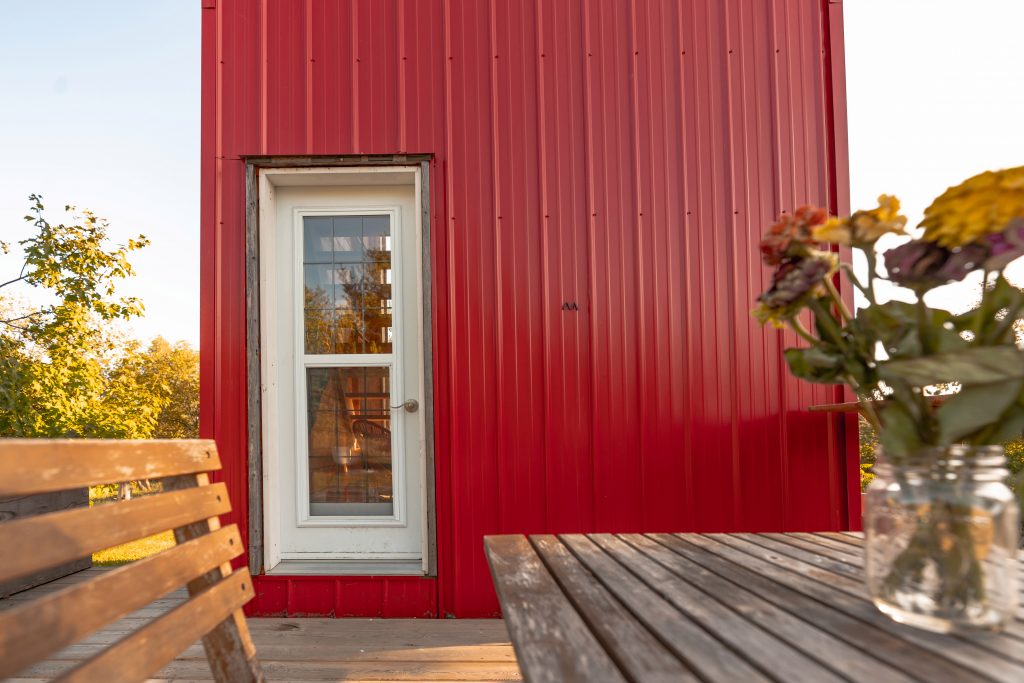 Thank you Sheree for sharing your story and wisdom with us at Glamping Hub. We are delighted to have you in our Glamping Hub community. Your hunger for design and innovation is incredible and we can't wait to see The Red Tower Gallery. Congratulations on becoming our Host of the Month for International Women's Day 2021.
Don't forget to check out our Instagram to see how Glamping Hub will be celebrating International Women's Day 2021.