Editor's note: Each month, we like to introduce one of our wonderful Glamping Hub hosts and ask what inspired them to create a glamping site. This month, we're showcasing Glamping Hub's Host of the Month for September 2022, Beth. This converted train carriage glamping rental came about by accident when Beth discovered a hidden gem in the attic of her recently purchased fixer-upper home in New Smyrna Beach, Florida. Beth loves delighting her guests with her happy discovery and providing them with a truly unique and luxurious glamping experience.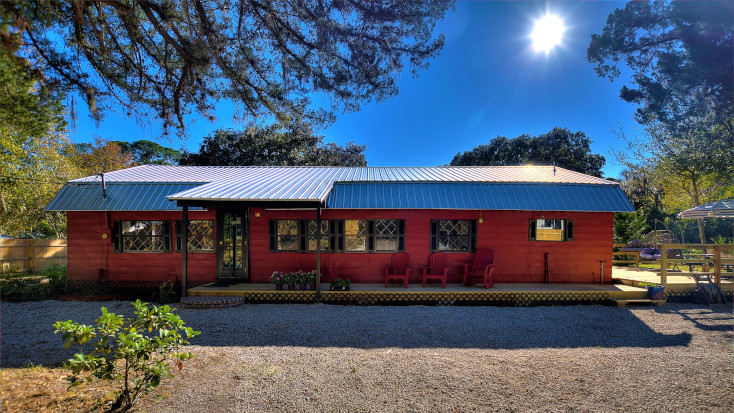 Tell us a bit about yourself…
Well, I am a mother of 2 grown kids, married for 30 years. I have been renting out cabins in Hocking Hills for the last 15 years and have also been a real estate investor. My interests are hanging out with friends and family. I love New Smyrna Beach and listening to live music at various bars there.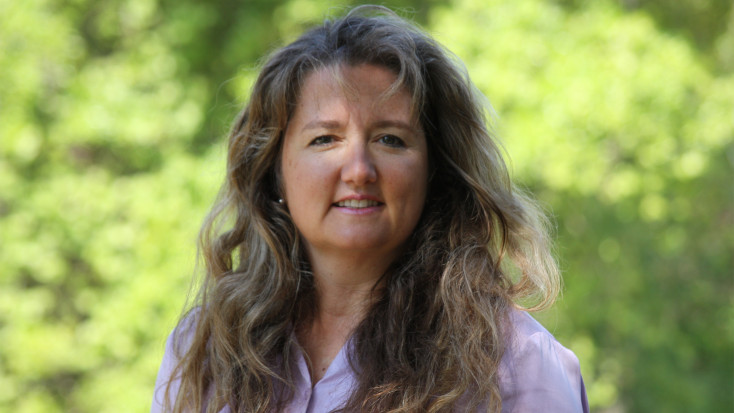 What attracted you to owning a glamping property?
It was by total accident. I initially wanted the property because of the location. New Smyrna Beach is an undiscovered gem to most people, I call it Little Nashville because there is so much live music there every night. The restaurants are fantastic! It is truly my Happy Place!
The very first day after I bought the house, I climbed a ladder and stuck my head into the hot attic only to be greeted by the tops of 2 train cars completely intact and running the whole length of the attic which is 30′ long. At that point, my mission became clear; to expose the train cars on the inside as much as possible while keeping them functional and fun!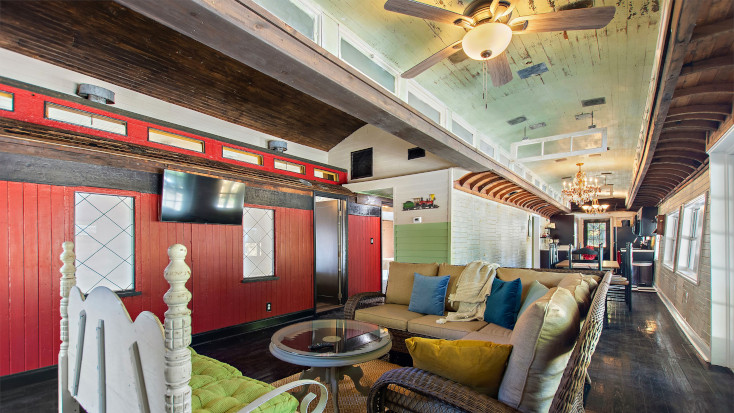 Every glamping site has a special story, could you tell us about yours?
You see it's a long story… the man who brought the two 1894 historic train cars to the property in the 1940s while working for the Railroad, had 3 daughters. His daughters were embarrassed that they lived in two trains so he proceeded to cover them up with aluminum siding and drywall to make them look like a house.
Fast forward 80 years later, I looked at the property near the beach and bought it in March 2021 as a fixer-upper not knowing there were two trains hidden underneath! Once I discovered them I decided to expose as much of the two trains as I could. It took almost a year to rip off all the drywall, and ceilings, and redo the kitchen, baths, floors, decks, HVAC, electrical, and so on. Basically, everything is new while keeping the train walls and ceiling and adding train history to the decor.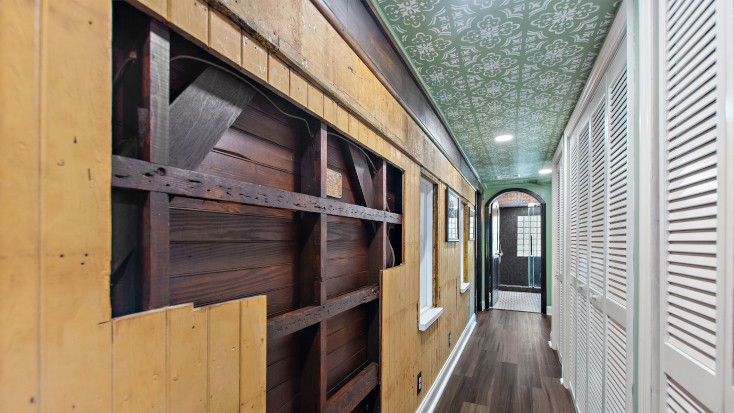 How was your first time hosting?
Easy breezy, everyone has been great! I love seeing how excited people get that first moment they discover the historic train carriages!
Can you tell us about your most memorable guest experience to date?
I had an open house when the project was done and to see the awe from other people was very gratifying. But honestly, whenever someone sees the trains for the first time, it is a "feel-good" moment.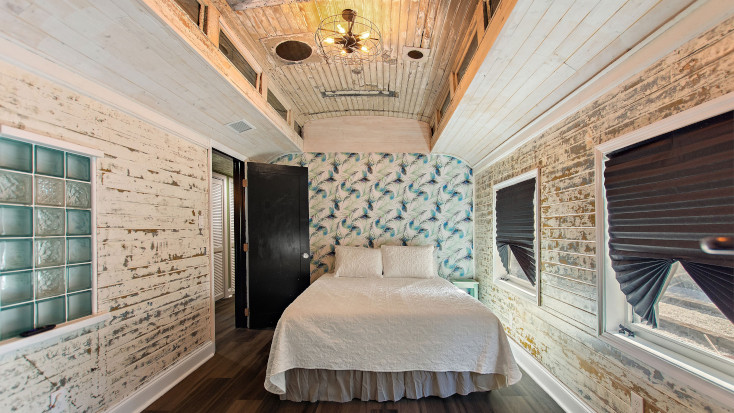 If you could have anybody stay at your accommodation, who would it be and why?
It would definitely be a train buff because they really love the history of the Florida East Coast Railway! Discovering how much we've tried to preserve the original 1894 historic train cars' walls and ceilings and the history of how trains played an important role in making New Smyrna beach one of the oldest towns in Florida! As well as how Henry Flagler – an American industrialist and founder of the Florida East Coast Railway – developed the train line down to South Florida. But even if you are not into trains, you can appreciate the uniqueness of the place and the icing on the cake is that it is only 3.9 miles to the best beach and beach town in the US.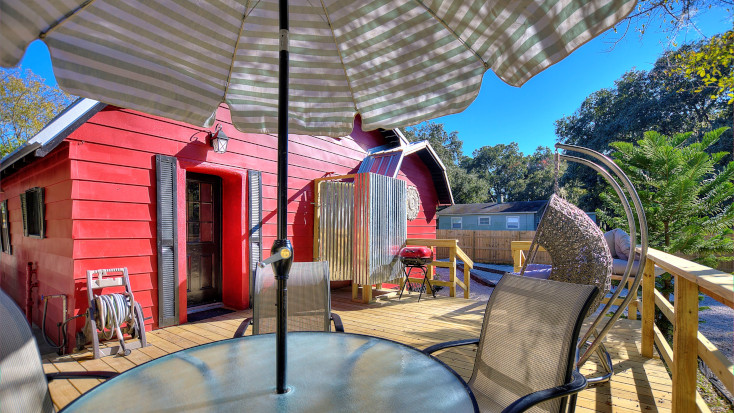 What are some of the challenges you face and what have you learned since opening?
Weed barriers don't work! I laid gravel over the half-acre yard and I have to constantly treat it with a homemade, environmentally-safe weed killer.
What do you love the most about running a glamping site?
Being able to share the joy that the train carriages bring people. One train car makes up the kitchen, dining, and family room and the other makes up the bedrooms. A middle hallway was put between the 2 trains and that is where the 1.5 baths are. The converted carriages are on a large piece of land and it is fenced in and private, so it is very relaxing and quiet. It's a leisurely 3.9-mile walk from the beach and the perfect spot for families to disconnect.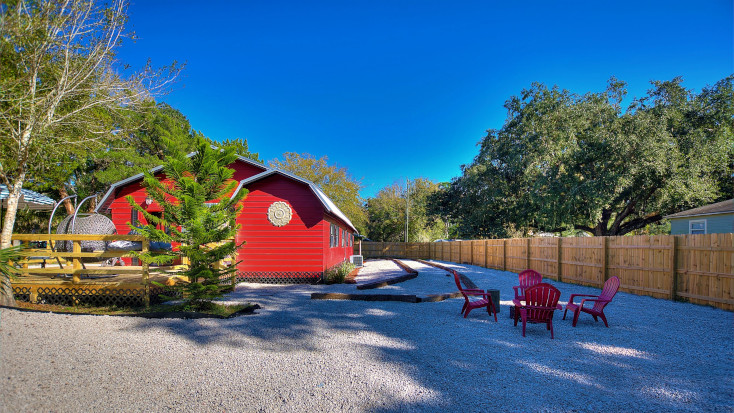 Where is your ideal holiday destination? Other than your glamping property of course!
I like to go to places that I have never been to before. I have a trip planned to visit Savannah GA soon, and I'd like to explore the whole of Portugal one day.
What advice would you give to anyone looking to start or improve their own glamping business?
Make it a Rockstar and fun, fun, fun!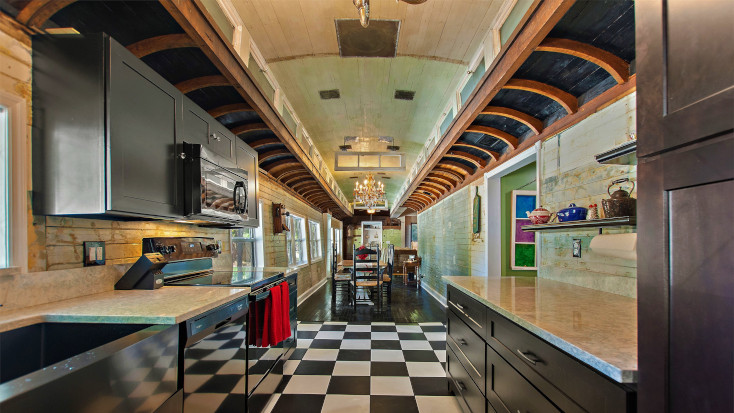 Our community of hosts means everything to us here at Glamping Hub, which is why we love to share their stories in our Host of the Month feature. If you're looking for a unique glamping getaway check out Beth's converted train carriage in New Smyrna Beach Florida!
Have you stayed with one of our incredible hosts recently and would like to nominate them for Glamping Hub's Host of the Month? Send us a message via Facebook or Instagram explaining who you've chosen and why!