Editor's note: Welcome to your Host of the Month for May 2023! Each month, we like to introduce one of our wonderful Glamping Hub hosts and ask what inspired them to create a glamping site. This month, we're showcasing Glamping Hub's Host of the Month for May 2023, Denise and Tom from Georgia. This hosting couple started with the idea of showcasing the tiny homes they built; to buyers. Now they have a thriving glamping site with tiny homes and a converted silo/grain bin! They currently have plans to expand their vision and include a 3-level handicap-accessible treehouse and a wedding chapel! If you're looking for a glamping experience surrounded by nature, this is the place for you!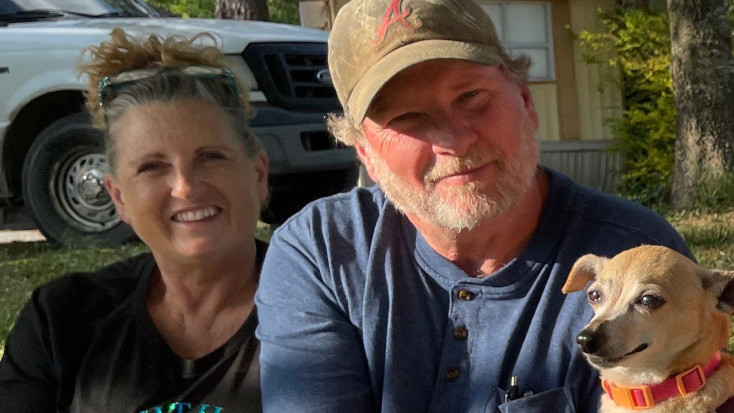 Tell us a bit about yourself…
We started off as tiny home builders. In fact, we are the oldest tiny home builders on the east coast. We are located on 10.5 acres in Central Georgia. When we pursued this property we moved from a 1,600 sq. ft. home to a 252 sq. ft. tiny home. We still live on the property in a barndominium. Our horses, donkeys, and a pig named Hank live downstairs. We live above them in 720 sq. ft.
We now have 8 Tiny Homes, a remodeled 1971 vintage Fan Camper, and a brand-new Silo/grain bin home to host our guests! Although each house has its own unique features they all have a fire feature and gas grill. We also offer the use of our new outdoor kitchen to our guests. We have 2 Koi ponds on the property for the guest to feed the fish and listen to the water as it comes down the waterfall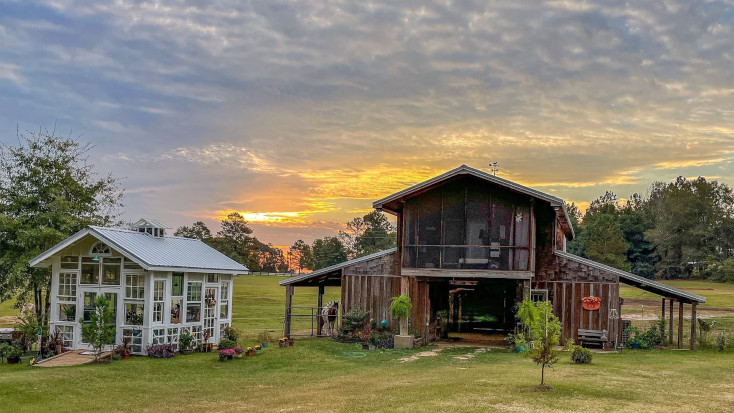 Host of the month for May 2023 Denise and Tom tell us what attracted them to owning a glamping property.
We saw the interest in tiny homes. Beyond being builders and vendors of tiny homes we realized that there was serious interest in the short-term rental market. It was a natural progression and has brought us great joy!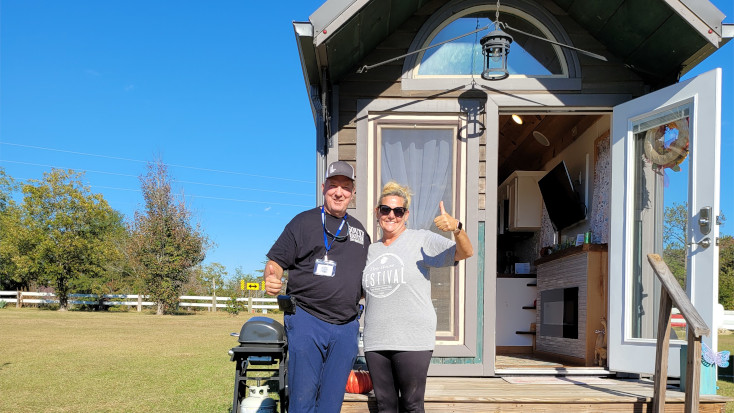 Every glamping site has a special story, could you tell us about yours?
As I mentioned we started off as tiny home builders. At that time we were also vendors at tiny home festivals traveling across the Southeast. We saw the outpouring of attendees at these festivals and knew people were very interested in tiny homes. We purchased our property in 2016 and set up 4 spots just to showcase our homes to potential tiny home buyers. Then one day one of our buyers ask if we could list them on the short-term rental platform, so others could experience how it feels to stay in a tiny home. SO WE DID.
We now not only have 8 tiny homes we have expanded to include additional structures and hosted our first Southeastern Tiny House Festival in October 2022 with worldwide known Co-host Zack Giffin from Tiny House Nation with over 4,000 attendees. We also have plans to include a 3-level handicap-accessible treehouse and a wedding chapel.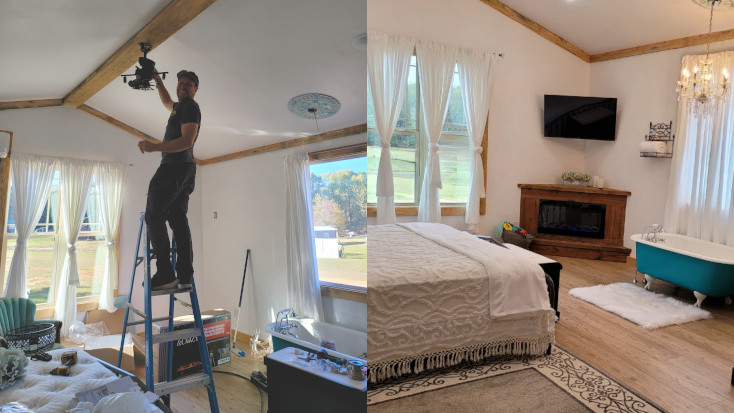 How was your first time hosting?
Great! With the rural setting, our guests can relax, unwind and reset. At night on clear nights, guests can enjoy the beautiful stars in the unpolluted night sky. We love being able to share this with guests!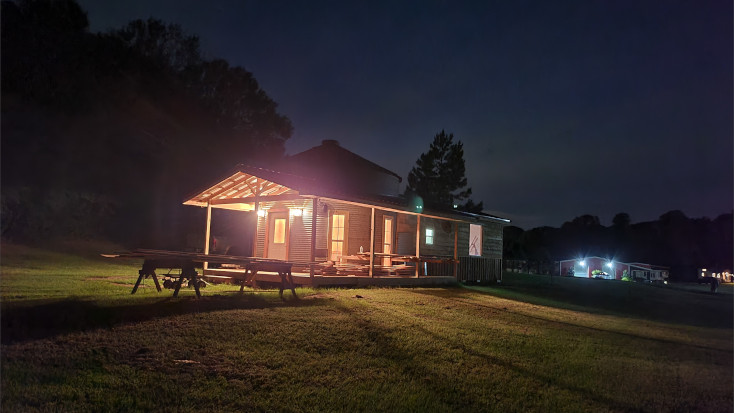 Can you tell us about your most memorable guest experience to date?
All our guests are amazing, but to see and read how much our guests love the homes, love to interact with our animals and just to get to unwind, relax and reset is so rewarding to us. Recently we had a guest arrive by helicopter, which was very exciting!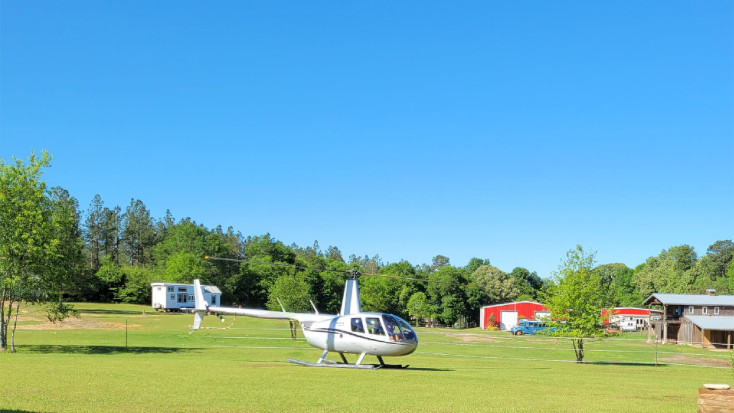 If you could have anybody stay at your accommodation, who would it be and why?
Anybody? Well of course Jason Momoa because I love everything he does and he's a nice guy. But I think an influencer on social media would be great. It's all about exposure.
Where is your ideal holiday destination? Other than your glamping property of course!
The beach, anywhere!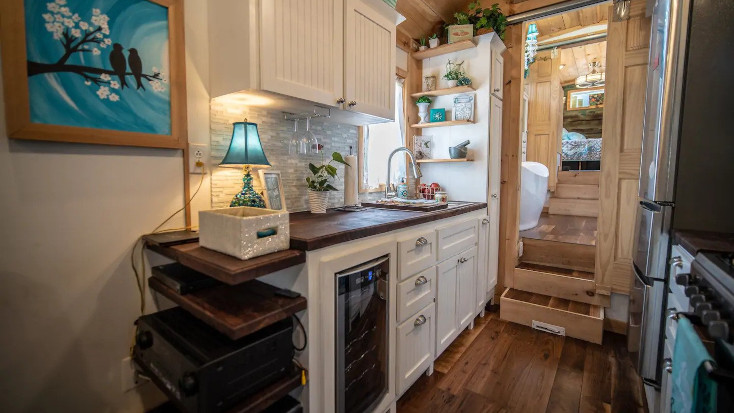 What do you love the most about running a glamping site?
Interacting with guests that are curious about what we do. We have been featured on HGTV Tiny House Hunters and House Hunters, and The DIY Network. It's a great pleasure to share our journey to tiny house living with our guests and allow them to experience it for themselves.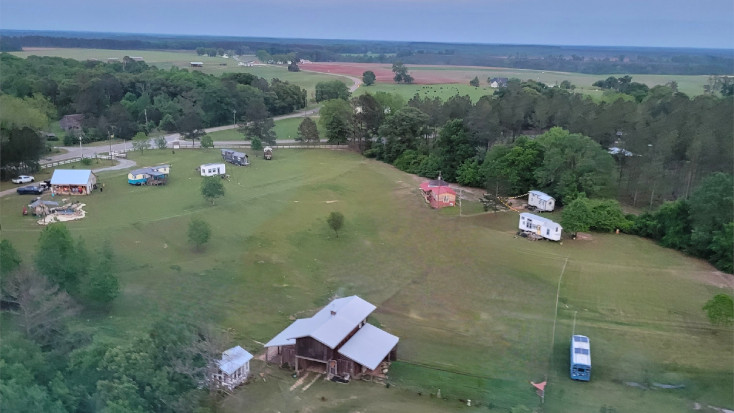 Our host of the month for May 2023; sharing the challenges they have faced on their journey to success.
We are so rural, which is a great asset and can also be challenging. As I said previously this can make exposure an issue.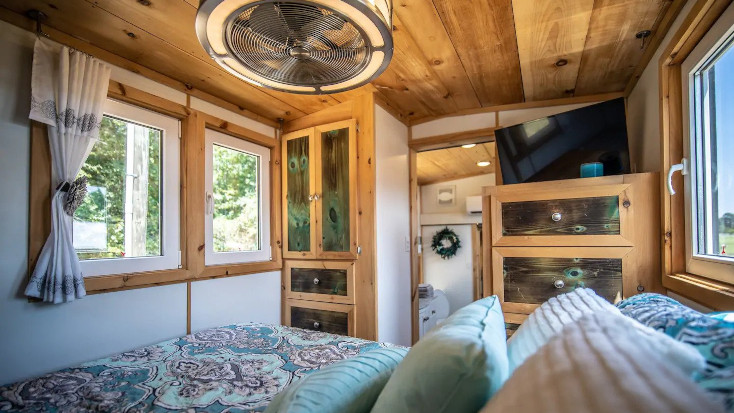 Some advice from our host of the Month for May 2023; to anyone looking to start or improve their own glamping business
Customer service is key. We like to add a special touch to make our guests feel welcome. We gift each home with fresh flowers and cut veggies for our guests to feed the animals.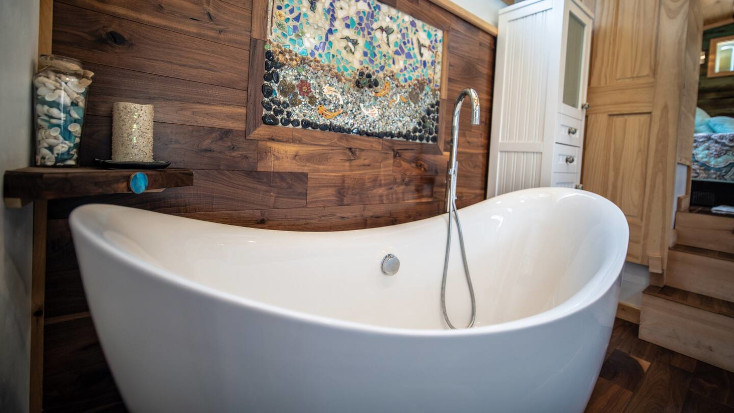 Our community of hosts means everything to us here at Glamping Hub, which is why we love to share their stories in our Host of the Month feature. If you would like to experience what tiny home living is like head to our Host of the Month for May's glamping site in Georgia! Are looking for a relaxing vacation surrounded by nature? Then this is the glamping site for you. Try this unique converted silo for a romantic getaway in Georgia or this luxury tiny house for a weekend getaway in Danville.
Have you stayed with one of our incredible hosts recently and would like to nominate them for Glamping Hub's Host of the Month? Send us a message via Facebook or Instagram explaining who you've chosen and why!