Editor's note: Each month, we like to introduce one of our wonderful Glamping Hub hosts and ask what inspired them to create a glamping site. This month, we're showcasing Glamping Hub's Host of the Month for October 2023, Beto and Karo in Tulum, Mexico. This hosting couple bonded over their experiences playing in tree houses as children. They had such fond memories of growing up in nature, that they wanted to create something similar for guests visiting Alberto's hometown in Mexico. They made their dream come true when they created their eco-friendly glamping destination – perfect for nature lovers hoping to experience the magic of Tulum.
Tell us a bit about yourself…
Alberto, an engineer by profession, met Karo, a marketing and communications executive, in Belgium. They connected over their love of nature and the great outdoors before taking the plunge to make their dream a reality in the Mexican jungle 5 years ago. Both avid travelers, their geodesic domes are designed to offer other travelers a pure glamping experience – a taste of nature without forgoing the comforts traditional tourist accommodation provides.
Tulum offers the perfect backdrop for a perfect romantic escape. The area is brimming with amazing natural features such as cenotes, natural sinkholes with crystalline water. There are thousands of cenotes on the Yucatan Peninsula and Tulum is home to some of the most spectacular ones. Glampers at Beto and Karo's accommodation have easy access to several of these natural swimming pools near the property.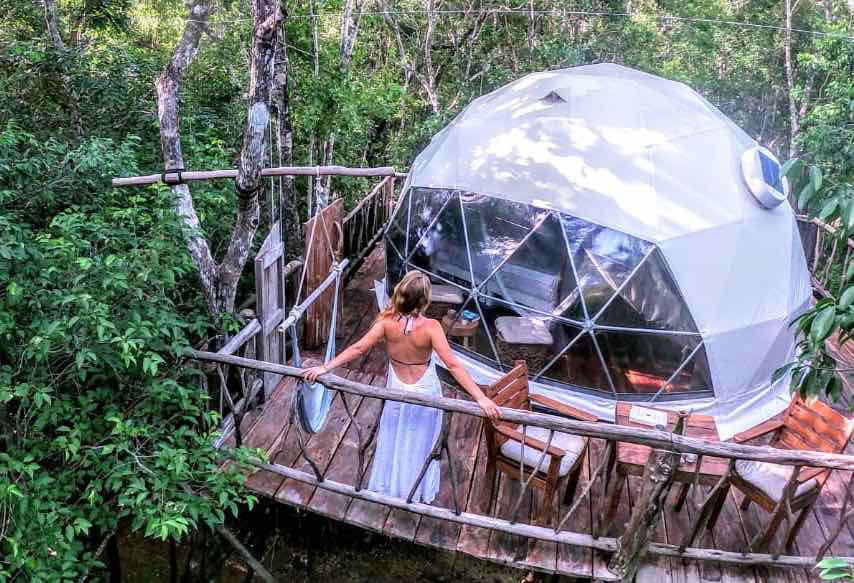 What attracted you to owning a glamping property?
Opening a glamping property implied a move from an urban jungle to a real jungle. We could never have imagined the difference that this shift would make in our lives. The move to Mexico meant a change from city life, traffic jams, pollution, and stress to the freedom and peace that only nature can offer. Our focus now is enjoying and taking in nature rather than being digitally connected 24/7.
We also enjoy being our own bosses, hosting guests in the space we have lovingly created, and the ability to be creative that running our own business affords. When building our glamping space, we were especially concerned with leaving as small a footprint as possible and all building materials were brought in by hand to the jungle location. The domes were installed very intentionally, ensuring the surrounding landscape remained virtually untouched.
Every glamping site has a special story, could you tell us about yours?
We could not single out a single visitor as our most memorable, but rather, we cherish the many special moments that our domes have seen. Visitors to our domes in Tulum have used to space to propose, organize special getaways, and celebrate important moments in their lives. We really appreciate being informed of special requests such as proposals beforehand so that we can help make the moment extra special.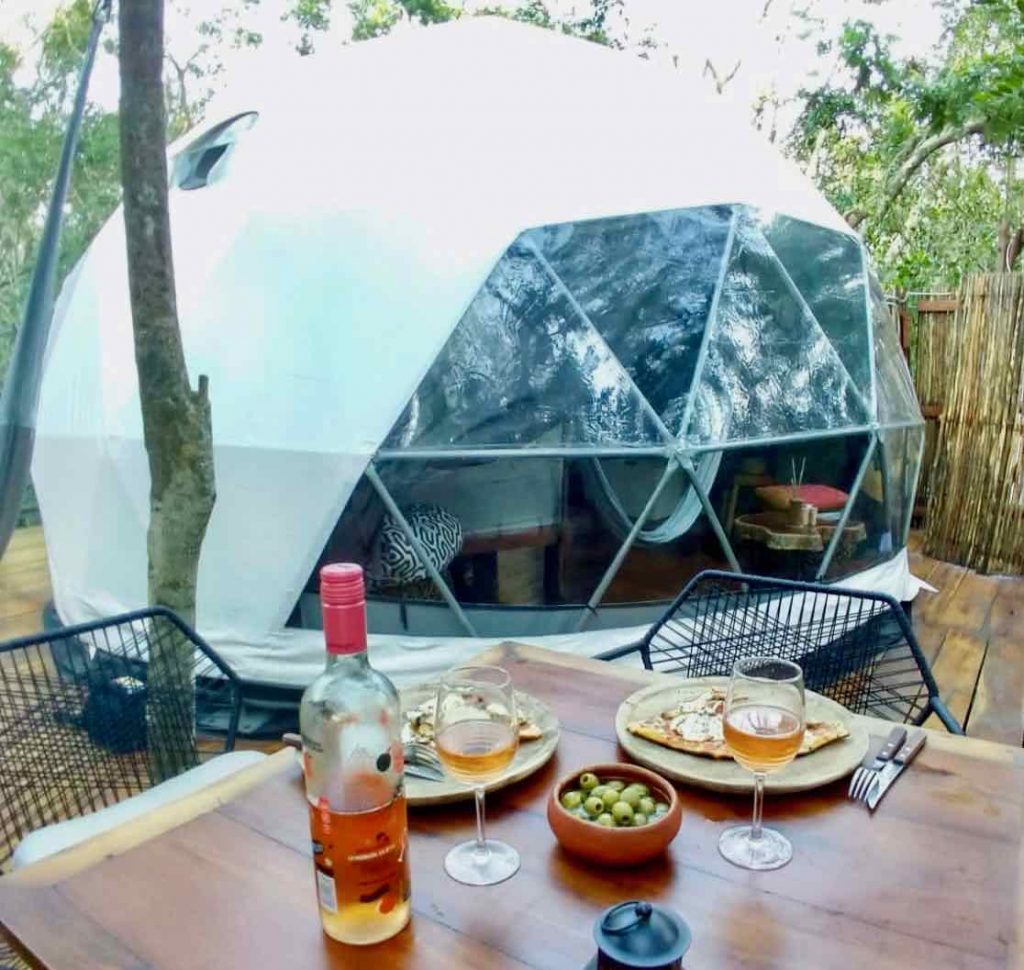 If you could have anyone visit your domes – who would it be?
Located in such a gorgeous part of the Mayan jungle, full of local flora and fauna, we dream of hosting Jane Goodall, the famous primatologist. This is because we share our forest home with spider monkeys, a species native to Mexico that is very important for the maintenance of the Eco-system and we would appreciate any advice Jane could offer!
Do you face any challenges operating a glamping business in Tulum?
The Riviera Maya boasts a tropical climate, which makes it a really lovely destination almost all year round, however, there is the danger of hurricanes between June and October. In fact, during the time we have run the glamping destination, we have experienced 3 hurricanes and were fortunate enough not to be affected at all. Another challenge is living completely off the grid, as we have to rethink how we and our guests consume energy without sacrificing comfort.
How was your first time hosting?
Of course, we were nervous about when to open our space to welcome guests but we were pleasantly surprised when we saw how well our domes were received and how enthusiastic guests were about visiting us. Despite being unsure about launching our project, the endless messages and booking requests from guests confirmed that we had made the right decision about opening when we did.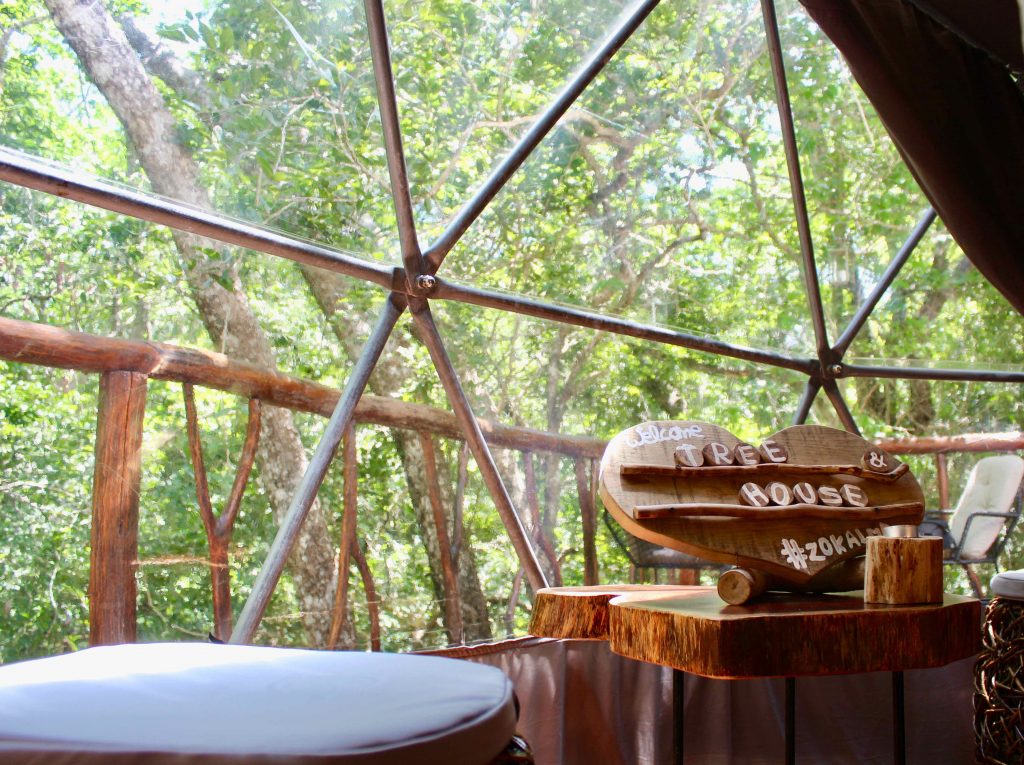 What do you enjoy most about running a glamping site?
We can't narrow it down to only 1 thing, but we really enjoy seeing the look on our guests' faces when they first set eyes on the domes. Another thing we really enjoy is welcoming visitors from all over the world and from all walks of life.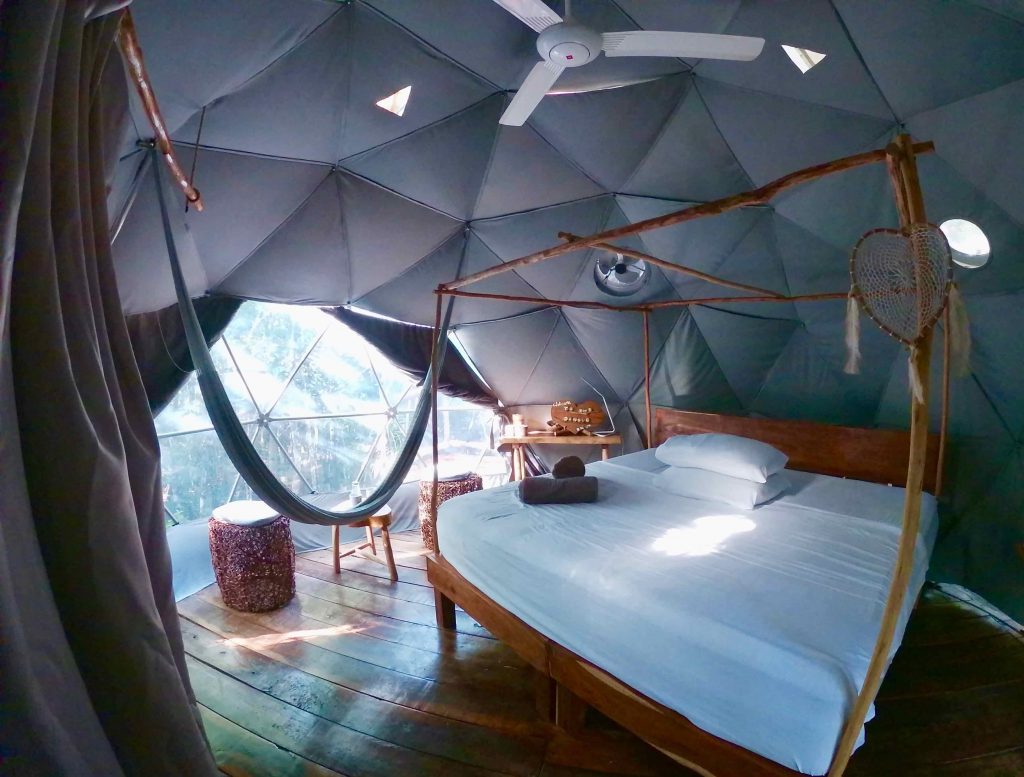 Is there anywhere you would like to go glamping?
Because we spend most of our time in such a warm region, we would like to experience what it would be like to go glamping in a colder climate, or in the mountains.
What advice would you give to anyone looking to start or improve their own glamping business?
Probably the best piece of advice we could give is to be yourself and add as many personal touches as you can to your property. We find that our guests love spending their vacations in unique places in nature that incorporate authentic and regional accents.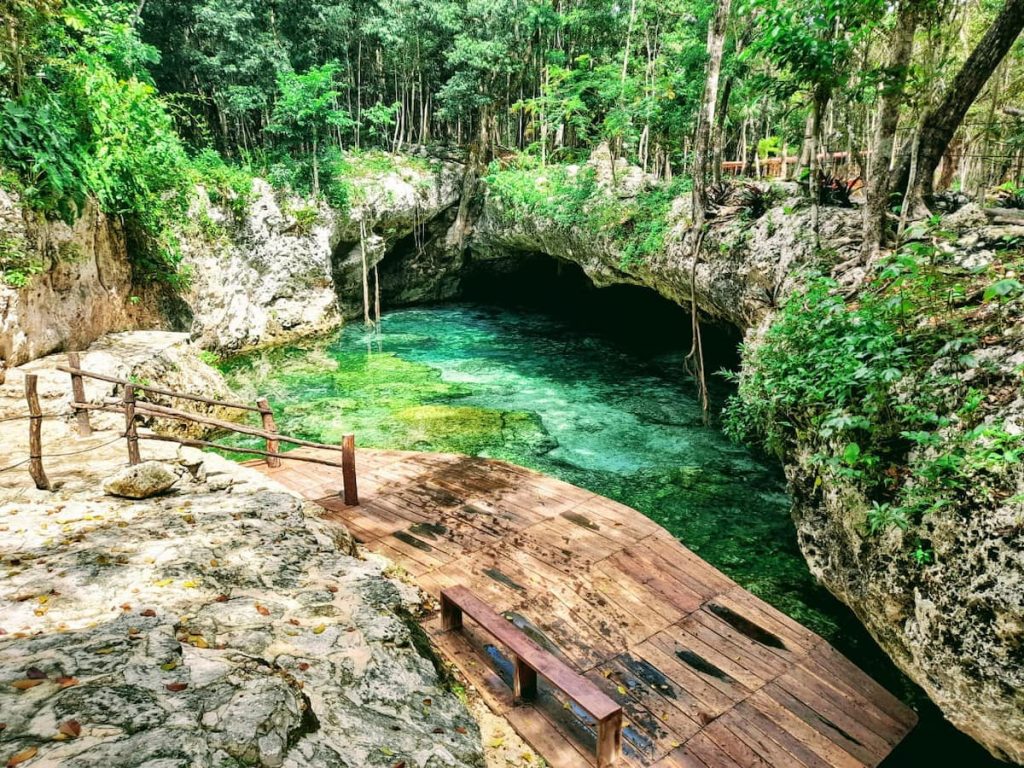 A special message to glampers visiting this space
Our glamping site was designed to be a spiritual oasis to get away from the hustle and bustle of day-to-day life and really soak in the serenity that spending time in nature has to offer. We have really poured our hearts into seeing our dream come to life and just as we take the opportunity to take the time and soak in all there is around, we encourage our guests to do the same.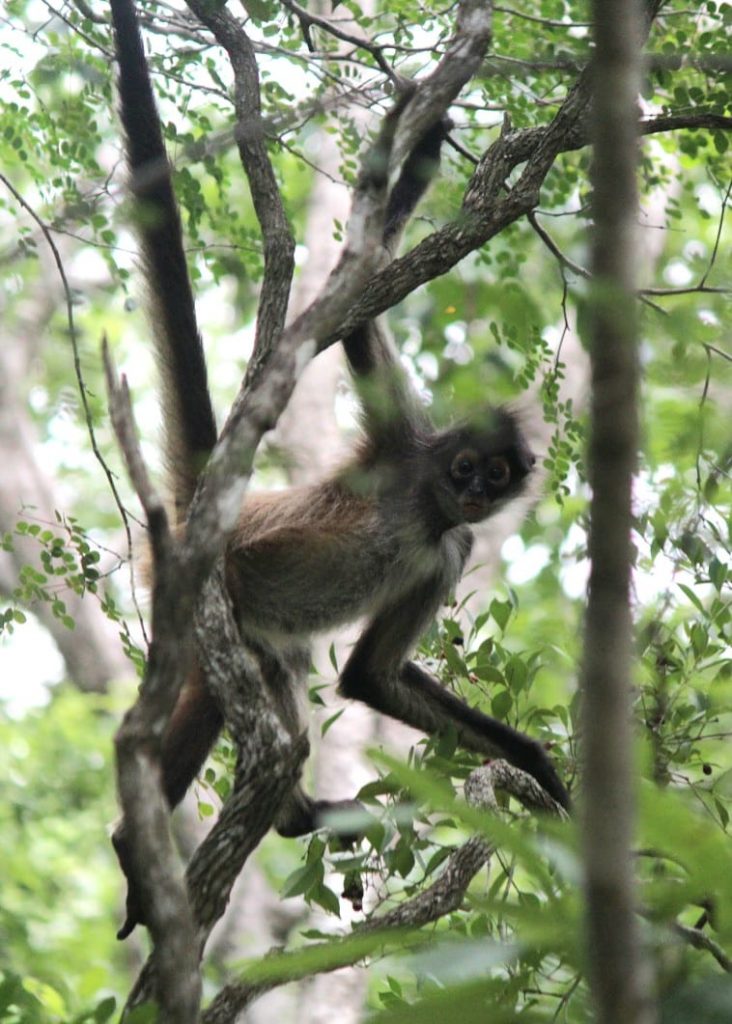 Our community of hosts means everything to us here at Glamping Hub, which is why we love to share their stories in our Host of the Month feature. If you're looking for a Unique Dome experience in Tulum, Mexico, Book Beto and Karo's great accommodation.
Have you stayed with one of our incredible hosts recently and would like to nominate them for Glamping Hub's Host of the Month? Send us a message via Facebook or Instagram explaining who you've chosen and why!