Editor's note: Each month, we'd like to introduce you to one of our wonderful Glamping Hub hosts and what inspired them to create a glamping site. This month, we interviewed Erin about her peaceful yurts near Joshua Tree National Park, California.
1. What is the story behind you starting your glamping site?
For 15 years, I longed for a personal sanctuary, an ideal escape from the rat race and worlds away from my stressful sales job in Los Angeles. I sorely needed a place where I could breathe deep, soak in the natural world, and just…be.
So I explored gorgeous locations far and wide—Colorado, Utah, Italy, even Malta—but after visiting a friend in Twentynine Palms in February 2019, I stumbled upon the exact vibe I'd been so fervently seeking. Who knew my paradise was so near? Within a month of that first visit, I set my intentions on a five-acre lot and then made it mine. At long last, I was home!
My life began in Arizona so this desert re-connection brought me full circle. And because circles represent full completion, I began to envision a village of yurts, round Mongolian structures that could host other peace-seekers. Made of felt insulation and horsehair ropes, yurts are designed to handle all manner of elements and nomads have been utilizing them for millennia.
After discovering Canadian-based Groovy Yurts, I became entranced with the story of Baata and how he and his family craft each yurt by hand from their home in Mongolia. Thankfully, Swiss philanthropist Yves Ballenegger had the same reaction. So, in 2003, Yves contacted Baata, helped create a business to market and sell their yurts worldwide. Groovy, right?
All my yurts are spectacular pieces of art, each hand-painted and hand-carved with four layers including a wool lining made from the sheep in Baata's village. The canvas wraps are strapped down from ropes woven from horsehair.
The original inspiration for 28 Palms Ranch came from my mother, Patrice, a busy little bee born and raised in the Arizona desert. We envisioned this blessed spot together after visiting during the 2019 super bloom. Mom marveled at the majestic landscape and instantly fell in love with the expansive landscape, just as I did.https://glampinghub.com/blog/wp-admin/post.php?post=1981&action=edit
Sadly, Mom didn't live to see our desert retreat come alive but her festive spirit touches every corner of the property. The number 28 was her favorite and I dedicate 28 Palms Ranch to my cherished memories of her.
2. What did you do before becoming a glamping host?
I mostly worked in sales but have always had an entrepreneurial spirit. The new idea, the untapped market, the alternate view—these concepts intrigued me and still do.
3. What drew you to glamping?
Connecting with the outdoors is such a restorative act—pretty much the biggest favor you can do for yourself—but pitching a tent in the dirt? I'd rather not. Glamping is a happy medium for those of us who want to ponder the Milky Way and don't mind the smell of campfire on our clothes but still want to fall into a lush bed after a hot shower at the end of a glorious day. Life doesn't get better than that.
4. In your opinion, how does your accommodation fit the definition of glamping?
Because of our proximity to Joshua Tree National Park, we generally attract those who seek a unique peace that only the desert can provide—the expansive views that stretch your perspective, the many deep colors of dawn and dusk, those famously dark night skies that leave you in awe—so we've created an ideal outdoor living experience. That being said, people also like to be comfortable and clean so each site includes an indoor sink for hygiene and a private hot/cold shower and loo. Each site also features a propane bbq grill, counter/sink for food prep, picnic table, fire pit, and chairs, so now your new living room and kitchen have no walls or ceiling!
But the bedroom is a different matter; that's really where the 'glam' comes in to play. For me, the most important amenity I provide is a yummy bed with luxurious linens and fluffy pillows. And with the toono (ceiling window atop the yurt) open, guests can even bask in the Moon and stars while in bed! I want to expose my guests to the heavens in every way possible.
5. What is the most special thing about your property?
The unique location. We're just two and a half hours from the coast, tucked away behind desert hills, and down a dirt road with incredible views of Joshua Tree National Park. 28 Palms Ranch is close, yet far, far away.
6. What do you love the most about running a glamping site?
I love meeting all my guests—visitors from all over the world! The response has been incredible. It's so rewarding to check people in and get them settled in their yurts. I can literally see and feel them relax right before my eyes—it's incredibly gratifying. When they leave, they are so grateful and refreshed by the experience. We all really need this type of experience right now.
7. What are some of the challenges you face?
The biggest challenge has been getting 28 Palms Ranch built up to my own expectations and on my timeline. Thankfully, the whole process is teaching me to breathe deep and trust the vision, which is why I am here in the first place!
8. Tell us about your most memorable guest experience to date.
One of my more memorable guest experiences included a group of women who'd come to celebrate one of their birthdays. All residents of Big Bear, they drove down the mountain to explore our expansive high desert to find that Nature is incredibly beautiful even without tall trees! They are a close-knit group of friends who regularly enjoy exploring the world together. The gals thrived here at 28 Palms Ranch—from sharing stories at their fire pit and giggling under a full moon, to day hiking through Joshua Tree National Park, to shopping for vintage gems in downtown Joshua Tree—they clearly had a blast. I was so pleased I could provide an ideal 'home base' for this group to experience a new place while deepening their bonds of friendship. Each of them expressed a desire to return, either with a husband, or for a work retreat, and one who just wants to come back alone for a week to "unplug and re-charge." Their review made my day:
"A few of my girlfriends and I went out there for a girls weekend getaway. It was one of the most memorable experiences EVER!!! The Yurts were amazing, Erin was great to work with and it's just easy to be there. The property is extremely calm, well cared for and the accommodations were very well thought out. If you are looking for a place to get away, disconnect, and find rest and relaxation, look no further! I would highly recommend 28 Palms Ranch and will definitely visit again!"
9. Which three words are most commonly used in guest feedback about your accommodation?
Breathtaking, peaceful, restorative.
10. Tell us about the experience you provide for guests visiting your glamping site.
I absolutely love providing unfettered access to the glorious night sky. Because we are remote, we have very little light pollution. City visitors gape in awe and I believe humanity needs more of this awareness. Having the ability to continue this experience from inside the yurt—through the circular ceiling window called a toono—is incredible. Imagine being warm and cozy in a bowl-of-whipped-cream bed and catching a shooting star?
11. If you could have anybody stay at your accommodation, who would it be and why?
Neil deGrasse Tyson so he could inspire us with his knowledge about the cosmos and our place in it as the stardust we each be. Plus I would encourage him to bring Oprah along too because I know she would dig it.
12. Are there any upcoming additions/changes to your glampsite you would like to share with us?
We've got a round formation (again, with the circles!) made of old railroad ties that came with the property. We aim to fashion this into a hammock village for more lounging, quiet reflection and yet another comfy way to stargaze. Also, we are a very pro-napping community!
Also, we have a community yurt that recently hosted two artists during a local Open Studio Tour. Soon, we will be expanding activities there to include yoga, crafts, workshops and classes, available to all our guests, of course.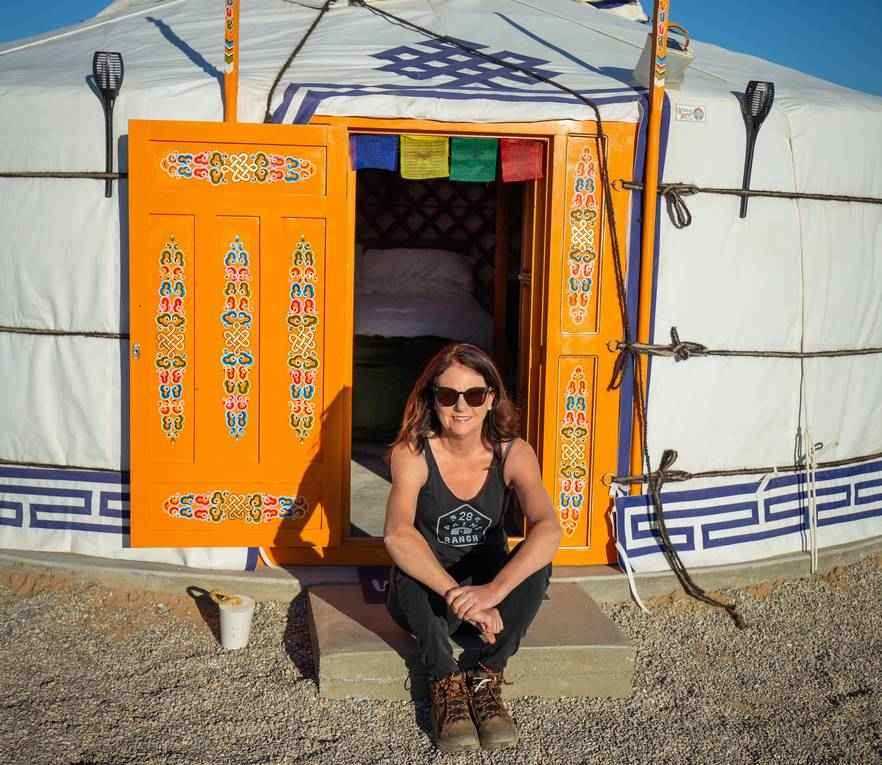 ---
To book a unique desert getaway at one of Erin's yurts in California, click here and book an unforgettable vacation in one of these peaceful yurts!