Editor's note: Each month, we'd like to introduce you to one of our wonderful Glamping Hub hosts and what inspired them to create a glamping site. This month, we interviewed Judy and Steve about their unique, fairytale boot-shaped cabin in New Zealand!
1. What is the story behind starting your glamping site?
We wanted to create a space that gave our guests the experience of being somewhere totally out of their ordinary. A place to get away from the rigors of life, reconnect with each other and feel like they are living in a fairytale.
2. What did you do before becoming a glamping host? What drew you to glamping?
Steve is a chef and I was a teacher. In 1991 we set up our country cafe, Jester House Cafe which we continue to run. People often comment that being here is like being in a wonderland. The Boot is nestled in a hazelnut grove on the same property.
3. In your opinion, how does your accommodation fit the definition of glamping?
The Boot has very soft lines being a rounded shape and as with a tent, it has a gentle feel. Guests often comment on the cosseting feeling of being in The Boot which I liken to being in a tent. And then there is all the luxury contained inside.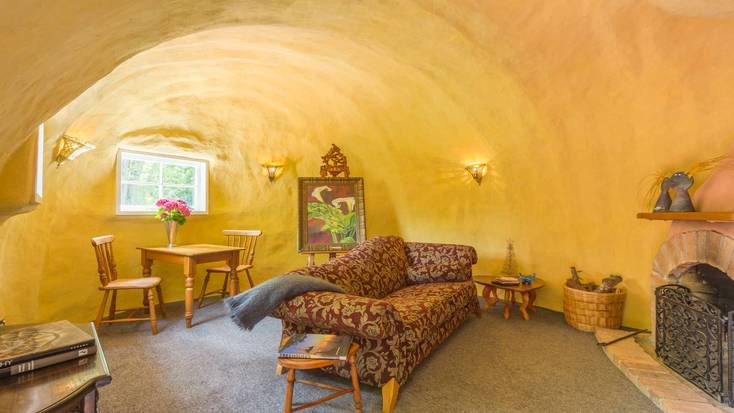 4. What is the most special thing about your property?
The whole property is special with the cafe and whimsical gardens. The Boot adds to this uniqueness, there are no other size 318 boots you can stay in, especially one so beautifully finished. The open fires, both inside and out are a big drawcard as these days very few people get to sit by a good roaring open fire.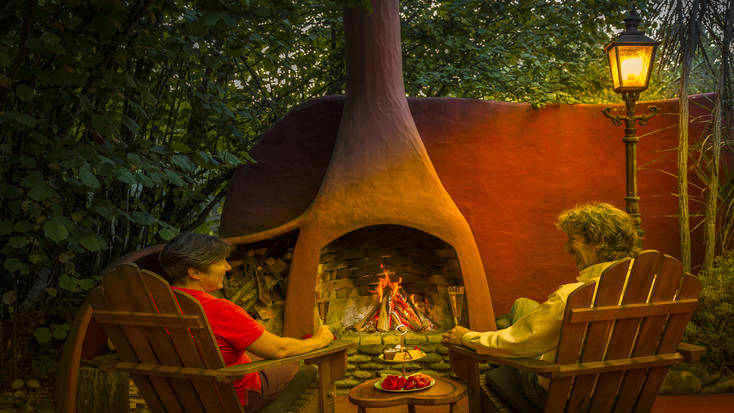 5. What do you love the most about running a glamping site? What are some of the challenges you face?
We love giving people the opportunity to have an accommodation experience that is out of the ordinary. Guests saying they don't want to leave is the best compliment as we know they are truly relaxed and have had a wonderful stay and that is absolutely the best thing about running our tiny hotel. The challenge we face is families wanting to stay as it looks perfect for children but it is only built for two. We have had a parent coming to stay with a child as a birthday treat on several occasions and that works well and the children are always thrilled.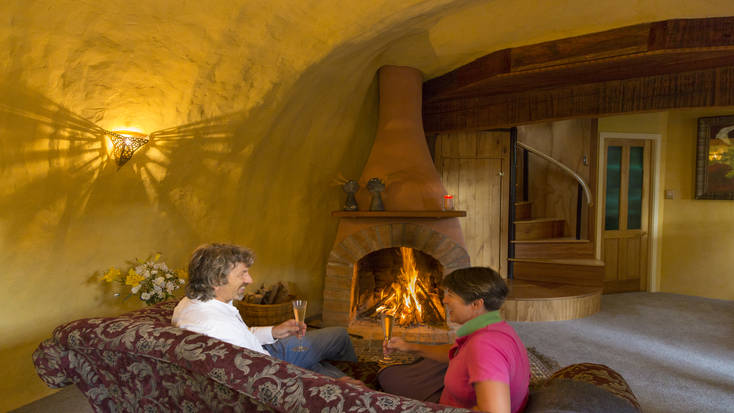 6. Tell us about your most memorable guest experience to date.
A local couple, Annabelle and Bill were regular cafe customers. Bill took me aside one day and asked to book The Boot. He said he always forgets their anniversary and wanted to do something really special. He then surprised Annabelle with a helicopter picking them up from the beach in front of their home and landing them here outside The Boot. They had a wonderful stay and Annabelle's comment was, "We arrived in a helicopter and left in a dream." It is even more poignant as not long afterward Bill was diagnosed with cancer and has since passed away, but Annabelle has this wonderful memory created for her by the man she loved so much.
7. Which three words are most commonly used in guest feedback about your accommodation?
Fairytale, Love Boot, I want to stay forever.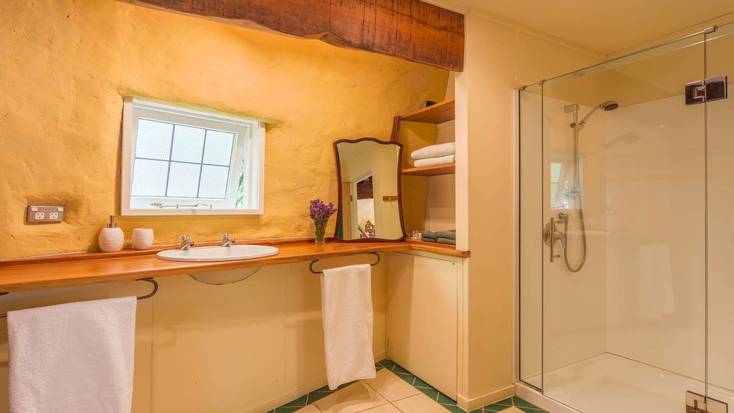 8. Tell us about the experience you provide for guests visiting your glamping site.
We love to provide for our guests with an experience that is more than just a bed for the night. We always add extra treats such as home-baked goodies, fresh fruit from our orchard, and have local wine and beer available. The two open fires, inside and out, candles and of course a super comfy bed. Even though we live on-site so we can help with anything our guests require, we try to ensure guests have complete privacy.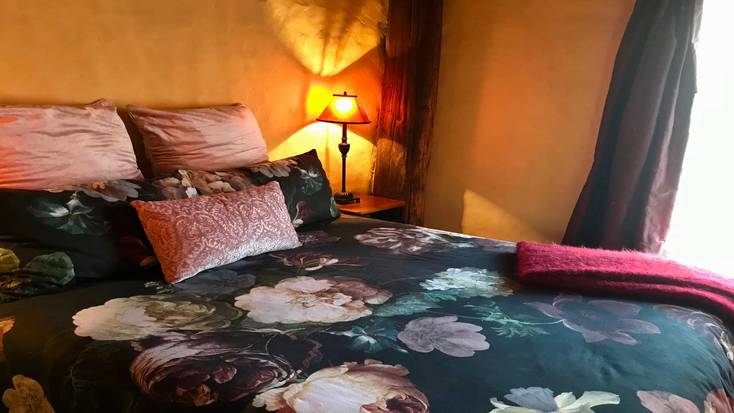 9. If you could have anybody stay at your accommodation, who would it be and why?
Jacinda Ardern, the Prime Minister of New Zealand. She is doing an amazing job of running the country but it must be incredibly stressful and at times feel like a thankless task. I would love for her to come and stay with her husband for a few days to recharge her batteries, breathe in the fresh air of Tasman and head back to Wellington feeling refreshed and appreciated.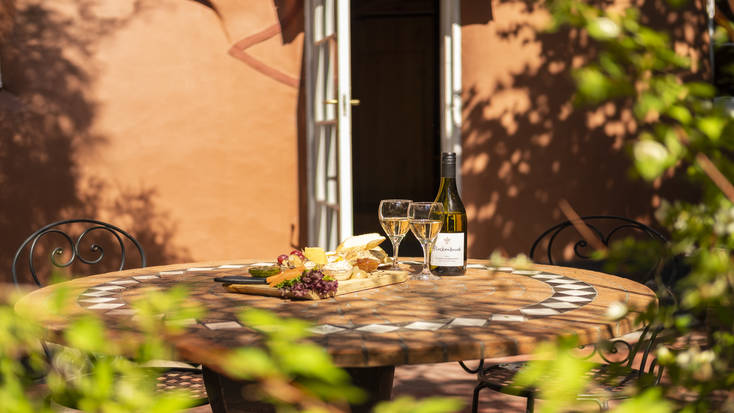 10. Are there any upcoming additions/changes to your glampsite you would like to share with us?
We are in the process of finishing an eco-cottage, Chestnut Lodge. It is sited on the hill section of our property and is totally off-grid. It is built of sustainably sourced timber and light straw clay finished with natural paint. It has a cute wood fire, a galley kitchen area, en-suite bathroom, and studio-style living bedroom space. With beautiful views over the mountains and an outside fire, it will be the ideal spot for those wanting to relax in a secluded spot.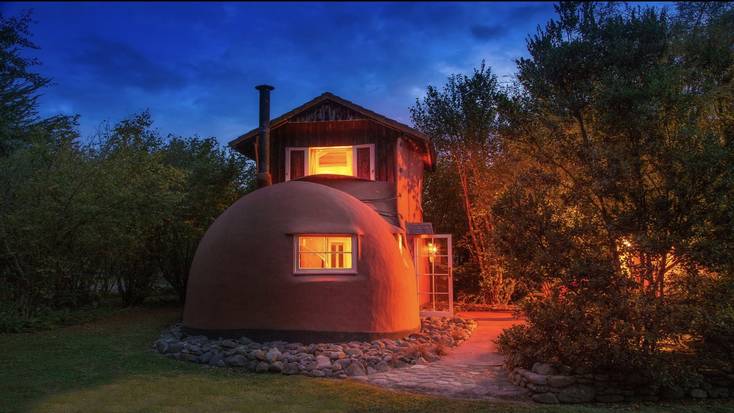 ---
To book a unique fairytale getaway at Judy and Steve's boot-shaped cabin, click here and book an unforgettable vacation!