Editor's note: Each month, we'd like to introduce you to one of our wonderful Glamping Hub hosts and what inspired them to create a glamping site. This month, we interviewed Rob and Sandi about their tiny house rentals, tipis, and trailers in Nevada.
1. What is the story behind you starting your glamping site?
I built a tiny house for us to have as an escape from the city of Las Vegas. I have always loved tiny houses. My passion is designing and building so when I had the chance to design and build my own tiny house I did. We are good friends with the owner of Sandy Valley Ranch, Marilyn Gubler. She suggested that we bring the tiny house to her ranch as my wife and I enjoy horseback riding and the ranch life. Especially Sandy Valley Ranch as it is in the middle of the Mojave Desert and only 45 minutes from Las Vegas.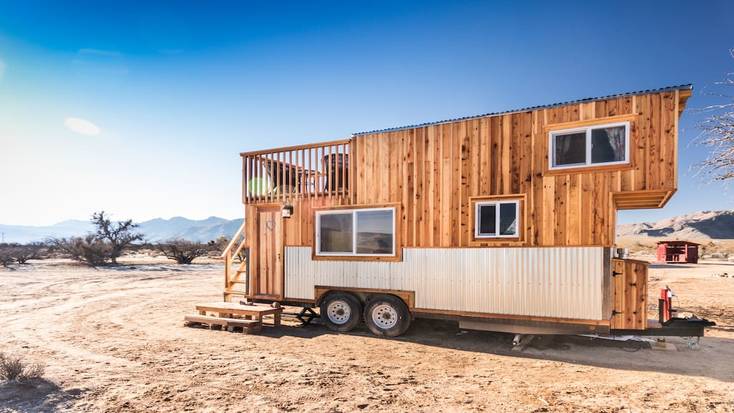 The time out in the desert, with all the animals and being able to spend the night under a sea of stars, gives us so much pleasure that I decided to build another tiny house, one with a rooftop deck. We recently added a couple of tipis to the property, each with an outdoor kitchen and an outdoor shower. My intention was not to build a glamping site, it was to create a place for us and our friends to be able to stay when visiting the ranch. People really love spending time at the ranch and in the desert. This is what has motivated me to keep creating unique spaces for people to enjoy and to be able to experience ranch life in the desert.
2. What did you do before becoming a glamping host? What drew you to glamping?
I have a degree in Arts from Ringling School of Art and Design. I moved to Las Vegas and worked as an animator for slot machines. After a long career of doing animation, I needed a change. I needed to be in nature, and to create something that would make a positive impact on people. I have a desire to create environments that are comfortable, memorable, and unique for people to be able to disconnect from their busy lives and reconnect with nature.
3. In your opinion, how does your accommodation fit the definition of glamping?
Our accommodations have the comfort of home for those that want to camp but not get dirty or cold. Each accommodation has its own fire pit and seating around the fire. Each has its own kitchen, a flushing toilet, shower with hot water, air conditioning, and heaters. Every bed has a memory foam mattress and the beds in the tipis even heat up.
4. What is the most special thing about your property?
The sunrises, sunsets, and the stars. Since we are located in the middle of the Mojave Desert there is no nighttime pollution, just stars, coyotes singing in the background, and birds chirping in the morning. The ranch is set on 160 acres so it is quiet, rural, and peaceful.
5. What do you love the most about running a glamping site? What are some of the challenges you face?
I love meeting so many different people from all over the world. To see them in awe of the peacefulness, exhaling, and taking time for them. If they choose to ride horses, sort cattle, or play cowboy games, they can as the ranch offers much to do, or if they just want to be alone and have quiet time, they can do that too. Being able to offer a real Wild West, cowboy experience or a place to just disconnect is very rewarding and what I love about running a Glamping site. The challenge I face is not always being at the ranch to personally great everyone. There are times I need to be in Las Vegas. However, there is ranch staff there to greet guests and answer questions if needed.
6. Tell us about your most memorable guest experience to date.
A couple got engaged while staying in one of our tipis. It was a surprise for his girlfriend. He reached out to us with his plan to propose and we decorated the tipi with flowers, wine, and extra candles. He booked a sunset horseback ride, dinner at the ranch, and then took her to the tipi where he proposed. We were all very excited to be part of this proposal and to be able to create a memorable experience for them. She said yes and they have already booked to spend their one year anniversary with us.
7. Which three words are most commonly used in guest feedback about your accommodation?
Peaceful, romantic, comfortable. One guest said that staying in one of our tiny houses was as wonderful as a big warm hug.
8. Tell us about the experience you provide for guests visiting your glamping site.
We offer horseback rides on the property or across the desert, cattle penning and cattle drives, axe throwing, roping lessons, and a shooting range. Breakfast, lunch, and dinner can be requested and served in the main ranch house.
9. If you could have anybody stay at your accommodation, who would it be and why?
I would love Willy Nelson to stay with us. I would take him on a ride through the desert and then sit around the fire and sing some songs and share stories.
10. Are there any upcoming additions/changes to your glampsite you would like to share with us?
There are no big plans at the moment. We are always working to upgrade what we have to make sure we are giving our guests the best experience.
---
To book an unforgettable stay at Rob and Sandi's rustic ranch in Nevada, click here for a tiny house, here for a tipi, and here for one of their trailer rentals, and begin your Wild West adventure today!