Editor's note: Each month, we'd like to introduce you to one of our wonderful Glamping Hub hosts and what inspired them to create a glamping site. This month, we have Rodney, who manages five charming cabin and cottage rentals in Texas Hill Country.
1. What is the story behind you starting your glamping site?
After graduating from college with a marketing degree, I moved to Houston for my first "real" job. After seven months, I quit, moved to Wimberley, Texas, and started building houses. I also had a side job doing home repairs. A lot of the jobs were in rental cabins, which gave me the idea to build my own.
I wanted to do something different and unique from all the others. I looked around for a couple of years before I found the perfect piece of property and slowly started building my cabins in my free time—creating the place I would want to visit.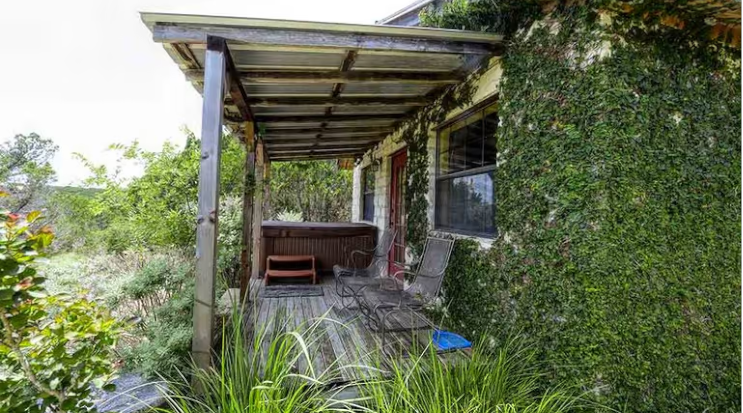 2. What did you do before becoming a glamping host? What drew you to glamping?
Before I started building my property, I was building custom homes and pursuing an acting career. When I originally built it, it wasn't my intention for it to become my primary job.
After sevens years, the cabins became self-sufficient, thanks to repeats and referrals, which allowed me do other things and opened the door to traveling and focusing on my photography. When not at home managing the cabins, I'm out photographing great white sharks, saltwater crocodiles, stampeding horses, surfers, and rock stars.
3. In your opinion, how does your accommodation fit the definition of glamping?
I have five rustic and cozy accommodations nestled among the cedar trees in Texas Hill Country, where you can reconnect with nature while soaking in your own private hot tub. Each cabin has elements of salvaged materials collected from old ranch houses in the area, but with all modern amenities. The cabins are only four miles from Wimberley Square, but you feel like you are in the middle of nowhere. We also have DirecTV and DVD players, but I hope guests will leave the TV off and go enjoy the outdoors.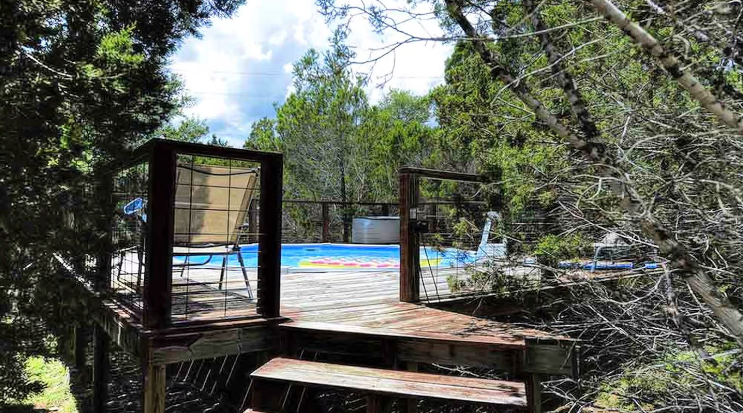 4. What is the most special thing about your property?
The cabins are spread out on 10 acres, and each one is its own private oasis nestled into the cedar trees. They each have their own private pool and hot tub, a king-size bed, a kitchen, and a fireplace. It truly is a place to get away and relax with nature.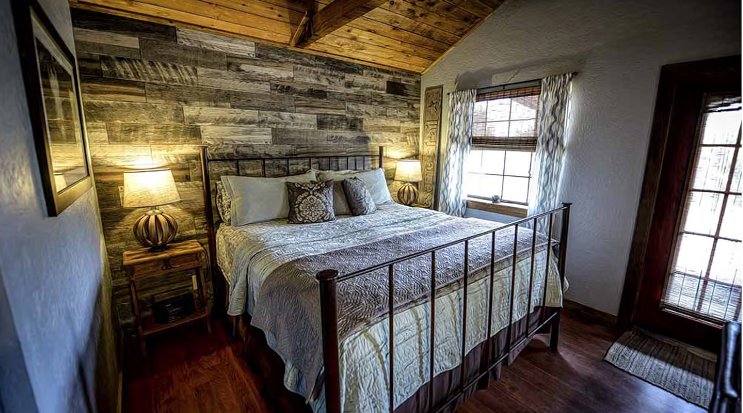 There are deer, rabbits, fox, the occasional turkey, and, of course, lots of birds. One of my favorite things is to sit on the back porch in the mornings and listen to the doves coo back and forth to each other.
5. What do you love the most about running a glamping site? What are some of the challenges you face?
I leave notebooks in the cabins for guests to tell about their experience. I look forward to reading about their story and how it helped them de-stress from work, reconnect with their partner, or just escape the pressures of the real world for a couple days.
The biggest challenge I face is maintenance. For several years, I did it all. I built them and did all the maintenance, repairs, and cleaning. There are five pools, five hot tubs (about to be six), five water heaters, five air conditioners…well, you get the point. There's always something that needs to be tended to, and the biggies always seem to happen the day before I go out of town.
After doing it solo for 15 years, I finally brought in my brother to help out with some of the workload, and my parents also live nearby, so my dad is able to help out with things when I'm traveling.
6. Tell us about your most memorable guest experience to date.
After 25 years, that's really a tough one to answer. There have been so many. I've had writers that come to get away to finish their projects, couples that have gotten married on the property and come back every year for their anniversary, and people celebrating birthdays, new jobs, and retirements.
7. Which three words are most commonly used in guest feedback about your accommodation?
Relaxing, secluded, and peaceful.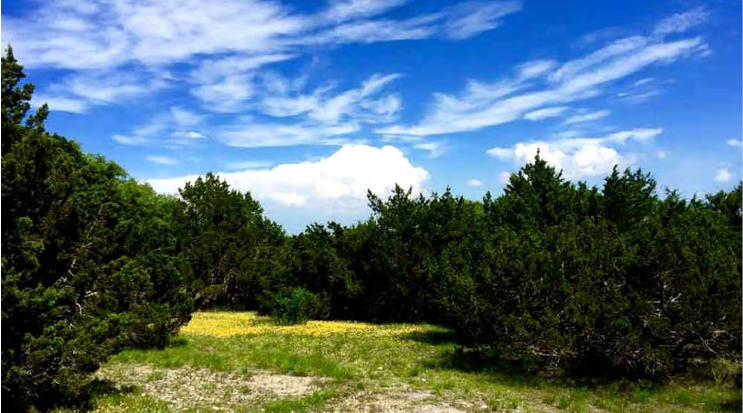 8. Tell us about the experience you provide for guests visiting your glamping site.
My property is all about escaping the city and reconnecting with nature. Guests always ask me what there is to do in Wimberley, but when they get here, most people don't leave the cabin. You can lay out by the pool or soak in the hot tub on the back porch while looking at the stars. Wimberley is a dark sky city so you can see all the stars in the sky.
If you do want to step out, there are numerous wineries in the area, restaurants, zip-lining, swimming in historic Jacobs Well and Blue Hole, and shopping.
9. If you could have anybody stay at your accommodation, who would it be and why?
Anyone? If I could go back in time it would have to be Jacques Cousteau or Sir Ernest Shackleton. I am an adventurer and a wildlife and underwater photographer. I'd want to pick Cousteau's brain on the best dive sites in the world and would love to hear firsthand how Shackleton was able to bring back all 28 members of his crew after his ship was crushed in the Antarctic ice in 1914.
10. Are there any upcoming additions/changes to your glamping site you would like to share with us?
I am always upgrading, redecorating, or remodeling something to keep it fresh and new. The part I'm most excited about is the tiny home addition that will be available in the next month.
While building houses, I also dabbled in the film industry; I even moved out to LA for a couple years, where I worked on a couple big films, but I missed my Texas roots. When I moved back in 2001, I built an 150-square-foot tiny house that I lived in for five years. After I moved out, it sat empty for 10 years and was kind of forgotten about.
This past year I've been remodeling and added on an extra 100 square feet. The tiny house movement has become so popular; it will be a great way for people to try it out to see if it's something they would really like to do. The abundance of natural light and high ceilings definitely don't make it feel like a tiny house, though. And yes, it even has a king-size bed and a hot tub!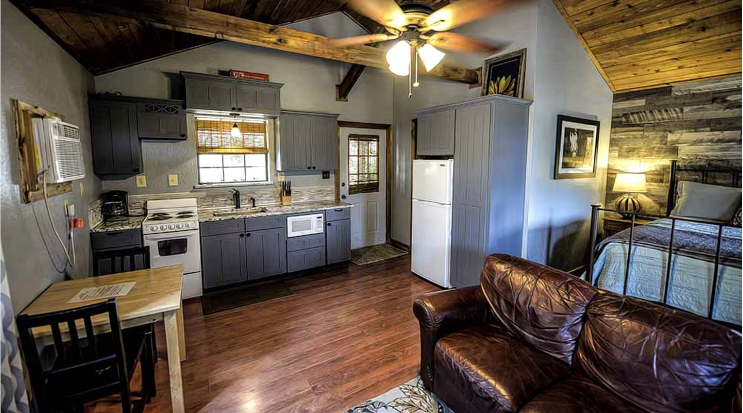 ---
To book an unforgettable stay in Texas Hill Country at one of Rodney's accommodations, click here, here, or here for one of the cabins and here or here for one of the cottages!