Have you been wondering how to get better guest reviews as a host in 2022?
Guest reviews about your unique accommodation are absolutely crucial in encouraging more intrepid travelers to choose your retreat as their next vacation getaway. Reviews give potential guests an honest insight into what to expect when they arrive, and they give your accommodation a more personal, individual character—creating a real bond between guests, hosts, and the property itself.
They also offer a precious way to receive invaluable feedback that will help future guests have that once in a lifetime experience they have been dreaming of.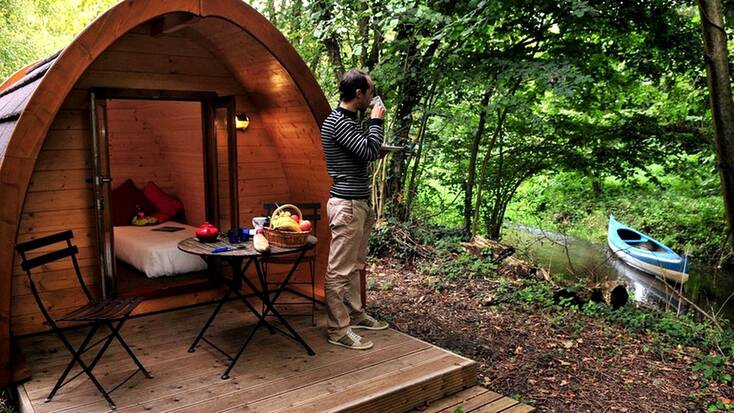 With these handy tips on how to naturally encourage your guests to leave a review, you'll be receiving better reviews—and more of them!—in no time
1. Leave a welcome gift and basic necessities
The phrase, "A little goes a long way," couldn't be truer when it comes to providing some simple, affordable items for your guests upon arrival. Nobody likes to arrive at a secluded getaway in the forest only to have to head back out on those winding country roads to stock up on basic items, like salt, pepper, and oil for the kitchen. A few cold beers on the table, a modest bottle of wine, or a small platter of local food will make a world of difference when it comes to guests leaving a glowing report about their vacation rental.
2. Have a chat as guests check-in
Our stellar hosts typically handle the check-in of their newly arrived glampers themselves, and this is the ideal time to both thank guests for choosing your accommodation, while also kindly asking them to leave a review at the end of their stay with both highlights and any potential improvements you could make. Guests always want to know about the best things on offer in the area, too, and with your keen local knowledge, you can help point them in the right direction to make their stay an unforgettable one.
3. Leave a thank you note
Right before your guests check out, leave them a personalized thank you note. Cute, affordable stationary and cards are readily available at stores like Target and Walgreen's, and it won't take more then a minute or two to leave a quick, yet heartfelt, message to thank them for choosing your rental. If they do end up leaving you a winning review online, be sure to respond to their comments expressing your gratitude and welcoming them back for their next vacation!
4. Make sure your accommodation is spotless
A high level of cleanliness is at the top of almost every guest's list when it comes to things that help them view an accommodation favorably and want to leave a glowing review. Guests look for everything to be spick and span throughout the entire rental, but pay extra special attention to the bathroom, as well as smaller details, like the bed linens and the first glass or mug a guest will grab to pour themselves a glass of water or a cup of coffee. If everything is sparkling, your guests are definitely going to want to rave about it afterwards.
5. Get to know your guests to get the best camping reviews!
Whether your guests are planning an outdoorsy vacation filled with activities and adventures or celebrating a special occasion, like an engagement or birthday, you'll want to find out right from the start so you can make their stay even more special. Ask your guests what else you can provide, no matter how small it may seem, as we all know it's the little things that often make the biggest difference.
---
Have you seen the rest of our GH Tips blog series? Check out the rest of our advice on how to create the best listing, accommodation, and experience possible for your guests!