A glorious bit of mountain hiking and a relaxing afternoon on the beach are all possible on your glamping getaway to North Carolina. Visits near Tar Heel, NC for a weekend are an experience in the natural beauty. From the Atlantic Ocean, and the Appalachian Mountains to the Great Smoky Mountains National Park. North Carolina getaways are some of your best options, especially with a stay in one of our North Carolina cabins.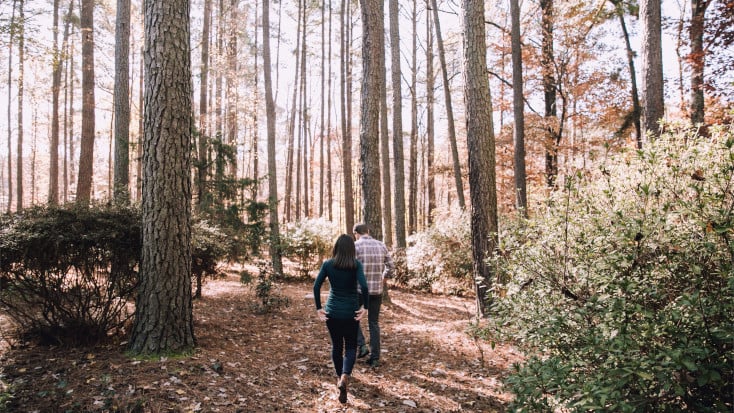 1. Cosy cabin for rent in Marshall NC, visit Tar Heel in 2023
Houses for rent in Marshall NC are the perfect spot to visit from Tar Heel NC. This luxury lodge cabin with a private deck and hot tub in Marshall is a to-die-for. Cozy up around the fireplace after spending all day hiking, horseback riding, and fishing. There are plenty of opportunities to relax with views of the creek and the waterfall. Take your friends to this cozy cabin for a peaceful weekend getaway from Tar Heel NC!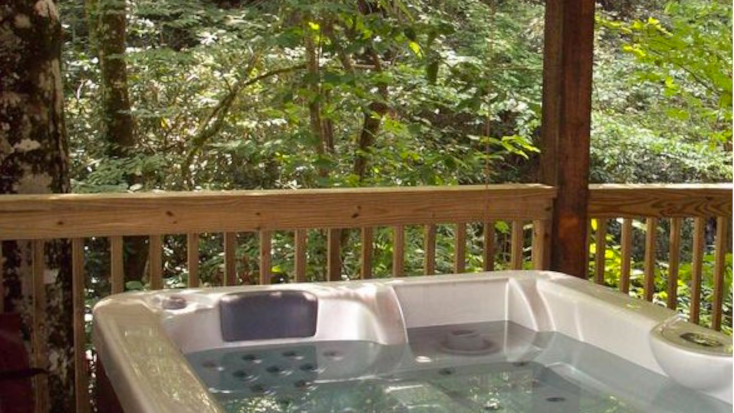 2. Unique treehouse to rent in Asheville, NC for a weekend getaway near Tar Heel, NC
This luxury treehouse with a wrap-around deck is ideal for a getaway with family or friends. Comfortable enough for four guests, pet-friendly, and near the Great Smoky Mountains National Park! It is nestled in the treetops in Reams Creek Valley and you'll love the peaceful brook and restful environment. Soak up the fresh air and greenery that surrounds you, allowing yourself to truly relax. Enjoy rigorous hikes through the nearby national forests and mountains during this top North Carolina getaway in 2023.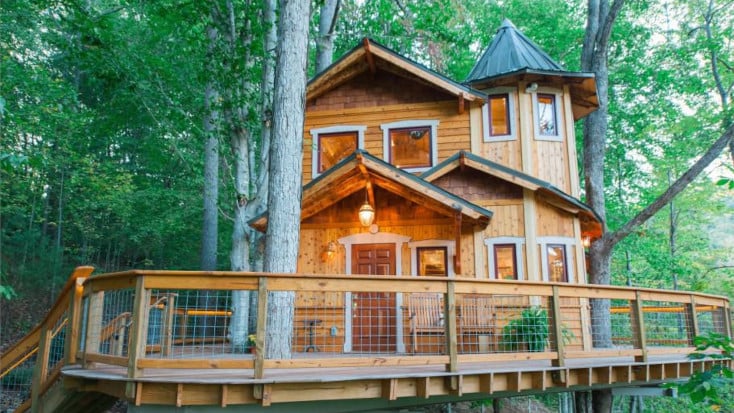 3. Pet-friendly log cabin near Castle Hayne for a relaxing weekend escape
This spacious, kid-friendly cabin is large enough for 15 guests and only 10 minutes from Wrightsville Beach! It boasts views of the Northeast Cape River and is perfect for fishing and wildlife watching. Plan a group glamping trip—and bring Fido along, too—for an unforgettable getaway. Greenfield Park is perfect for hiking and biking or a relaxing family picnic. This spacious cabin is ideal for your next beach getaway from Tar Heel NC. Rest, relax and enjoy a day out on the 80ft pontoon boat and an evening around the fire pit.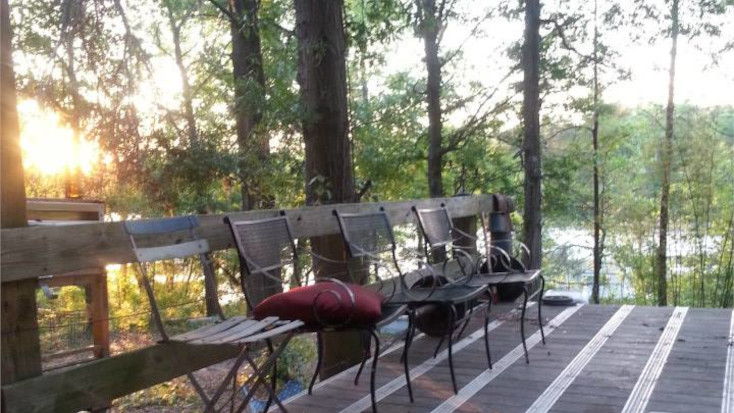 4. Cozy cabin on a farm near Fayetteville, North Carolina
This cozy cabin on a nature preserve and farm is a great getaway for nature lovers. Spend the day walking around the 10-acre nature preserve trails easily accessible from the cabin. This family-friendly cabin has access to plenty of wildlife and 100 bird species that pass through. Ideal for wildlife and birdwatchers or those who love to relax in nature. Glampers can head to Cape Fear River for a daytime picnic in the sun or a day of hiking and fishing. Plan your next nature escape near Tar Heel, NC for 2023.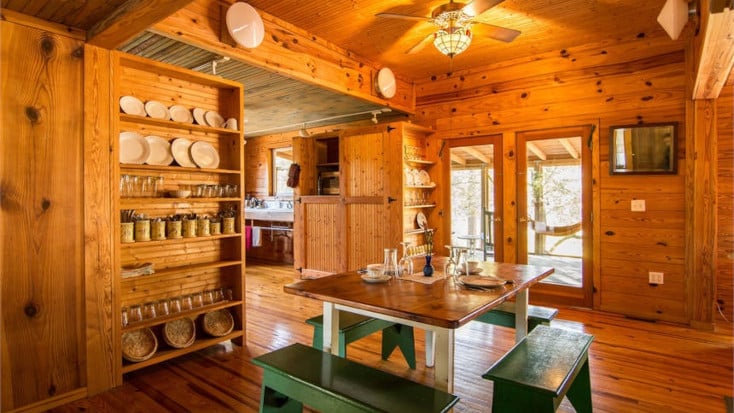 5. Wilmington Luxury Cabin for a weekend away near Tar heel, NC
Discover this luxury cabin near Fayetteville for a great weekend escape from Tar Heel, NC. Prepare to be soothed to sleep each night by the calm sounds of the ocean. This family-friendly cabin with ocean views and a private deck is the perfect summer vacation rental in North Carolina. Enjoy swimming and beach activities at Holden Beach, fishing, and fun watersports. Glampers can head to Bladen Lakes State Forests for a great day of hiking and taking in nature. The cabin is big enough for 12 guests, so you can take the whole family on a fun getaway!