Despite being the second smallest state in Australia, Victoria is huge when it comes to diversity of regions, outdoor recreation, attractions, and landscapes you have to see to believe. From great nature displays, such as The Twelve Apostles, Yarra Valley, and aboriginal landmarks, to iconic events, like the Australian Grand Prix, Victoria appeals to even the most demanding travelers and makes the perfect destination for an outdoor holiday.
Not just any holiday, though! We are talking luxury, glamour, and style in the great outdoors. Victoria plays host to some great glamping sites, like our top 10 favorite luxury tents, for you to experience nature without giving up any creature comforts. Just imagine sleeping under the stars, watching the sunset, or relaxing in the hot tub at one of these first-class properties! Keep reading to find out the best way to add some luxury to your next outdoor holiday in Victoria.
1. Eco-Friendly Tent in Phillip Island, Victoria
Located in a secluded setting on Phillip Island, this eco-friendly tent boasts off-grid solar power and energy-efficient utilities. Whether you're looking for a couple's getaway, or hoping to enjoy some peace and quiet with a small group of friends, this adorable rental is perfect. It is just 600 meters from one of the best surf breaks and secluded beaches on the island, and what's more, if you stay here, you'll have the chance to see some of the unique wildlife that calls the area home.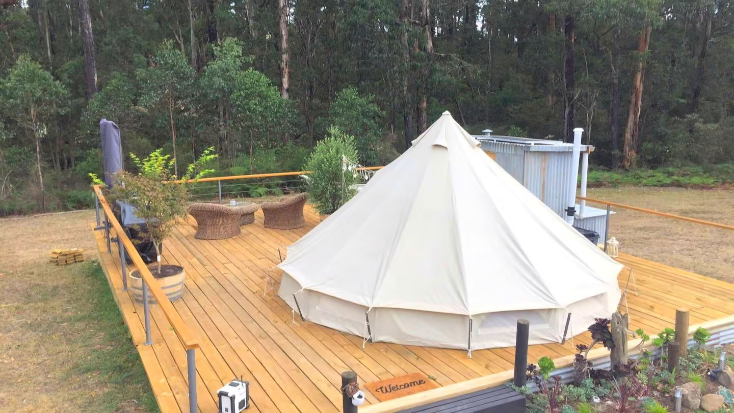 2. Romantic Bell Tent near Stunning Beaches in Ventnor, Victoria
Offering extreme comfort and high-quality bedding, this bell tent is the perfect option for couples who wish to relax in style in one of the most beautiful locations in Australia. By picking this rental, you'll be able to enjoy long hikes exploring the incredible surrounding natural beauty, or visit one of the many wonderful wineries Victoria boasts for a day of tours and tastings.
3. Bell Tent with Breathtaking Views on Phillip Island, Victoria
Another great option for couples looking to enjoy a quiet holiday together is this bell tent in Ventnor on Phillip Island. An eco-friendly option, the hosts have ensured that you'll be comfy and cozy with a queen-size bed and plenty of high-quality bedding. In the surrounding nature, you will be able to try out a whole range of great outdoor adventures or spend days relaxing in your own private haven.
4. Bell Tent on the Ovens River in Porepunkah near Bright, Victoria
This brilliantly appointed bell tent is tucked away along the Oven River, just a short drive away from downtown Bright. With a solar-heated swimming pool and plenty of amenities, you will find it hard to leave the glamping site, but since it's ideally placed to enjoy both the great outdoors and some small-town recreation, you won't want to miss out on all this area has to offer!
5. Bell Tent near Daylesford in Victoria, Australia
With a charming interior boasting armchairs, a luxurious queen-size bed, as well as quality blankets, pillows, and throw rugs, this lovely bell tent near Daylesford is in the perfect spot to explore some truly stunning areas of natural beauty in Victoria. While the surrounding area is best known for its mineral springs, there are also several amazing parks and gardens to be explored. You can also enjoy a day in the city with a visit to Melbourne, which is under an hour's drive away.
6. Tent with a Private Chimenea in Inverloch, Victoria
This tent is set in the coastal town of Inverloch and offers an exceptional location for a beach getaway. The tent offers plush bedding and a seven-meter dock with a chimenea, as well as an outdoor campfire. Local attractions include Anderson Inlet, Bunurong Marine National Park, Eagles Nest, and Twin Reefs.
7. Beachfront Tent near Wilsons Promontory National Park in Yanakie, Victoria
Tucked away near the beach in Yanakie and just a 5-minute walk from the entrance to Wilsons Promontory National Park, this bell tent sleeps two guests and it's tastefully decorated, making you feel comfy and cozy in a stylish setting. This rental is perfect if you want to spend your holiday sunbathing and swimming, as you'll be just a short stroll from the nearest beach.
8. Stylish Bell Tent for Two near Hepburn Springs in Victoria, Australia
This gorgeous property with a sleek interior is located near the town of Daylesford and can accommodate two guests. Daylesford is settled in the foothills of the Great Dividing Range of Victoria, so anyone staying here will have quick and easy access to some great areas of natural beauty. Hepburn Mineral Springs is just a stone's throw away and is well worth a visit during a stay at this spot.
9. Romantic Tent with Waterfront Views in Yanakie, Victoria
With views of the ocean on one side and stunning countryside on the other, this romantic glamping tent is located in Yanakie, and includes all the essentials for an unforgettable glamping adventure. Stay here, and you will find yourself within easy walking distance of the Yanakie boat ramp at Duck Point, and close to Wilsons Promontory National Park.
10. Romantic Bell Tents near Rosebud, Victoria
These stunning bell tent rentals can be found just outside of Rosebud, Victoria, in a beautiful rural setting. Each one of them comfortably sleeps two guests. The property lies on the Blue Ranges Estate, a vineyard sitting 200 meters above sea level that offers incredible panoramic views of Port Phillip Bay and the Bass Strait. These stunning vistas create the perfect backdrop for a romantic getaway.
---
Book one of these deluxe tents in Victoria, and and start planning your Australian glamping adventure today!