If you fancy escaping the concrete jungle of New York to a place where dreams are made of this year, why not buckle up and accelerate towards the beautiful neighbouring country of Canada? Bolster your road trips from NYC to Toronto and head up a one-way road to those oh-so peaceful and relaxing Toronto vacation rentals and take glamping to the next level in 2021.
Canada's Toronto is a city alive with natural beauty and unique places to stay. So, grab those keys and that tuque, and let's get this show on the road with some of the top Toronto vacation rentals that will make your road trips from NYC that bit more memorable.
Things to do outside NYC: stop off at the best vacation rentals Toronto, Canada is known for
First stop traveling from NYC to Toronto, these luxury glamping tents in White Pine Ancient Forest are the ultimate vacation rentals Toronto, Canada can offer for seclusion away from it all. Once you've covered the miles and hit Toronto, why not indulge in an authentic, yet luxurious, outdoor experience, and glamp in one of these impressive tents? There are four tents available, all of which can sleep two glampers, so this site makes for the perfect romantic getaways in Canada or some time away with the family.
All tents come equipped with high-quality linens, fluffy towels and bathrobes, and hand-crafted soaps, and the camp also has its own private chef, who specializes in gourmet meals. It's quite self-conclusive that for the first-class hotel experience without the clinical and corporate concrete buildings, a stay in this idyllic Canadian wilderness will be just what you've been searching for while looking for things to do outside NYC.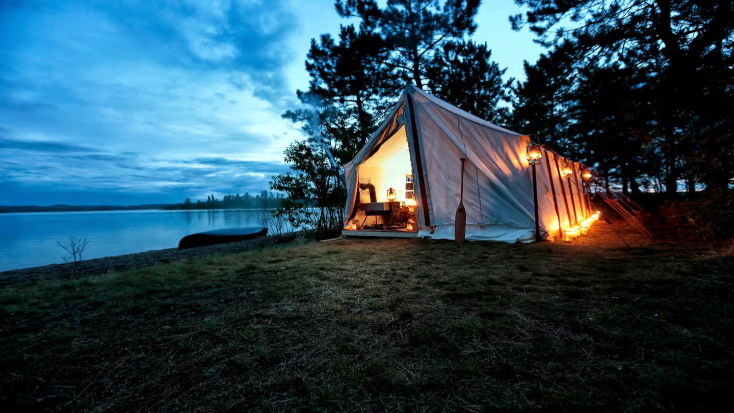 Road trip across America to neighbouring Canada in 2021: Toronto vacation homes for fishing and more
Hit the brakes and take a break in this rustic and homey Toronto vacation homes in Ontario as your road trip across America takes you into Canada. The Great White North is home to some of the most stunning scenery, and its photogenic personality shines through with these wooden camping cabins that overlook the majestic Lady Evelyn Lake.
All cabins come complete with comfortable beds, wood stoves and propane heaters, hot and cold running water, and private indoor bathrooms. In addition to their snug interiors, guests can also indulge in a home-cooked breakfast and dinner, which is served daily in the dining area of the main lodge. You're guaranteed to fall hook, line, and sinker for this location, as it's perfect for all those fishing aficionados out there.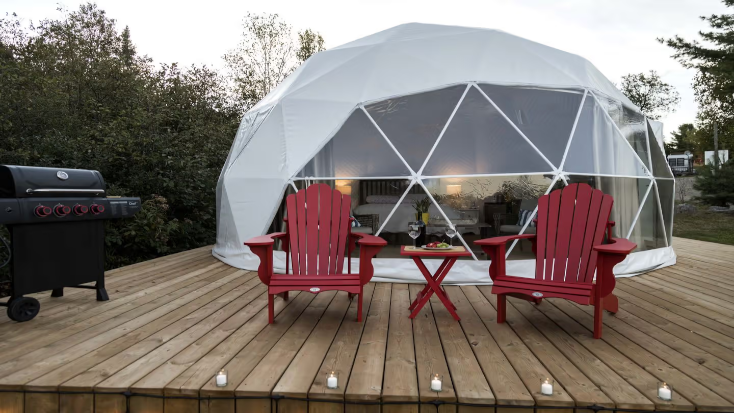 Go glamping near Toronto with Dunnville rentals as you navigate your Canada road trip
These sumptuous safari tents are the Dunnville rentals will absolutely drive you wild when on your Toronto road trip this year, and they guarantee an authentic Canadian road trip and countryside experience like never before. These charming canvas tents feature queen-size beds, luxurious linens, and plush pillows and duvets, ensuring that your outdoor adventure rivals the warmth and comfort of any hotel.
Tucked away in the Carolinian forest, you really can take a back seat and let Mother Nature take you on a tour of the verdant forests and majestic maze of hiking trails surrounding this glampsite. Hiking, fishing, yoga, and wine tasting are all popular pastimes when pulling over at this perfect property, but if you fancy something a little less active, guests can enjoy a sunset barbecue on their own private decking area.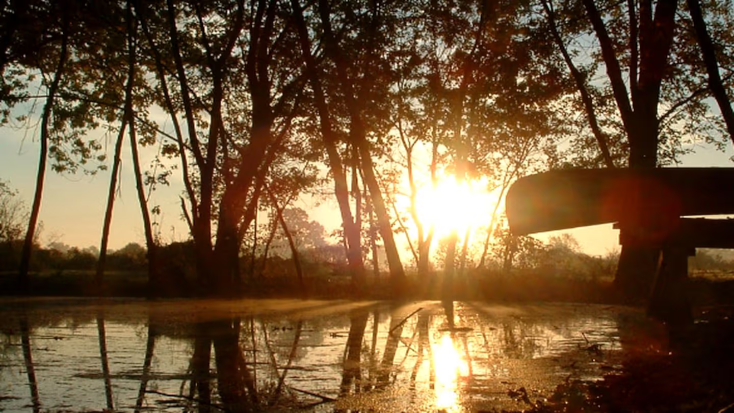 Unsure of the best places to stay near Toronto? Check out the Huntsville camping cabins perfect for 2021 Canada vacations
The title sums up this property perfectly. If you want to experience true detachment from the daily grind, then these Huntsville camping cabins have your name written all over them. A place where desire sparks and romance flourishes, these cabins are a couple's dreamcatcher, promising the sweetest maple-syrup dreams any road-tripping duo could ever wish for.
The Algonquin Provincial Park is also within close proximity to these rentals, so if you both fancy a picturesque walk and a passion-filled picnic, all you have to do is step outside of your luxury cabin and one of the best places to stay near Toronto in 2021.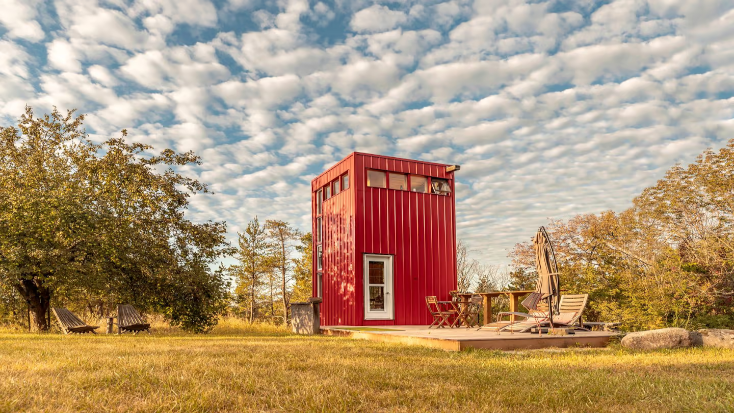 Solar-Powered Tree House in the Canadian Woods near Toronto, Ontario
Another one for the lovebirds, this romantic and remote tree house is veiled by the Canadian wilderness and provides that little bit of privacy you have both been yearning for. Complete with a fully equipped kitchen, an intimate living area, and a crackling fireplace, you can both cozy up like true Canucks, and watch the starry sky twinkling through the large windows.
The homey nature of this property makes it a true house in the trees and is perfect for those couples who love hiking and who want to embark on an unforgettable nature adventure. We guarantee that you won't want to drive by this opportunity for a romance-filled relaxation break in Ontario.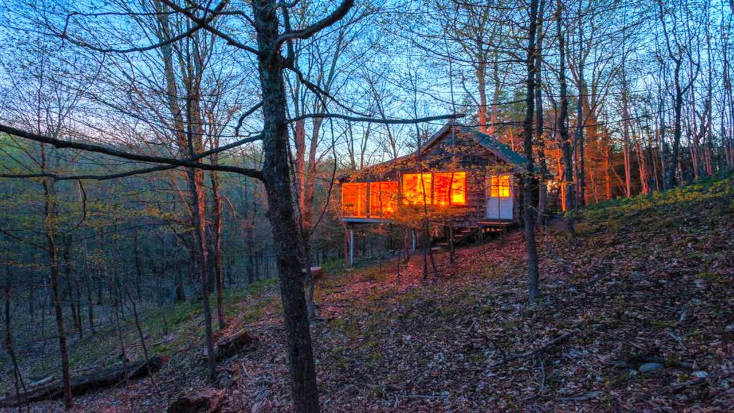 ---
If this exquisite entourage of glamping properties doesn't fuel your desire to road trip to Toronto this year, you should check out the Best Winter Getaways in Canada!