Editor's note: Each month, we like to introduce one of our wonderful Glamping Hub hosts and ask what inspired them to create a glamping site. This month, we're showcasing Glamping Hub's Host of the Month for June 2022, Samantha. This wonderful host continued the work of her father and transformed their 200-acre land into a beautiful wedding and event space, and glamping resort with incredible five unique glamping accommodations. Samantha grew her business quickly by adding her first glamping units in 2018 and has big plans for her glamping site in the future. She wants to add up to five more unique units, including a plane, a train, a double-decker bus, and a boat house!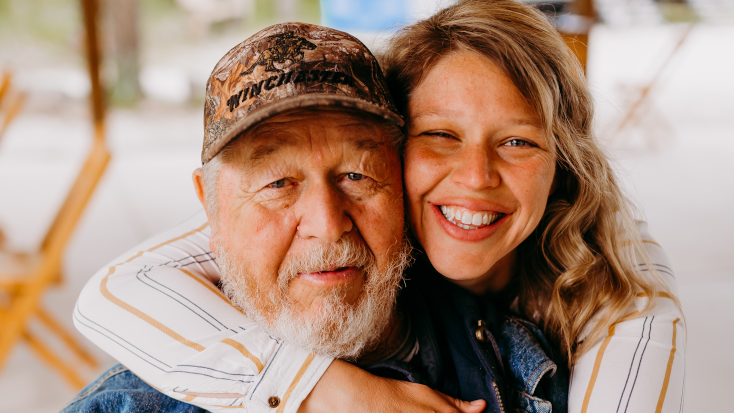 Tell us a bit about yourself…
We are a family-owned and operated business that has expanded exponentially by adding glamping to our site. We have a 200-acre property in St. Clair MO that has been in our family for over 50 years. We have hosted weddings since 2013 and added glamping in 2018 and have since added five units and plan to add another 3-5 units in the next four years.
Our land is the ultimate summer camp experience! We offer a 15-acre lake at our "beach" area with complimentary canoes, kayaks, and paddle boards. It also has Meramec river access, and hiking trails, and is overall an amazing getaway in nature with all the comforts of home.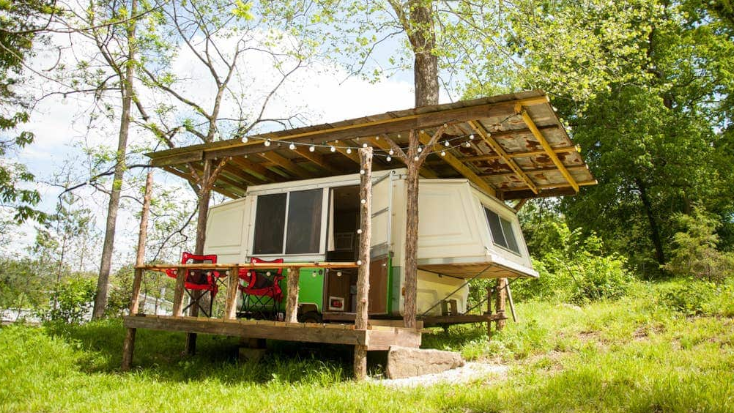 What attracted you to owning a glamping property?
Before adding our variety of glamping options, guests could only experience our land through formal events like weddings. It was important to us to offer overnight accommodations so people could experience this type of vacation. From this, we've now expanded from a family farm and wedding venue to a glamping resort that hosts weddings, elopements, parties, glamping stays, retreats, festivals, and our annual Grove Of Lights Holiday Experience.
Our land and nature, in general, are too special and wonderful not to share. We consider it our privilege and our responsibility to give back to our community in this way.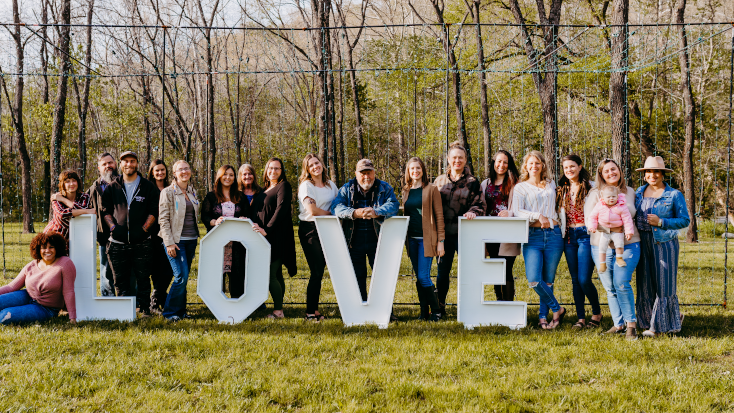 Every glamping site has a special story, could you tell us about yours?
Our story is special because it is a continuation of a bigger story. My father bought this land in the mid-1960s with his parents. He worked to cultivate it for half a century, created our 15-acre lake, planted our walnut grove, developed hiking trails, and maintained the beauty of our farm for a lifetime.
I am the middle child of all his kids and the only female – I saw the love that went into our land and from a young age, knew that I could continue my father's work and build something that would fulfill its full potential. When I was 24 years old, we developed a wedding venue business and worked for years to enhance this aspect of the business.
Our site attracts really wonderful people with similar values to us, so when we started growing at a rapid pace by adding glamping to our business, we had to trust people to come in and help us. We are so thankful we did, because they have continued to show up, wow us, and have EPIC ideas of their own. The team we have built inside our business is just as special as the land itself and we are so thankful for them. Teamwork makes the dream work!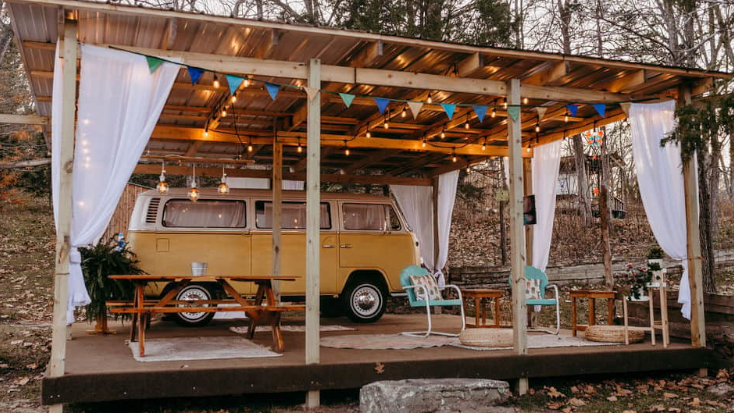 Can you tell us about your most memorable guest experience to date?
Our most memorable guests are those that want to spend their special events with us, like engagement parties, and proposals. We once hosted a surprise engagement and helped to organize the photo shoot -it was a really beautiful moment!
Another memorable guest stayed in our vintage VW campervan as an item on their bucket list for their anniversary. It was always their dream to stay in a "hippie van" and it was wonderful for us to be able to fulfill that dream for them.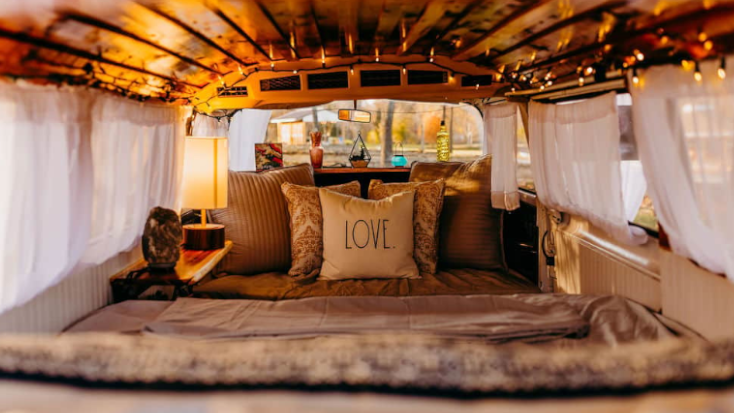 If you could have anybody stay at your accommodation, who would it be and why?
We like to host the people that need it the most.
Whether that's the solo traveler that is looking to unwind and wants some peace and quiet or the family that has children who want to play and play and play in the lake, at the "beach", making sand castles or on their bikes, who get lost in the moment and don't even think to touch or ask about their phone or tablet all weekend. Or, it's the couples looking for a romantic trip with nights around the bonfires, talking, and reconnecting with each other, or the friends that laugh all weekend until their sides get sore. We are happy to host anyone and everyone.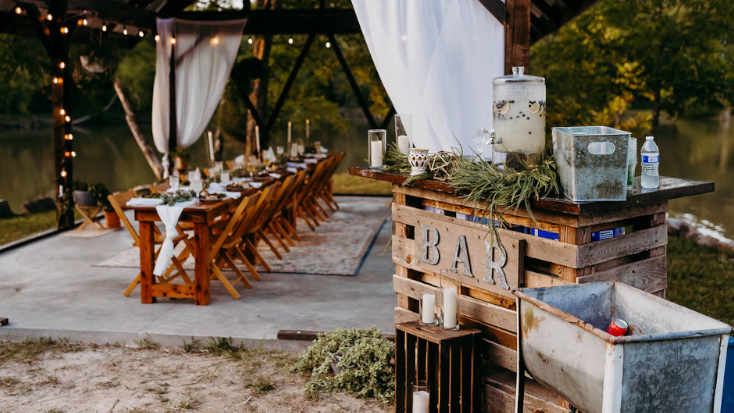 What are some of the challenges you face and what have you learned since opening?
Our biggest challenge has been growing in such a short time. Building systems and adding more units to accommodate the growth has been a huge learning experience for us.
We have learned so much about what guests want and also what they expect from their experience, so this is why we try to offer exciting add-on options alongside our glamping units.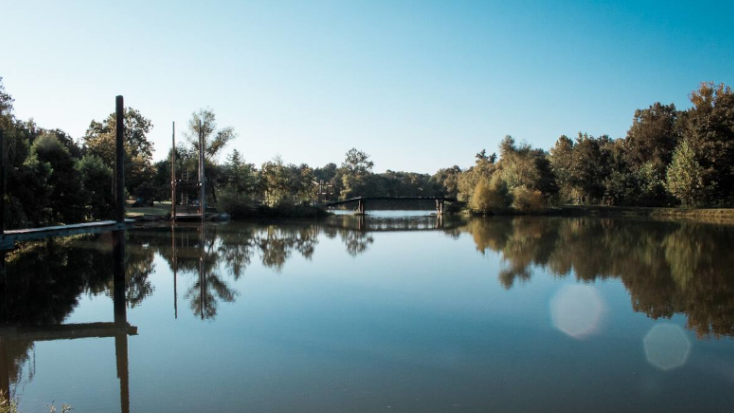 How was your first time hosting?
Our first time hosting was so nerve-racking but also so exciting! We hold ourselves to high standards and set big expectations for ourselves, but hosting for the first time was different – hoping that the guests love the accommodations as much as we do, how cozy and comfy will they find everything, and did they have everything they needed or wanted to enjoy their stay.
Needless to say, we did a great job and now have five units! Two renovated school buses, one renovated 1972 VW transporter (hippie van), and two vintage pop-up Apache hard-side campers. We know how amazing our space is and have confidence that our guests will have fun on-site. We have plans to add a houseboat, a plane and a train in the future, oh and maybe a double-decker bus if we can find one!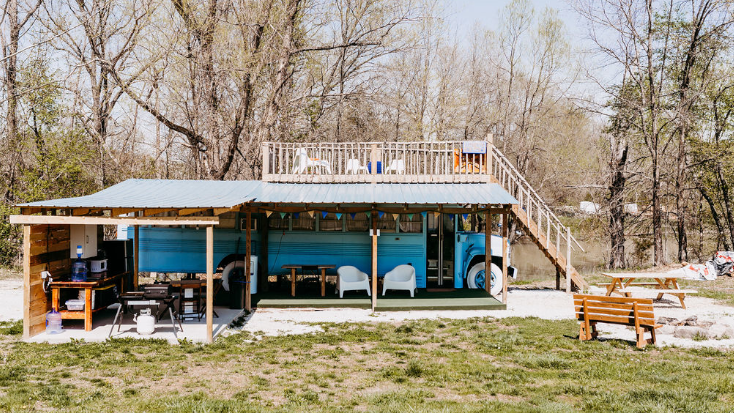 What do you love the most about running a glamping site?
We love bringing people to our property. Sharing this place with like-minded people who are interested in spending more time in the outdoors without the hard work of traditional camping.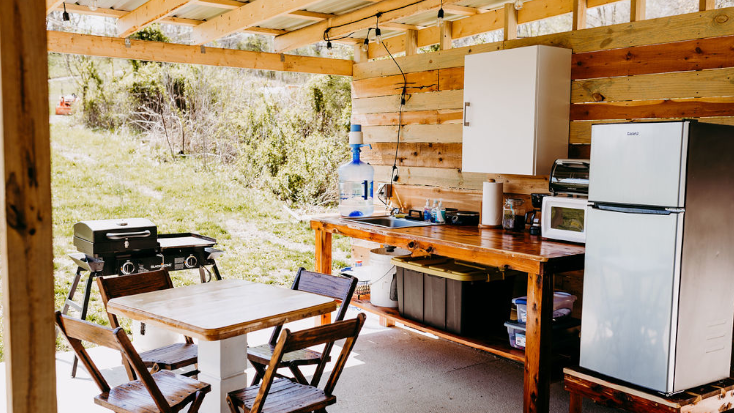 Where is your ideal holiday destination? Other than your glamping property of course!
A property like ours, a water feature, nature all around, amazing comforts and amenities, BUT without the responsibility of it being our place. HA. We can't vacation on our own property!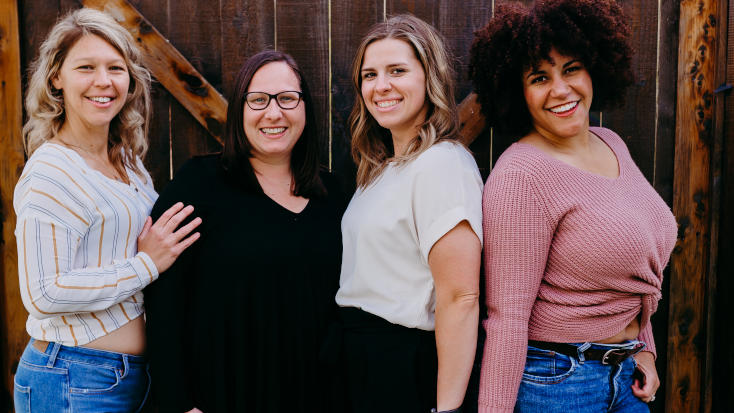 What advice would you give to anyone looking to start or improve their own glamping business?
Hold yourself to high standards. What would you like to have while you are on vacation? Most people want similar things. Don't be afraid to step outside the box and turn unexpected things into glamping units, people crave unique experiences.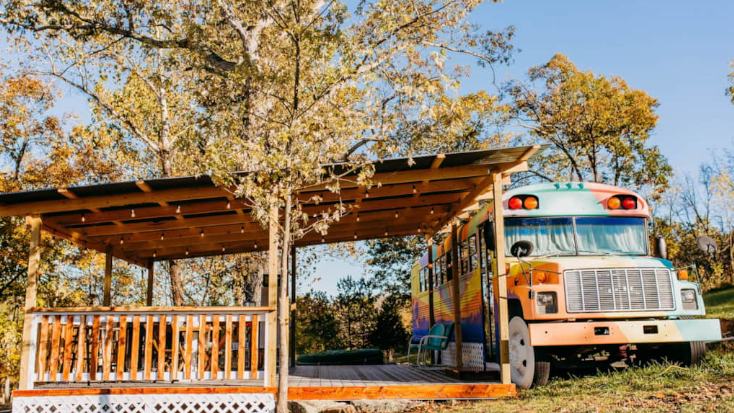 Our community of hosts means everything to us here at Glamping Hub, which is why we love to share their stories in our Host of the Month feature. If you're looking for a romantic weekend perfect for Glamping in Missouri, a unique wedding venue, or a quiet relaxing weekend getaway from St. Louis, check out Samantha's glamping resort in Missouri.
Have you stayed with one of our incredible hosts recently and would like to nominate them for Glamping Hub's Host of the Month? Send us a message via Facebook or Instagram explaining who you've chosen and why!