What better way to disconnect from your daily routine, embrace the great outdoors, and get some quality time with friends or family than by trying a new and exciting activity together? You have a plethora of options for your next unique experience, but our top suggestion for this summer will take you to the U.K.
For the ideal extreme adventure travel plan for this summer, check out the Via Ferrata, UK, in Cumbria, England.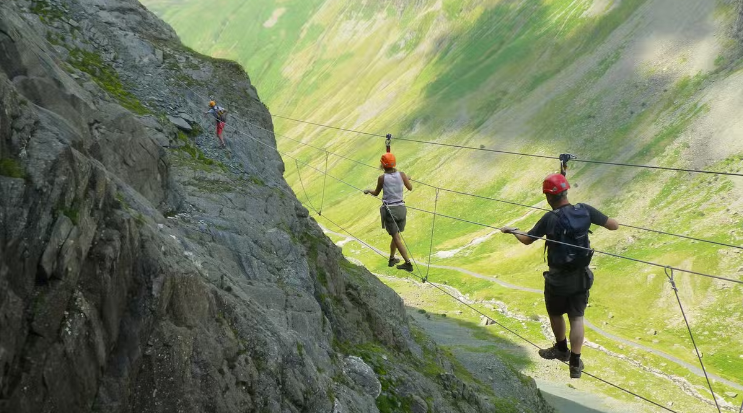 What is a via ferrata?
Via ferrata means iron path in Italian and is a climbing route that consists of a steel cable and iron steps and ladders, all of which are fixed to rock. Some via ferratas go the extra mile and include suspension bridges and zip-lines for those seeking an extra adrenaline rush.
Climbers attach themselves to the rock by clipping their harness to the steel cable and use the steps and ladders to progress. It's like a mix of traditional rock-climbing and scrambling, and it makes certain altitudes and peaks more accessible to the non-expert climber. All you need is sensible footwear and a good head for heights; most places provide or rent out all of the necessary equipment, so you can just head out and enjoy the Via Ferrata, UK.
The need-to-know about Cumbria's Via Ferrata
This particular via ferrata is located in the last working slate mine in England—Honister Slate Mine—where mining was carried out from 1728 until 1989. The mine was closed for a few years, but it was later reopened in 1997, with the addition of a tourist attraction within the Lake District National Park that includes underground tours and a visitors center.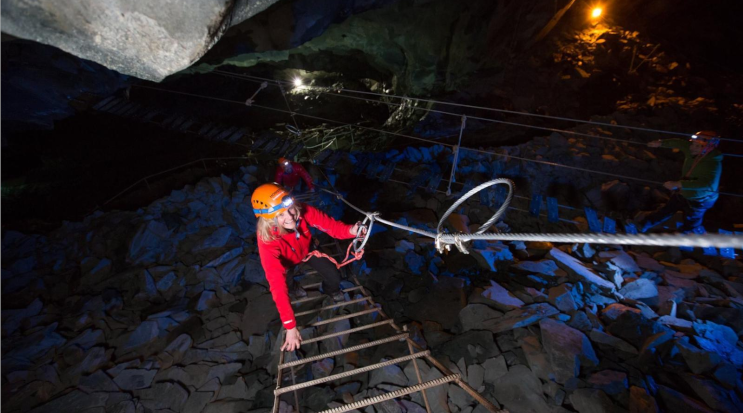 Soon afterwards, the Via Ferrata (England's first!) was installed and proved to be extremely popular—even winning the "Best Tourism Experience in the Lake District" in 2011! It follows the original track that the miners used up the steep incline of Fleetwith Pike, reaching a height of 2,126 feet.
What to expect
Cumbria's Via Ferrata works like every other. Although trained guides accompany you and help to fasten you securely to the steel cable, it's all up to you to navigate the cliff-facing ladders, bridges, and narrow edges. It can be a mentally challenging, yet ultimately rewarding, activity, and whenever the going gets tough, just remember, miners used to do this without safety equipment!
There are two routes available to budding climbers: the Via Ferrata Classic and the Via Ferrata Xtreme. Both take around three hours, but the Xtreme follows a slightly different route—throwing in more edge exposure, vertical climbs, cliff-edge ladders, and a Burma bridge and cargo net to cross.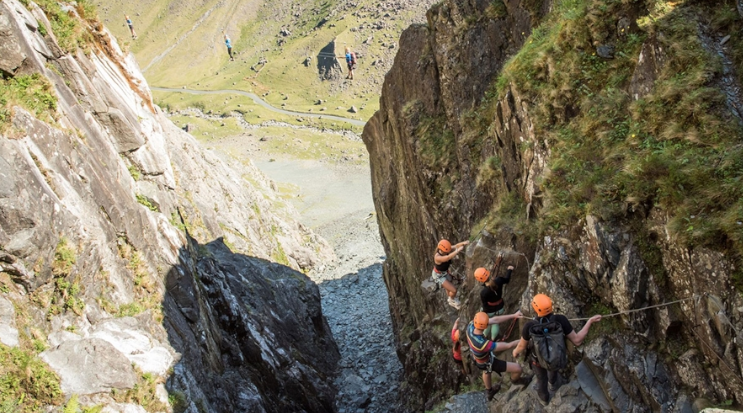 What to remember
At Honister Slate Mine, all the necessary equipment is provided, including harnesses and helmets, but you are expected to dress appropriately and wear sensible footwear, so no heels or sandals!
Wear your helmet at all times, even during the designated breaks. While extremely unlikely, there may be the odd falling rock from above.
Your guide is there for a reason! Listen to the safety information before you start off, and if you get stuck, you can ask them the best way to maneuver across the rocks.
Check weather conditions before booking! You don't want to be holding onto iron rungs when lightning comes.
Take only essential items, such as water, high-energy snacks, gloves, and sunglasses. Mobile phones tend not to survive falls of hundreds of feet!
While the cable is there to be used, try not to use it for excessive load-pulling; use the iron rungs and rock face to push and pull yourself up.
Have fun, and don't look down!
What to enjoy in Cumbria afterward
Once you're back on ground level and have got your sea legs back, you're going to want to check out what else there is on offer in the area. For those who love being in nature, Cumbria is a haven for outdoor activities, and much of the region is covered by the Lake District National Park.
In this national park, you'll find a rolling landscape of hills, valleys, and lakes, from which the park gets its name. Scafell Pike—England's largest peak at 3,209 feet—is just 10 kilometers south of Honister Mine; however, those wishing to conquer its peak will have to drive up, around, and back down south to attempt the summit on its western side.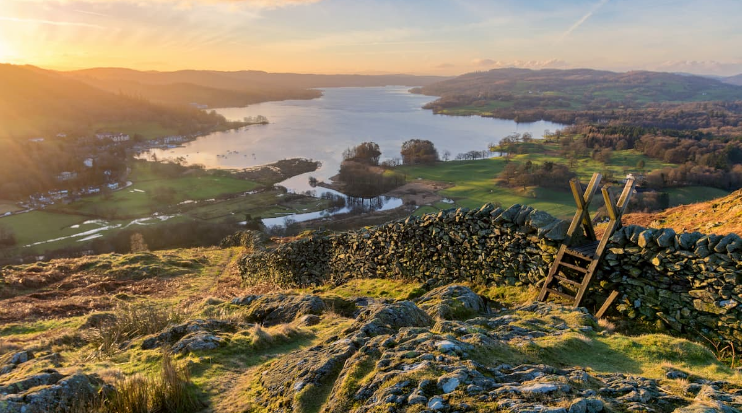 The quaint and charming towns of Keswick and Ambleside are both within easy driving distance of the mine, offering visitors the chance to experience typical architecture of the region and a surprising amount of traditional pubs, given their size.
Cumbria is also known for its various breweries and distilleries, and the famous Lakes Distillery is known for its whisky called, "The ONE" whisky, which was the first blended whisky in the British Isles. They now create their own gins and vodkas, too—the only ones brewed in Cumbria—and have been named one of the "Eight Distilleries to Visit Before You Die" by World Whisky Day.
For those who prefer something a little lighter, Hawkshead Brewery is an innovative craft brewery that offers interesting taps, such as marshmallow and chocolate imperial stouts. They host brewery tours and beer festivals throughout the year, too! The brewery is located near the town of Kendal, the birthplace of Kendal Mint Cake, which is a peppermint confection popular among British climbers as a quick source of energy. Check to see if your Via Ferrata guide has any spare ones in his or her pockets! So now, you can head out and enjoy the Via Ferrata, Lake District, and a unique weekend getaway.
---
Gearing up for a holiday? Check out all of our offerings in England for more unique adventures!