The days may be growing shorter, but the leaves on the trees are showing no sign of changing color—we're not done with summer just yet! As Shakespeare famously mused, "Summer's lease hath all too short a date," so if you're feeling like there's room in your schedule for one last getaway, let us inspire you with our favorite 10 end-of-summer trip ideas.
Keep reading and get some summer getaway ideas for one final trip of the season!
1. Spacious and Modern Cottage in the Peaceful Catskills Mountains, New York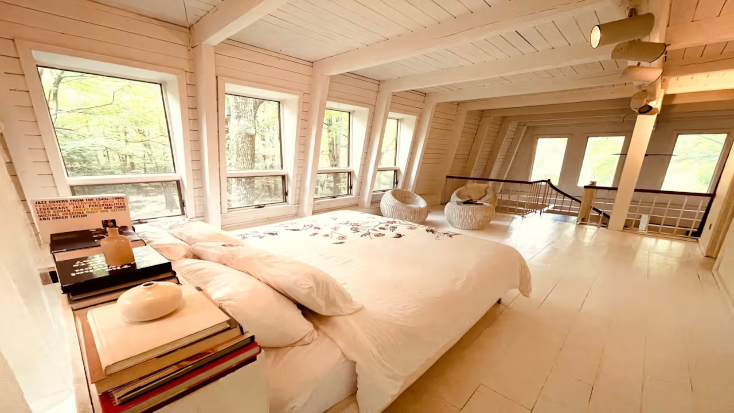 If the summer weather has been somewhat overshadowed by the concrete and pollution of city living, it is time to break free and make the most of the last days of heat at this modern cottage rental. Located in the peaceful Catskills Mountains in New York, the cottage has quiet corners to curl up with a good book, as well as open spaces for yoga and meditation, dancing, and even hosting a dinner party. Nature is beckoning from every window, and glampers can enjoy the kind of silence you simply cannot recreate in an urban environment.
2. Dreamy A-Frame Cabin Rental for Family Getaways, California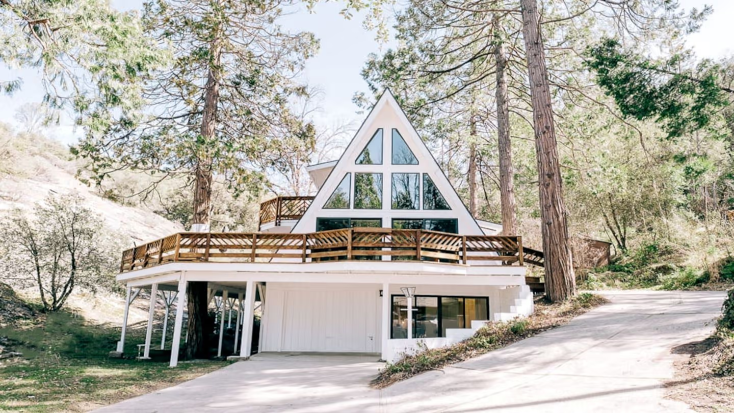 As far as summer getaway ideas go, Yosemite National Park offers just about every outdoor activity under the sun. Have you ever been whitewater rafting? If the answer is no, you are missing out on a truly exhilarating summer activity. Yosemite offers some of the best rafting courses on the West Coast, and glampers can combine adrenaline-fueled exertion with some luxury relaxation. This unique A-frame cabin is only a small hike away from the National Park and is fitted with a luxury queen-size bed and stunning forest views.
3. Luxurious Cabin Rental in Washington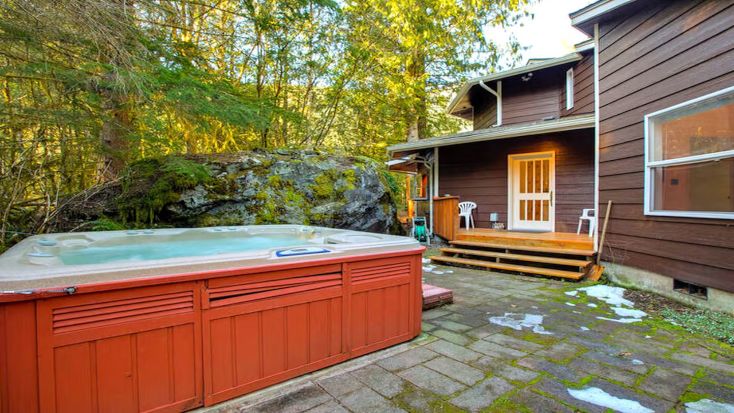 The summer season means parties, festivals, and lots of daytime drinking, but as the season draws to a close, there are always a few friends who we somehow didn't quite get around to seeing. Renting a glamping cabin is the perfect way to spend some quality time with your favorite friends—cooking, adventuring, and relaxing together. This spacious rental can sleep up to eight, and there is even an outdoor hot tub, where you can while away the hours reliving old memories and creating new ones.
4. Secluded Eco Dome in Dark Sky Ordinance Territory, Texas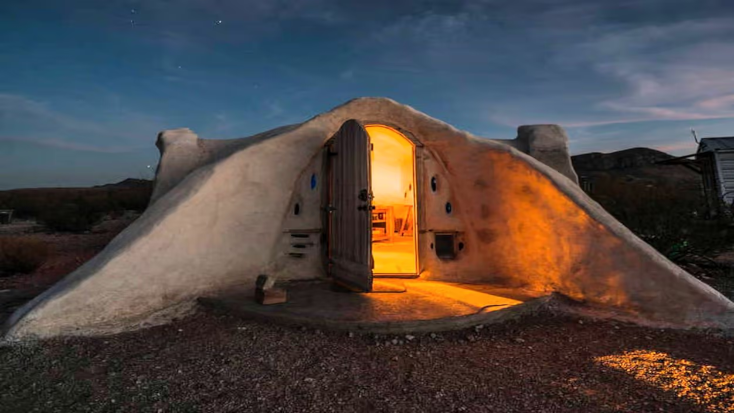 For those who are looking to immerse themselves in nature without distraction, this glamping site in Terlingua, Texas, is the ideal spot. Set in a desert location that is one of few remaining places under the Dark Sky Ordinance, guests can enjoy unforgettable starry nights during their stay, as well as unparalleled sunsets. The cabin is solar-powered, so we suggest you get in there sooner rather than later!
5. Cozy Cabin in Colorado for Family Getaways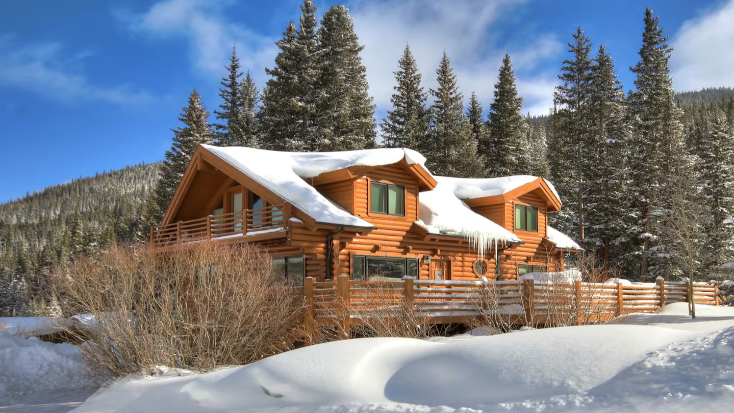 If summer escapades have left you with slightly tighter purse strings than you enjoyed in the spring, this doesn't mean that you have to forgo your end of summer getaway. This simple cabin accommodation offers great value for money, but guests can still enjoy all the luxuries of modern living. The cabin is fitted with a kitchen, a queen-size bed, a barbecue, and even a coffeemaker, so that glampers can enjoy your early morning coffee on the wooden veranda overlooking Estes Park in Colorado.
6. Peaceful Fornished Tent with views in California.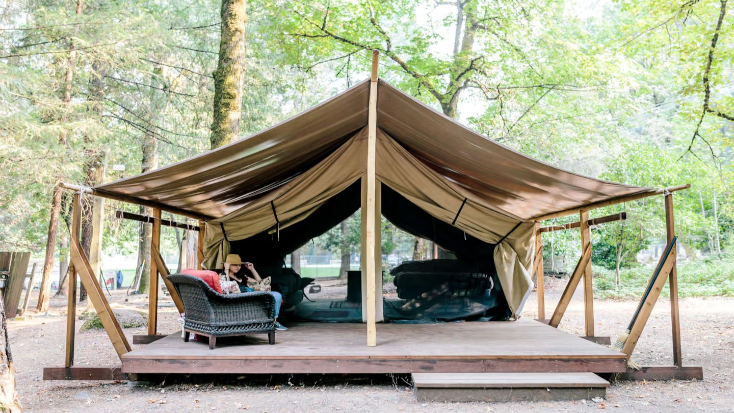 When we say the word tent, we are not talking about your ordinary flimsy affair, prone to collapsing and letting muddy water in under the door. This safari tent is the peak of camping sophistication. Built on a wooden platform, it comes fully outfitted with a queen-size bed, a down comforter, and cotton linens, so that even if there is a late-summer chill in the air, glampers know they will be warm and cozy at night.
The luxury rental is located on a tree-covered bluff above one of most spectacular oceanfronts on the Northern California coast. It is even a short walk to the gorgeous beach at the mouth of Big River and the charming town of Mendocino, where you can build on your summer glow taking in the late August sunshine.
7. Modern Luxury Tree House Surrounded by Tranquil Forest in Seattle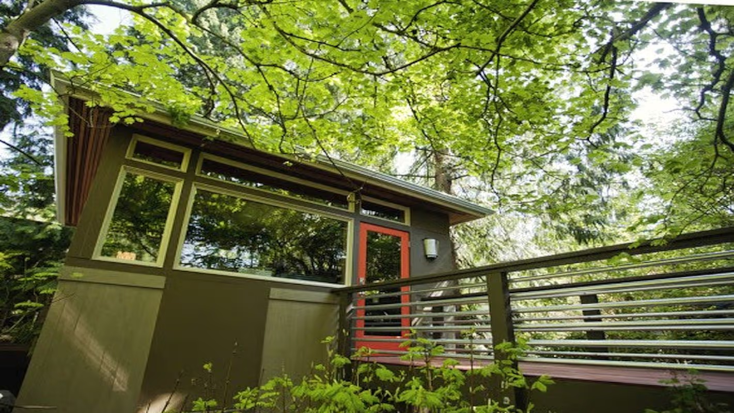 There is surely no better way to spend some time with Mother Nature than to spend the night in a tree house. This tree house oozes glamour, with welcoming red tones and chic furnishings. Although the property is just 10 minutes from downtown Seattle, guests will feel 1,000 miles away from civilization, thanks to the shady trees and gentle stream that surround the tree house. If peace and tranquility is what you look for in a summer getaway, you need look no further.
8. Stunning Yurt Rental near the Grand Mesa National Forest, Colorado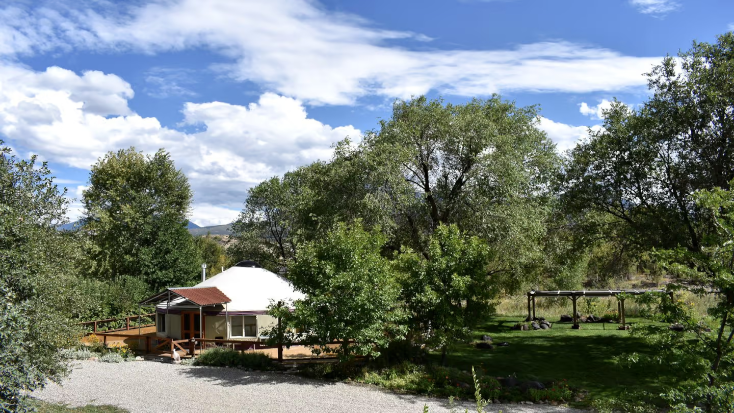 If you have never spent a night in a yurt before, you have no idea wht you're missing out on. These traditional circular accommodations are like a Pandora's Box, and this one is fitted with all the modern essentials guests would expect in a luxury hotel. There is enough sleeping spaces to accommodate four, a small kitchen, a bathroom, and even a shower all under this authentic canvas roof.
9. Rustic Mountain in Salida, Colorado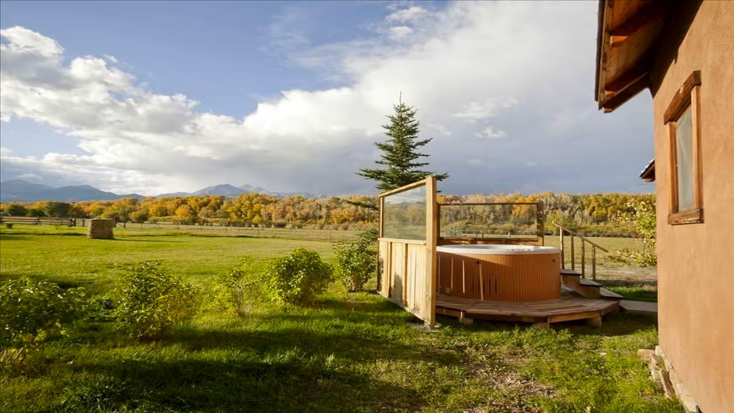 Don't let the pressure of work deprive you from your end of summer vacation—it is possible to combine business with pleasure at this glamping rental, which has a stylish integrated workstation. It will hardly feel like work at all, especially when the Bang and Olufsen surround sound system is up and running!
The rental can be accessed by cable car, and is tucked away high in the San Juan Mountains in Telluride, Colorado. In the evening, guests can enjoy a glass of wine together on the wooden terrace, furnished with a wood-burning stove, and take in the panoramic mountain views.
10. Unique Tree House on a Private Ranch in Texas
It's never too late for one last summer romance. This dreamy one-room tree house is the perfect couples retreat, located just 20 minutes from the city of Austin, Texas. Glampers can spend quality time together enjoying a morning cup of coffee on the porch, taking advantage of the swimming pool and other luxury facilities, and cooking up delicious barbecue food.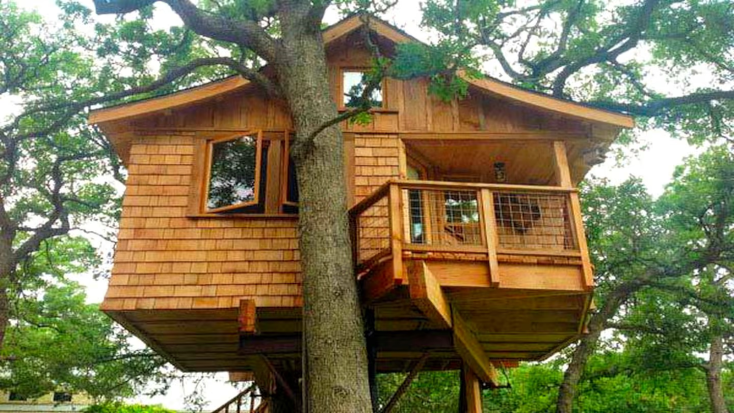 For more summer getaway ideas, take a look at our extensive collection of Summer Getaways 2016, and get to booking your next vacation!