Easily spooked? Dare to stay in haunted cabin rentals? Ever asked if 'Cabin in the Woods' is scary? Scroll down, if you dare… We have unearthed 13 of the most goosebump-inspiring old cabins in the woods to inspire you this Halloween season 2022. From a cottage abode in Dracula's Romania to a spooky cabin in the woods near Sleepy Hollow, New York, this collection of glamping sites is perfect for those who crave adventure this Halloween! Forget all about cozy cottages in the woods, when you head into the deep forest, cabins creak and leaves rustle, so if you're too afraid to stay in a scary cabin, beware!
Keep reading to find the perfect scary rentals and cabin in the woods in the spookiest places 2022
Have you ever wondered about the Cabin in the Woods ending? Or, how scary is Cabin in the Woods, or is the Cabin in the Woods scary? Well, now you can find out for yourself with a stay in a cabin or a creepy cottage in the woods. We can offer no guarantees that you won't end up in a haunted cabin in the woods this Halloween, but if you're feeling brave, then choose a cabin in the woods at night for the ultimate Halloween getaway staying in scary rentals and haunted cottages. Keep scrolling and rent a cabin in the woods…if you dare…
1. Is this the scariest cabin in the woods at night?
Staying in a remote cabin is possibly one of the scariest ways to spend Halloween. Why not take your friends for a Halloween glamping adventure near New Orleans and stay in this secluded cabin with a private party deck? Saint Louis Cemetery in New Orleans is nearby, where you can walk among the dead and their unique above-ground vaults. Is this countryside haunted? There's only one way to find out…
Marie Laveau, the Voodoo Queen of New Orleans, also lives nearby, and it's said that if you follow the instructions to wake her from her slumber, she'll grant your wish. Enjoy a Halloween party or horror movie marathon and take shelter from the dark spirits outside with a cozy stay in this rustic cabin.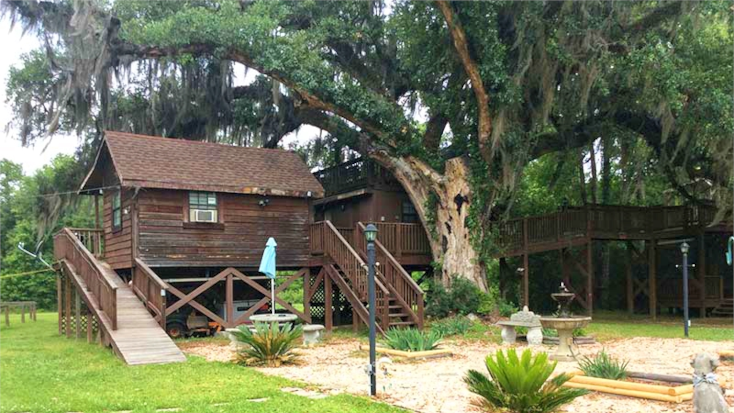 2. In search of the 'Headless Horseman' with as stay in a
haunted cabin in the woods

 

in Sleepy Hollow, New York

Situated deep in a quiet forest, this Hudson Valley vacation rental should be on our list based on its supreme seclusion alone, but it's also only a stone's throw away from the town that inspired The Legend of Sleepy Hollow! But don't worry about staying in scary woods; this is the perfect rental for a woodland escape. So if there's a creepy house in the woods that you need to visit – it's this!

Stay in this haunted cabin in the woods around the time of Halloween. There are many thrilling events put on by the town, and with your base in Carmel, you can visit them easily and return to your cabin for a good night's sleep. This cabin deep in the woods is so much more than just one of our scary cabins in the woods for rent. Lifelong adorers of spooky stories can feel close to the action while enjoying a peaceful, scare-free slumber, without a single thought of cabin horror movies interfering.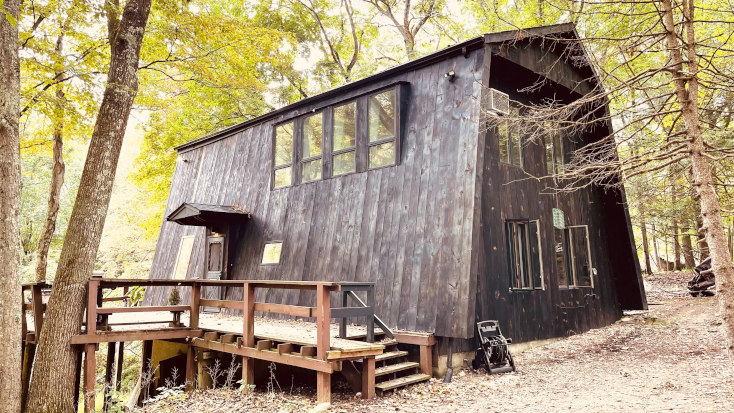 3. Relive 'The Shining': Places to stay in Mount Hood, Oregon
If you've ever watched the horrifying classic that is "The Shining," this cabin in the woods for rent may send a chill down your spine. Contrary to popular belief, the movie was shot almost entirely in Hertfordshire, England, but the exterior of the solitary Overlook Hotel was based on the Timberline Lodge in Mount Hood, Oregon.
Book a cabin in the forest, and prepare to embrace your own seclusion in the Hood River area of Northern Oregon. Spending an evening around the cozy, indoor fireplace, while watching the world-renowned thriller inspired by the region, is the definition of a perfect Halloween night. Maybe avoid horror movies in cabins though!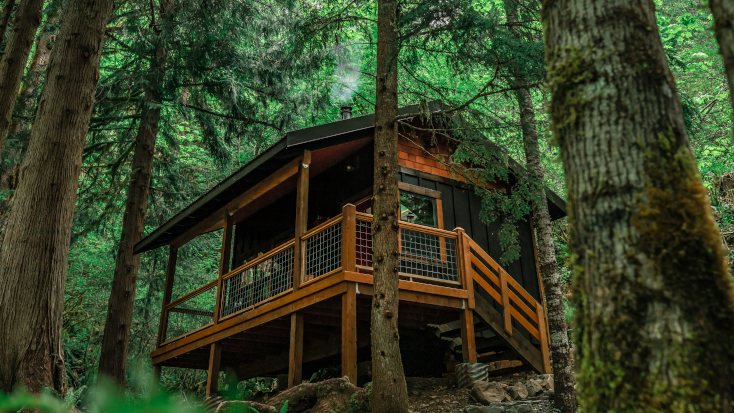 4. Book this spooky cabin in the woods in Narrowsburg, New York
If you're looking to rent a cabin in the woods, then this is a great option. Though there are no well-known spooky stories set around the town of Narrowsburg, New York, this rustic cabin is sure to inspire any passionate storyteller. If you listen closely, you can hear the woodlands whisper their benevolent secrets.
We suggest an itinerary of cozying up with scary movies and a big blanket after a day of exploring to turn this cozy, woodland rental into a spooky cabin. With an antique-style kitchen and a wood-burning fireplace inside, as well as a spacious fire pit and riverfront access outside, every spot on this property serves for both inspiration and respite.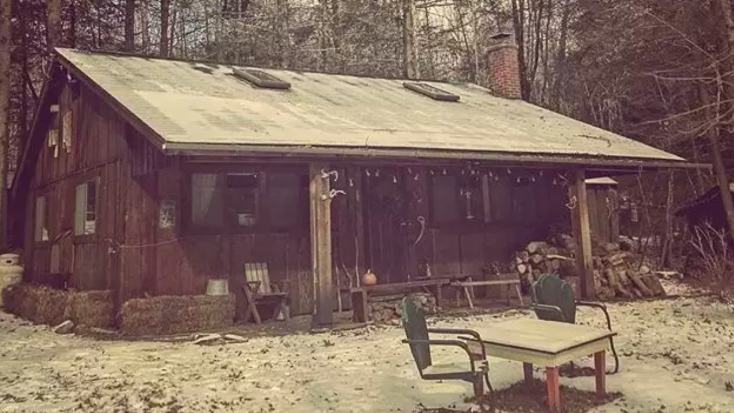 5. Visit New Zealand: spooky places to visit on the South Island 2022
Visit New Zealand in 2022 and check out the spooky places to visit on the South Island. This secluded glamping getaway has floor-to-ceiling glass walls, making it perfect for cozying up to your partner while telling ghost stories and Halloween legends.
The nearby forests also boast endless hiking trails, so you should be sure to ask the area's guides and historians about any mysterious local legends that would make for an interesting outing before nightfall. From majestic mountains in the distance to pitch dark skies dotted with shimmering stars, it's an ideal place to celebrate this All Hallow's Eve and share scary cabin stories while admiring the surrounding scenery.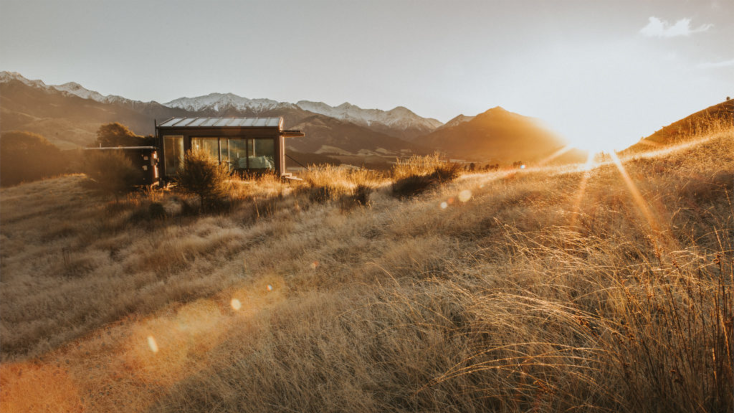 6. Find a cabin in the woods in Accord, New York
In this fast-paced society, many of us crave solitude when vacationing. A remote glamping rental, nestled in the Catskills, New York, is ideal. Far removed from city life, this rental offers something different from typical log cabins in the woods; it's easy to enjoy the property's rustic life, rugged terrain, and homely furnishings. This cabin in the woods will have you shaking in your boots, but not from the cold.
You can even head into town to ask questions about the local history. Meanwhile, the cozy atmosphere is sure to inspire even the most reluctant guests to enjoy a scary Halloween tale.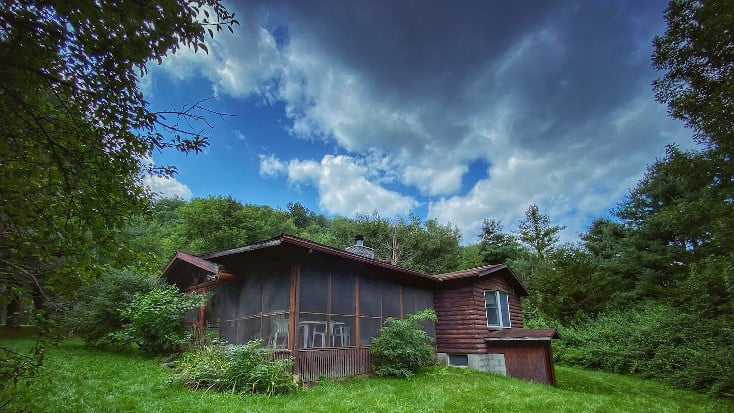 7. Spooky weekend getaways from Minneapolis, Minnesota
Enjoy a romantic Halloween getaway for two in this cozy tiny house in West Concord Minnesota This rental is surely rustic comfort at its best and if the walls could talk, it would surely want to share stories about the surrounding prairies and meadows. If you're looking for a romantic weekend getaway from Minneapolis, this is the place.
Settled in the late 1800s, this region of Minnesota is rich with history that speaks volumes in the small-town feel, paired with many museums and cultural sites. While reflecting on a busy day exploring over a glass of wine or hot chocolate, you can share a scary story or two that you learned in town to set the mood for an unforgettable night.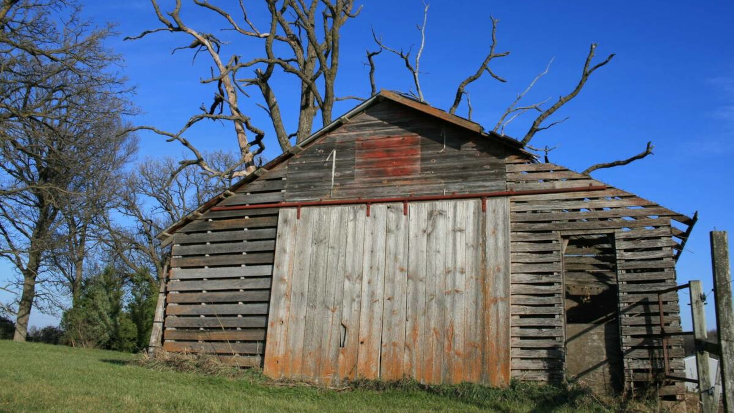 8. Paranormal activity in a Monteagle, Tennessee tree house
Paranormal fanatics can gather the crew and get ready to investigate some of  "the most haunted locations in Tennessee" when they book these cabins in Tennessee.
This is the terrifying statement made by the website of the infamous Old South Pittsburg Hospital. The best part? It is 40 minutes away from this tree house cabin in the woods near Flintstone, Georgia so those not intending to scream are a safe distance away. Whether you're looking forward to adventuring to the hospital deep into the night or de-stressing with a cup of hot chocolate on the deck, this tree house cabin has it all. Are these woods haunted? Only one way to find out…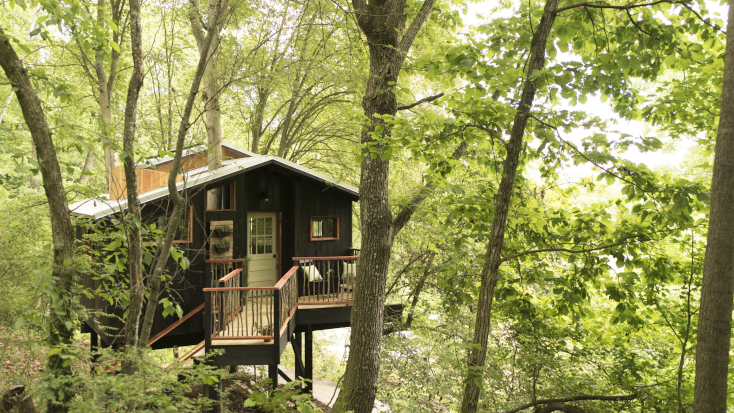 9. Head for the hills: a cabin in the woods of British Columbia, Canada
Fall can be considered the most beautiful time of year, and with the cool, crisp air, the atmosphere becomes mysterious as the moon rises. Inside this cozy cabin in British Columbia, you will truly feel as if you are escaping from the outside world.
The moody, forest surrounding the cabin sets the perfect tone for slowing down and appreciating the surrounding views. Watching the morning mist rise from the forest floor while enjoying a coffee will stimulate the imagination of any ghost story enthusiast.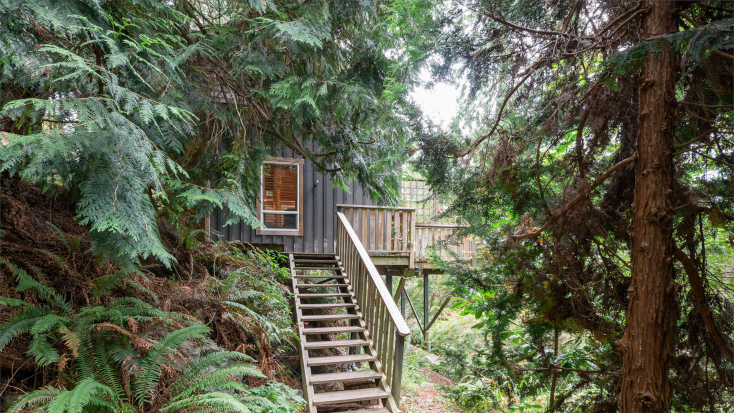 10. A Halloween holiday in Argentina
Spending Noche de Brujas in Argentina? Just you, the one you love, and your own spooky slice of rainforest is enough to tempt anyone to embark on a tropical Halloween escape. This isolated cabin is surrounded by rainforest and mysterious nighttime sounds that will have you telling scary Argentinian Halloween legends.
Your only neighbors are native species, you can hear communicating during nightfall, as you relax on the private deck and experience all the unknown mysteries the rainforest has to offer. This secluded Argentina accommodation boasts many opportunities to get close to nature during the day and a relaxing outdoor shower and swinging hammocks for nights sharing Dias de Los Muertos legends.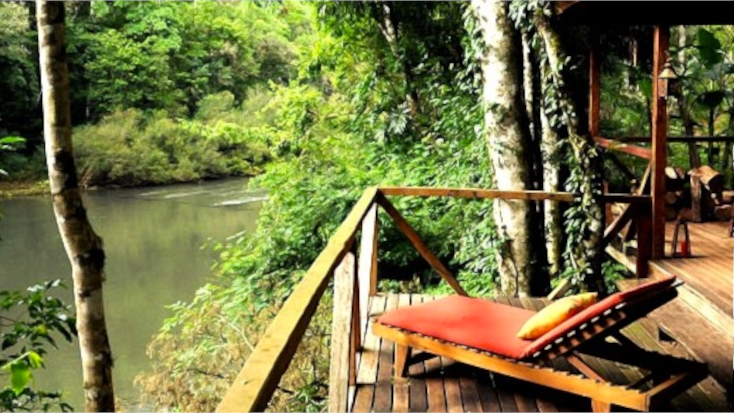 11. Visit the home of Dracula in Transylvania, Romania
Do you dare enter the home of Dracula and head to Transylvania? Tread with caution, as it's easy to get caught up in the tale! This countryside cottage near the woods sleeps six, and is the perfect spot for history buffs to congregate and share their experiences. Infamous legends of evil kings and vampires are synonymous with this region of Romania, but this property couldn't be any more secure.
You can leave your bulbs of garlic at home while looking forward to experiencing guided tours of Bran Castle, where the mythical Dracula was born, and other local towns, churches, and fortresses that are rich in history.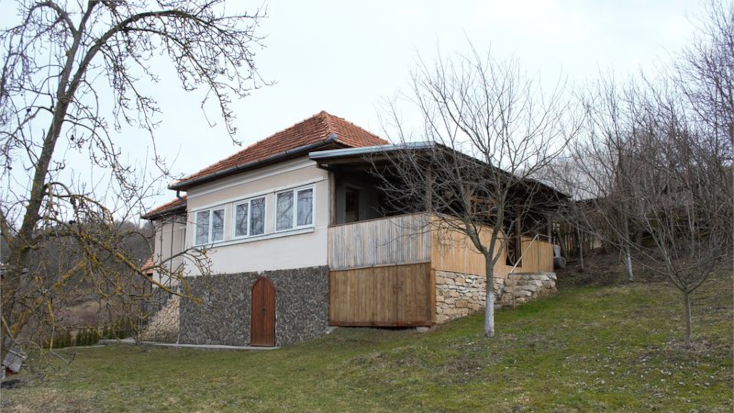 12. The cabin in the woods on Vancouver Island, Canada
"The Cabin in the Woods" is more than just a famous horror film—it's also this secluded accommodation on Vancouver Island in British Columbia, Canada.
Fans of the movie may relish the idea of a modern-day reenactment with friends—or simply appreciate the luxurious, eco-friendly amenities provided indoors. Sleek furnishings, a warming fireplace, and a modern kitchen will allow even the most easily spooked to feel at ease.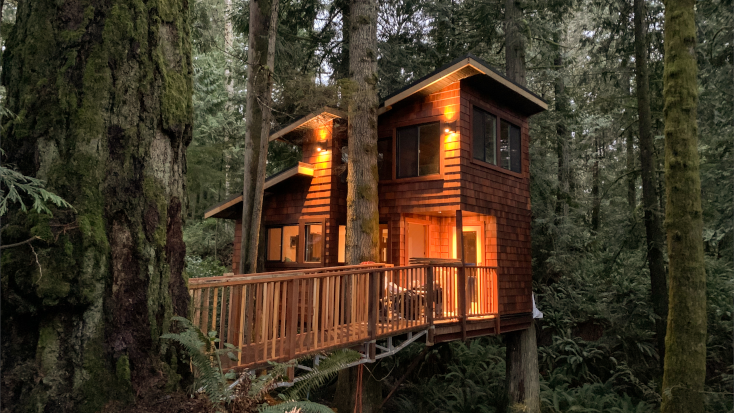 13. UK short breaks: spooky places to stay in Essex, England
Some of the best UK short breaks are the most unique. With a rich history that dates back centuries, England boasts plenty of spots for Halloween enthusiasts. This secluded cottage can be found on the Suffolk Coast, near Walberswick. The cottage dates back to the 1800s and has certainly got some of its own Halloween stories to tell… With enough room to accommodate a group of fear-loving friends, the location is perfect for seeking out spooky excursions.
You'll find yourselves close to the haunted mansion of Borley Rectory—the most haunted mansion in Britain, and it has ghost stories that span over one hundred years. And for the very brave, visit the Tower of London, one of the U.K.'s most petrifying locations.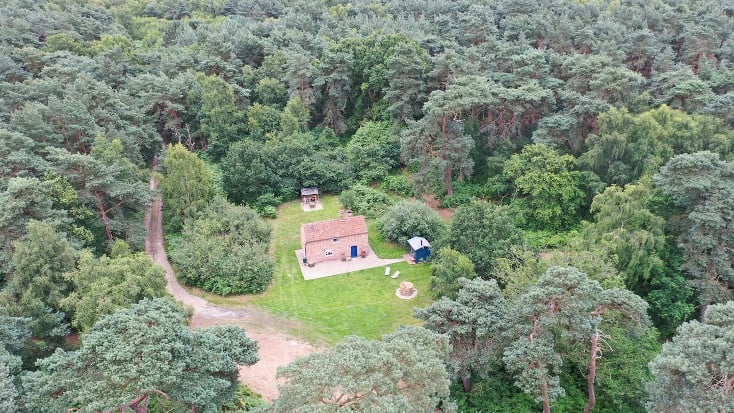 ---
Which of these cabins in the woods are you brave enough to visit this Halloween? Find the best spooking camping near you!
Going glamping in Europe this Halloween? Looking for spectacular glamping spots in the US and Canada? Check out our great glamping destinations to catch some spectacular fall foliage. If you're on the hunt for a cozy cabin, these will fulfill all your Halloween needs!
Tell us about your favorite glamping cabins! Send us a message via Facebook or Instagram explaining who you've chosen and why!