Each year you and your special someone make fancy dinner reservations, get ready to exchange gifts, or maybe plan extravagant surprises. Let's do something different for Valentine's Day this year! Take this year as an opportunity to explore a different, but equally as memorable and meaningful, way to show your love for one another. For this February 14th, consider one of our 14 most romantic Valentine's Day getaways!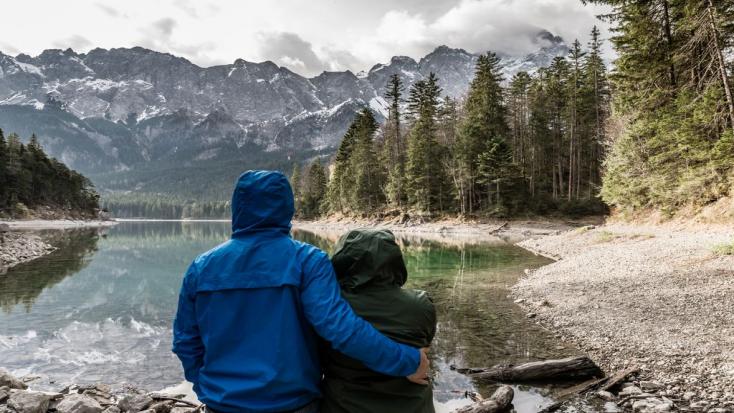 A romantic glamping getaway is the perfect way to sweep your partner and favorite person off their feet! Glamping Hub's romantic Valentine's Day trips are the perfect ingredient for an amazing experience in the great outdoors, where couples have the chance create long-lasting memories they'll cherish forever. But where do you start? There are so many different places to visit for Valentine's Day, Valentine's Day weekend getaways, and Valentine's Day vacations to choose from. To help out, we've curated a list of our top romantic Valentine's Day getaways and most unique experiences for couples to celebrate their love this Valentine's Day 2022.
1. Tree houses aren't just for kids: romantic tree house in Tennessee
This tree house in Tennessee is a great spot for couples to head off to for a romantic weekend. With a fireplace, a hot tub, and a queen-size bed, this elevated hideaway is the best of the rustic and comfortable. Feel like you're living in the trees for an entire weekend while enjoying movies, Wi-Fi, and a fully-furnished kitchen in this high-off-the-ground glamping site. The Tennessee woods are a wonderful background for a romantic weekend away with that your partner on Valentine's Day.
2. Romantic getaways in Maine for Valentine's Day 2022
Spend Valentine's Day with your partner cozied up in this romantic cabin getaway in Maine—cuddling up in the plush seating area in front of the warm and inviting fireplace. This lakefront cabin rental and its fully-equipped kitchen is perfect for preparing a romantic meal for two while watching the picturesque scene outside. It'll be too easy to become enamored with the beautiful hardwood and cobblestone chimney; you may never want to leave this lovely getaway!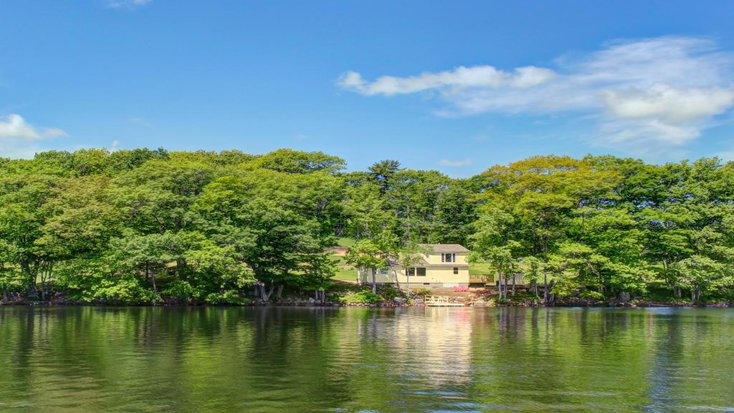 3. Top Valentine's Day trips in Oregon: romantic vacation rentals for couples
Are traditional cottages not you and your honey's speed? Try out this romantic Oregon vacation rental, complete with 360-degree views of its gorgeous surroundings through the nearly wall-to-wall glass windows. Spend your day exploring the surrounding farm and nearby Silver Falls State Park, then warm up with a campfire outside the green house with marshmallows and hot cocoa. To finish off your romantic day, try stargazing cuddled up the elegant double bed upstairs in the loft—after a soak in the natural cedar hot tub in the downstairs living room, of course.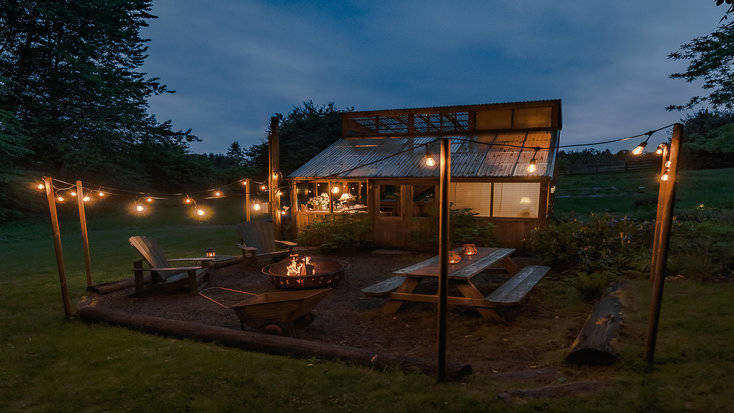 4. Lake George romantic getaways
If you and your loved one are water enthusiasts, you must visit Lake George, located in Upstate New York, Lake George is the perfect scenario for a romantic getaway. Besides all the water-related activities, couples can find hiking trails, enjoy horseback riding at sunset, or just sit down and relax while admiring the views. Also in Upstate NY, Adirondacks glamping is a fantastic destination for a couples' mountain retreat. There are several spots to discover in this part of the U.S, but these Lake George romantic getaways are on our top recommendations.
5. Romantic glamping in Utah: Zion National Park camping
If you're looking for a more au naturel Valentine's Day with your partner, look no further than this romantic getaway bell tent near Utah's beautiful Zion State Park for an unbeatable, nature-filled weekend away. Enjoy exploring the beautiful surrounding mountain scenery and petroglyphs with your loved one just north of this glamping site. The fire pit and surrounding chairs are the perfect place to curl up after a long day for some unbeatable stargazing—all before retiring to the luxurious king-size bed inside this amazing, heated tent.
6. Celebrate Valentine's Day in Mexico: beach camping for couples
For something a little more tropical, try a tropical beach hut, or even this romantic beach camping site in sunny Quintana Roo for a warmer way to spend the weekend with your favorite person. The beachfront location means you have unbeatable beach access and amazing views, plus the site boasts incredible local cuisine made by the host. If that's not enough to entice you, the pristine sand beach and great snorkeling at just steps from the door should be enough to have you two packing your bags for our Valentine's Day getaways.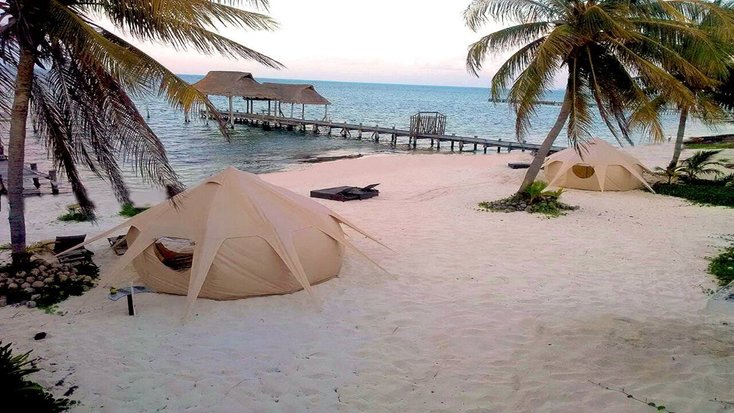 7. Visit Portugal: accommodation and holidays for couples
This Portugal accommodation in Setubal is located on just a short drive away from Lisbon, perfect for couples that want mountainous coastline, beaches, wine country, and lush forests all at one romantic glamping destination. You can swim in the Atlantic, bike along the water, and swing in a hammock for the perfect Valentine's Day with your partner. After a great night's sleep, enjoy a complimentary organic breakfast to start your holidays in Portugal each day off right.
8. Let your love take you to new heights: tree house alternative to hotels in spain
The allure of this glamping tree house in Spain would be enough to make anyone want to slip away from the hustle and bustle of the city and head off to the mountains, but this host offers romantic add-ons to make a Valentine's Day getaway that much more special. Forget about the hotels in Spain, let this tree house accommodation take your love to new heights, literally! Enjoy a glass of bubbly surrounded by candles and romantic decorations while snacking on chocolate with your special someone, thanks to the property's romance package, for the perfect evening under the stars.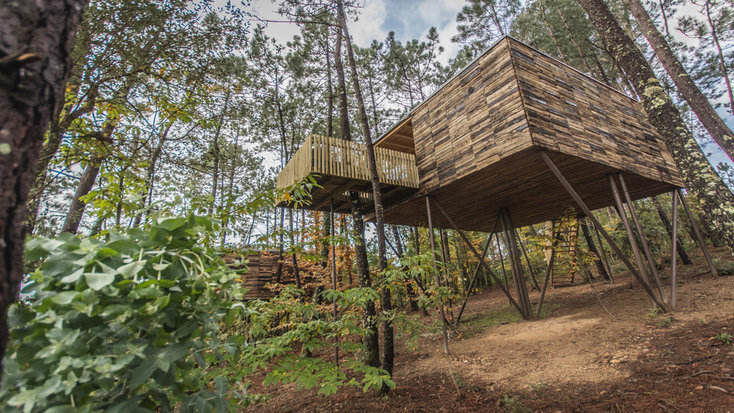 9. Love on the lake: Lake Erie cottage rentals for couples
Check out one of our Lake Erie cottage rentals is perfect for couples that want to tuck in for the weekend and just enjoy each other's company. The cottage has floor-to-ceiling bookshelves with a large offering of books and games, as well as a piano and guitar for a delightful weekend away. The wood-burning stove will keep you warm and cozy while you enjoy the charming snow views outside.
10. Unique island destinations for couples: island romance in British Columbia
If you've been looking for island destinations for couples, we have something for you with a unique twist. Your fairy-tale romance deserves a cottage straight out of a storybook. This romantic getaway on Mayne Island in British Columbia is a magical property sure to make your Valentine's Day unforgettable. This British Columbia may not be what you thought of when we said 'island destintions,' but we promise it's worth the trip. There are orchards, gardens, and sheep just outside the door, and inside, you'll be greeted by incredible woodwork and charming vintage and handmade decor! This BC cottage is as special as your partner and is the perfect place to whisk them away to on February 14.
11. Holidays in Ireland: love and luxury in Killarney
If you're looking for a place where you can have both the rustic and the modern, this luxury tent just outside of Killarney is the perfect place for your Valentine's getaway. Just a 15-minute walk from the center of Killarney, this tranquil accommodation offers the chance to experience the city and the countryside all in one go. This wonderful property offers coast views, lush forests, and astonishing mountain views—in addition to being able to pop into town for a romantic dinner of fish and chips. Our holidays in Ireland won't disapoint for your next romantic Valentine's Day getaway.
12. Romance redefined: weekend getaway from Melbourne
You can never go wrong with the classic bed and breakfast. If a more traditional accommodation is to your liking, but you still want to enjoy Mother Nature, this bed and breakfast just outside Melbourne is what you're looking for. The hosts take pride in whipping up delicious meals that can be catered to your liking and enjoyed from the comfort of your own balcony—all while enjoying the views of the amazing Cathedral Range. Take a dip in the heated, saltwater swimming pool or go for a walk in the garden before retiring to a plush king-size bed on your romantic weekend getaway!
13. No kids allowed: NSW Blue Mountains accommodation
This Blue Mountains accommodation is a perfect mix of rustic and luxury. With a private balcony and views of the beautiful Turon River, this place makes for the perfect backdrop to a romantic Valentine's Day weekend. Read a book on the cozy couch, sunbathe on the attached deck, or take a soak in the deluxe bathtub that's big enough for two to round out a relaxing day together.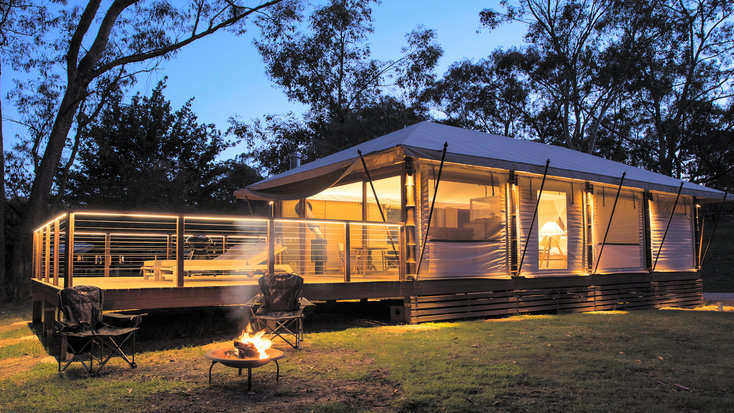 14. Visit Greece: beach holiday accommodations for Valentine's Day
Looking for luxury? If you are planning to visit Greece, check out this stunning couple's holiday accommodation in Paliouri, Halkidiki for a unique Valentine's Day weekend? This glamorously-decorated beach accommodation in Greece gives total luxe vibes for you and your partner to relax in. Enjoy the plush queen-size bed and fully-functional kitchen for the ultimate cozy night in. During the day, relax on the beach and finish off your day with a drink at the local tavern.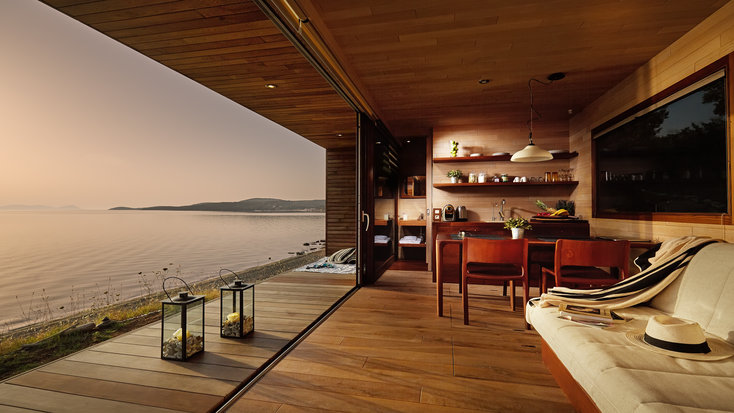 15. Best places to stay in Sicily: Valentine's Day getaways in Italy
Are you planning a visit to Italy? This stunning glamping tent in Sicily, Italy, leaves all the chaos of the city behind and allows for couples to escape to a romantic camping weekend. Enjoy one of the best places to stay in Sicily, in our humble opinion, and spend February 14th 2022 surrounded by hiking trails and canyons with gorgeous nature views. and later on, enjoy your evening surrounded by candles and a record player for a truly unforgettable experience.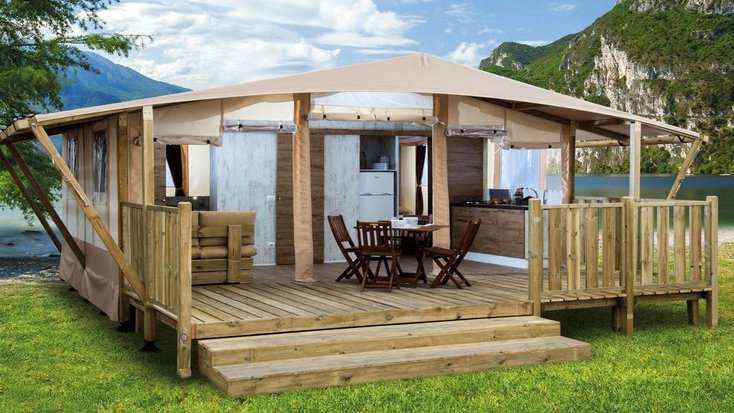 ---
P.S. If Portugal is your perfect plan, the host of this unique glamping getaway, Sarah, has something that will sweeten the pot! She's offering a special deal for a three-night stay that includes a bottle of champagne and exclusive access to a romantic, outdoor bathtub—perfect for stargazing as a pair.
---
Don't stop here! Keep exploring on Glamping Hub and let us find you the perfect fit for your Valentine's Day glamping getaway this year.