Tuesday 9th February is a pretty important day in the foodies' calendar; National Pizza Day 2021 is upon us! From deep-dish pizza to thin-slice pizza, this is the time for pizza connoisseurs everywhere to try and find the best pizza, visit their favorite pizza places, and indulge in a cheese-covered slice or five!
Since it's such a special day in the food diary, why not head out on an American road trip or a pizza tour? Visit different states and try their most popular pizzas and the top pizza restaurant in the area while also exploring a new part of the country. We've put together a list of just a few states to visit, just to get you started on your fantasy-worthy quest to discover the best pizza in the country!
The history of pizza: where did the first pizza come from?
Before setting forth on your quest, here some factoids about the history of pizza. While it's near impossible to say where the idea of pizza originated from exactly, it's pretty safe to say it's one of the many exceptional gifts we get from the historic Mediterranean. The ancient Greeks would cover bread with oils, herbs, and cheese—which could be considered the first pizza—while The Romans had their own version of dough covered in honey, cheese, and flavored with bay leaves.
What we all know and love as pizza began life in Italy as Neapolitan flatbread, which developed into the original pizza, which came from Naples. This pizza only had the highest quality buffalo mozzarella as a topping. The first pizza restaurant in the USA finally opened in 1905 in New York's Little Italy neighborhood, and from there, this unique, delicious treat has caught on throughout the country.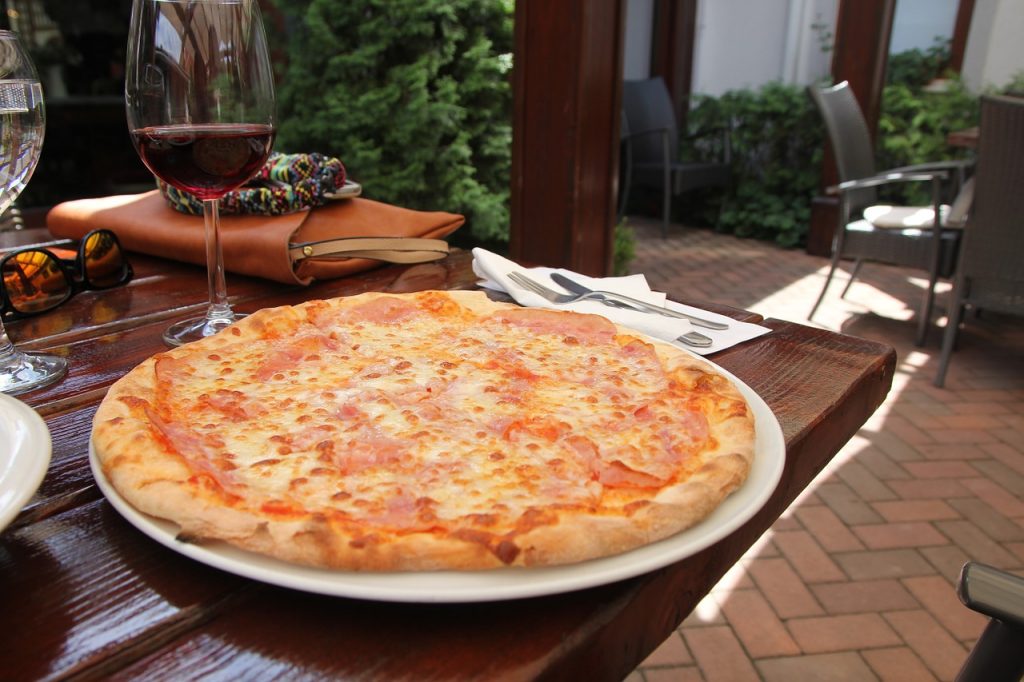 National Pizza Day in New York: pizza arrives in the USA!
So here we are, pizza's first American home! New York has a long history of pizza, so it's safe to say they know what they're doing. A New York pizza is a simple yet delicious affair. With just pepperoni, sausage, and extra cheese—because let's be honest, is there ever enough cheese?—all you need to do is chuck on some oregano or red pepper flakes, and away you go! Once you've had your fill of Little Italy's finest export, this is the perfect chance to explore the state itself in all of its glory. Head to the area surrounding Poughkeepsie, and enjoy a stay in one of our cabins with hot tubs, perfect as a base for a hiking getaway.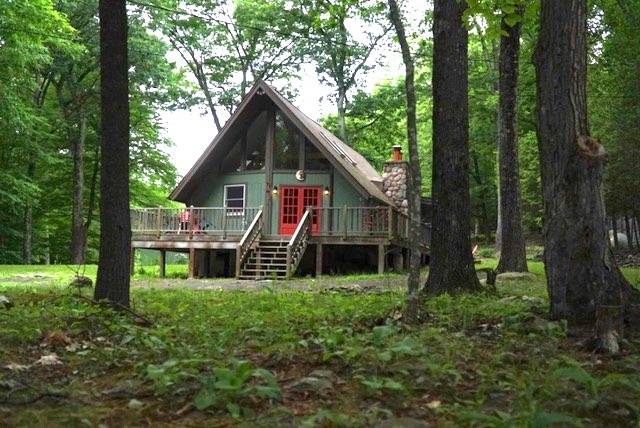 Chicago: pizza capital of the Midwest
Chicago pizza isn't just famous in the United States; the famed deep-dish pizza from Illinois has made its way all around the world, and once you've tried it, it's pretty easy to see why. One of the most popular toppings in Illinois is sausage, pepperoni, and mushroom, but a plain cheese pizza is also a very popular choice. This seems to be quite the Midwestern consensus as Indiana also gets through a fair amount of simple cheese pizzas. Once you've reached the bottom of the deepest dish, head out into the stunning natural beauty waiting outside of Chicago for a getaway in a secluded vacation rental.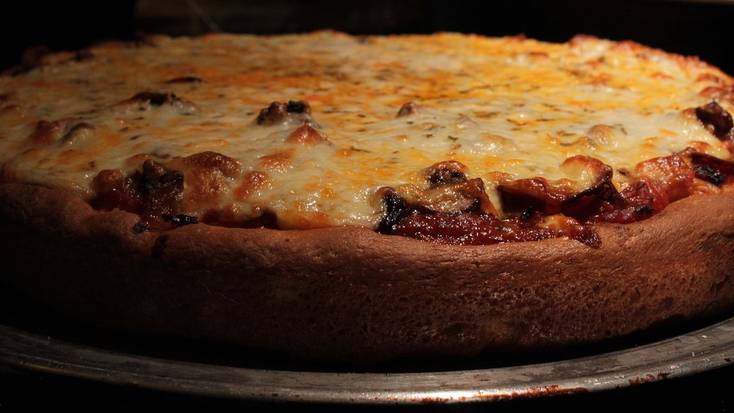 Get the best slices in Detroit, Michigan, for National Pizza Day
Staying in the Midwest, we head over to Detroit. Michigan pizza will leave you as the veritable porky pizza pie. With pepperoni, bacon, and ham creating one of the state's best-loved toppings, a Detroit pizza is a real meat feast, and with so many pizza places to try, you can take your time ranking them until you decide on the best pizza restaurant. With Lake Erie and Lake Michigan so close by, it would be a shame if you didn't take the opportunity to enjoy a trip outside of the city, staying in one of our unique cabin rentals in Michigan for a getaway int he great outdoor.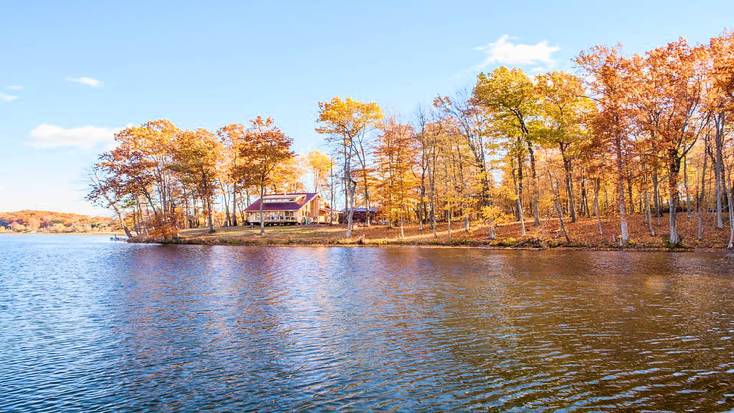 Try a slice of Mo's pizza
If you find yourself in Missouri, you should consider a stay in one of these secluded tree house, tent, and cabin rentals near St. Louis. Missouri is probably more famous for the stunning Ozarks than it is for culinary prestige, but in St. Louis you're guaranteed some pretty delicious pizza! If you manage to get to one of the top 10 pizza places in the city, St. Louis, Mo's pizza will leave feeling pretty satisfied at the end of National Pizza Day.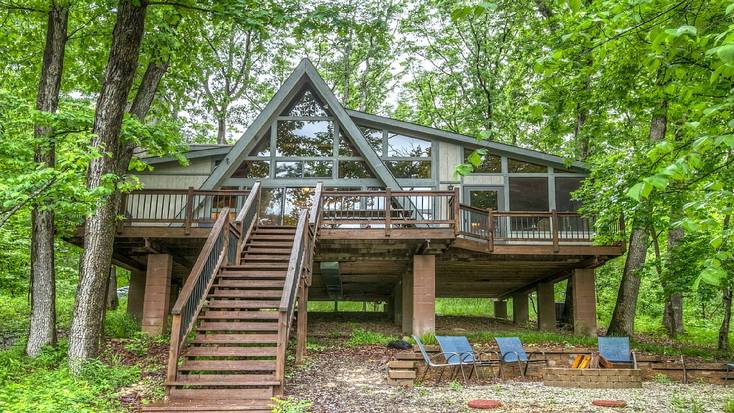 National Pizza Day West Coast style!
If you're in the Golden State, this is the perfect opportunity to indulge in a glamping getaway on the coast, and with some incredible beachfront rentals available. Whether you're up in the Bay Area, or down L.A. way, you're guaranteed a relaxing stay. Californians take pizza seriously, and they tend to be purists. The most popular pizzas don't come with stuff crusts or deep dishes, but the simplicity of the traditional pizza is what gives a Californian slice its unique, delicious charm.