Editor's note: Each month, we like to introduce one of our wonderful Glamping Hub hosts and ask what inspired them to create a glamping site. This month, we're showcasing Glamping Hub's Host of the Month for June 2023, Chris and Wendy Jeub in Colorado. This hosting couple enjoyed a summer camping outdoors during the remodel of their home. They loved the experience so much that a dream was born to create a glamping site where guests could enjoy sleeping under the stars. Glamping is a family affair for the Jeubs who dream of taking their glamping business to great heights!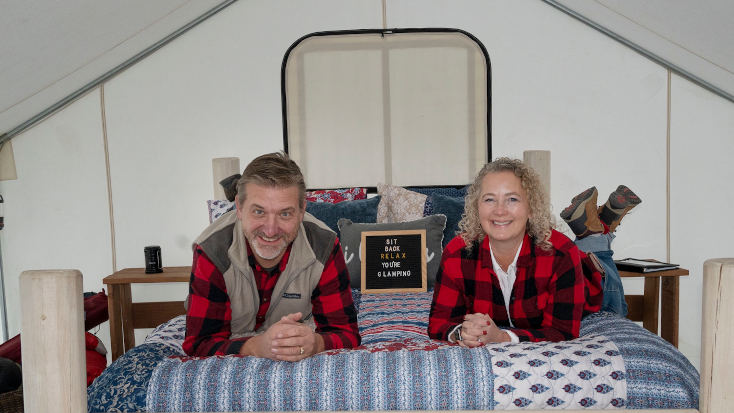 Host of the Month, June 2023, tells us a bit about themselves
Wendy and I are former teachers who are now full-time glamping hosts. Our "claim to fame" is that we have 16 children. Most are grown now (only five live at home at the moment), but it's interesting that all of our adult children have become entrepreneurs. Many of them are involved in their own glamping operations, too. However, Ma and Pa Jeub remain the hardcore tent glampers of the family.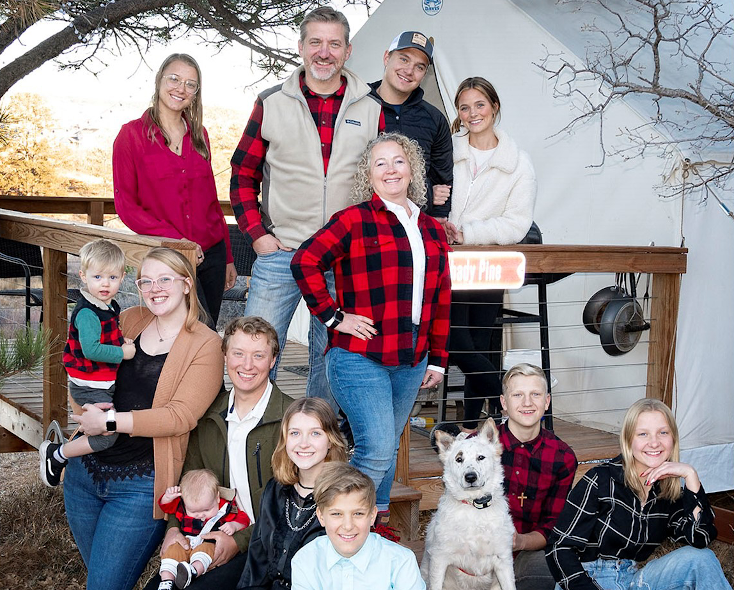 What attracted you to owning a glamping property?
Our glamping site began in the summer of 2019 when we remodeled our bedroom. We built a platform, set up our camping tent, and moved our master bedroom outdoors. What a magical time we had that month! During the remodel, a desire grew in our hearts to share the experience with others. Since then we've developed 2 properties with 11 units. Currently, we have aspirations to grow to around 70 units by the end of 2023.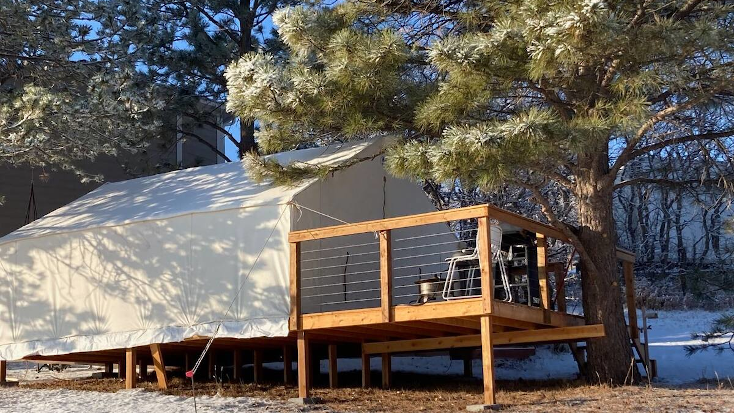 Every glamping site has a special story, could you tell us about yours?
We have specialized in three types of glamping units in our three years of hosting glampers. Our original glamping sites consisted of safari tents. The first one was from Davis Tent & Awning in Denver. We since have become friends with the people at Davis, as well as with the people at White Duck Canvas. We place bell tents close to our creek. The type of glamping rental we offer are container homes built by our son, Micah, who has built a dozen of them (so far). They are decked-out tiny homes made from shipping containers, and people love them!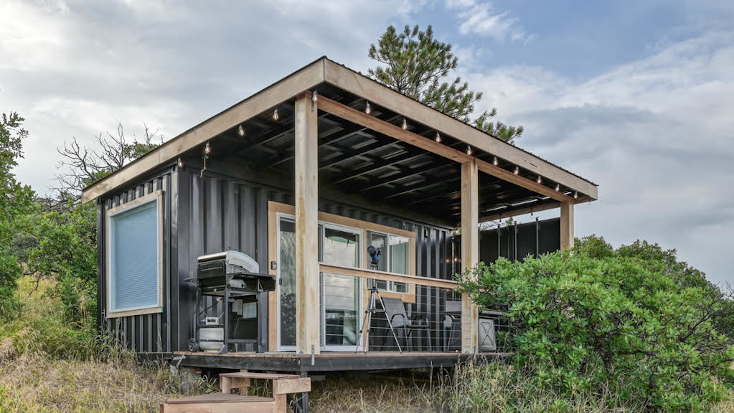 Host of the Month for June 2023 tells us about their first time hosting.
We put our glamping tent online; at first just to see how it would go. We quickly booked out the rest of the summer! Our first guests were a couple from Virginia, music pastors for their church. We got to know them pretty well and we actually sang tunes to acoustic guitar around the campfire.
Can you tell us about your most memorable guest experience to date?
We had a unique couple — a rock star and his wife, a female pilot — who stayed in one of our tents during a short two-day gap in their busy travel schedules. They requested a wine tasting with us and our homemade wine, and we sat on the front porch for literally five hours into the night. We drank way too much and shared all our best jokes and life stories. The pilot, who visits unique stays all over the world, said that it was her best glamping experience of all.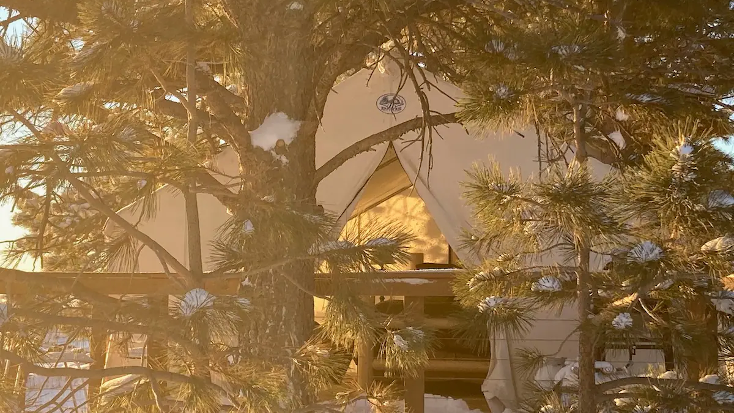 If you could have anybody stay at your accommodation, who would it be and why?
We love to have other hosts stay at our place, especially if they want to "talk shop" about the business of glamping. Exchanging ideas and learning from one another is something we really love to do.
Where is your ideal holiday destination? Other than your glamping property of course!
Personally, we don't see ourselves as travelers, but life has brought us all over the US and even Australia. We would like to return to Melbourne someday as one of our daughters lives there. As well as the Caribbean. We celebrated our 25th anniversary in Puerto Rico and loved it! In fact, our adult children — most of whom are running some glamping units of their own — are talking of a family reunion someday on Culebra Island, Puerto Rico.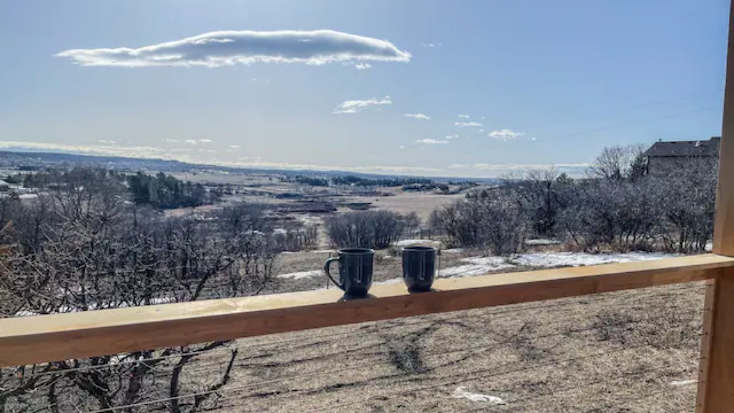 Here's what our Host of the Month for June 2023 loves most about running a glamping site.
Hospitality. We're naturally hospitable people. We have always loved having friends and family over to our place, for years. Now we operate a business that generates a living from this "gift for hospitality" we naturally exude.
What are some of the challenges you face and what have you learned since opening?
The first two years were lots of fun, but the third year brought the men in "yellow jackets." They are government officials who wear yellow jackets and will show up unannounced in your front yard saying: "We're here to help." Turns out that, though we live in an unincorporated county out of town, we were in violation of zoning laws. This didn't shut us down, though. We applied for a special use permit and successfully validated our entire glamping operation. We're now more confident than ever to expand our operation!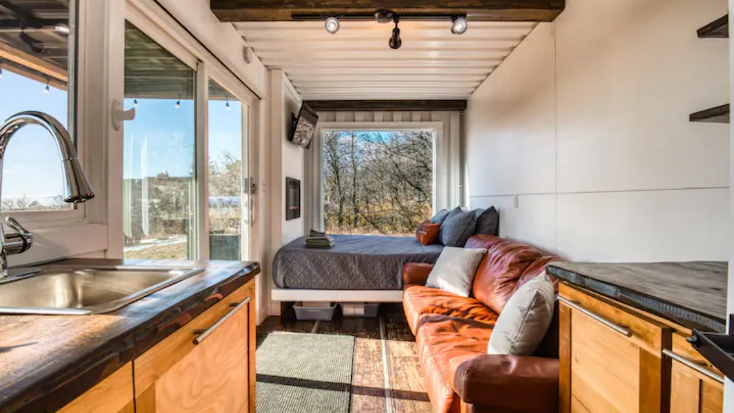 Some advice from our host of the month for June 2023, for anyone looking to start or improve their glamping business.
Start something. Anything. Throw up a simple tent and open a shop. A million details will follow, all part of the experience of hosting, but the first detail (starting) is the most important. You'll learn as you go and find incredible fulfillment along the way.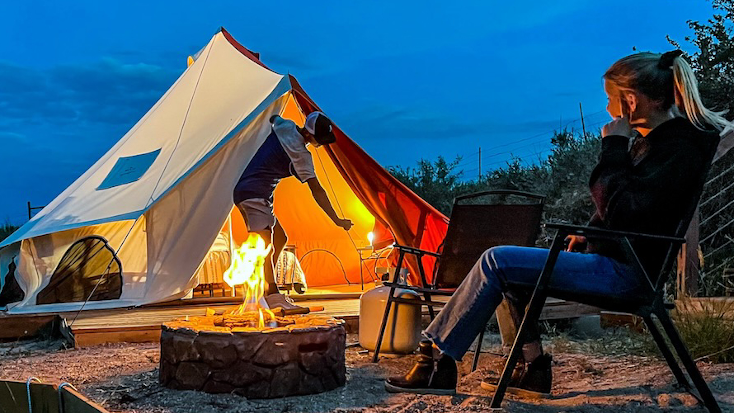 Our community of hosts means everything to us here at Glamping Hub, which is why we love to share their stories in our Host of the Month feature. If you would like to experience the magic of sleeping in the great outdoors and waking up to incredible views, head to Colorado! Try this romantic converted tiny home for two or a cozy stay in a luxury safari tent.
Have you stayed with one of our incredible hosts recently and would like to nominate them for Glamping Hub's Host of the Month? Send us a message via Facebook or Instagram explaining who you've chosen and why!