Editor's note: Each month, we'd like to introduce you to one of our wonderful Glamping Hub hosts and what inspired them to create a glamping site. This month, we interviewed Kate about her tipis in Texas!
What is the story behind you starting your glamping site?
The Tipis on the Guadalupe came about after I observed a couple of other unique lodging locations along the Guadalupe River in New Braunfels popping up around 2010. I already knew this was a hotspot for vacationers in Texas because of the awesome tubing, boating, and paddling opportunities, but I knew a truly one of a kind lodging experience would draw groups of friends and families with kids to my site.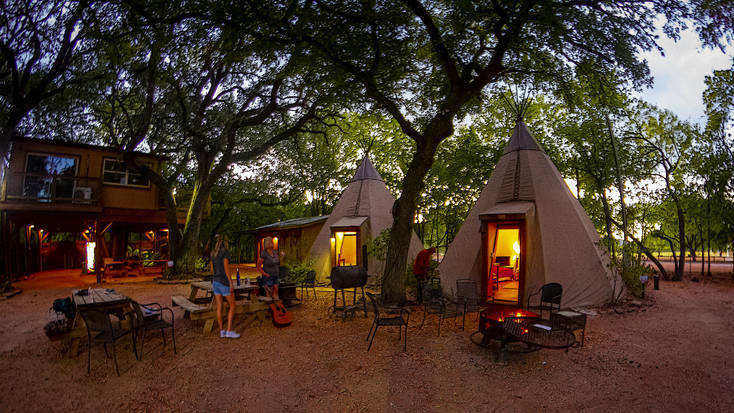 What did you do before becoming a glamping host?
I have been a real estate broker and property manager for over 17 years in the Central Texas area. Working with buyers and sellers goes hand-in-hand with managing vacation rentals! In addition to managing my Tipis on the Guadalupe, I offer other one-of-a-kind vacation resorts, all with fun amenities like river frontage, private fishing ponds or beautiful lake views.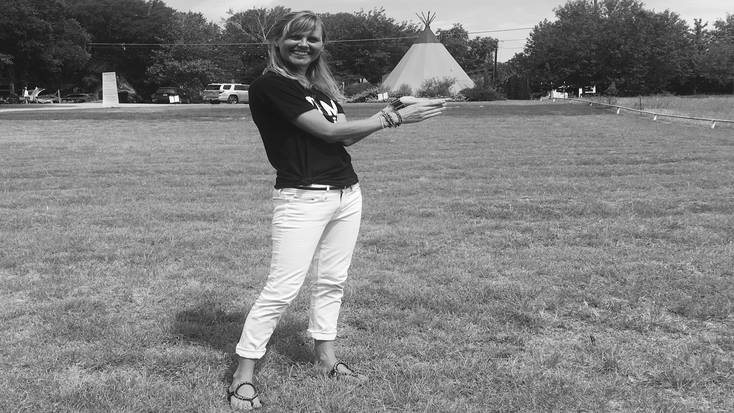 In your opinion, how does your accommodation fit the definition of glamping?
My Tipi resort is comprised of eight cabins which each allow for up to six guests in three cozy queen beds or two queen beds and a modern foldout couch. Each unit is furnished with Aztec touches throughout and offers an individual firepit and personal BBQ grill. There is outside seating for our guests and their crew, along with a kitchenette for basic cooking, A/C and heating inside, and even Wi-Fi and digital cable on Smart TVs. Each unit has a designated private bath that is available for exclusive use to guests during their stay. There is also a community TV room with ample seating and a table to bring board games or snacks.
The unique aspect of the Tipis is you feel like you are in the middle of nowhere, but you are just a short drive from fun activities and all modern conveniences. You really do feel like you "get away from it all!"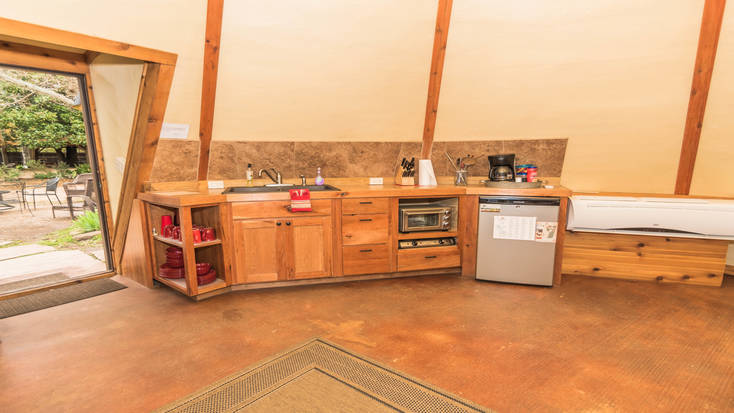 What is the most special thing about your property?
It's really cool to take a scenic walk through the "tunnel of trees" to our unique riverfront deck where you can sip your coffee or cocktail while you soak your feet and watch the flyfishermen casting or tubers float by. We also have on-site tube sales and kayak rentals for your warm-weather convenience. I own another riverfront resort just downriver, so our guests can put their tube in at the Tipis and do an easy float down river and walk back—it's very family-friendly and handy for our guests who want to keep things simple!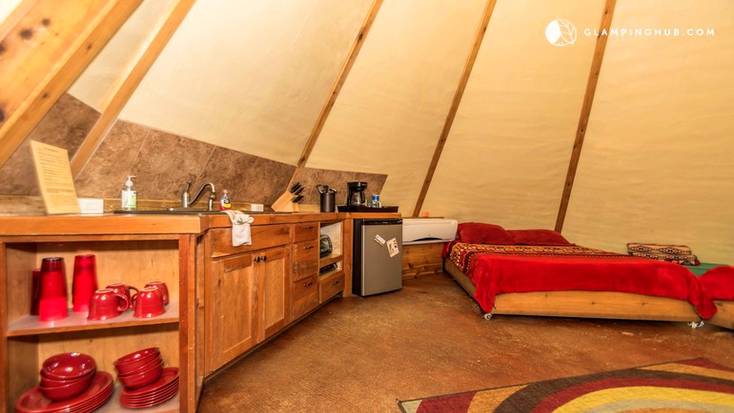 What do you love most about running a glamping site? What are some of the challenges you face?
The most rewarding outcome for me is hearing about my guests' wonderful experiences and memories they make at my properties. I love to be able to offer a relaxing and convenient location for friends and families to enjoy the most valuable commodity—time spent together. I value constructive feedback and am very committed to continually improving the overall guest experience. The challenges I face are the same as all property managers: handling quick and frequent turnovers with consistent quality control and dealing with maintenance issues! My company manages 15 units in total, so there's always something to fix or replace!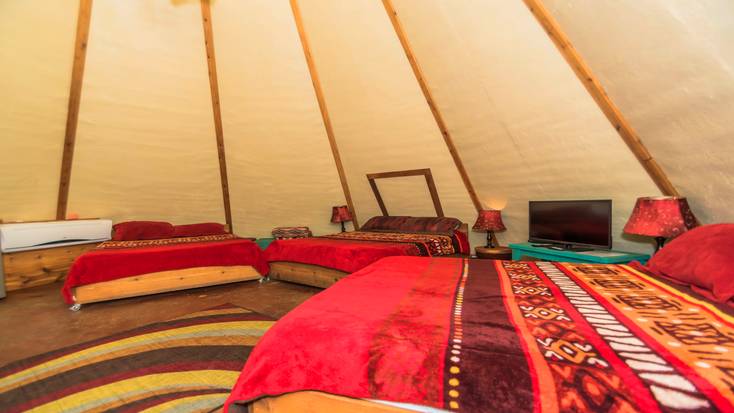 Tell us about your most memorable guest experience to date.
One experience that has become increasingly popular over our years in operation is for guests to reserve the Tipis for Thanksgiving in order to reenact the first Thanksgiving meal! We've had some creative groups who bring long tables and dress up like Pilgrims and Native Americans for their holiday experience. It's all in good fun, and seems to be an enjoyable and imaginative encounter for everyone! We always book our Thanksgiving holidays far in advance, so if you want to enjoy Thanksgiving at the Tipis, book early!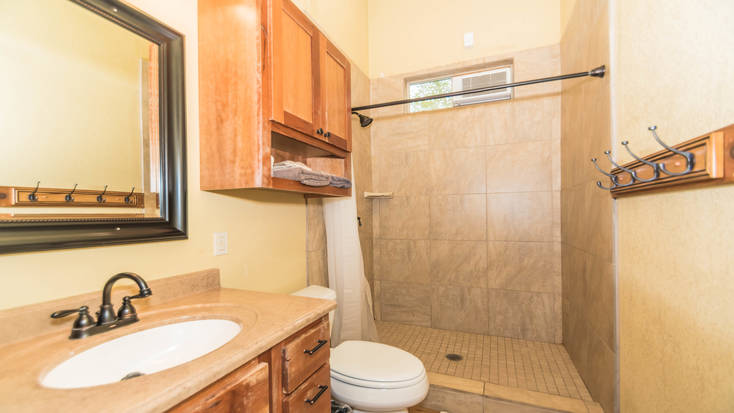 Which three words are most commonly used in guest feedback about your accommodation?
Fun, Family, and Relaxing!
Tell us about the experience you provide for guests visiting your glamping site.
The experience really begins in the "getting there". You drive down a winding, tree-covered road that runs alongside the Guadalupe River. At any time of year, this road offers beautiful scenery as you cross three bridges. You often see ducks crossing the road or even deer playing near or in the river! The trip down River Road lasts long enough that it really seems that you've found the "middle of nowhere". Once you've unloaded your gear, you can easily just sit in a camp chair and appreciate the nature all around you, or grab a tube and walk down to the river for a little relaxing float. Then there's the opportunity to cook a hardy meal on your BBQ pit or eat some s'mores by the firelight. And finally, since the Tipis are windowless, what an awesome opportunity to get a peaceful night's sleep or a restful afternoon nap in the pitch-black space!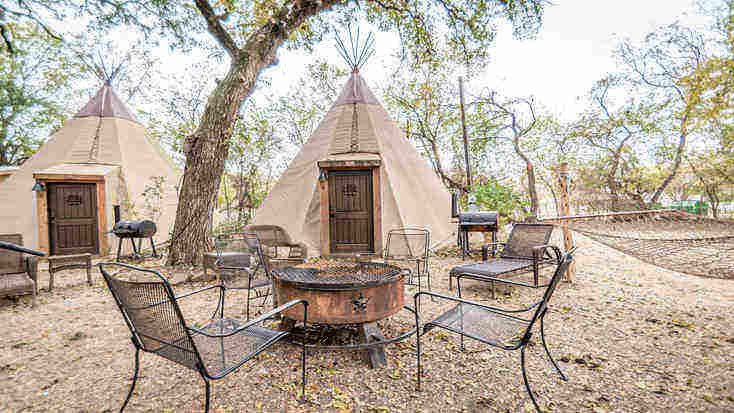 If you could have anybody stay at your accommodation, who would it be and why?
The property works great for large groups to rent all eight units and experience a huge friendly gathering. There is no issue with loud noise when the whole property is rented by one group, so sometimes musicians will have small intimate concerts on site for groups of friends or fans. Also, the layout of the Tipis really makes it easy to connect with other guests when they are grilling or sitting outside under the trees. You may arrive as strangers but depart as friends!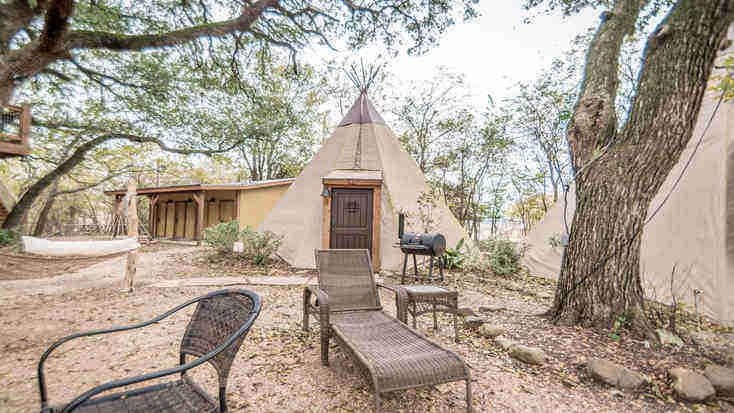 Are there any upcoming additions/ changes to your glamping site you would like to share with us?
Yes! We will have a new concrete pingpong table and two concrete cornhole sets ready for our Spring Break guests. We have also begun selling tubes and renting kayaks on site. Finally, we will be hoisting the Tipi flag on our brand-new flagpole soon! The time is now to make your summer reservations—we hope you will come visit the Tipis on the Guadalupe in 2020!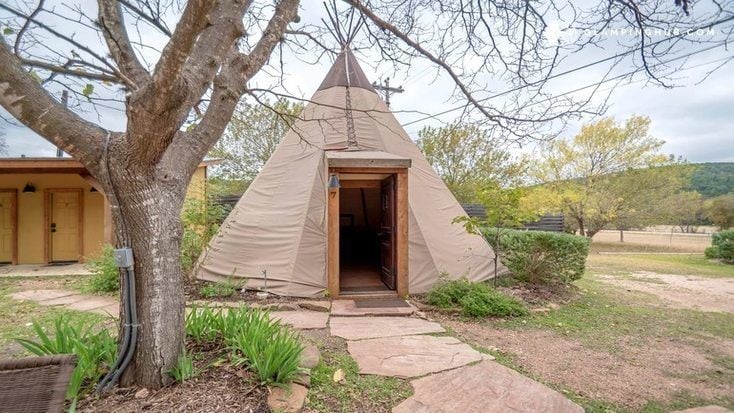 ---
Katie manages River Road Vacation Rentals in New Braunfels, Texas. She's a real estate broker, a single mom, and a go-getter. She lives in Seguin, Texas with her three sons Eli, Fisher, and Jack.