Memorial Day 2021 is fast approaching—time for family get-togethers and barbecues galore! Potlucks are a popular way to dine for summer holidays, with picnic tables piled high with salads and starters, delicious grilled mains, and a dozen different desserts. If you're wracking your brain on what to bring, let us help you figure out how you'll add to the sprea with our Memorial Day food ideas, perfect for any upcoming American public holidays in 2021.
Tease guests with these Memorial Day appetizers: crockpot cocktail weenies
Wherever you might be in America, no one can resist crockpot cocktail weenies, so you know that Crockpot Little Smokies will be a win-win, both easy for you and popular at the party for Memorial Day 2021! This recipe has only three ingredients and tastes like you spent hours slaving away—when in reality you mixed the ingredients in and set the timer for two hours.
Make your black bean and corn salsa for easy 2021 Memorial Day menu ideas
Chips and guac are always a crowd-pleaser, so why not spice up classic food recipes with a unique, easy-to-make black bean and corn salsa for truly easy Memorial Day menu ideas? It tastes so fresh that no one will ever guess you made it in less than 15 minutes. What makes this recipe extra great is you can customize it to your favorite flavors! Throw in diced avocados or fresh heirloom tomatoes, and call it your signature salsa. Wowing the party? Check.
Stock up on food ideas for hosting people with the best healthy recipes: introducing the potato salad
We love a healthy take on the classic potato salad, an American barbecue staple. With no mayo and plenty of fresh herbs, this light herbed red potato salad is sure to be a hit with party guests of all ages. At under 20 minutes to prepare, you'll have plenty of time to make a playlist for the car, take the dog for a walk, or enjoy a cat nap before the festivities. The best healthy reicpes don't need to be complicated! Hosting people is no easy feat, but it is made much easier when you have the right food ideas in 2021.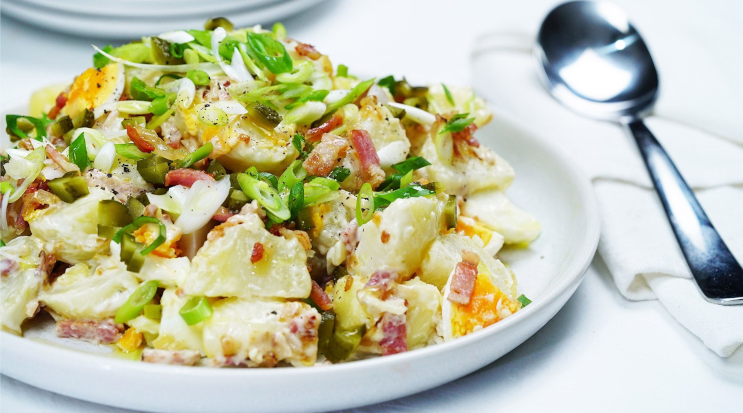 Wash down the Memorial Day food with fun party drinks including your special Memorial Day punch for 2021
Memorial Day food is all well and good, but what about Memorial Day drinks? When fixing up party drinks, being able to prep as much in advance is key. This delicious pineapple Memorial Day punch can be customized with other fruits and add-ins. Added bonus? On the recipe page, you can enter in the number of guests you're making the punch for, and it will convert the amounts and measurements for you!
The best mocktails and easy-to-make drinks start with popular non-alcoholic cocktails for Memorial Day in 2021
Another crowd-pleaser with a short ingredient list, the best mocktails ( sparkling raspberry lemonade) can be transformed from cocktail to mocktail by swapping out sparkling wine for sparkling water! Killing two drinks with one stone and allowing you to enjoy your guests' company, whether is be at your own home or luxury camping cabins across the US where you can drink in the fresh air as well as your new non-alcoholic cocktails.