Quirky, meaning something characterized by peculiar or unexpected traits, is a great way to describe some of our unusual yet incredible accommodations. Everyone's heard of recycling, but you might not have heard of upcycling. Whereas recycling extracts waste materials from something in order to be used again in the same way, upcycling is the process of using those waste materials to create something quite different and sometimes entirely different. In this article, we want to show you some of the best examples of how to upcycle just about anything and to define quirky in a glamping context for you to create your own quirky accommodation in 2021.
Upcycling is a great way to minimize our impact on the planet, as well as create something new and exciting, and the creators of these quirky accommodation rentals below certainly agree. We have unique vacation rentals around the world that are crafted from a variety of different and unexpected materials—from a vintage Boeing airplane to repurposed boats—you can find it all right here.
2021's unique lodging in the US: Enjoy these luxury Florida rentals converted from old shipping containers
These luxury Florida rentals are the perfect place for a truly unique, almost quirky definition of a glamping experience. They are made up of three, ocean-going shipping containers that were no longer able to be used and which would have otherwise been melted down. The exterior has a rustic feel, but the interior is anything but—with comfortable beds, a fully-equipped kitchen with a breakfast bar, and French doors that overlook the beautiful Loxahatchee River.
They really are the definition of creative and quirky accommodation perfect for a once-in-a-lifetime experience!
Unique hotels won't top Costa Rica vacation rentals like this which will revolutionize your idea of sleeping on a plane in 2021
One of our most unique Costa Rica vacation rentals, this six guest capacity Costa Rica treehouse suite is made from a refurbished 1965 Boeing 727, which in a previous life shuttled travelers around the globe for a South African and then Colombian airline—until its final resting place in San José, Costa Rica. Decommissioned and wasting away in a hangar, it was taken apart piece by piece, transported to the tropical jungles of the Manuel Antonio National Park on Costa Rica's south coast, and reassembled in the tree canopy 50 feet above the ground.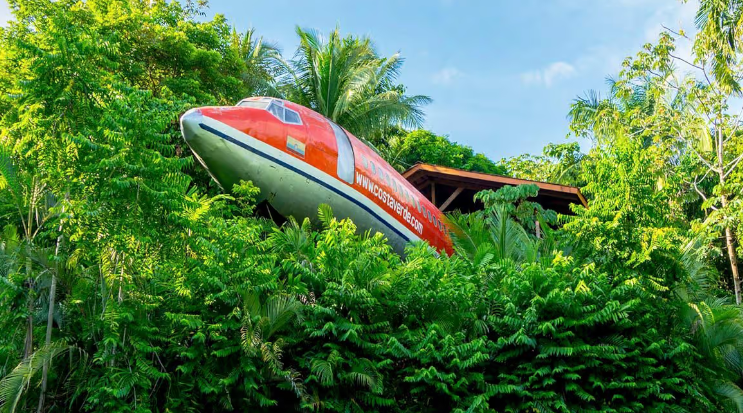 At this height, guests can enjoy ocean and jungle views from the deck and try to catch a glimpse of sloths, toucans, monkeys, and more! Inside, from cockpit to tail, the interior and furnishings are made from luxurious teak, and up to six guests can stay among its two bedrooms. Guests will have access to a nearby hotel's swimming pool, all while being strategically located to enjoy the best of Costa Rica's fantastic biodiversity.
A truly quirky accommodation awaits in Texas with eclectic eco-friendly vacation rental for five in Round Top, TX
Of all the accommodations that could define quirky, this has to be up there with the quirkiest! This quirky Texas accommodation goes the extra mile by using old lumber from a Kentucky distillery, salvaged glass from a Philadelphia school, cabinets from a Brooklyn laboratory, and countertops made from old bowling alley floors in Texas.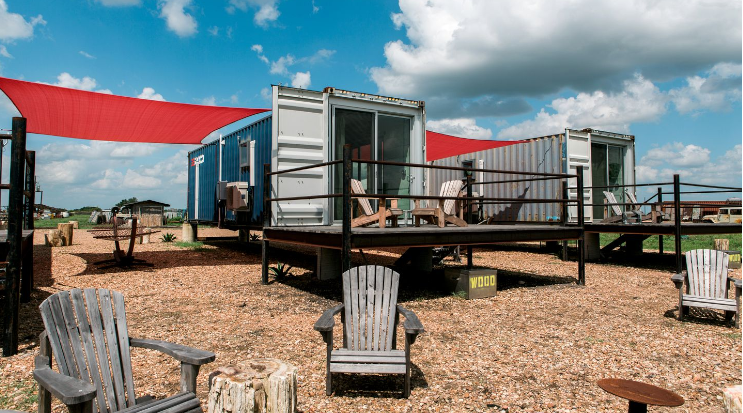 P.S. Check out more fun shipping container accommodations here in Missouri, Colombia, and Portugal.
Unique properties to rent in 2021: North Carolina barns with an upcycle twist
This gorgeous rental is one of the North Carolina barns that have been upcycled to perfection while being tucked away in the NC woods, near the Cherokee National Forest. This accommodation is unique both for the history that runs through its walls, as well as for the natural spring found nearby.
Discovered in 1883, the local North Carolina farmers found that after drinking from the spring, the poison ivy sores on their hands disappeared. Soon, the spring was receiving as many as 300 visitors a day, rumored to cure all sorts of ailments, from rheumatism to indigestion. Nowadays, the farm is still running, providing beef, pork, and poultry to the local area, and guests can even help with the daily farm chores!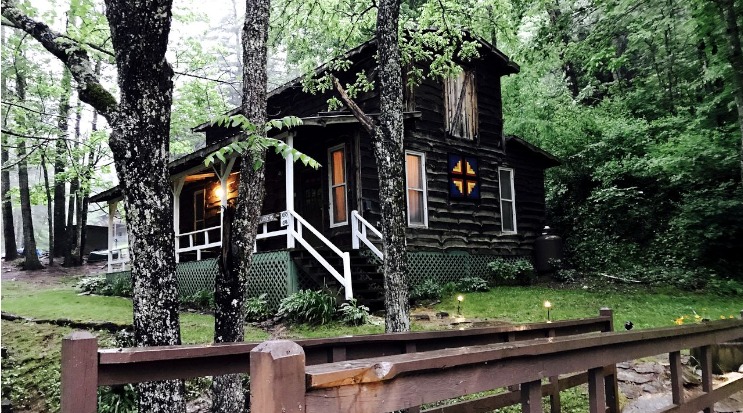 Converted grain silo for unique cabin camping in Illinois and the ideal romantic weekend getaways near Chicago
Dating back to the 1950s, this getaway used to be a storage container for grain for the Illinois farm upon which it's located. The container was used up until the 1970s, when it changed location to be used on a different farm, though it's recently returned to its original location, albeit no longer needed for its practical use.
Today, the grain container is a beautiful rural getaway and perfect for cabin camping in Illinois, featuring a sleeping loft, a comfortable front porch, and an upper deck that offers vistas of the most incredible sunsets. An added bonus to staying at a farm-based upcycled accommodation? You'll not only be helping to support US agriculture—you'll also be staying on a piece of living history.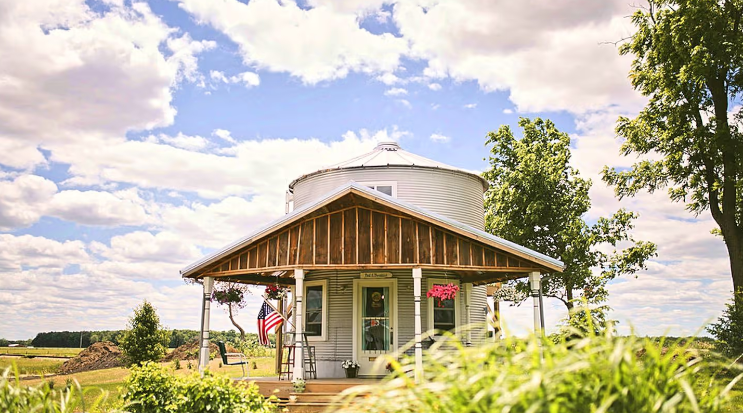 How to upcycle furniture? Create your own quirky dog-friendly accommmodatoin like this glamping cabin: rentals in CT 2021
Located in Chester, Connecticut, between the Connecticut River and Cockaponset State Forest, this stunning, riverside dog-friendly accommodation has been crafted from 80% recycled materials and is one of the top cabin rentals in CT in 2021. The wood furnishings of the interior, coupled with the large amounts of natural light let in by the windows, give a warm and cozy atmosphere and an authentic cabin feel.
The crafted cabin is situated beside the Pattaconk Brook and features a breathtaking waterfall, giving guests the chance to really reconnect with nature. Although the cabin boasts incredible natural surroundings, the cities of New Haven and Hartford are reachable in under an hour, and offer cultural activities like museums, theaters, and music venues, as well as opportunities for shopping and dining. For those looking for something a bit more relaxing, the coastline of the Long Island Sound is a 15-minute drive to the south.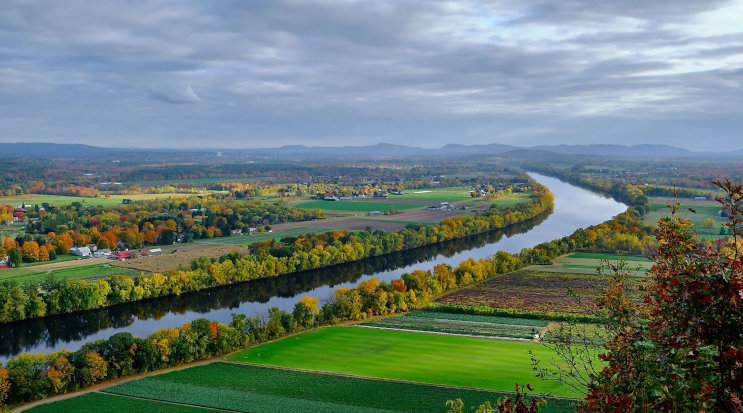 Glamping Mexico: unique holidays rentals like this will make you want to start upcycling today! 

At this resort, old concrete construction pipes have been used to create some of the best luxury camping pods Mexico should be proud of. Fitted with queen-size beds and storage units, these pipes are a delightfully quirky accommodation and would otherwise have been crushed up for their raw materials—but we think this is a much better idea!
Not just a cool and original place to stay, they're also fantastically located just a few minutes away from the center of Tepoztlan, about 45 minutes south of Mexico City, on the other side of the mountain range. Other cool features that guests will love are the speedy Wi-Fi and an amazing infinity pool, making it one of the top quiry accommodation options for Mexico vacations.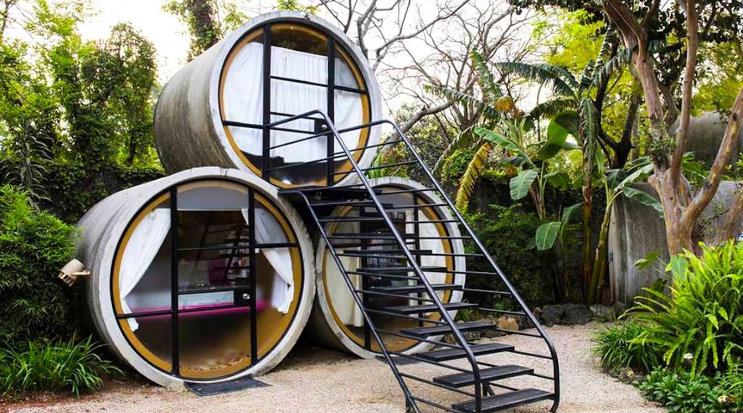 Madeira holidays 2021: this cottage will show you how to upcycle old furniture on your Portugal family vacation this year
Madeira cottages like this on the stunning Portuguese island are the perfect way to spend your Portugal family vacation in 2021—every room boasts a quite unique touch. Beauty is combined with sustainability, with walls made of car glass, wine bottles, tree branches, and various types of stones. At sunset, the rays of the sun shining through the different colored glass creates a mesmerizing effect.
Outside, there are also many private areas and gardens for glampers to explore. Guests are welcome to enjoy the communal areas, which include a barbecue for some al fresco cooking, dining, and socializing while enjoying the enchanting mountain views.