Every San Diego resident knows that living in a busy city leaves very little time for seeing the sights, and if you have time, spend a weekend in San Diego, ideas abound. Staycations in San Diego are obviously a great option, but you needn't go far to enjoy a staycation San Diego style in the great outdoors. With all that vacations in San Diego have to offer, including a myriad of beaches, parks, and attractions, it's almost overwhelming to fit these trips into your everyday schedule. Instead, join in on the trend that's sweeping the nation and make your next holiday a staycation, and enjoy the best glamping California has to offer. There are plenty of San Diego staycation ideas listed right here, so browse through and enjoy all there is on show!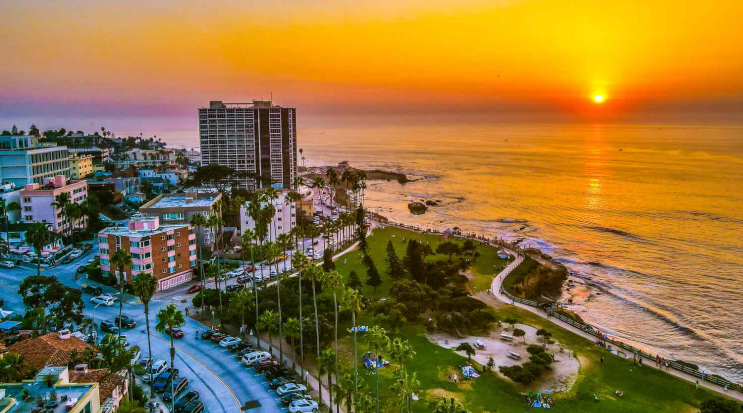 Keep reading to discover our favorite San Diego staycation ideas: 2021
When it comes to glamping in San Diego, staycation ideas like these will transport you to some wonderful areas of natural beauty. Hidden treasures come to light and old places become new again when you turn your regular vacation plans into a staycation. Take this opportunity to become a tourist in your hometown with this list of San Diego camping spots and the perfect places to stay to have a relaxing and unplugged staycation. So, keep reading and plan your own San Diego staycation.
Check out this dog-friendly accommodation for a staycation: San Diego vaction rentals
What better way to enjoy a staycation in San Diego than to stay there with your best, furry pal? This gorgeous vacation rental will host you and your dog, so nobody gets left behind. There's no reason why a dog friendly accommodation can't provide the best luxuries when glamping, after all.
This charming cottage rental is located near to plenty of restaurants and provides plenty of luxury inside, including a chandelier and outdoor patio complete with a grill. This certainly one for family vacations and will no doubt leave you refreshed and renewed.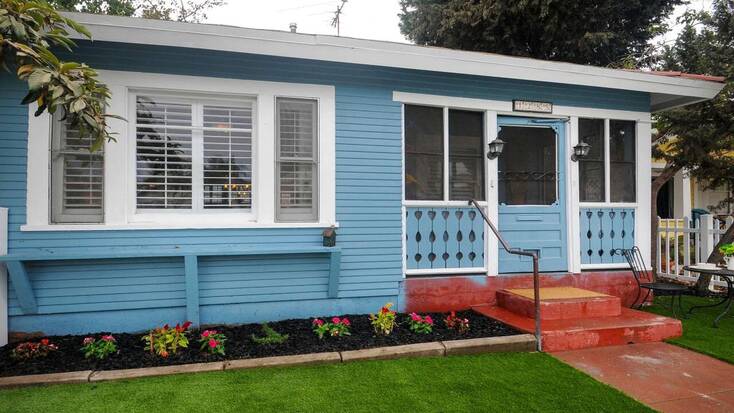 Discover this safari tent rental for top staycation ideas; San Diego and beyond!
When it comes to staycation ideas, San Diego is near enough to the great outdoors for you to enjoy a unique getaway. Roughing it in California no longer means what it used to, especially not with a luxury tent rental. Nowadays, you can grab a few friends and spend a weekend in the outdoors without sacrificing electricity and Wi-Fi access. What better way to explore your hometown and disconnect than from the comfort of a safari tent rental?
With a campfire area and the ability to sleep up six people, this deluxe, African safari-inspired tent can become the perfect getaway with a group of friends. Staying close to home has never been this easy and exciting. The top staycation ideas 2021 has to offer are right here, so start plannings some staycations San Diego would be proud of!
Plan a break in this luxury yurt rental near Lakeside, CA
Though we're sure you're already aware, yurt camping is a hot new trend. You may think this is just another tent, but you'd be sorely mistaken. In fact, we're not even sure luxury rental is qualified to be called a yurt. It's more of a Yome, insomuch that it's a cross between a yurt and a dome house. Confused? Don't be!
However you want to think of it, this glamping tent, offers a comfortable and unique experience for your next California camping trip. Set on a site with other bell tent accommodations, this cute rental has access to a swimming pool and semi-outdoor changing facilities.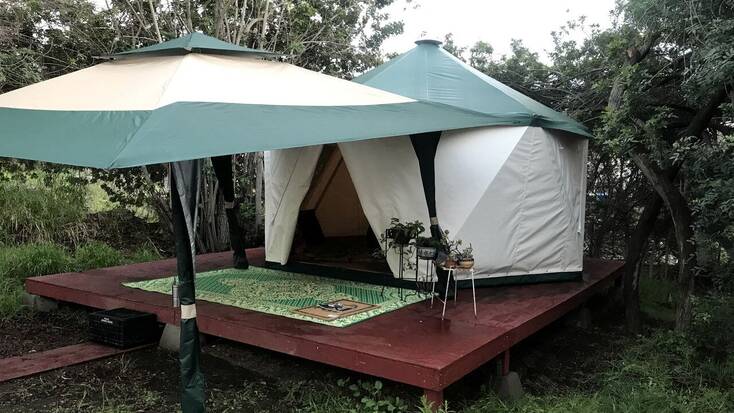 Find your flow with this campervan rental: beach vacations in California 2021
This may take some extensive research, but when has anyone needed an excuse to go beach hopping? Take a trip to Encinitas and have a picnic by the seals, surf your stress away at the beach or catch a tan in the San Diego County summer vacation sun. Every glamper has their own style.
To complete the adventure, glampers will need an adventurous accommodation. Situated near the beach, this campervan rental is ideal for anyone looking to push the boundaries on a staycation. With its own cooking unit and plenty of charm to spare, this is the perfect campervan rental for beach vacations in California.
At Glamping Hub we're big on taking care of our planet, so have a look at these ideas for keeping beaches clean and do your bit during your next stay!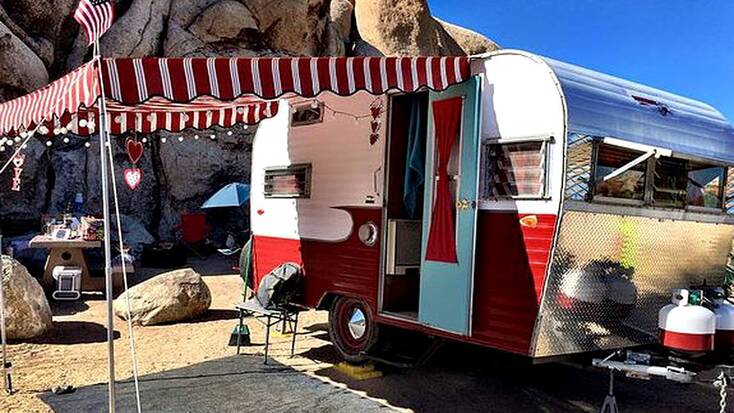 Take a tour of your own home when you try these California camping trips
The best way to learn something new about your surroundings is by asking an expert! Take a tour of an area you already seem to know and find out all about its history. San Diego is chock full of stories and a Segway tour, high adventure tour, or brewery and winery tour could be the best way to explore. California camping trips are the best way to discover this gorgeous part of the world.
After a day of tourism and falling in love with San Diego all over again, it's natural to need a break. Top off your staycation with a luxury cottage by the beach and its large front deck, 55-inch curved 4K flat screen television, and comfortable bar stools. Plenty more San Diego camping accommodations are available, so make sure you don't miss out!
---
Dying to see more of San Diego? Check out the best things to do in San Diego today!