If you're spending Christmas in London, in 2022, keep reading our list of things to do. London awaits!
Lights, carols, and the buzz of anticipation fill the streets as shoppers get the last of their Christmas shopping done. It can only be Christmas in London in 2022. From Oxford Street to Camden and beyond, the city has a life of its own during the Christmas period, competing with even the best Christmas towns. There are plenty of things to do in London throughout the year, but at Christmas time, there is so much more. We've put together a list of our favorite things to do in London at Christmas, that will make 2022 a festive season to remember!
Staying in London itself can be a tad pricey, so if you're planning UK holidays for Christmas 2022, you can stay just outside of London in a great vacation rental. Staying in and around the Home Counties will give you easy access to the center of London with direct train routes to the main stations in the city.
Best Christmas markets for 2022: London Bridge and Greenwich Christmas markets
All over Europe, Christmas markets are up and raring to go. London is no different. Of the best Christmas markets in Europe, London can certainly boast two. You can enjoy the Greenwich Christmas and the London Bridge Christmas markets; perfectly situated for a double Christmas activity. Once you've enjoyed all the Christmas decorations and products on sale, head over to Borough Market, which is a foodie's paradise throughout the year. At Christmas, you can indulge in some festive treats.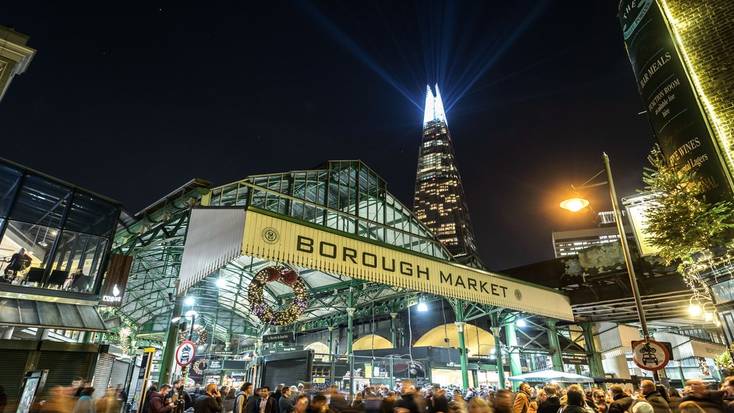 Ice Skating, London; glide around monuments and museums during your next holidays in 2022
Snow isn't too common during Christmas in London. In fact, it's not overly common for snow to settle for long at all here. However, that famous London spirit won't be deterred, so instead of snowball fights and building snowmen, you can head to one of several monuments or museums and enjoy some ice skating. At Somerset House, ice skating takes place in the center of the building, so you can enjoy being surrounded by this stunning Georgian architecture. Not enough ice skating? Natural History Museum ice rink should be your next stop. At the Natural History Museum, there are a rink and food stalls, perfect for a family day out.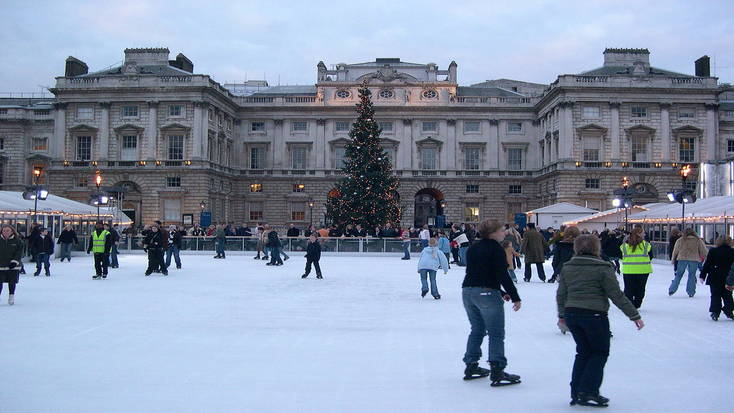 Hyde Park Christmas 2022, walking in a winter wonderland
When spending Christmas in London, you can't miss out on Hyde Park. Christmas finds its way into the park with the annual Hyde Park Winter Wonderland. Running until January 3rd, 2022, the Hyde Park Winter Wonderland is free to enter (off-peak) and is the perfect family activity. Please, remember this year you may need to book entrance tickets in order to enter. It features everything you could want from a Christmas event, from a Christmas market and ice skating to live music and circus shows. The kids will love it, and it'll undoubtedly bring out the big kid in you too!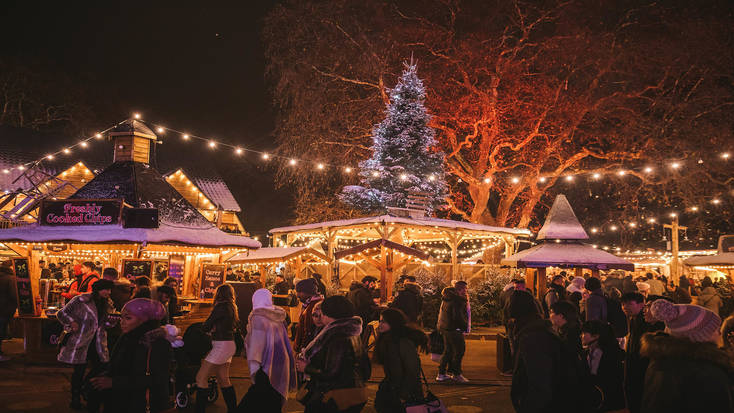 Release your inner Bublé! 2022 Christmas carols in London
While we have to concede we might not be able to belt out the Christmas carols as well as Michael Bublé, that doesn't mean you can't enjoy a bit of a sing-song yourself. Up until Christmas Eve, crowds gather at Trafalgar Square. Carols are sung by 40 different choirs throughout the Christmas period around the iconic Christmas tree, and a collection is taken for charitable organizations. In St. Paul's Cathedral, there is a family carol service on Christmas Eve, and you can also head to the world-renowned Royal Albert Hall for carol singing, again on Christmas Eve.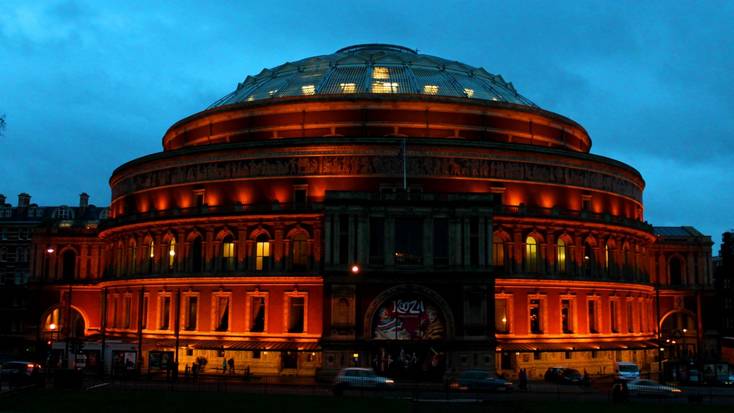 Getting your just desserts: The Great Covent Garden Christmas Pudding Race
While Christmas pudding is one of the most famous Christmas desserts and is famously an important part of a British Christmas dinner, every December, teams sign up to face The Great Covent Garden Christmas Pudding Race. Don't miss the Great Christmas Pudding Race this year, guaranteed family fun in December 2022. Organized by the Cancer Research Aid Committee (CRAC) on behalf of Cancer Research UK, the race is an obstacle course completed by teams in fancy dress. With obstacles such as a giant inflatable slide and a crazy foam slalom to navigate, all whilst balancing a Christmas Pudding on a tray, it is nothing short of a spectacle to behold!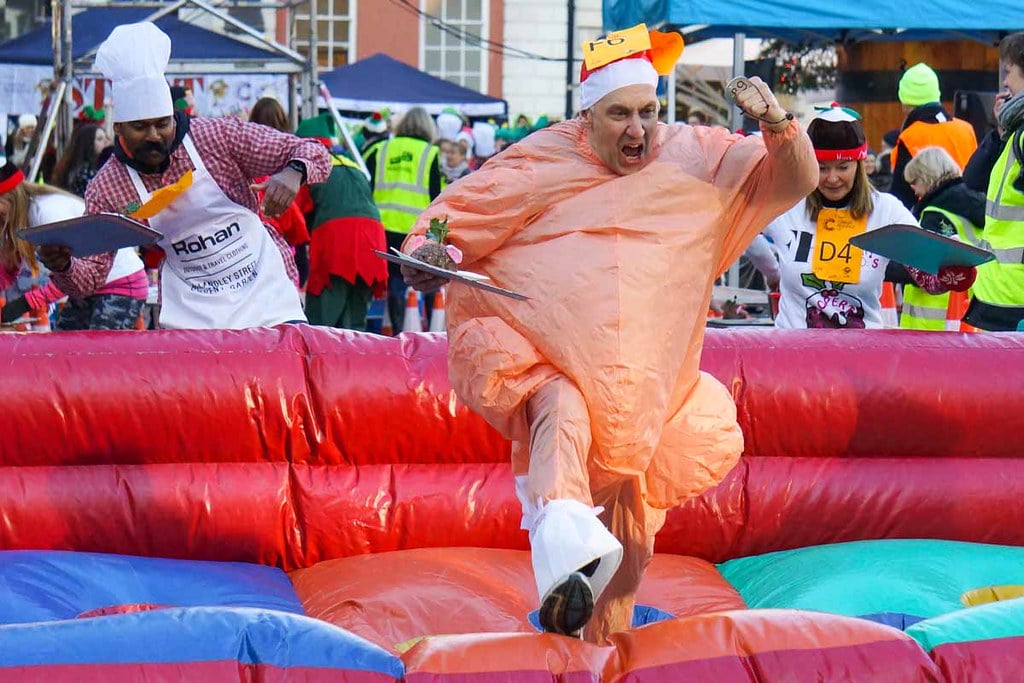 Treat yourself to a West End trip for a Pantomime and some of the best shows in 2022
Famous for theater and musicals, the West End plays host to various pantomimes throughout Christmas. For anyone not in the know, pantomimes have been a British tradition in various forms since the medieval period. Nowadays, they follow a certain layout that has long been accepted as the norm. Pantomimes are filled with slapstick fun, with songs and jokes the whole family will love. Based on traditional stories and fairytales, old favorites such as Aladdin, Robin Hood, and Cinderella are often produced. If you head to the West End for a panto, you may get the chance to see a few famous faces from television on stage as well!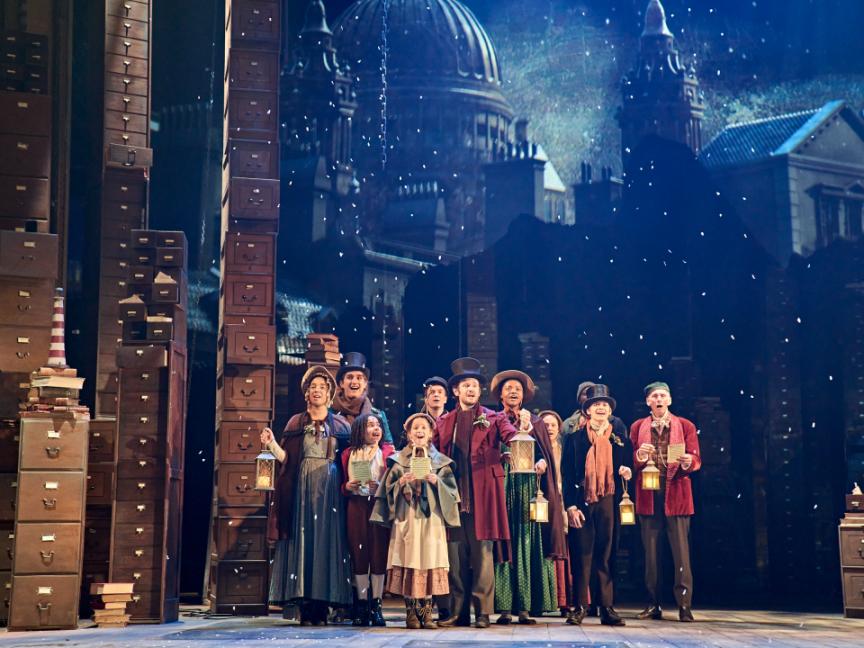 Go to the pub and learn how to spend your Christmas 2022 in good company
And relax! After all that, you have earned the right to go to a cozy pub, put your feet up, and enjoy a pint of the finest ale on tap. Nothing says Christmas in London more than a trip to a traditional London pub. With a real ale in hand, and some delicious pub food on the way. Put your feet up and relax as Londoners do!