Editor's note: Each month, we'd like to introduce one of our wonderful Glamping Hub hosts and ask what inspired them to create a glamping site. This month, to celebrate Earth Day 2021 on the 22nd of April, we're showcasing Dustin and his partner, who lovingly restored a forested area previously devastated by logging, to create an incredible glamping retreat near Umpqua National Forest in Oregon.
Before we learn more about Dustin, here at Glamping Hub we wanted to share with you how we are celebrating Earth Day 2021. Sustainability and nature are at the very heart of what we do, and by providing unique eco-friendly accommodations around the globe, we stand together with millions of people who are hungry to drive positive action for our diverse and beautiful planet.
The need for environmental change is more crucial than ever and at Glamping Hub, we promise to continue promoting green initiatives throughout our community in order to sustain, protect, and improve wilderness areas all over the world. Check out our blog for ideas on how to celebrate Earth Day.
Meet Host of the Month – Dustin from Oregon
Tell us a bit about yourself…
My partner and I enjoy the great outdoors and are native Oregonians. After traveling the world for work over the past 20 years we have settled back in the Pacific Northwest and are enjoying all the amazing beauty the Umpqua National Forest offers and so we created a resort to share that space with others from around the world. 
What attracted you to owning a glamping property?
After traveling the world for work over the past 20 years, we have settled back in the Pacific Northwest and are enjoying all the amazing beauty the Umpqua National Forest offers and so we created a glamping resort to share that space with others from around the world.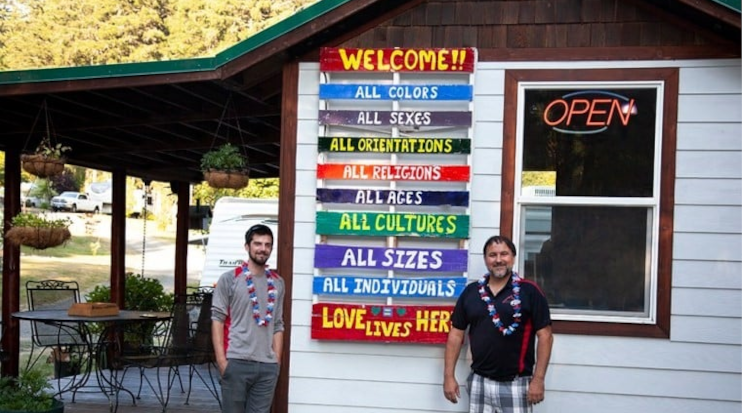 Every glamping site has a special story, could you tell us about yours?
We began in 2006 with a strip-logged parcel of property deep within the Umpqua National Forest. This was rare privately owned land in the middle of the National Forest and the beauty of the Umpqua wilderness and North Umpqua River were so spectacular we knew the location had potential even with the property being so devastated by logging. 
We purchased the 20 acres and bought a very large tractor and went to work. From all new utilities to carving out our future sites for our accommodations and facilities we began our journey to creating an amazing park with 15 different and unique glamping accommodations. 
We started with four small cabins and expanded each year to include a tiny home and our featured new luxury glamping tents. We wanted to share this world-class location and still get to enjoy the culture of world travel, now we get to meet and host people for all over the world and get to interact and provide them with tours, amazing accommodations, as well as provide local insider knowledge of the stunning views and recreation opportunities of the Crater Lake National Park and Umpqua National Forest.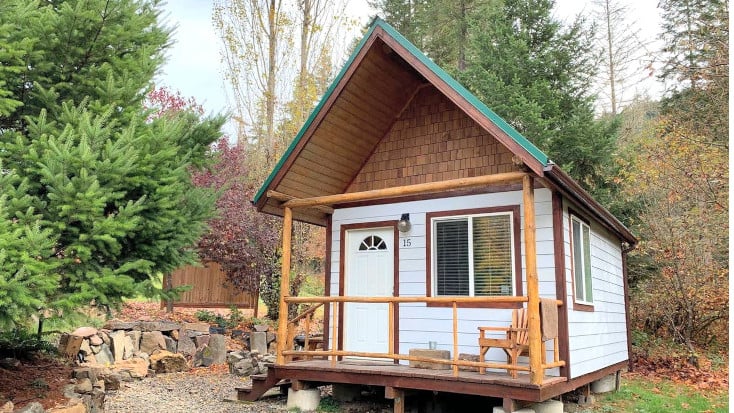 Can you tell us about your most memorable guest experience to date?
Everyone is so wonderful to host, it is difficult to pick one! From anniversaries to birthdays, weddings and engagements and getting to see the joy the area and our resort bring people is our biggest reward. Being travelers and adventurers ourselves we get to experience the culture of our visitors from around the world and each time we get to provide an experience that people remember for a lifetime. 
When we have past guests return time and time again to such an extent that we made our motto 'Come as Guests… Return as Friends. We so enjoy what we do and so many people comment on how much that shows through in our customer service and love of our facilities.
If you could have anybody stay at your accommodation, who would it be and why?
We are welcoming to all, I was tickled when I read this question as we have a giant welcome sign on our resort office that says; Welcome – All Colors, All Sexes, All Orientations, All Religions, All Ages, All Cultures, All Sizes, All individuals. Love Lives Here!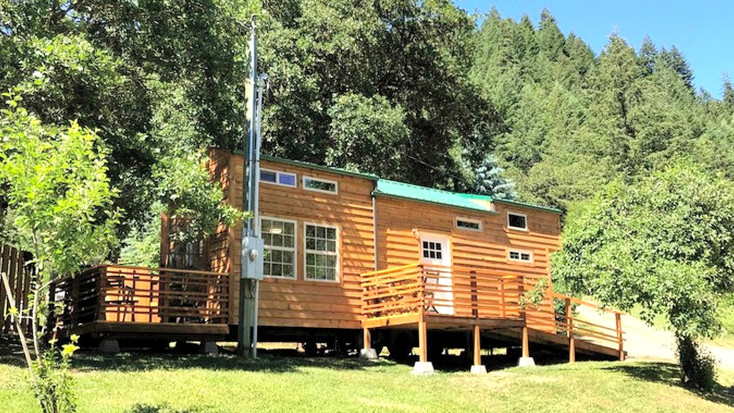 What are some of the challenges you face and what have you learned since opening?
Challenges are what we excel at. From forest fires that we were sure would take all that we built and come very close to it, surviving the shutdown of COVID, to just the day-to-day challenges of living in a mountain wilderness location with a 100 mile round trip to get supplies, we have grown accustomed to meeting each with a zeal and vigor that keeps us moving and joyful. 
How was your first time hosting?
It really was just like having friends over, you just take care of people and above all be nice! One of our very first guests came back multiple times and then after 10 years of friendship and patronage, they came back to become our manager and help us get to the next level in the resort. They truly became family.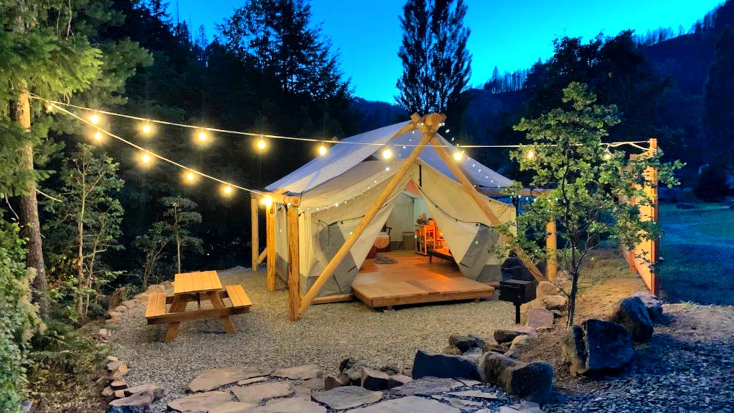 What do you love the most about running a glamping site?
Getting to meet and entertain people for all over and all cultures to be able to learn and grow and expand our views and preconceptions.
Where is your ideal holiday destination? Other than your glamping property of course!
Wow, that is such a tough question, we have most loved visiting our great National Parks and try to see at least one every year. We do enjoy the cultural immersion of visiting foreign places and seeing new things, it is an absolute passion. I must say our visits to Italy and the walled cities of Tuscany stay with me and I still get a yearning to go back.
What advice would you give to anyone looking to start or improve their own glamping business?
LOVE what you do. If you don't love people and entertaining it can show through. Be genuinely pleased to great guests and call them by name. Make friends not customers.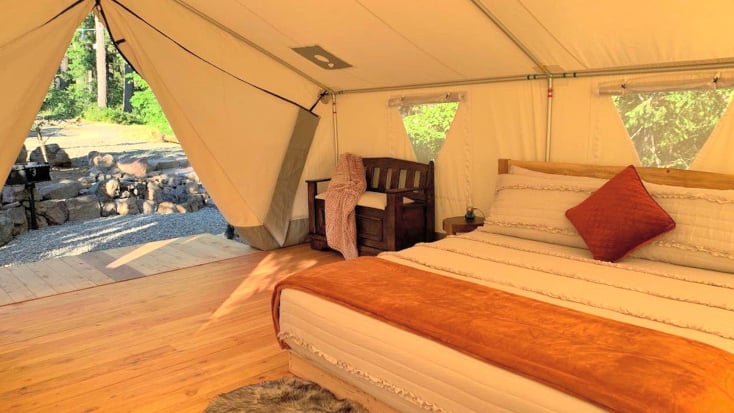 Our community of hosts means everything to us here at Glamping Hub and to book an unforgettable stay in Oregon at Dustin's fantastic resort, click here!
Thank you Dustin for sharing your story and experiences with us at Glamping Hub. We are delighted to have you in our Glamping Hub community and your hunger for eco-friendly tourism and welcoming attitude is a real inspiration to us all. Congratulations on becoming our Host of the Month for Earth Day 2021.
Don't forget to check out our Instagram to see how Glamping Hub will be celebrating and to give you ideas on what to do for Earth Day 2021.