Editor's note: Each month, we like to introduce one of our wonderful Glamping Hub hosts and ask what inspired them to create a glamping site. This month, we're showcasing Glamping Hub's Host of the Month for September 2023, Alla & Garrett in Montana. This hosting couple got started with the idea of creating their personal oasis surrounded by the forest. Since then they have self-built a glamping site in Bonner, Montana beloved by all who visit it. If you need a haven in nature, this spot just two miles from the Blackfoot River, is for you.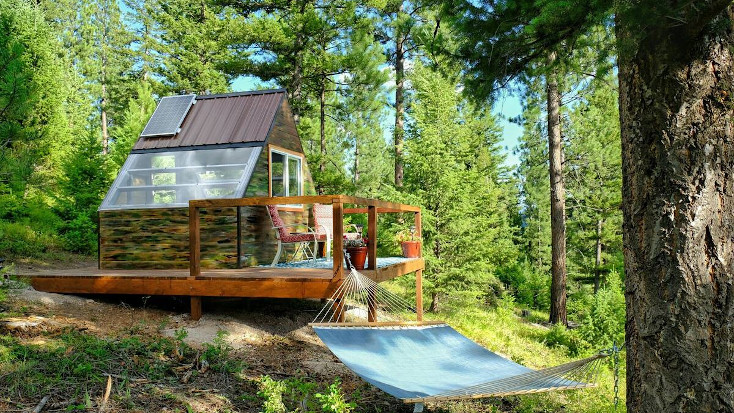 Host of the Month, September 2023, tells us a bit about themselves
We are Alla and Garrett Hohn, co-owners of a tiny, self-built cabin resort in Bonner, Montana. We've been living abroad and traveling for the past 14 years, hosting on our property for the past 7, and always improving our place based on inspirations we get from traveling and staying at other vacation rentals.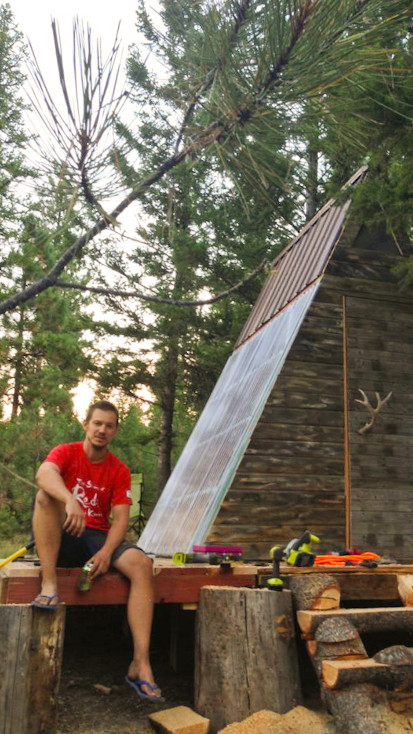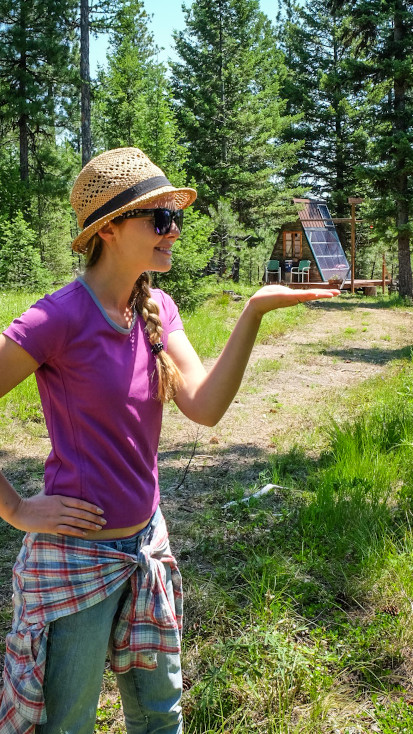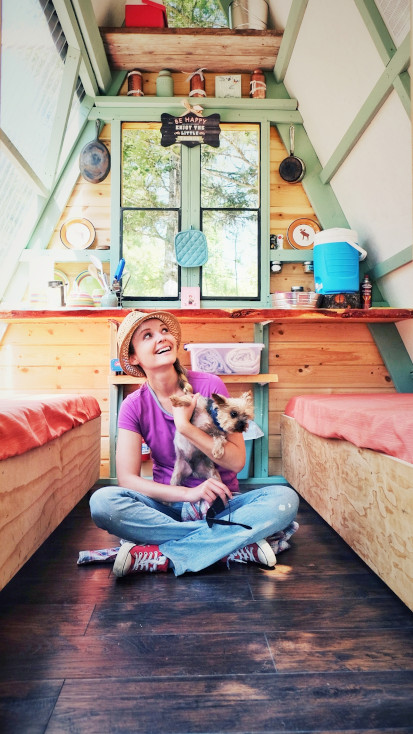 Discover what attracted our Host of the Month for September 2023, to owning a glamping property
Our property and hosting business were never a part of the plan. We simply purchased the property from our parents-in-law. Then we slowly built what we thought we needed to live there on our vacations from work. The idea of hosting people at our first cabin was just a "What If?" conversation. In the beginning, we weren't sure if this was what we wanted to pursue full-time. However, after we started hosting people who came from all walks of life, we quickly realized that this was a fun way to meet people we wouldn't normally meet. It's also a great way to introduce people to Montana. Finally, the small income we made was a cherry on top.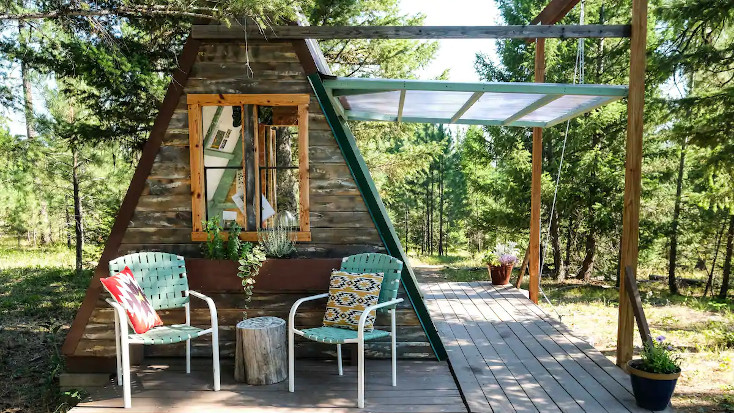 Every glamping site has a special story, could you tell us about yours?
Since putting up our 1st cabin for vacation rental, every year we came back to the property during our summer vacations from abroad, we always built something. Almost every year for the next 5 we either built a cabin, or added on amenities (like a fire pit, Commons Area, Scavenger Hunt activity, outdoor games, and hiking trails). So now, 13 years since buying our bare land, we have a 5 cabin resort, which we have ALL built ourselves and since 2017 have hosted over 500 people. In 2022, we moved back from overseas and made our resort, our full-time job, which we absolutely love!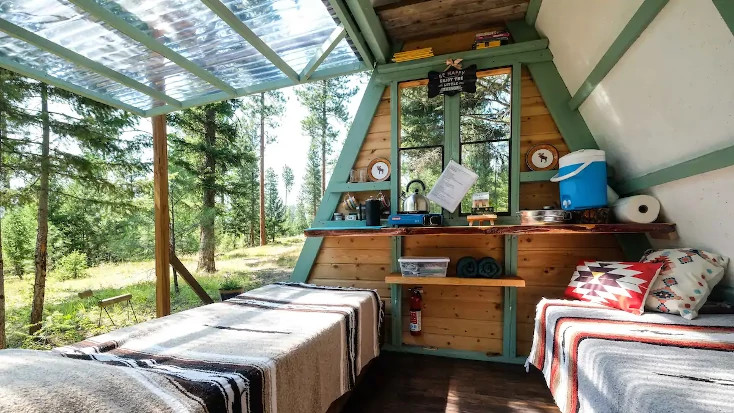 Host of the Month for September 2023 tells us about their first time hosting.
Our first time hosting was with a very interesting couple from the Netherlands. Gurt and his partner were awesome, very active, and fun to talk with. We still recall Gurt exercising by running down our mountain towards the stream, then coming back and drinking Mike's Hard Lemonade Alcohol Drinks. And since then, we have had so many more entertaining stories of memorable guests just like Gurt.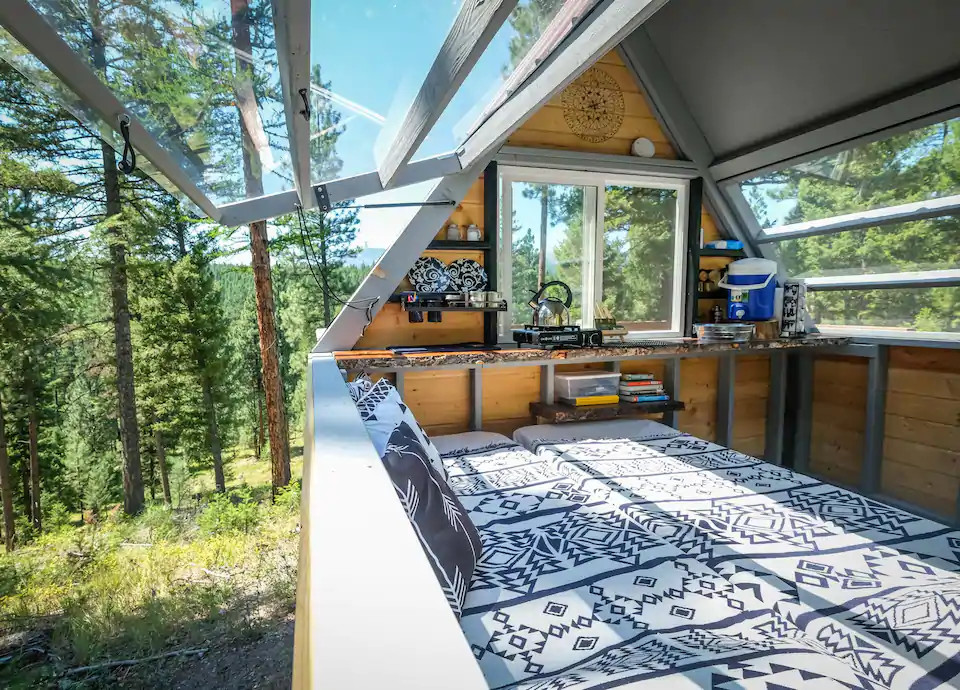 Can you tell us about your most memorable guest experience to date?
There are so many, primarily because we always check in with our guests in person and get to chat with them. One of the latest guests who has surprised us by staying here for the 3rd time is Eva. Eva has traveled to over 60 countries, documenting her journeys along the way on her very popular YouTube vlog. During her first stay, she brought her new puppy to our pet-friendly luxury camping getaway, during her 2nd stay she shared her vacation with her new beau, and recently, she came back once again, bringing her family from Europe to check out our place. We always feel so grateful and humbled when guests continue to return here, calling it: "an oasis, a haven on earth, or the most magical place in Montana."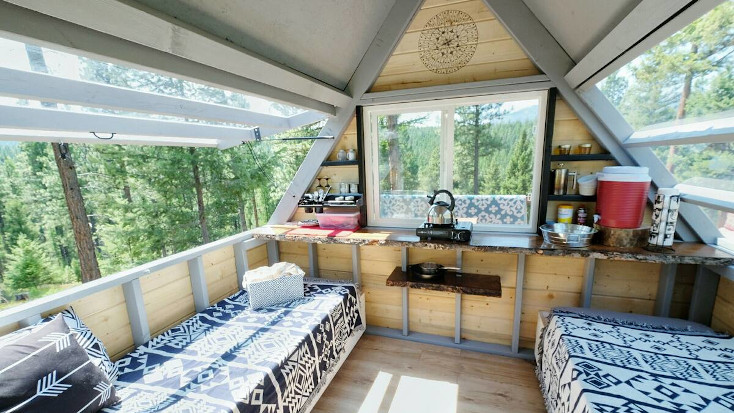 If you could have anybody stay at your accommodation, who would it be and why?
We love hosting nature-loving guests, who are looking to disconnect from their busy, city lives and are looking to reconnect with nature and each other.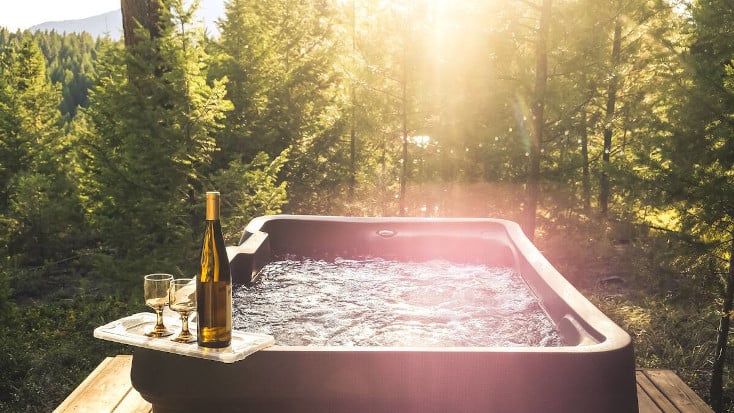 Our Host of the Month for September 2023 loves to travel! Find out where they want to go next
Jeju, South Korea, or Hoi An, Vietnam.
Here's what our Host of the Month for September 2023 loves most about running a glamping site
The people that we meet! The stories that we hear from our guests or get to share with our guests are priceless. We keep track of our guests and their unique stories, hoping to maybe one day turn it into a book.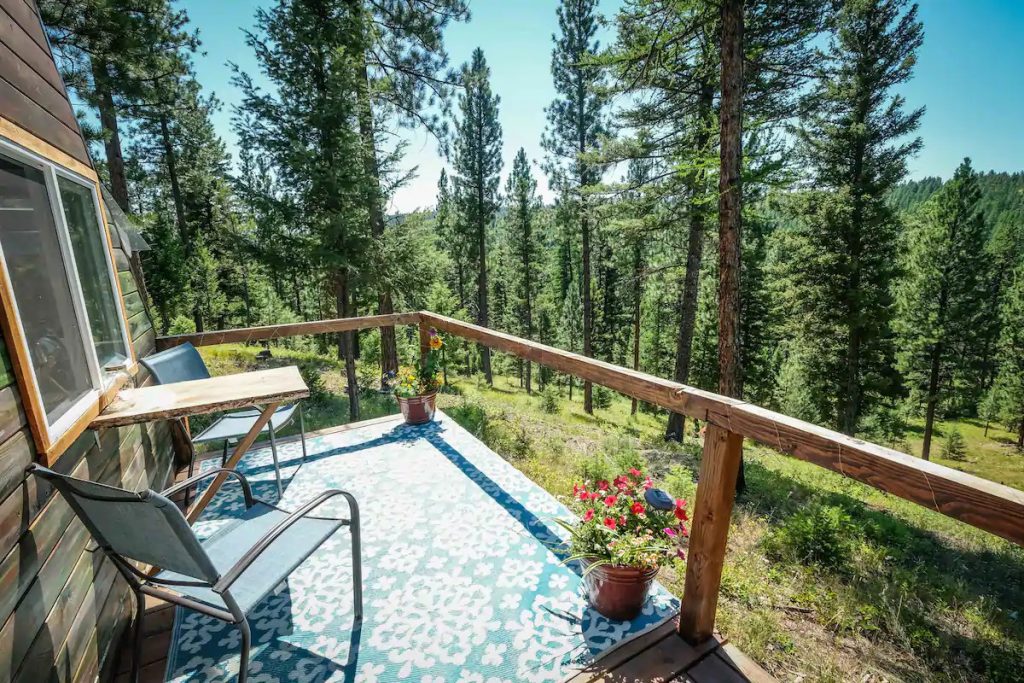 What are some of the challenges you face and what have you learned since opening?
The most interesting challenge for us is being able to read people during that first meet and greet. We always spend about 20 minutes showing our guests around, taking them on a tour around the property. This helps us to gauge if they are social and want to hang out later, or if they are here to disconnect and don't want to be bothered.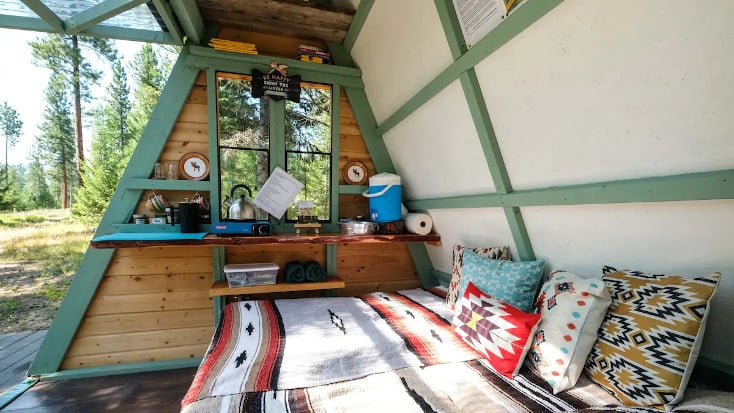 Some advice from our Host of the Month for September 2023, for anyone looking to start or improve their glamping business.
Don't get into it for the money, find other motivations such as providing great hospitality, growing a business from nothing, becoming an ambassador for your city/state, or learning a new skill.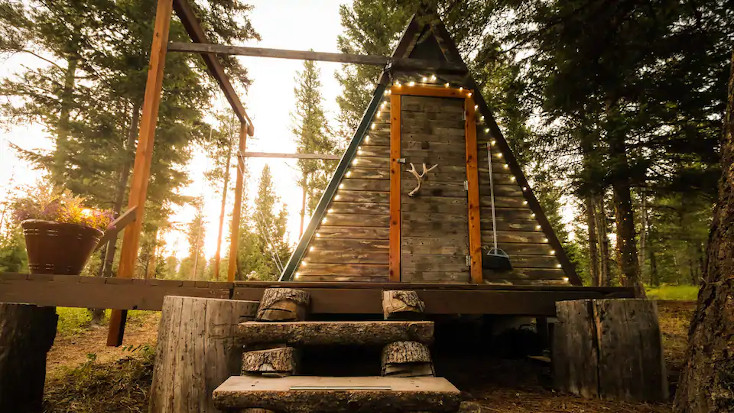 Our community of hosts means everything to us here at Glamping Hub, which is why we love to share their stories in our Host of the Month feature. Experience what tiny cabin living is like for yourself. Discover a relaxing vacation surrounded by nature! Try this unique, custom-built barn for a romantic getaway in Montana. Alternatively, head to this luxury tiny cabin for a weekend getaway in Bonner.
Before you go! Have you stayed with one of our incredible hosts recently? Nominate them for Glamping Hub's Host of the Month. Send us a message via Facebook or Instagram explaining who you've chosen and why!
Find something fun to do for Labor Day or discover the magic of Mexico in the fall!