More than 60% of American households own a pet; pet-friendly cafes and workplaces are becoming more and more popular; and in 2018, 4,416 dogs stayed at one of our accommodations with their owners! And when guests with pets want to head on vacation, organizing a caretaker for them can be both stressful and expensive, meaning more and more travelers are considering taking their four-legged friends with them on puppy vacations, which in turn means pet-proofing your rental.

Get your rental ready for everyone and their dog; vacations for four-legged travelers
As a host, you can stay ahead of the curve and ensure that your vacation rental will appeal to this new generation of animal-loving travelers, in addition to getting as many bookings as possible. We understand, however, that animals can be—as anyone who has had a pet can tell you—well, messy. Things like your rental's floors and furniture are understandable primary concerns, so it's important to know how to pet-proof your accommodation. It will not only save you time and money but will also make your rental a clean and welcoming place for every guest, regardless of how many legs they may have. Make your guests' (and their dog) vacations the best they can be!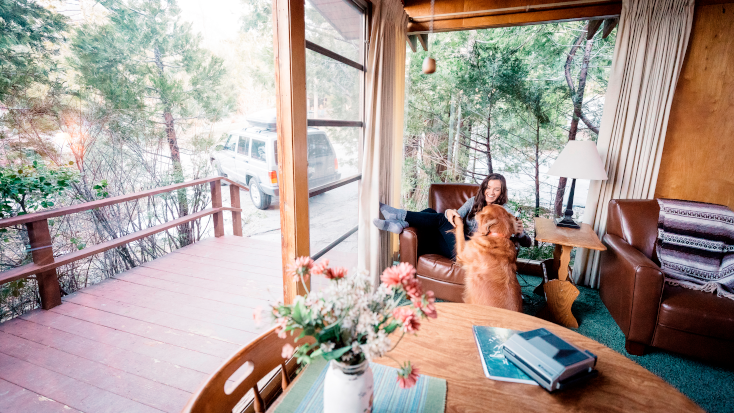 Getting rid of pet odors
Pet-proofing 101, walking into a house to be greeted by the smell of a wet dog is unpleasant—and not the first thing you want your guests to experience in your rental. Air fresheners and scented candles may smell great, but they are only masking the smell and can be toxic to many animals, as well as humans with respiratory problems. If you must use them, try to use them only between bookings, and if available, beeswax candles are a much healthier and safer option than regular scented candles.
Use enzyme cleaners when pet-proofing your rental
The best way to avoid smells when pet-proofing is with regular cleaning and washing. Enzyme cleaners are particularly good for areas that you suspect might have seen an accident, as they break down the proteins found in animal feces and vomit. Powdered cleaners are good for spot-cleaning stains; simply shake it onto the affected area, let it sit for 30 seconds, scrub, and rinse. Always make sure to read the instructions before using any cleaning product. For everything else, a good vacuum cleaner, broom, and mop are going to be your new best friends.
Air purifiers, especially those with HEPA filters, are great at removing pet smells from your rental, as they remove the particles from the air that cause odors. They also get rid of hairs and allergens, so people with allergies will be unaffected by past guests' pets. These devices can be pricey, but they are worth it in the long run.
Quick tip: We fully understand that this may sound like a lot of work and money, but people traveling with pets are more likely to be willing to pay large cleaning fees, so you can afford a good deep clean more frequently.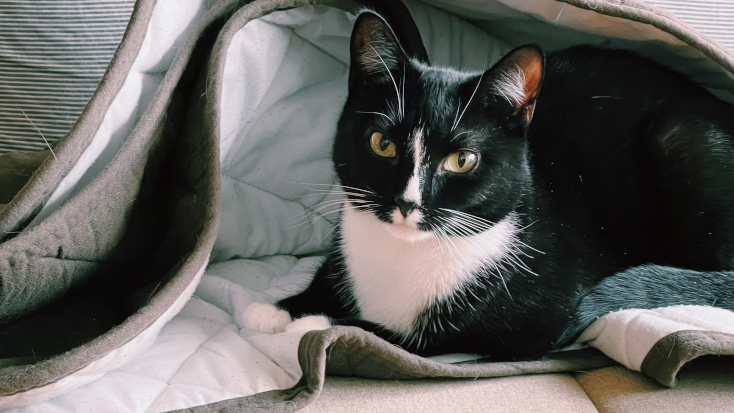 Carpets can become reservoirs of dust, hair, skin, and other tiny particles—and that's before throwing a hairy animal into the mix, a nightmare no matter how much pet-proofing you've done! It can also be tricky to pet-proof carpet, so consider hardwood floors made from oak, cherry, maple, hickory, walnut, mahogany, or bamboo. They're much easier to clean; won't trap all that hair; look modern and stylish; and may add to your rental's resale value, should you decide to sell. Laminate floors are also a less expensive option, although they don't compare aesthetically to real wood.
Rugs in the right location can really bring a room together, as well as provide a soft surface for tired feet. If you do decide to include them in your rental, make sure you choose ones with bright colors and patterns, as they are much better at dissimulating any pet mishaps. This rule applies to covers and throws, too, which are a great way to protect your sofa and armchairs, as they act as a barrier between an animal and the furniture (should you allow animals to be on the furniture, of course), and they can be removed and washed easily.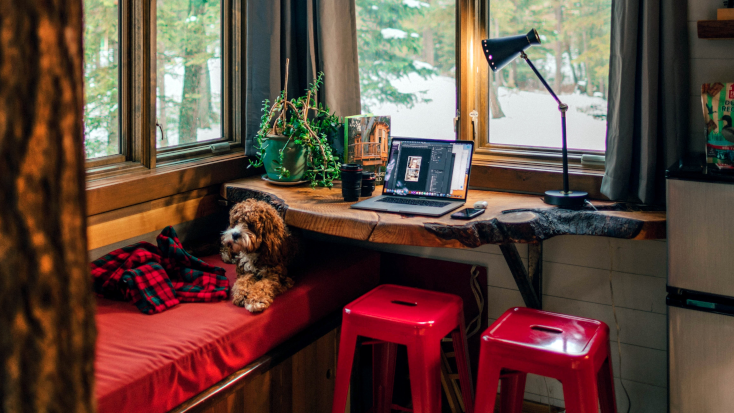 A cover or throw, however, will not protect your furniture from sharp teeth or claws, and exposed seams and legs are especially at risk. Prevention is key, and by that, we mean removing furniture that you don't want to be put at potential risk. If your rental is furnished with expensive sofas or family heirlooms, consider moving them to your own home or storing them away and replacing them with cheaper alternatives, or investing in a dog-proof couch.
In an ideal world, your rental will be safe from teeth and claws, but accidents do and will happen, so if a puppy is going to chew the chair leg, you'd rather it was a mass-produced and easily replaceable chair. It is the same principle as curtains—one of the most attractive items to young cats and dogs. Save yourself the hassle and expense of replacing those lovely drapes by using a cheaper and more readily-available option.
Making certain areas off-limits
Making your rental pet-friendly doesn't have to mean that guests' animals have full domain over your accommodation. You can specify that only certain areas of the house are open to pets and reduce the spread of hair and paw prints. When guests check-in, you can explain this to them, as well as strictly enforce the rule by installing a couple of strategically-located safety gates, if you so desire.
If you're not happy with the visual impact of gates, you can install a door closer, which automatically closes doors after you. Another alternative is providing an animal crate, which will give guests the option to leave their pet unattended overnight and for small periods of time during the day while ensuring they cannot escape and wreak havoc on your rental.
Pet-proofing those added touched with storage units and tying up loose cables
The image above is a few of my books after my own dog had gotten to them. Luckily, I had already read them! That day, I learned a valuable lesson: never store anything within reach of prying paws. Keep books and treasured photos on shelves around eye level, and make sure there are no "stepping stones" nearby that adventurous animals can use to climb up.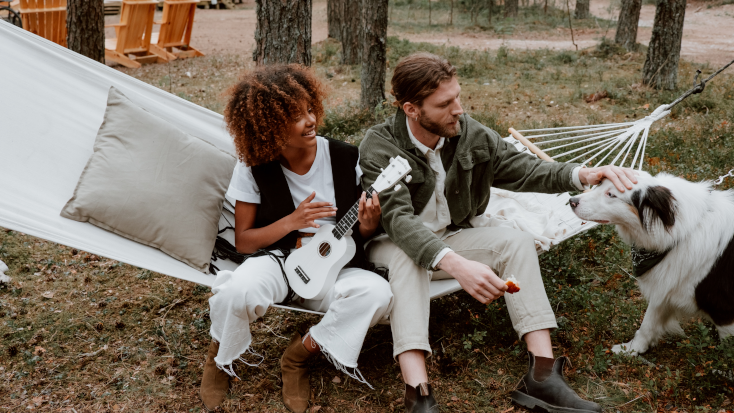 Human guests love a nice garden, but animal guests love them even more! It's easy, though, for animals to escape from an unsecured garden, so make sure your garden is completely enclosed—with appropriately-sized fencing or walls running around the whole perimeter. Make sure there is nothing that determined animals can use to help them make their escape. If you are concerned about curious creatures making holes in your garden patch, burying chicken wire, flat rocks, and citrus peel is a good way to deter digging doggies.
For smaller animals, an uncovered pool can be a risk. An unattended animal may jump or fall in and be unable to get out again. A pool cover will prevent this from happening, as well as keeping out other undesirables, like leaves and insects, when not in use. Another cool feature to have is a garden hose or even a dog shower; guests can use it to hose down particularly muddy dogs after rainy hikes in the woods, therefore avoiding all that dirt being brought in (it's also a good idea to leave a towel out for drying down that wet dog so you don't undo all that pet-proofing).
Pet-proof toys and rules
Keeping a selection of good pet-poof toys at your rental is a sure way to keep animals occupied and distracted. After playtime, they'll be too tired to even think about scratching the furniture! Keep them in an area where you are most worried about damage, and leave a couple of tennis balls in the garden, too, for a cheap and easy way to entertain and tire out energetic dogs.
Remember, even with pet-proofing at its best, it is standard practice for any rental owner to provide some ground rules for guests, so don't be afraid to add a few more that are pet-specific. As mentioned above, you might want to make some parts of the rental off-limits to animals, which is a reasonable request that most pet owners will understand.
It's also a good idea to leave your rules written and displayed in an obvious place, like the front door or kitchen wall, as a gentle reminder. We also recommend putting the details of the nearest vet and animal emergency center somewhere in the accommodation; it's a thoughtful touch that will be greatly appreciated, no matter whether they are needed or not.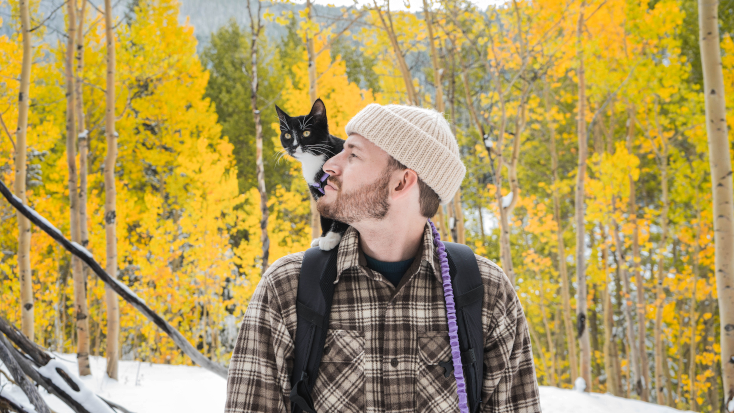 ---