Looking for fun things to do at the weekend in Georgia? Glamping, camping, and outdoor adventure are plentiful in the friendly state of Georgia. From romantic weekend getaways to fun family vacations; there is a glamping tent waiting for you! Explore national parks, lakes, and beautiful forests on your next getaway in Georgia. Check out these top 5 luxury tents for all your glamping adventure needs across the state of GA!
1. Enjoy a pet-friendly weekend near Unicoi State Park, for glamping, GA
Take the family glamping this weekend in Helen, Georgia to explore Unicoi State Park and the Great Smoky Mountains National Park. This luxury safari tent comfortably sleeps 4-6 guests and is ideal for a five-star camping experience. This is a family-friendly vacation with plenty of fun activities to enjoy; from hiking, fishing, and wildlife watching. For the more adventurous there is horseback riding, zip-lining, and even an archery range to try out! Plan your next glamping GA escape – don't for your four-legged friends!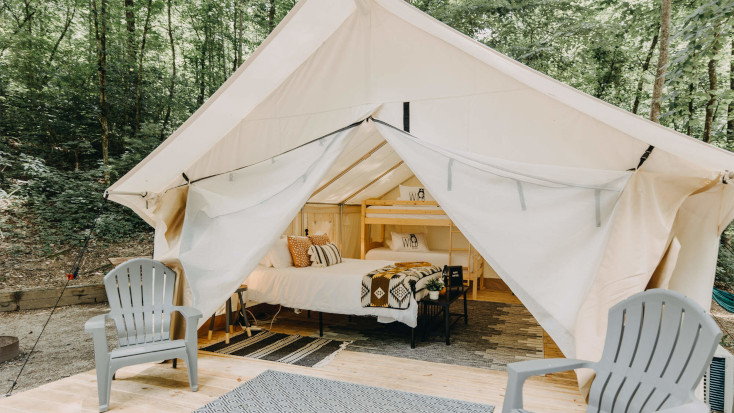 2. Escape with friends to the Southern Appalachian Mountains
Plan your next glamping GA escape with friends near Young Harris, Georgia. Stay in this fun camping getaway on Lake Nottely, with access to the Application trail! This is a nature lover's paradise with many mountain trails for hiking, the lake for watersports, and waterfalls to explore as well as Vogel State Park for a fun day out. Head out to the private cove on lake Nottely for swimming and fishing. This is a glamping retreat that will leave you relaxed and recharged! Plan your next forest escape in Georgia.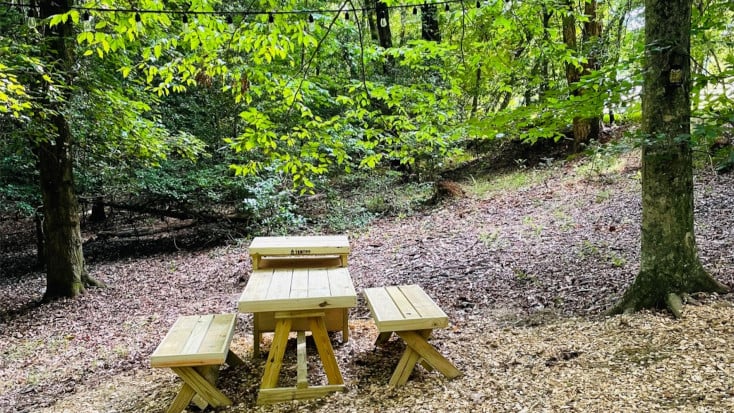 3. Plan a private island getaway on the Golden Isles, glamping GA
This is luxury camping taken to a whole new level! For a very special couple's retreat; head out to this incredible tent on Jekyll Island, Georgia. This island is perfect for a secluded getaway. You'll be able to enjoy a special activity on the oyster reefs and a dolphin-watching tour – all included in your glamping getaway. Book this private island, Little Racoon Key, for your next romantic escape on the Golden Isles of GA!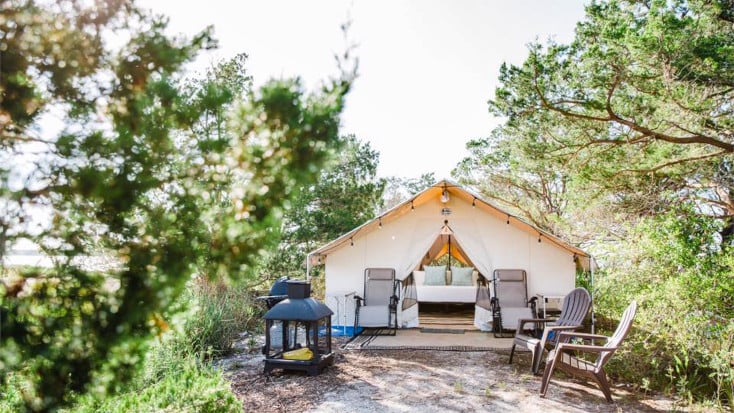 4. Take the whole family on a glamping GA escape near Atlanta
For the perfect family-friendly vacation, these glamping tents are an ideal camping getaway near Jimmy Carter National Historical Park. Book a spacious tent or the entire site for the whole family and all your friends to enjoy a fun vacation in Ellaville, Georgia. This is a fun farm stay with plenty of activities to enjoy. There is great fishing on the 70-acre lake, where you will find paddle boards and canoes to use for a sunny day on the lake!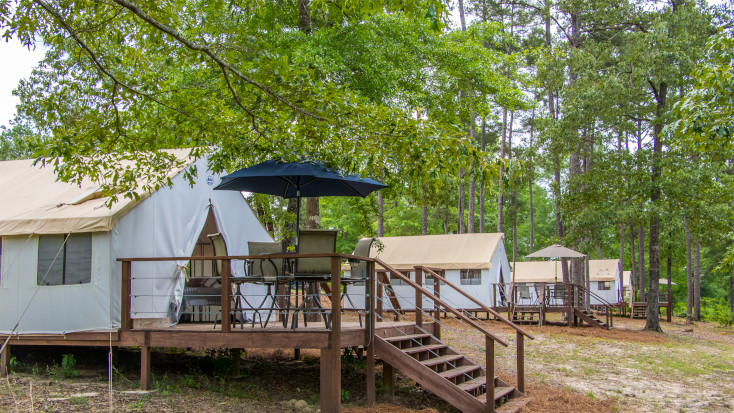 5. Book an off-grid retreat near Stone Mountains Park, glamping GA
Wake up surrounded by the forest on a country farm near Stone Mountain, Atlanta, only ten miles from Martin Luther King Jr National Historical Park. Perfect for hiking, biking, and birdwatching this is an ideal getaway for couples who want to disconnect and enjoy a romantic getaway in nature. There is also plenty of swimming, fishing, and paddling to enjoy at Pine Lake Beach, a short 1.5 miles away. Plan your next camping vacation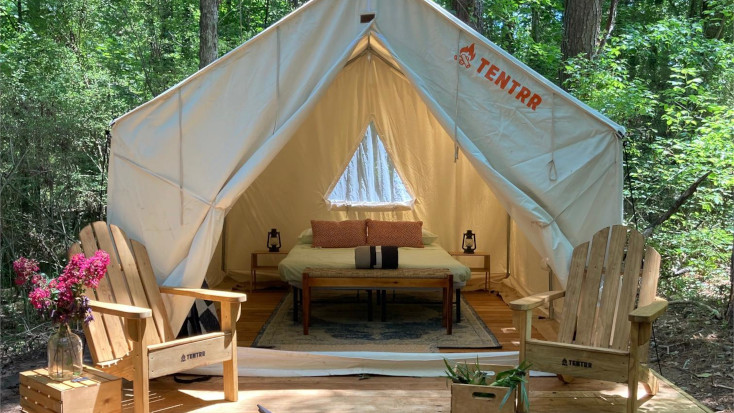 For incredible glamping GA vacations, try a unique treehouse getaway or a fun weekend retreat. Plan your next romantic getaway or family vacation for an outdoor adventure exploring a national park near you!