We know that there is no accommodation more sought after than good, old-fashioned tree house rentals, and at Glamping Hub, we're certainly spoiled for choice. When it comes to treehouse camping, we see the best of the best on a daily basis, so narrowing it down to just five was a tall order.
High up in the tree tops, these accommodations reignite childhood playfulness, evoke memories of bedtime stories, and days out playing in the woods. Long before iPads and video games, tree houses were things of make-believe and adventure—Peter Pan, Swallows and Amazons, a trip into Wonderland, and all those other childhood stories that we all think we are a bit too old to reenact.
We live by the mantra that the best tree house rentals are not just for kids, and we think that you should, too. So book one of our tree houses for rent, get your backpacks ready and picnics packed…we're going on an adventure!
1. The Luna Loft Tree House near the Appalachian Mountains, Georgia
Our first stop takes us to this magical wooden tree house in the Appalachian Mountains of Georgia. Perfect for a couple or a group of four, this accommodation is everything you could have dreamed of as a child and more! Tucked away in the forest at the top of a hill, glampers can let their imagination run wild at this fairytale getaway.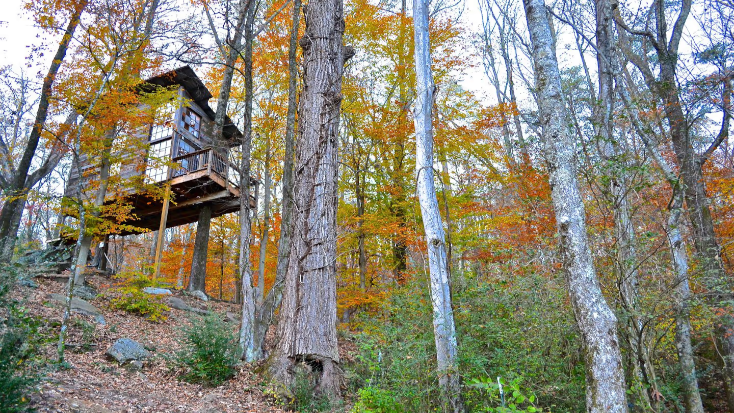 2. Unique and Luxurious Tree House Hotel in Asheville, North Carolina
When it comes to tree houses, North Carolina certainly has the forests for it. One of our favorite tree houses in NC, this unique tree house will inspire some wonderful bedtime stories. Asheville, North Carolina, is nearby and from the outside could easily be mistaken for a princess palace. Maybe Rapunzel is about to let down her golden hair from this princess tree house, or a prince charming is hiding just around the corner. Inside, the immaculate interior is certainly fit for a prince or princess, and this vacation will surely be one for the books.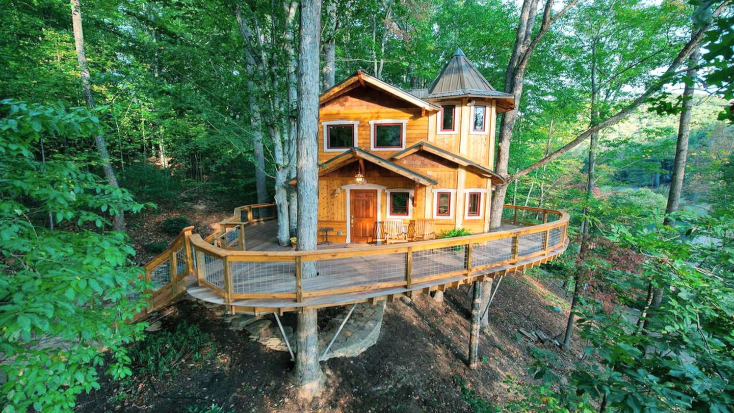 3. Tree House Rental near Lake Sunapee, New Hampshire
If the previous tree house was a Rapunzel treehouse or princess fairytale castle, this one is the home of the prince and his squires, all three of them that is. Located near Lake Sunapee in New Hampshire, this is a sturdy tree house, reminiscent of knights of old and days gone by, but not without a modern twist. The immaculate finish of both the interior and exterior, with the addition of luxury amenities and fittings, set this accommodation a cut above the rest!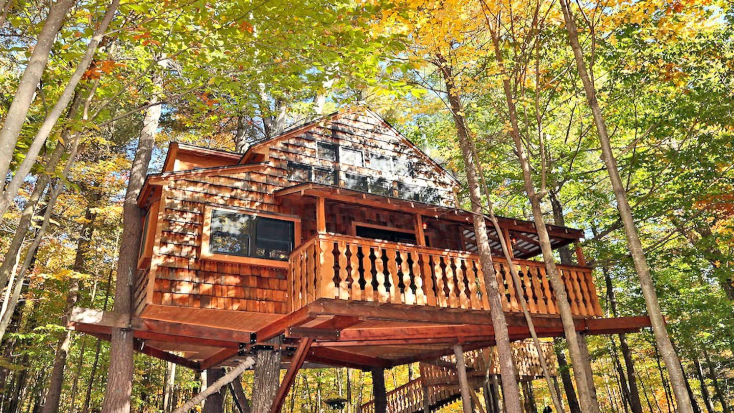 4. Off-The-Grid and Eco-Friendly Tree House in Volcano, Hawaii
We're leaving the woodlands behind us now and hopping on a plane in search of sunnier climes. Quite by accident, we have arrived at a bohemian, eco-friendly accommodation in Hawaii. This is one of our more exotic tree houses, and it's more Swiss Family Robinson, nestled in the rainforest and surrounded by banana trees, with exotic birds in the treetops—it doesn't really get more magical than this! Hawaii isn't quite Guinea, but we think it's pretty darn exotic!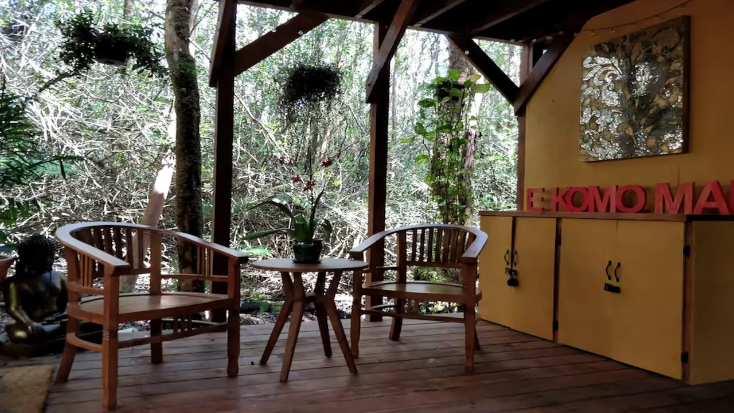 5. Romantic Tree House near Chattanooga in North Georgia
Sadly, all good things must come to an end, and back we go. Our round trip concludes in Georgia once more—but not without one last stop on this magical journey through the trees.
One could be mistaken in thinking we were already back to adult life, sipping a coffee in a chic apartment with cutting-edge interior design fit for any young professional. Well…not quite yet.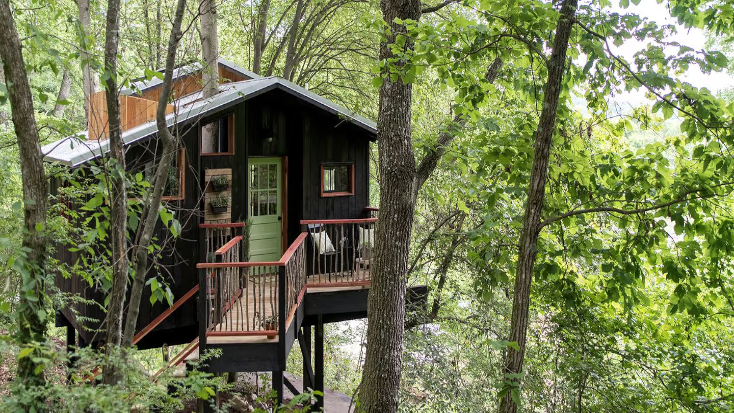 This stylish accommodation can be found suspended in the high treetops, with stunning views of Chattanooga. Who says we have to grow up quite yet?