Be inspired by one of the most invigorating states in the US: Arizona vacations offer glampers a place where the journey is as exciting as the destination. Spend your evenings in any of the many top Arizona cabin rentals available in the area, all of which simply ooze luxury and excellence, and pass your days exploring the vast amount of AZ attractions and things to do in Arizona, starting with the allure of the Grand Canyon!
When one thinks of Arizona, what comes to mind? Tumbleweed rolling through a dusty and scarce desert, perhaps? Well, we, for one, know that it is so much more than this, and there's a huge amount to be seen and done here, including water skiing and waterboarding on the Colorado River—yes, waterskiing in the desert… wild!
Arizona vacations: visit the Grand Canyon and discover some of the best AZ things to do in 2022
Arizona is famous for the Grand Canyon and luxury cabin rentals near Grand Canyon Village might be the perfect destinations for you to uncover many of the best AZ things to do in this mesmerizing state in America.
Interested in the best hiking in Arizona? Why not strike up a balance between hiking and history when you set out and walk the Trail of Time in the Grand Canyon. Between the Yavapai Museum of Geology and Verkamp's Visitor Center, glampers can walk across the canyon rim on a path that contains a great deal of historical information regarding the Grand Canyon. History lessons like this don't usually come with such amazing views but when you're here during Arizona getaways, guests will be able to capture some remarkable photos during their stay.
Grand Canyon tip: don't forget to bring your camera! The Grand Canyon is home to some truly unforgettable views and when you're hiking the popular Hermit Road and Rim Trail, you will want to have a good camera with you to capture small and big attractions in the Grand Canyon.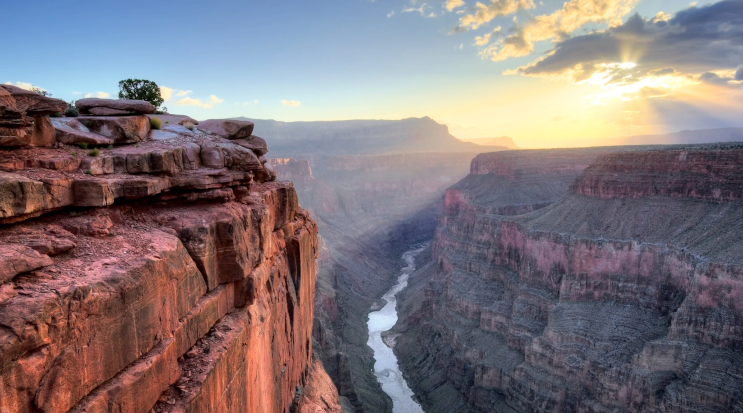 Fun things to do in Arizona? Bring your bicycle for Grand Canyon biking trails
Swapping the car for your bicycles is a great way to be kind to the environment and promote eco-friendly camping during your Arizona vacations here and for fun things to do in Arizona, bike along the South Rim in the Grand Canyon! If you feel tired, there are bike-friendly shuttle buses along this 13-mile stretch which you can easily hop on and off.
For shorter cycle routes on the South Rim try cycling from South Kaibab Trailhead to Yaki Point or alternatively go ahead and cycle along Hermit Road for the most beautiful scenery in the Grand Canyon!
Once known as West Rim Drive, it is useful to bear in mind that during summer getaways in the Grand Canyon, Hermit Road is actually closed to private vehicles but open again in the months of December, January, and February.
Book luxury AZ rentals near Grand Canyon for the perfect home base this year in Arizona
This luxury cabin rental in Arizona is located in the perfect spot for the most beautiful panoramic views in Northern Arizona. The getaway rental is surrounded by mountains from all angles—to the south are the San Francisco Peaks, the Kendrick Peaks are to the west, the Saddle Mountains to the east, and the Forested Hills to the north, so glampers will never be short of sights during their stay.
Visit Sedona: vacations in the best places to stay in Arizona and more AZ attractions to consider in 2022
Visit Sedona and explore another one of the best places to go camping in Arizona in 2022! Sedona attractions offer a similar appeal to Grand Canyon Village getaways and guests will find even more great outdoor pursuits here too.
Check out things to do in Sedona such as hiking around top AZ destinations like Chapel of the Holy Cross, Airport Mesa, and the Cathedral Rock Trail where you can find a 1.4-mile steep hiking trail! Don't forget the glamping essentials when you're out here, either!
When you're not exploring the many unique red rock formations here in Sedona, Arizona, why not take a break and explore something more leisurely by wandering through the Tlaquepaque Arts & Shopping Village where you can check out some of the best artisanal shops and galleries in the area.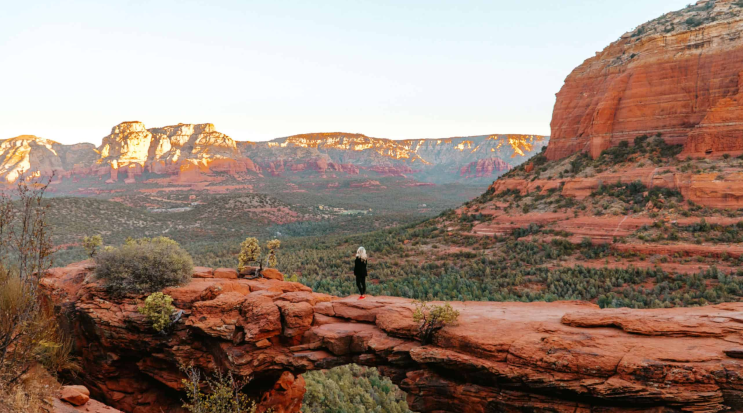 Maximize your AZ vacations in 2022 with top places to stay near Sedona
Stay near the White Mountains in your own secluded Arizona villa! This incredible cabin can accommodate up to 12 people and is nestled among beautiful towering pine trees. Situated near White Mountain National Forest, it offers direct access to the White Mountain trail system and Forest Road 300, meaning glampers have plenty of chances for fun and adventure. Enjoy the views of the Indian Cliffs and spend each day rediscovering your love for the great outdoors while retreating to the luxury and comfort of this cabin. For a real foray into the great outdoors, you can also go camping near Flagstaff and immerse yourself in nature.
Arizona vacations in Phoenix: things to do and where to camp in Arizona this year
More than three hours drive away from the Grand Canyon; Phoenix is another one of the top destinations in Arizona and is home to some equally exciting things to do in Arizona as well!
While you're in Phoenix, you have to visit the Sonoran Desert for stunning scenery and endless adventures. Discover an abundance of things to see and do including water adventures at Lake Pleasant Regional Park and Lower Salt River. Especially for summer vacations and romantic getaways near Phoenix, these destinations are a great choice for somewhere to cool down in the water.
For something a little different and equally exciting, why not try moonlight hiking in Arizona and head to Cave Creek Regional Park where you can enjoy guided hikes under the stars! More great destinations for hiking in Phoenix include Lake Pleasant, Spur Cross, and the White Tanks.
Go glamping near Phoenix and make the most of nearby adventures in Arizona
The sounds of nature will tantalize the senses at this glamping site and one of the best cabin rentals near Phoenix. With the rustling of the trees, the tweeting of the birds, the smell of the pines, and the views of the commanding mountains; glampers can really get away from it all in the best Arizona campgrounds around. Explore the beauty of the Mogollon Rim, which is characterized by high limestone and sandstone cliffs, with precipitous edges that add to the feeling of transcending reality!
More places to go in Arizona: spacious AZ cabin rentals near Oak Creek Canyon
Discover more places to go in Arizona! This glamping haven is uniquely situated on Oak Creek in the heart of Sedona's magnificent Red Rock Country—where magical moments happen. It's located just two hours north of Phoenix and 30 miles south of the Flagstaff peaks. Settled at the far end of the upper orchard on this property, this luxury cabin has front porch views of the flower and vegetable gardens, as well as red rock views down Oak Creek Canyon.
---
Sometimes you never how much you need a getaway out of the craziness of city life until you actually experience it for yourself. There's no better place to relieve your stresses than from the top of a cliff in the natural, earthly beauty in Arizona. Escape for a much-needed Arizonian luxury getaway and stay in a beautiful cabin that offers glampers everything they desire and more!