It's time to plan your next Australia getaway! With so many beautiful locations, adventure activities, and glamping options to choose from; you'll need more than one holiday to enjoy them all. Queensland to Tasmania and the Sunshine Coast there is a glamping getaway to fit every budget and type of glamper.  Enjoy a solo Australia glamping adventure, a romantic trip for two, or a fun family vacation. The list is endless! Take a peek at our top 10  Australia getaway options, and start planning your next holiday.
1. Rainforest Cabana near Queensland, Australia
If you want to take a romantic trip to the coast this is the ideal Australia getaway for two. Tucked away in the rainforest, near Mission Beach, the cabanas are designed to protect the rainforest they are located in. You can reach your cabana by a boardwalk, which protects the rainforest floor from foot traffic. The sheer walks and private veranda mean that you can enjoy the forest as directly as possible.
Add the fact that Mission beach is just a short distance away and the closest mainland access to the Great Barrier reef and your adventure holiday is complete. Plan your next romantic Australia getaway for two to Queensland!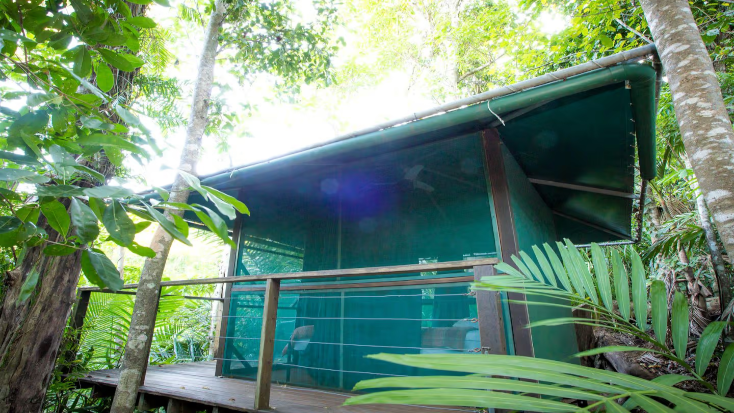 Enjoy the best of the rainforest and the Great Barrier reef near Mission beach, Australia.
2. Tiny house near Victoria for the perfect Australia getaway.
This tiny home on a working horse farm in Nyora, near Victoria, is ideal for a weekend away from Melbourne. Close to Western Port Bay, glampers can enjoy a day exploring the French Island Marine National Park or visiting the Mornington Peninsula. There are plenty of adventure activities to enjoy from horseback riding, stand-up paddleboarding, hiking, and sailing to enjoy.
This tiny house is ideally situated for a wine-tasting Australia getaway for two!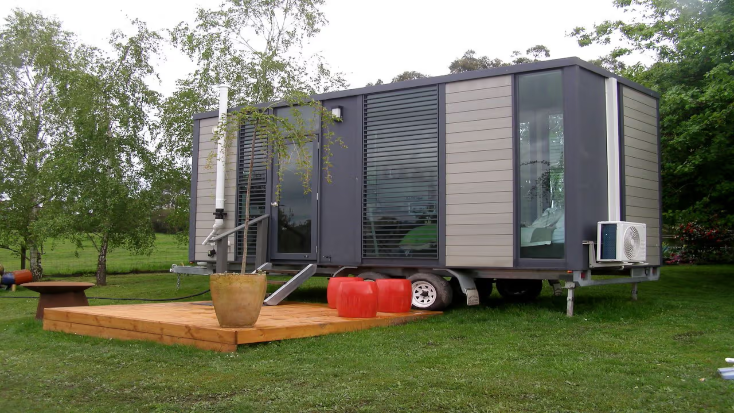 3. Budget-friendly eco-cabin near Cow Bay.
This eco-friendly cabin in the rainforest near Cow Bay is ideal for adventure glampers on a budget. Enjoy exploring the rainforest around the cabin or take a two-day kayaking expedition to Snapper Island. There is also hiking, sailing, and even a game drive to enjoy! On the coast, glampers will find shipwreck bay, famous for its many shipwrecks, and further inland the Daintree Rainforest for wildlife watching.
The brave can travel across the Daintree River and book a crocodile cruise! Plan your next adventure weekend for a fun Australia getaway!
4. Spectacular yurt near Tyagarah Nature Reserve, NSW
Book this spacious yurt, in Lismore New South Wales, for a fun getaway with friends or family. Located near Tyagarah Nature Reserve the yurt is big enough to comfortably sleep four. There are beautiful views of the rainforest, as well as swimming holes and walks in nature to enjoy. Breakfast is included and after a fun day exploring you can cook fresh pizza in the pizza oven!
For a great day out head to Goonengerry National Park nearby or try out horseback riding, surfing, and stand-up paddle boarding!
5. Luxury private retreat near Coffs Harbor in New South Wales.
This exceptional vacation rental is perfect for a group of friends who love hiking. Located in Girralong, the luxury rental is a device-free space with no television or internet access, allowing guests to completely disconnect and recharge. There are excellent hikes as well as wildlife guides to take advantage of for fun days outdoors. Enjoy the private waterfall tucked away in the surrounding forest and completely relax in the stunning surroundings.
For the perfect hiking holiday; book this luxury rental located between 3 national parks!
6. Beautiful bell tent near Hepburn Springs for the perfect fishing weekend
If you love a fishing weekend away with friends these luxury bell tents near Daylesford, Victoria is ideal. There are many fun places to visit; enjoy the mineral springs nearby. Alternatively, spend the day hiking Wombat State Forest or Hepburn Regional Park.  Prefer a luxury spa weekend? Daylesford is known as the spa capital of Australia, with wineries and breweries in the local area this is the perfect spot for a relaxing weekend of spa treatments and wine tasting.
Plan your next getaway with friends near Victoria for a relaxing weekend away.
7. Glass cabin on the Sunshine Coast near Queensland
For the ultimate luxury, this villa on the Sunshine Coast is perfect for a romantic getaway for two. The private deck has views of Mt. Beerwah and Mt. Coonowrin, the most spectacular peaks in the Glasshouse Mountains. Surrounded by Peachester, Luttons, and Beerburrum West State Parks there is plenty of wildlife watching and hiking to enjoy. Adventure lovers will enjoy horseback riding and climbing up to the glasshouse Mountains Lookout for spectacular views!
This luxury cabin with glass walls and perfect views is ideal for your next romantic getaway!
8. Secluded tipi in Huon Valley Tasmania for a unique Australia getaway.
Perfect for hiking, this cozy tipi near Ranelagh in the Huon Valley, Tasmania is a unique getaway for nature lovers. This secluded location is ideal for wildlife watching, hiking, and meditation. If you're looking for a relaxing getaway to rest and recharge in nature don't miss out on this secluded tipi surrounded by the forest.  Enjoy a weekend getaway with friends or a romantic escape for two. Enjoy the private deck and woodburning fireplace for cozy nights and the unique location for a fun vacation in Tasmania
Explore the Huon Valley from this unique glamping rental!
9. Family getaway near Walpole, Western Australia
Surrounded by forest, this double-storied yurt is ideal for a family vacation in  Western Australia. With state forests and national parks on every side, this is perfect for nature lovers, adventures, and fishing getaways. Explore Mount Frankland National Park, Granite Peaks State Forest, or Lake Muir. Families can enjoy sailing, water sports, whale watching, horseback riding, and adventure ATV rental excursions.
Plan your next getaway with family or friends near Walpole, Western Australia getaway.
10. Romantic forest escape for two in Mt. Glorious, Queensland.
Tucked away in the rainforest of Mt Glorious this wooden cabin is the perfect escape from the hustle and bustle of everyday life. The private veranda looks out on the rainforest and is perfect for bird and wildlife watching. After a fun day of exploring the D'Aguilar National Park walking trails and picnic spots, relax in the claw-footed tub with views of the forest. Curl up next to the wood-burning fireplace on cooler nights and enjoy falling asleep to the sounds of the forest around you.
Take your special someone on a romantic getaway for two in Mt Glorious near Queensland for the perfect Australia getaway.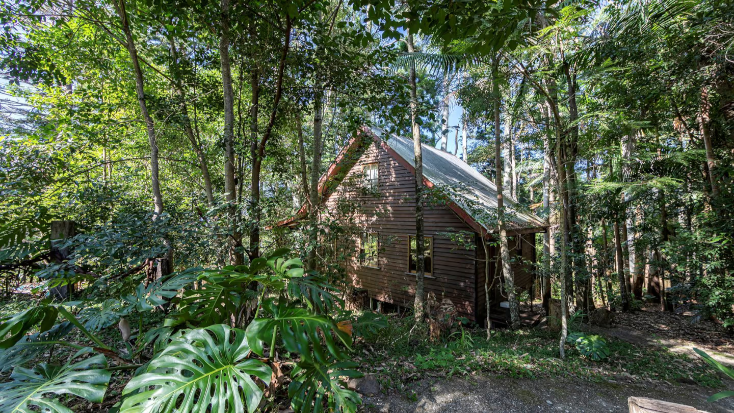 Get inspired for your next Australia getaway. Enjoy wine tasting in Victoria or fun surfing holidays along the Golden Coast. Plan a weekend getaway from Melbourne or a glamping holiday near Queensland.