Celebrate Alaska Day on October 18, 2023, by planning your next glamping adventure in this magnificent state! This incredible corner of the globe is perfect for a family vacation in Alaska! Filled with mountains, national parks teeming with wildlife, epic coastlines, and islands filled with adventure, the state of Alaska is worthy of a Tolkien-esque novel. With some amazing things to do in Alaska, from seeing the Northern Lights in the Alaskan wilderness to hiking through one of the stunning national parks and bear watching, and everything in between, vacations in Alaska are without a doubt made for outdoor enthusiasts.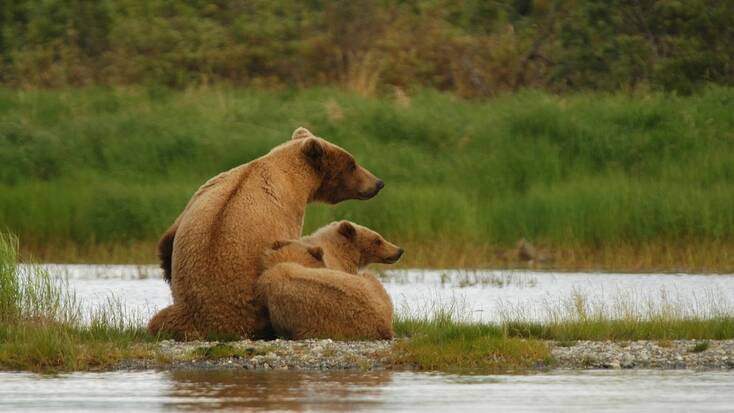 The best time to visit Alaska to view wildlife
The best time to visit Alaska is really between May and September. The weather is warmer, the sun is up for longer, and it's the perfect time to see the local, Alaskan wildlife in all its glory. It can be hard to decide where to visit in any state, but when it comes to Alaska, travel options abound. To help you plan the best possible trip, we've put together a list of just a few great places in Alaska for you to consider. So keep reading, find the perfect remote Alaska cabin for your Alaskan adventure, and plan some family vacations in Alaska for 2023!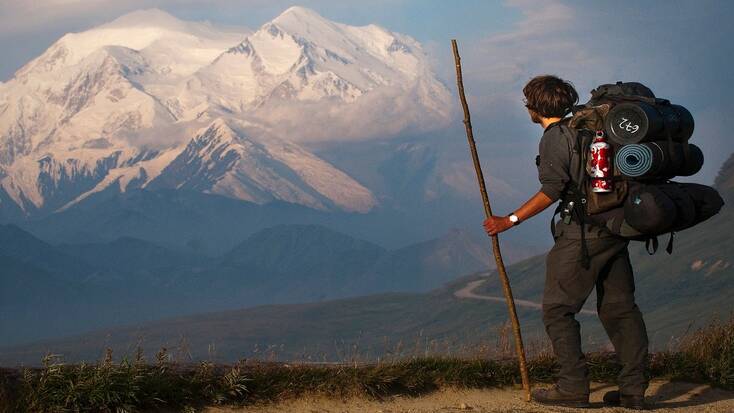 Head to Anchorage and experience cities in Alaska
While it's probably fair to say that when we think of Alaska, we think of those stunning vistas in Into the Wild, bears, and great swathes of natural beauty, vacations in Alaska wouldn't be complete if you didn't visit Anchorage. With plenty of fun things to do in Anchorage, it's a great stop-off when you visit Alaska. You can enjoy visits to a number of great museums in Anchorage, including the Alaska Wildlife Conservation Center and the Alaska Native Heritage Center. There are also plenty of things to do in Anchorage and the surrounding area to really enjoy the great outdoors. The Chugach State Park and Portage Glacier are within easy reach of Anchorage. With some stunning cabins in Anchorage, ideal for family vacations, you can mix the urban and the great outdoors on your Alaska trips.
See the Northern Lights when you visit Fairbanks, AK: Top Alaska list of things to do
Alaska's list of places to visit is pretty extensive, and this destination should be at the top of yours. The Northern lights in Alaska are as stunning and vibrant as they are in Iceland and Lapland. When going on vacations in Alaska, you can look forward to some sublime views of this nocturnal phenomenon. One of the best places to visit in Alaska to see the Northern lights, is Fairbanks, AK. The Northern Lights in Fairbanks are at their best between August and April, so you'll need to book your vacation rentals in Fairbanks before the best time to visit Alaska during the rest of the year. It may be colder, but seeing the Northern Lights in Fairbanks should be on every Alaska list of activities.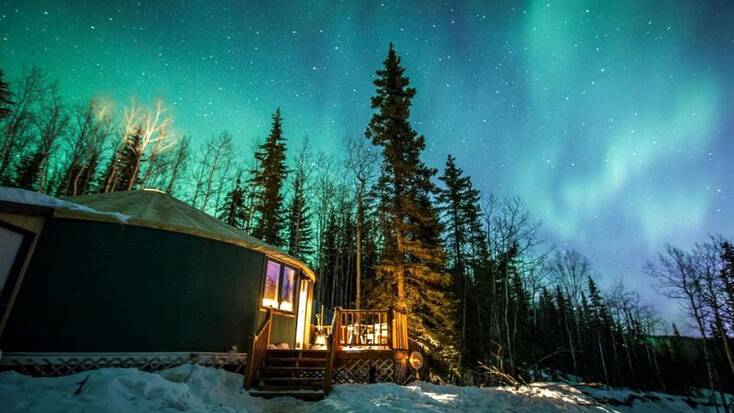 Go hiking in Alaska when you visit the Denali National Park and Preserve
Home to Mount Denali, the highest mountain peak in North America, with a summit elevation of 20,310 feet (6,190 m) above sea level, Denali National Park and Preserve is already an incredibly beautiful place to go hiking. Add in all the Alaskan wildlife that lives in Denali, and you've found yourself in the perfect place to really experience the incredible great outdoors unique to Alaska. However, just because you can spend your days exploring the wilds of Denali doesn't mean you can't enjoy a little comfort and luxury. Lodging near the Denali National Park can combine the rustic aesthetic of cabins and A-frames with those little touches of luxury that allow you to kick back and relax after a day of bear-watching and hiking in this stunning piece of the Alaskan wilderness during your Alaska vacation.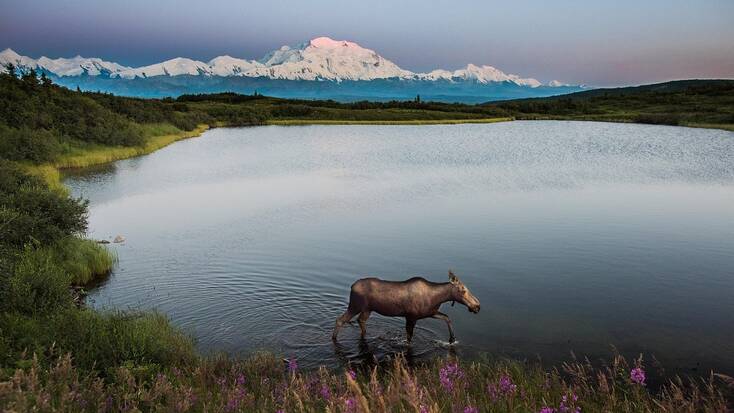 Visit Juneau on your vacations in Alaska
Nestled at the foot of the stunning Mount Roberts, Juneau, Alaska, is the state's remote capital. Ideally located for travelers to venture into the great outdoors to explore mountains, forests, and lakes, there are also plenty of amazing things to do in Juneau itself. Spend part of your vacation seeing some stunning spots like the Mendenhall Glacier, and the Tongass National Forest, or get a ferry to Douglas Island, and then spend some time enjoying the charming downtown area of Juneau. With the incredible landscapes of mountains and forests surrounding the city, you won't regret renting a vacation rental in Juneau.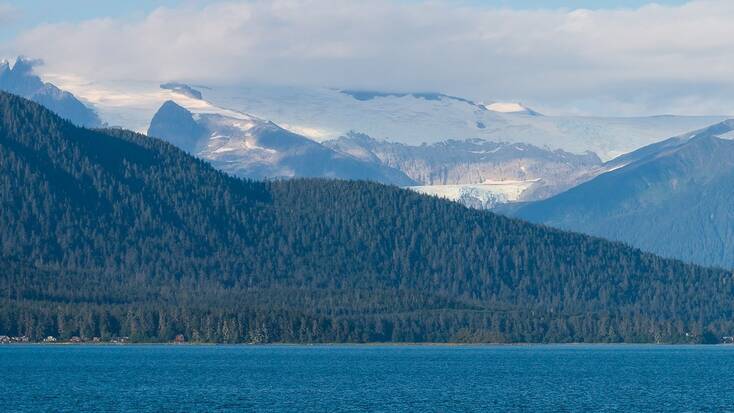 Top off your vacations in Alaska with a visit to Kenai Fjords National Park
Your vacations in Alaska won't be the same without seeing the incredibly beautiful Kenai Fjords National Park. Kenai Fjords boasts a stunning coastline, perfect for kayaking expeditions, as well as forests for hiking, biking, and wildlife watching. Kenai Fjords National Park also has a number of amazing glaciers, perfect for a boat tour of the region. Exit Glacier, Bear Glacier, and Aialik Glacier are all worth a visit when you stay in a remote Alaskan cabin, yurt, or glamping pod in this unique national park. Embrace your adventurous spirit and plan your next glamping expedition to the state of Alaska! Experience this unique landscape with its breathtaking vistas, wildlife, and an endless list of exciting activities.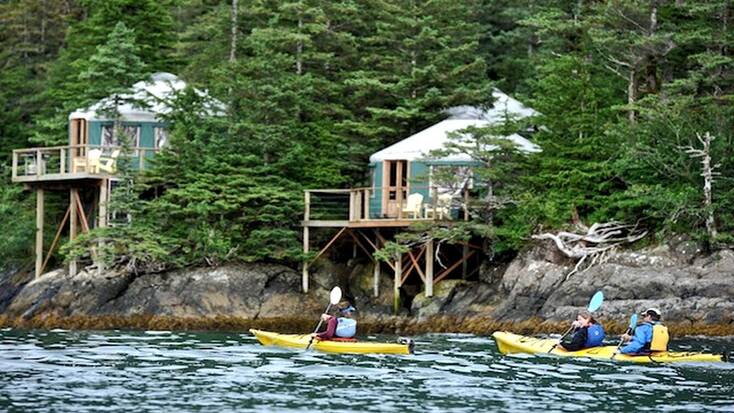 Going glamping this fall? Looking for spectacular glamping spots in Alaska? Check out our great glamping destinations to catch the spectacular Northern Lights! If you're on the hunt for a whale-watching adventure or the best West Coast vacation, these will fulfill all your fall camping needs.