Camping and glamping offer us the chance to go on vacation in the great outdoors. So, what's the difference between glamping and camping? While camping offers simplicity and a total escape into nature; glamping or a luxury camping getaway, gives you all of that with a touch of the unique and of course all the mod cons and luxury of a 5-star stay. A luxury camping getaway is a wonderful way to connect with nature. With glamping, our options for secluded vacation destinations offer you a unique way to explore nature and stay in a specially curated glamping rental. Find out why you should treat yourself to a luxury camping getaway. From beach camping to vacations in the best national parks, there is the perfect glamping option for you.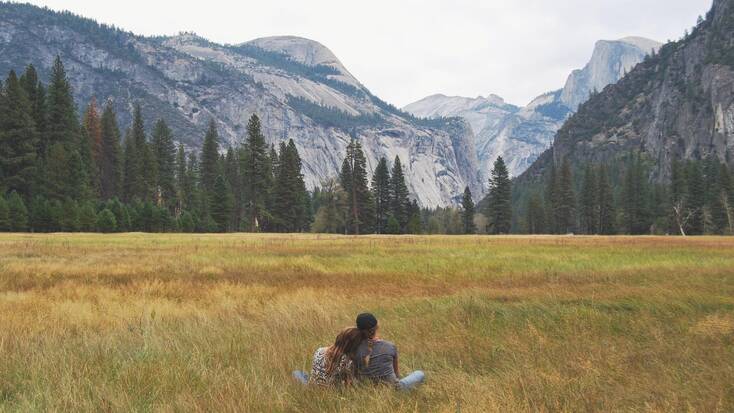 Before you search for camping near me, have a look for some glamping near me
At the moment, a luxury camping getaway in a secluded vacation spot is an increasingly popular trend. With loads of great campgrounds and campsites, finding luxury camping near you is guaranteed. If you are looking for something a little more secluded, a glamping vacation is for you. Heading into the wild and waking up surrounded by nature is a dream vacation. However, if you're looking for something secluded with a dash of luxury, glamping near you is just the thing. Think weatherproof accommodation, eco-friendly units, warm water for a hot shower, and even fresh linens, so you can pack light for your next wild camping experience.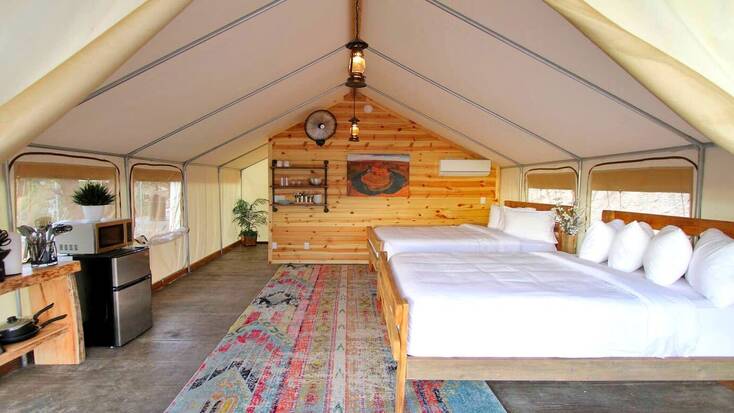 Where to stay for a luxury camping getaway: glamping tents vs. camping tents
Camping tents are obviously pretty varied now. They can be basic pop-up tents all the way to large tents with sleeping compartments and space for the group to hang out. The main attraction to buying a camping tent is that you can move around during your vacation. Staying in different campgrounds while journeying around can be very appealing. However, unless you stay in the best campsites, you aren't guaranteed all the extras that make your stay in the great outdoors as comfortable as possible. Ease of movement is a definite plus for a camping vacation. However, if you want to pack less, a glamping luxury camping getaway allows you to arrive, disconnect, relax, and recharge with minimal planning required.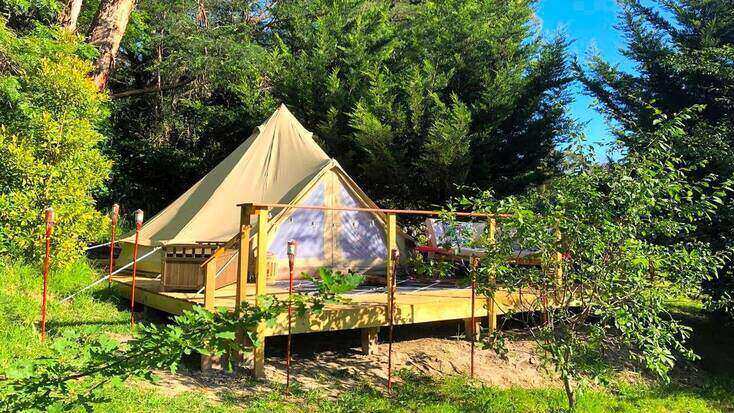 Stay in a bell tent or a yurt for a luxury camping getaway with a twist
Glamping tents are the height of luxury camping getaways. They are far from the only options for vacation rentals in stunning locations. A stay in a safari tent or a bell tent is a good example of a luxury tent. Larger than a standard camping tent, a bell tent comes with a real bed and added furnishings. When it comes to luxury camping getaways, we also can't overlook the yurt. Camping in a yurt is the ultimate tent camping experience.
Spacious, well-furnished, and often featuring a fully-equipped kitchen area, these large, luxury tents are the perfect way to glamp. Tents aren't for everyone, however, no matter how luxurious. If you're looking for the next step up, consider staying in glamping pods. Glamping pods are a popular alternative to glamping tents, ideal for those who aren't totally convinced about sleeping under canvas.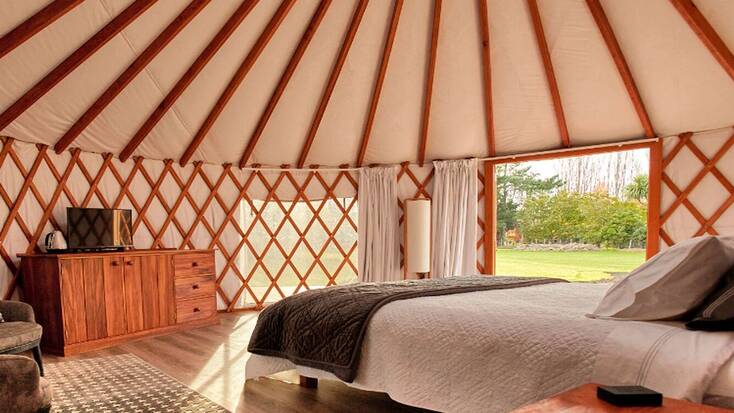 Stay in log cabins or a tree house for a unique glamping getaway
The beauty of glamping is that glamping tents are not the only accommodations out there. Unique is certainly the word to describe glamping rentals. One of the top accommodations out there has to be treehouse rentals. Spots like the Great Smoky Mountains or the Appalachian Mountains are already amazing places to visit for a vacation, but imagine heading back to your accommodation and watching the sunset over the forest from your high vantage point.
If you're more akin to keeping your feet on the ground, you don't have to feel you're missing out on unique accommodation. If you're searching for alternatives to luxury tents or tree houses for your vacation or luxury camping getaway, cabins are without a doubt the perfect option. From cabin rentals in Texas or safari tents in the Texas Hill Country to log cabins nestled away in the great outdoors in Oregon, you can look forward to getting back into nature while still enjoying all the homely comforts. So instead of packing your travel backpack and roughing it, look for places to go on vacation where you can still enjoy the great outdoors but stay in unique accommodations for your vacations.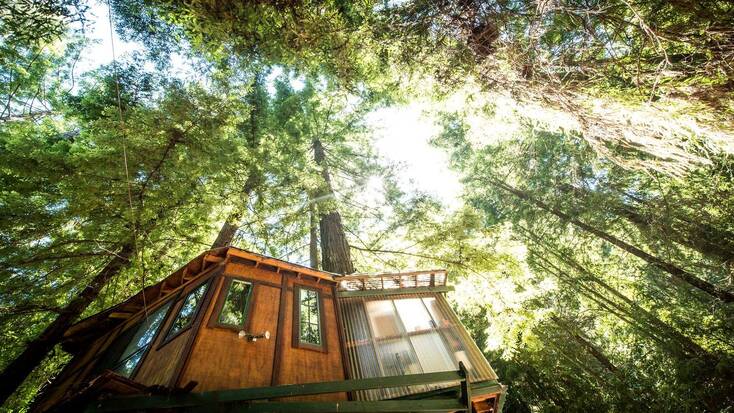 Love to stay fit and healthy? Discover where to go glamping on your next marathon trip around the world.