Camping and glamping have, in essence, the same goal; to offer us the chance to go on vacation in the great outdoors and to discover some truly unique destinations. However, there are some stark differences. While camping offers simplicity and a total escape from the modern world, glamping, like camping gets you into the great outdoors without you having to give up all of your mod cons and to enjoy at least splashes of luxury. Camping is a wonderful way to connect with nature. It offers the freedom to keep moving throughout a vacation, especially for those of us who enjoy backpacking as a way to see the world. However, there's no denying that for some of us, while the idea of getting back to nature is the perfect vacation idea, we don't all want to rough it or have to pack up campsites every morning. With glamping, our options for secluded vacation destinations still get you away from the hustle and bustle of the city, but it also offers you a unique way to enjoy exploring these extraordinary places. So keep reading, and find out why you should treat yourself to some glam. Camping has never looked so good! From beach camping to vacations in the best national parks, there are a plethora of options for you to consider.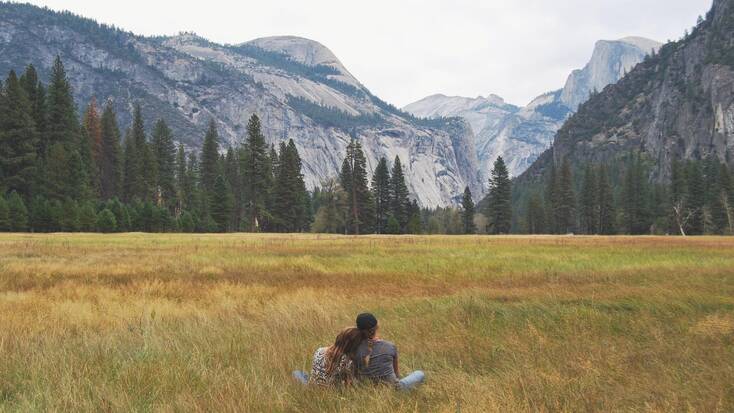 Before you search for camping near me, have a look for some glamping near me
If we're being honest, the "near me" google search has probably become one of our favorite search terms, and that goes for finding the perfect vacation spot as well. Due to the COVID-19 pandemic, travel restrictions have meant trips far from home are still not an option for some of us, so searching for vacation spots near me or vacation rentals near me is an obvious place to start. At the moment, secluded vacation spots are a popular trend, especially with social distancing measures still being followed by many people, so camping and glamping vacations are increasingly popular. With loads of great campgrounds and campsites, some of them with great facilities, searching for "camping near me" maybe something you've thought about, but again, you can't be guaranteed totally secluded vacation destinations in the great outdoors on a campsite, meaning you'd have to look for dispersed camping or wild camping. For some of us, that is pretty much a dream vacation, heading into the wild for some extreme backpacking. However, if you're looking for something secluded with a dash of luxury, camping near me can be switched for glamping near me instead.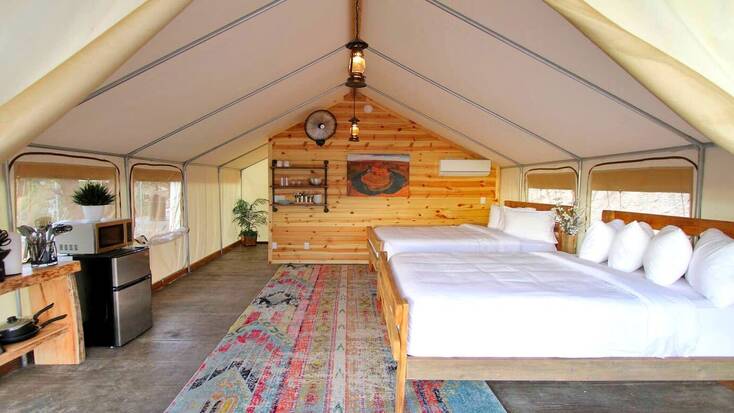 Where to stay for luxury camping in 2021: glamping tents vs camping tents
Camping tents are obviously pretty varied now. They can be basic pop-up tents all the way to large tents with sleeping compartments and space for the group to hang out in. The main attraction to buying a camping tent is that you can move around during your vacation, staying in different campgrounds while journeying around. However, unless you stay in the best campsites with decent facilities, you aren't guaranteed all the little extras that make your stay in the great outdoors as comfortable as possible. While ease of movement is a definite plus for a camping vacation, if you have vacation destinations in mind for 2021, glamping is the perfect solution for an escape from the day-to-day and the hustle and bustle of the great outdoors.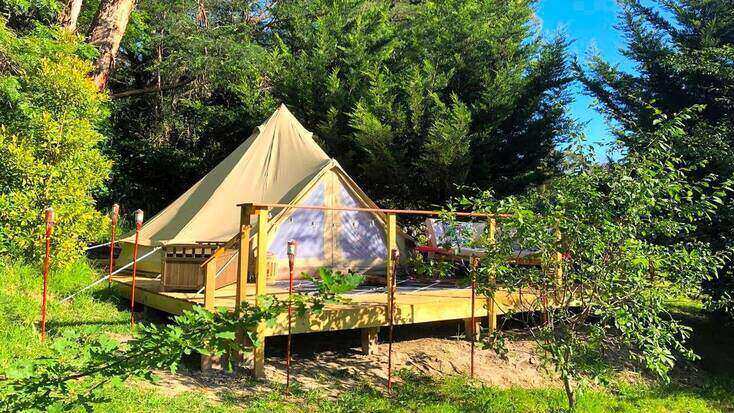 Turn camping into luxury camping when you stay in a bell tent or a yurt; camping with a twist in 2021
Glamping tents are the height of luxury camping, and they are far from the only options for vacation rentals in stunning locations. A stay in safari tents or a bell tent is a good example of luxury tents. Larger than a standard camping tent, a bell tent comes with a real bed and added furnishings that turn it from a tent into a luxury camping accommodation. When it comes to luxury camping, we also can't overlook the yurt. Camping in a yurt is the ultimate tent camping experience. Spacious, well-furnished, and often featuring a fully-equipped kitchen area, these large, luxury tents are the perfect way to stay in the best vacation spots, exploring the great outdoors during the day and relaxing in a cozy space at night. Tents aren't for everyone, however, no matter how luxurious. If you're looking for the next step up, consider staying in glamping pods. A unique take on getaways in secluded vacation destinations, glamping pods are a popular alternative to glamping tents, ideal for those who aren't totally convinced with sleeping under canvas.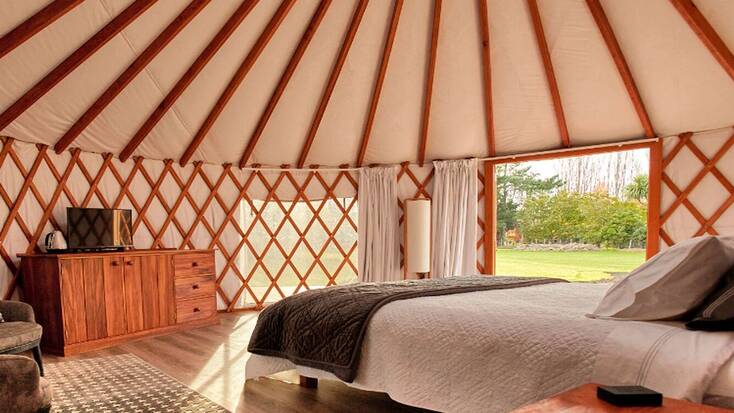 Stay in log cabins or a tree house; vacation rentals in the best places to travel, 2021
The beauty of glamping is that glamping tents are not the only accommodations out there. Unique is a word that we shouldn't bandy about too often, but it's often pretty difficult to find an adjective that better describes many of the vacation rentals available at a glamping site. One of the top accommodations out there has to be tree house rentals. A tree house vacation is, you guessed it, a unique way to spend some time in the best places to travel to for a secluded vacation. Spots like the Great Smoky Mountains or the Applachian Mountains are already amazing places to visit for a vacation, but imagine heading back to your accommodation and watching the sunset over the forest from your high vantage point. If that's not luxury camping in all its glory, I don't know what is.
If you're more akin to keeping your feet on the ground, you don't have to feel you're missing out on unique accommodation. If you're searching for alternatives to luxury tents or tree houses for your vacation of luxury camping, cabins are without a doubt the perfect option. From cabin rentals in Texas or safari tents in Texas Hill Country to log cabins nestled away in the great outdoors in Oregon, you can look forward to getting back into nature while still enjoying all the homely comforts. So instead of packing your travel backpack and roughing it, look for places to go on vacation where you can still enjoy the great outdoors but stay in unique accommodation for your vacations in 2021.