From East Coast to West Coast, North to South, sun to snow, and beach to the mountains, your desires for a once-in-a-lifetime experience in a unique location can be met right here. It is a pleasure to announce the best nature vacations of 2022 in the United States that await you.
In some of the most incredible camping destinations all over the states, glampers will find one-of-a-kind glamping accommodations, from luxury treehouses perfect for unique family vacations so high you can see above the clouds to luxury safari tents filled with the highest-end of amenities. It's time to do something crazy, unique, and outrageous. Plan the best vacation of your life, and start by exploring the best luxury camping rentals the U.S. has to offer.
Glamping California: take advantage of the best nature vacations in 2022
First stop: beautiful and beachy glamping California. The Golden State is filled with undeniably great glamping accommodations perfect for discovering the best nature vacations around. It was impossible to choose just one favorite luxury rental when there is accommodation out there for everyone. A great place to start is by visiting this treehouse, safari tent, and CA airstreams.
CA cabin tucked away in the forest of Redwoods for romantic California getaways
Whoever said romance can be found in a tree house was right, because this secluded treehouse cabin in Redwoods makes the best getaway for a pair of lovebirds looking for a private escape. Nestled high up in the trees, this is one of the best romantic California getaways and glampers will relive the feelings of bursting love for both each other and their new favorite glamping stay. It's going to be hard to pass up an opportunity this good.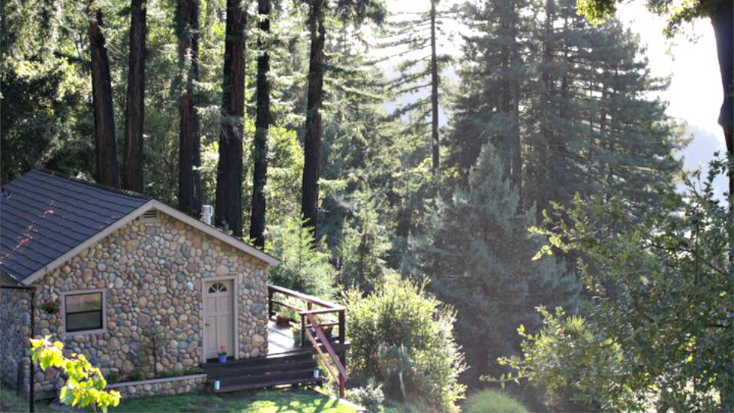 Lovely safari cabin tent near Warner Springs, California for more romantic nature getaways
From the comfort of this lovely safari tent near Warner Springs, glampers will embrace nature at its finest with another one of the top romantic nature getaways in California. Why bother with a tent you will spend too much time putting together when you can arrive peacefully at this glamping gem, fully stocked with undeniable amenities, just ready for you to indulge in? Sign me up, because I want to make this my new home away from home.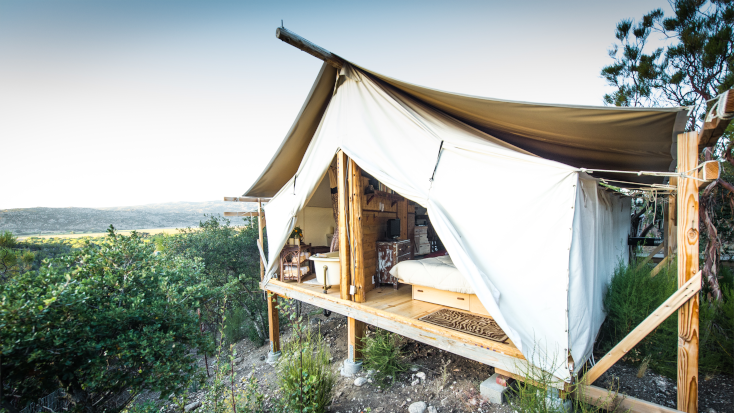 Luxury CA airstream rentals near Downtown Santa Barbara, California
Let's be real—everyone goes to California to dip their toes in the Pacific Ocean and bask on the shore. From the unending comfort of luxury CA airstream rentals near downtown Santa Barbara, glampers will finally get the dream beach vacation they have been longing for since last summer. When visiting one of California's best coastal sites, it only makes sense to lounge in one of the best accommodations glamping can offer. California is waiting for you now, so start packing and make your way over to visit the best luxury camping rentals of 2022 in California.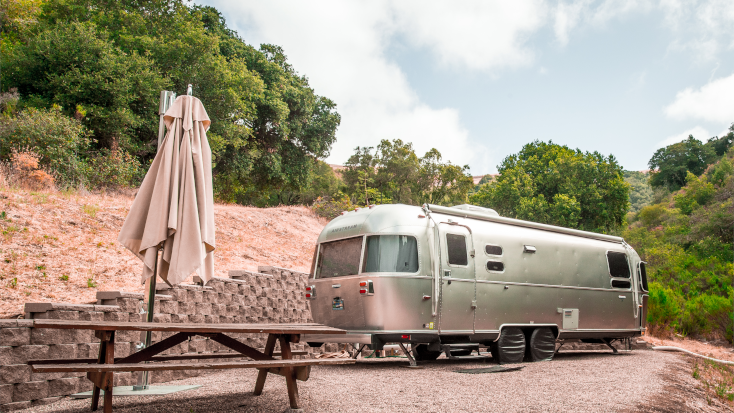 Visit Oregon for one of the best places to travel for nature lovers in 2022
Heading up the coast, glampers will fall in love with the best luxury rentals when they visit Oregon. Where the forest meets the shores, you'll find yurts, cabins, tipis, and so much more. It does not get much better than kicking back from the comfort of your very own glamping rental after a riveting day of adventure in the PNW. You'll be turning these first-time stays into annual vacation destinations in no time.
Secluded lakefront Oregon yurt with private beach in Western Oregon
Peace and tranquility set the tone at this secluded lakefront Oregon yurt in Western Oregon. Tucked away for glampers' personal indulgence, you will never want to leave this luxury site. Whether it's a day spent on the lake or taking a day trip to visit some of the local towns along the coast, a visit to this yurt rental is sure to be the best.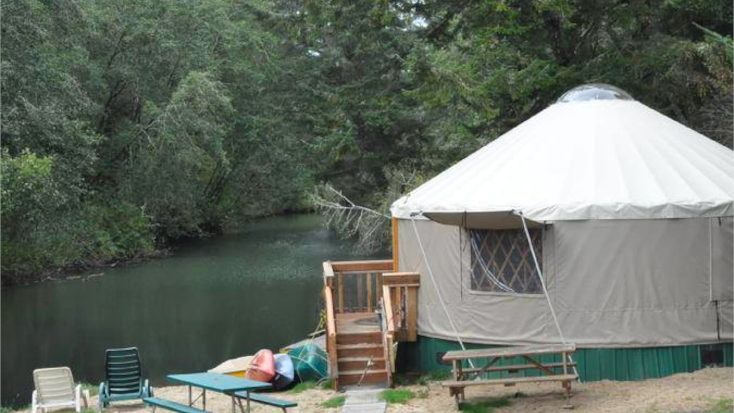 Environmentally friendly cabins in secluded woodlands near the Pacific Ocean like these are perfect for glamping, Oregon
What glamper doesn't love taking a luxury vacation to a rental that is eco-friendly and filled with high-end amenities and a serene ambiance that will last the whole trip? I bet you will never want to say goodbye after visiting this tranquil Oregon cabin rental in the woodlands near the Pacific Ocean. In close proximity to the beach, glampers can start their day with a steamy cup of coffee and end it snuggled up in a deluxe blanket under the stars. You will be jumping at the opportunity to visit this glamping Oregon rental in no time.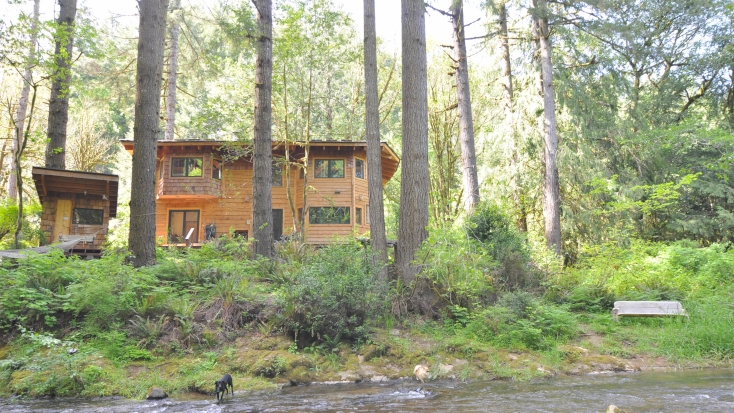 Quirky and zen Oregon tipis pitched at a charismatic woodland retreat for top nature travel vacation destinations
Let your childhood memories of the Wild West come alive at these quirky zen Oregon tipis glamping retreats. Out in the Woodlands, glampers will find no shortage of places to explore and discover. In a unique tipi, you will find a newer and more exciting way to camp authentically. There is a reason it's one of the absolute best glamping treasures out there and a contender for the top nature travel vacation destinations.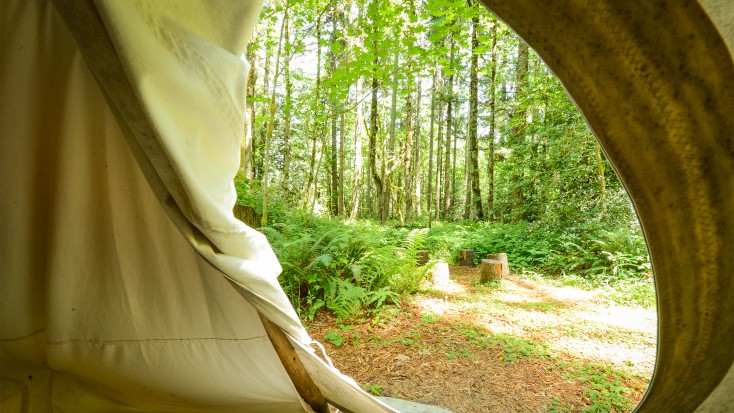 Luxury camping? Texas offers some of the best nature weekend getaways for 2022
Let's make our way over for the luxury camping Texas provides, y'all. A visit from the plains of Texas to the grandiose cities of Dallas and Austin is a must when there is an opportunity to visit the best luxury rentals Texas has to offer. Whether your next stay is at a cabin or a tent, luxury Texas vacations are on the horizon.
Eco cabins in the Texas Hill Country offer yoga retreats near Austin
A great place to begin your Texan journey is by making your way over to these eco-cabins near Austin. With accompanying yoga retreats available, glampers can get back in touch with nature, while feeling relaxed, refreshed, and at ease. Serenity defines this glamping destination. When you finally feel it is time to get in that much-needed break away from the hustle and bustle of daily life, a trip to these eco-cabins should be at the top of your list.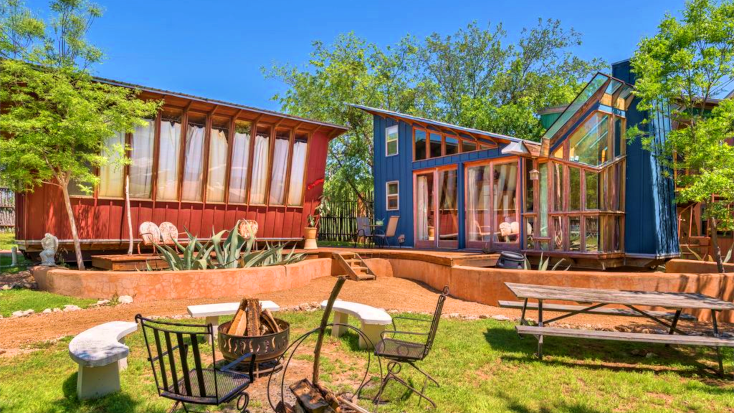 Astonishing family-friendly tree house near Austin, Texas for glamping with kids in 2022
Summer vacation is that much better when the whole family can get in on the fun. From these family-friendly treehouses near Austin, glampers will rediscover their love of excursion and adventure. While the kids run around climbing trees and exploring the nature-filled terrain, parents can sit back, relax, and enjoy knowing that their family vacation can be filled with both endless fun and luxury. Do not miss visiting one of Texas's best luxury rentals during summer.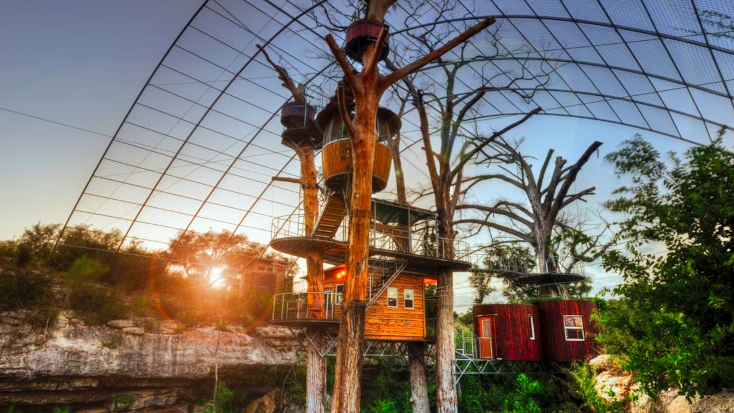 Romantic safari tent on a working bee farm in Navasota, Texas
Let your worries and fears wash away from the luxurious comfort of your very own private safari tent. Take a break and remember what fun and relaxation are all about. Take those desires to Texas with your loved one or a group of friends to enjoy a unique break on a working bee farm, sign up for the many activities and end the day sipping on their bubbly mead made on site. Texas is filled with fun glamping getaways that guests will love and adore for the rest of their lives.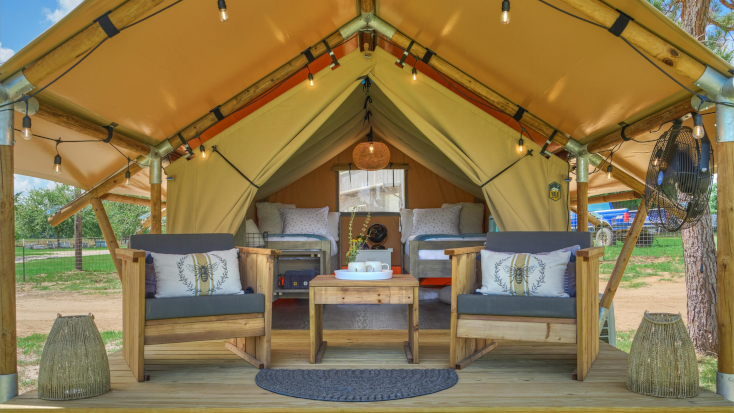 The New York getaways to consider for travel 2022 in the great outdoors
Fly on over to the East Coast to discover the best New York luxury camping rentals. Whether it is near the city or nestled away in Upstate New York, there are some true treasures here that glampers cannot say not to. From organic farm escapes to eco-friendly, solar-powered yurts, these accommodations define unique and one-of-a-kind. Pack your bags now, and make your way to New York before all these sites are booked up before your eyes.
To round up the best nature vacations in the US: escape to an organic farm in the Catskill Mountains, New York
For glampers looking for something extra special, a trip to this organic farm in the Catskill Mountains is sure to do the trick. This is the best escape for learning about sustainable living, giving back to the environment, and learning how to grow and eat delicious organic food. Nearby glampers can find lots of places to sight-see and kayak. It really is the whole package and one of the best nature vacations in the US!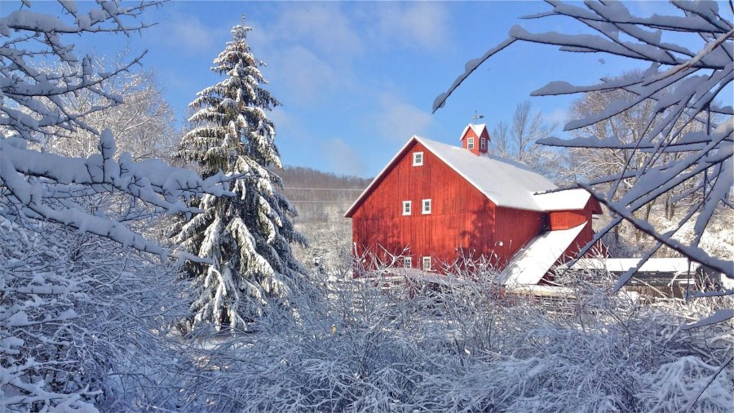 The Best Luxury Camping Rentals in the U.S. are waiting for you glampers. Do not miss out on the experience of a lifetime with more of the best nature vacations around!