For those of you looking for a romantic retreat or a relaxing escape, we encourage you to picture the beautiful vineyards of Napa Valley, the Finger Lakes, or Bordeux when choosing your next vacation rental. This enchanting setting could be the backdrop to an unforgetable wine tasting getaway if you choose to stay in one of these elegant, inviting, and oh-so-cozy handpicked glamping sites. Whether the West Coast, the East Coast, or countries abroad strike your fancy, you will have no trouble imagining yourself curled up with a glass of wine at one of these delightful wine country getaways.
California Wine Country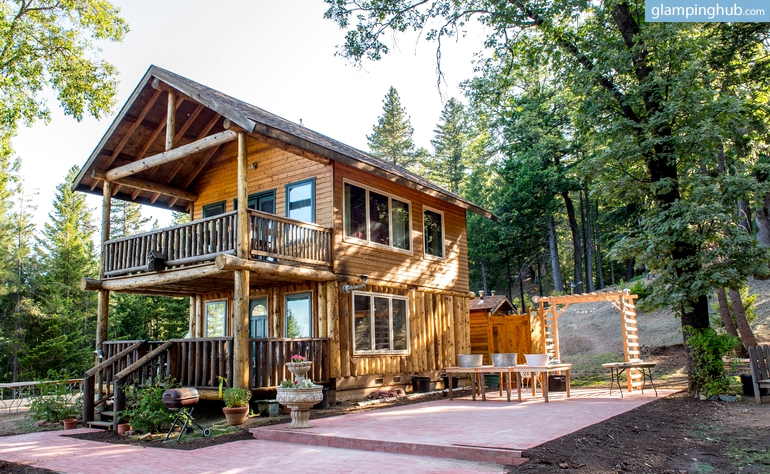 Nothing can compare to the fresh air and picturesque scenery of California Wine Country, which is why these vacation rentals in Northern California are such great choices for wine country escapes. These unique glamping sites are nearby some of the best vineyards in the U.S., and they have a certain rustic charm that makes them completely irresistible. Whether a log cabin, a tree house, or a cottage sounds more up your street, you can't go wrong with these California Wine Country rentals.
Our top picks:
Romantic, Handcrafted Log Cabin near Wine Country, California
Beautiful Tree House in Sonoma Wine Country, California
Impeccably Designed Luxury Cabin near Sonoma Wine Country, California
Open Inviting Luxury Cottage on Small Farm in Sonoma Wine Country, California
East Coast Wine Country
The East Coast has just as much to offer when it comes to world-class vineyards and wine tasting, and these unique vacation rentals are proof. Tucked away in the wine country of the Mid-Atlantic and the South East, they allow guests the opportunity to indulge in fine wine and relax in an exquisite setting. We bet that staying in a safari tent, a tree house, or a log cabin would make your next weekend getaway in Wine Country one for the photo albums.
Our top picks:
Stunning Tree House Cabins Overlooking Cayuga Lake, New York
Luxury Creek-Side Cabins Nestled by Vineyard, North Carolina
Luxury Safari Tents in Enchanting Finger Lakes Region, Upstate New York
Wine Countries Abroad
The sky is the limit when it comes to wine tasting escapes, and if you set your sights abroad you can enjoy some of the best Wine Country getaways in the world. A retreat in Australia or Spain could take you on adventures that you never imagined, and nothing says romance like the enchanting French countryside. Go big or go home is what we like to say, so get that ticket booked to have the glamping getaway of a lifetime.
Our top picks:
Romantic Lodge Cabins in Australian Wine Region
Luxury Romany Caravan in the Cognac Country near Bordeaux, France
Vineyard Yurt, Catalonia, Spain
If you are looking for even more fall weekend inspiration, check out our top picks for Labor Day Weekend getaways, East Coast road trips, and California road trips.