Picture the beautiful vineyards of Napa Valley, the Finger Lakes, or Spanish wine regions. The perfect choice for a  romantic wine country getaway in nature. From California wine country getaways to getaways in Spain; you will have no trouble imagining yourself curled up with a glass of wine at one of these delightful wine-country getaways. Discover some of the best places to raise a  glass to National Drink Wine Day this year.
Visit California Wine Country: Northern California vineyards
Nothing can compare to the fresh air and picturesque scenery of California wine country getaways. Making these vacation rentals in Northern California such great choices for wine country escapes. Unique glamping sites are near some of the best vineyards in the U.S. Based in the center of Northern California, the world-renowned regions of Napa, Sonoma, and Mendocino are home to more than 600 California wineries.
It's well known that guests staying in the area can visit some of the very best wineries in the area very easily. Our first pick of the best Northern California wineries would have to be Clos Pegasewhich is located in Calistoga, CA.  There are quite literally too many fantastic CA wineries in the area to list but check out our additional picks below and start planning the best time for your California wine-country getaways in Northern California today:
Swanson Vineyards (Rutherford, CA)
Imagery Estate Winery (Glen Ellen, CA)
Charles Krug (St. Helena, CA)
Cuvaison Estate Wines (Napa, CA)
Truchard Winery (Napa, CA)

Glamping California: the perfect rentals to compliment CA vineyards
Glamping: California wine country getaways are incredible! Whether you're most interested in renting a log cabin, treehouse rentals, or if a cottage sounds more up your street, you can't go wrong with these California Wine Country rentals.
Where better to enjoy your newly purchased bottles of wine, than your own inviting Sonoma wine country cottages where you and your partner can experience the most romantic CA getaways of a lifetime! Less than an hour's drive from the Napa Valley, Sonoma Valley is home to more than 70 vineyards and picture-perfect wineries that stretch beyond 10,000 acres of enchanting wine country.
Proudly regarded as the birthplace of California's commercial wine industry in the 1850s, guests staying near this excellent region are encouraged to visit the fantastic Gundlach Bundschu, the state's oldest continuously family-run CA vineyard that was founded way back in 1858.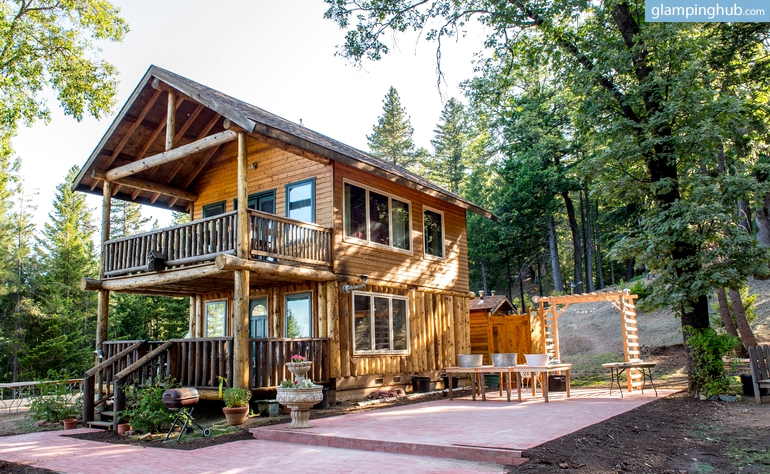 More wine country getaways in Paso Robles: vacations near Los Angeles and San Francisco
With more than 200 Paso Robles vineyards to its name, the beautiful Californian region of Paso Robles is the ultimate destination for guests looking for vacations near Los Angeles and San Francisco. The optimal grape-growing conditions found here are thanks to the best day-to-night temperature swing in California, which brings with it a long growing season, unique microclimates, and a variety of soil types.
Notable Paso Robles wineries you should be sure to check out include Justin Winery which boasts at least 25 vintage wines. Other Paso Robles vineyards you have to visit during your CA holidays in the area are:
Bianchi Winery
Villa San Juliette
Halter Ranch
Eberle Winery
Try this family-friendly tree house rental for a fun weekend getaway
East Coast wineries: New York vacations and NY vineyards to look out for during your time here
The East Coast has just as much to offer when it comes to world-class vineyards in the U.S. These unique vacation rentals are proof. Tucked away in the wine country of the Mid-Atlantic and the South East, guests can indulge in fine wine and relax in a beautiful setting. Begin your upstate NY wineries tour with one of the best wines that New York and the Finger Lakes are known for Riesling.
If you want to visit New York and spend your Upstate NY vacations here, just remember that summer and fall are peak seasons for Finger Lakes Wine Country! However, for a much more laid-back experience, book your next wine country getaway in winter or spring! Grab yourself a bottle after a day of wine tours and return home to your very own Ithaca rentals in New York nearby where you can extend your wine country adventures well into the night in your very own private retreats for rent.
Discover some of the best wine country escapes abroad: Australian vineyards and wineries in Catalonia
The sky is the limit when it comes to wine-tasting escapes, and if you set your sights abroad you can enjoy some of the best wine-country getaways in the world. A retreat in Australia or Spain will take you on a food and wine adventure. There are so many excellent Portuguese wine regions, to enjoy as well. 
Head to Catalonia where you can sample some of the best Spanish wines in the world and have the opportunity to stay in a Catalonia yurt in the heart of the wine country. What better way to enjoy a wine country escape than staying just next to an excellent vineyard all to yourself? Go big or go home is what we like to say, so get that ticket booked to have the wine country getaway of a lifetime.
If you are looking for even more fall weekend inspiration, check out our top picks for Labor Day Weekend getaways, East Coast road trips, and California road trips.